Note: It's been nearly 74 years since this movie was released, so I think we've hit the limit on spoilers for it, so spoilers ahead.
When I was young, I became obsessed with the works of David Lynch, particularly the television series Twin Peaks, which he co-created. I scoured the internet and tore the library apart and read everything I could get my hands on about the show and Lynch.
One thing that came up again and again were the multitude of influences on the series, from soap operas to real people. The most frequently mentioned influence was Otto Preminger's film Laura, which was released on October 11, 1944.
Based on the novel of the same name by Vera Caspary, which was based on a serial called Ring Twice for Laura, Laura follows not the titular character, but a detective, Mark McPherson (Dana Andrews) who is investigating her supposed murder. By not following Laura, the audience in a loop. Then we're thrown into one again because Laura is ultimately the focus of the film, just like poor, dead Laura Palmer looms large over Twin Peaks, even after her murder is solved.
The film also doesn't even open on McPherson, but on another Laura's portrait while yet another character intones about her. That character, columnist Waldo Lydecker (Clifton Webb), shares his name with two characters on Twin Peaks (a myna bird called Waldo, and a vet named Dr. Lydecker), seems to be a character that the audience can trust. By using first-person narration to tell the story directly to us, he draws are confidence to him, he makes us trust him further by insisting that only he truly "knew" Laura and just wants to share her story.
"I shall never forget the weekend Laura died. A silver sun burned through the sky like a huge magnifying glass. It was the hottest Sunday in my recollection. I felt as if I were the only human being left in New York. For Laura's horrible death, I was alone. I, Waldo Lydecker, was the only one who really knew her. And I had just begun to write Laura's story when – another of those detectives came to see me. I had him wait. I could watch him through the half-open door. I noted that his attention was fixed upon my clock. There was only one other in existence, and that was in Laura's apartment in the very room where she was murdered."
He tells McPherson that he met Laura when she was starting out at an advertising firm, and asked Lydecker to endorse a pen. After he turned her down in a cruel way, Laura told him that she "felt sorry for him," which disarmed Lydecker. Lydecker then, not only agrees to endorse the pen, but takes Laura under his wing, personally and professionally. A montage shows how he made her over, recalling the portrait of Laura that haunts much of the film.
It wasn't a sexual relationship though. Lydecker seems as gay as a code-era movie would allow. Yet, he comes across as a jealous lover. Another thing that throws the audience, because it's clear that Lydecker isn't as trustworthy as he initially seems.
The next suspect that the audience and McPherson meet is Laura's fiancée, Shelby Carpenter (Vincent Price), who though he says that he was going to marry Laura that week, is clearly being "kept" by her jealous aunt, Anne Treadwell (Judith Anderson), and is revealed to also be in a relationship with one of the models that works for Laura's agency. Yeah, Shelby gets around. Laura knew about these infidelities too, because Lydecker informed her of the, claiming that he was doing it "for" her.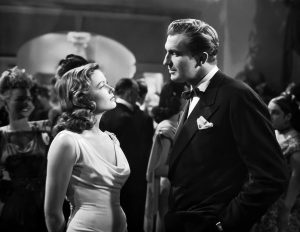 Shelby and Ann's versions of Laura make her seem like a different person than the person Lydecker described; shallow, spoiled, materialistic. This makes the audience even more confused. It also has shades of Twin Peaks where everyone saw a different side of Laura Palmer.
As the investigation wears on, McPherson predictably falls in love with Laura, leading Lydecker to comment, "You better watch out, McPherson, or you'll end up in a psychiatric ward. I don't think they've ever had a patient who fell in love with a corpse."
In the film's most famous scene, after searching Laura's apartment, McPherson is shocked when Laura walks in, alive. Throughout the scene, real Laura and the painting of her are next to each other, contrasting the real woman with the idealized version of her.
It comes out that the model Shelby was having an affair with was the actual murder victim, and that Lydecker killed her thinking she was Laura, wanted her dead rather than married to Shelby, and thus no longer "his." After Laura falls for McPherson, Lydecker tries to kill her yet again, in a murder/suicide. Luckily, McPherson saves her and Lydecker dies uttering the film's final line, "Goodbye, Laura. Goodbye, my love."
Despite the similarities to Twin Peaks, and that series being my entry point to the film, now it makes me think more of Gone Girl than of anything else. Both are stories about how certain women are idealized, how perception is often more compelling than fact, and about the possessive nature of relationships.
Miscellaneous:
-Tierney and Price would reunite a year later in the film Leave Her to Heaven, a movie I like even more than Laura, and that I think is one of the underrated masterpieces of the era.
-Laura would be adapted multiple times as a radio play, often using cast members of this film, twice for television, and once as a Bollywood movie. One of the TV versions was adapted by Truman Capote and stars Lee Radziwill, whose poor performance is notably infamous. George Sanders, whose most famous character, Addison DeWitt in All About Eve, owes a lot to Waldo Lydecker, plays him in both TV versions.
-There have also been countless takeoffs of the premise for TV. My favorite is a 2006 episode of the CBS procedural drama Cold Case called "Joseph" in which the show's main character, Detective Lily Rush, fell in love with the title character who's murder she was investing and who turned up alive. He loved cats and film noir, and was thus the ideal man. The two would date for several months, before she threw him over for her ex. I was very disappointed when that happened.