Lady Bird didn't win any Oscars, and this is how I feel about that: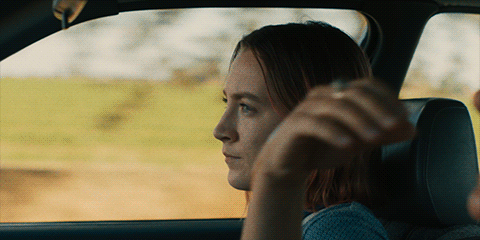 But seriously, Greta Gerwig's directorial debut (mumblecore credits don't count, I'm sorry) may not have gone home with any hardware on Sunday night, but it's the winner in many people's hearts, including mine. Gerwig distils the rat-a-tat-tat rhythms (in both dialogue and editing) of Frances Ha and Mistress America into something that's heightened while still feeling true to life, and adds the warmth and melancholy of 20th Century Women (plus its looming, unknowable-until-it's-too-late mother figure) to create something nearly irresistible. It's obviously Saoirse Ronan and Laurie Metcalf's show most of the time (and god, Metcalf losing is fucking highway robbery), but every performance is note-perfect, with special kudos to Tracy Letts as the more timid parent and Lucas Hedges as a mildly tragic boyfriend of Ronan's. It may be the best film of last year (its main competition happens to be coming out next week), and it looks to be the beginning of quite an incredible career.
Elsewhere in the "you were the winner in our hearts" file is Agnes Varda and JR's documentary Faces Places, which lost the Oscar in maybe the biggest upset of that night. I shamefully have not yet seen it, but it sounds absolutely delightful, and I'll be sure to check it out now that I have the chance. What you shouldn't check out now that you have the chance, however, is Woody Allen's Wonder Wheel, which failed to impress even me, the guy who dug Irrational Man and You Will Meet a Tall Dark Stranger. It is a lowlight in his nearly 50-year directorial career (the only thing he's made that I can say with certainty is worse is most of Crisis in Six Scenes), an unbearably turgid morality tale that strands its cast with unreadable lines about the nature of humanity (you have not known true agony until you've heard Justin Timberlake recite tin-eared literary references in an agonizing Allen impression). That it also reads like a Mia Farrow allegory is almost besides the point (although it has some quite uncomfortable moments, most of them involving accusations about Jim Belushi having too close a relationship with his daughter); Blue Jasmine did that too, but it was substantially more interesting in every single way than this is (Wonder Wheel tries to do Eugene O'Neill like Jasmine did Tennessee Williams, and falls flat on its face and breaks its neck in the process). The sole element worth praise is Vittorio Storaro's cinematography, which is some of the most stunning work of both his and Allen's careers, tied to Allen's most laughable script. If it ever gets released, I will see A Rainy Day in New York for Storaro (to say nothing of that fucking cast), which I guess still makes me more excited for it than literally anyone else on the planet, but even I'm losing confidence in Allen's dramatic abilities at this point.
Otherwise, there's Thor: Ragnarok, which is now being overshadowed by the other the Marvel movie that even the MCU's detractors can admire, a new 4K remaster of The Dark Crystal, and a special edition of Bryan Bertino's home-invasion thriller The Strangers, just in time for the release of its long-in-the-works sequel.
The Dark Crystal (Sony)
Duck, You Sucker (Kino)
Faces Places (Cohen)
Hammer Films Double Feature: Maniac/Die! Die! My Darling! (Mill Creek)
Hammer Films Double Feature: Never Take Candy from a Stranger/Scream of Fear (Mill Creek)
Lady Bird (Lionsgate)
Lords of Dogtown (Mill Creek)
The Man Who Invented Christmas (Universal)
Novitiate (Sony)
The Strangers (Shout Factory)
Thor: Ragnarok (Disney)
Wonder Wheel (Universal)