"…part Godard, part Three Stooges"
–Jonathan Romney, Film Comment
There are so, so many ways of looking at Funeral Parade of Roses, Matsumoto Toshio's playful mindfuck of a movie, one of those works that fits comfortably into that underappreciated sweet spot where "entertainingly outré enough to become a beloved cult film" and "semiotically dense enough to inspire reams of scholarly work" overlap in happy harmony. It's the kind of film rarely made anymore, and we now have the opportunity to soak it up in a crisp restoration by Cinelicious and the now-disbanded Cinefamily.
Briefly, Funeral Parade was experimental filmmaker and installationist Matsumoto's first attempt at a feature-length film. Matsumoto was part of what is sometimes referred to as a "Japanese New Wave," the group of unconventional and politically engaged (read: leftist) filmmakers that included directors like Oshima Nagisa, Suzuki Seijun, and the collaborations between Teshigahara Hiroshi and avant-garde author Abe Kobo. Criterion calls them "daredevils." BFI uses "rulebook-destroying rebels." These are filmmakers ready to torch Ozu and Kurosawa on the altar of modernity.
In terms of full-length features, Matsumoto is one of the least prolific of the bunch. All but four of his (many, many) film credits are short films, which explains some of Funeral Parade's seemingly mosaic formal construction, all short moments with jagged edges. It's part documentary about Japanese gei boi (a kind of performative androgyny among a subset of homosexuals), part campy retelling of Oedipus Rex, part genre and formal parody, a dash of polemics about the art of filmmaking, a few hints of druggy subcultural abandon, and the whole mess wrapped in a fully self-conscious sensibility that constantly critiques as it creates. Nothing is sacred in Funeral Parade: even at its gory, tragic climax, Matsumoto cuts to film critic Choji Yodogawa, who deadpans about how off-putting the scene is and encourages us to look forward to a better movie next time. I mean.
Given a fairly high hurdle of cultural difference — this is a film of very specific, very detailed engagement with a particular time and place — how do we approach this?
---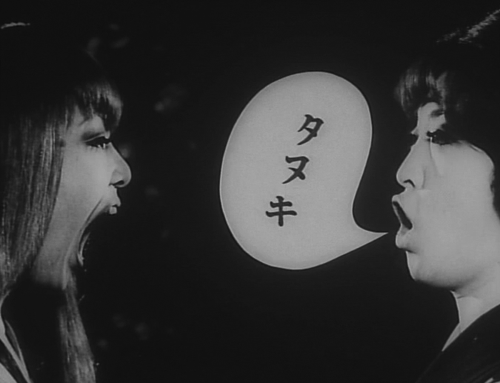 We can just watch it for the pure pleasure of what unfolds. Funeral Parade loosely follows the affairs of Eddie, a young gei boi played by the performer Pita (as in "Peter," as in "Peter Pan," a nickname he acquired as a teenage dancer), who gives an astounding performance in this, his first film. If he looks vaguely familiar to Western audiences, it's because he would play Kyoami (the Fool) in Kurosawa's Ran some fifteen years later.
Eddie is a young ingénu(e) who threatens the hierarchy of power at the local Club Genet (of course), currently ruled by its vain but aging madame Leda (Ogasawara Osamu). The key to that power is the heart of its owner, a businessman named Gonda, played by another Kurosawa actor, Tsuchiya Yoshio. (Between these two and Kimura Isao in 1968's Black Lizard, there's an interesting study to be written about queer cinema orbiting the Kurosawa troupe.)
Alas, this is a reworking of Oedipus Rex, so the story has only one direction to go. Matsumoto, however, is more interested in the texture of this world than the inevitabilities of plot, however tongue-in-cheek. What is a gei boi, after all? Why not interview a few, including actors in the film, to talk about what the term means to them? Heck, why not ask the actors what they think about the characters in the film they're making? Why not film a sex scene, film ourselves making the sex scene, then film the actors debriefing on that scene afterwards?
For that matter, why not indulge in the texture of this world, the Japan of the late 60s, the political unrest and the impotent left, disgust at the Vietnam War, the feeling of ideological rootlessness, the despair over whether cinema has any real power, the sex, the drugs, the drugs, and good lord the drugs. In some scenes, Matsumoto fully exploits the artificiality of cinema in ways that recall Věra Chytilová in Czechoslovakia or even Obayashi Nobuhiko in Japan a decade later. In others, Matsumoto harnesses the power of Zero Dimension, a group of performance artists of the "épater la bourgeoisie" sort, having them stage a mock funeral protest over Vietnam in the middle of a busy street. As in Olivier Assayas's Irma Vep, the characters' spoken, often shallowly expressed polemics about the future of film are ultimately less important than the actual film itself, which exercises those polemics in practice.
In short, we can watch Funeral Parade as a gonzo celebration of excess, whose excesses include a running commentary on its own excesses, a dizzying loop of engaged and experimental cinema of the kind that our conservative Hollywood era rarely sees anymore.
And it's really fucking funny.
---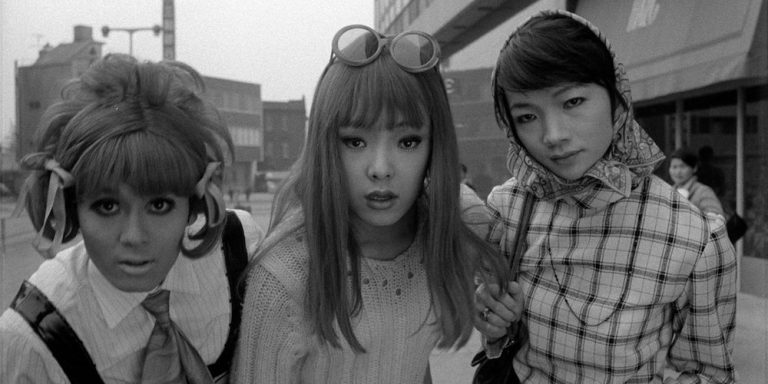 We can also watch it as a monument of Queer Cinema. Monuments have a tendency to get musty, but there is something to be said for having a canon, and if there a Queer canon, then this film belongs there. Not only are the documentary aspects of the film useful for their (sometimes literally) on-the-street interviews about the life of Japanese gei boi in the late 1960s, but the film itself seems to be a living expression of Sontag's "Notes on Camp," published just a few years before. The kind of drag-driven parody that defines Funeral Parade's tone and aesthetic makes for a comfortable shelf-mate with John Waters, who was then filming Mondo Trasho a hemisphere away.
Renata Adler once said that drag represents "not female imitation at all, but parodies. Very witty, detailed parodies, at that." Similarly, everything in Funeral Parade is pitched to the level of arch, everything a little too much, every step of the tragic drama veering into lipstick-stained melodrama, every political aside almost fatuous in a winking way. If we were inclined to High Theory, we might say that Matsumoto has effectively made a drag version of a movie, where every scene is a "witty, detailed parody" of the thing it purports to be, but this might be an overstatement: Matsumoto did not publicly identify as queer himself, and this same arch excess runs through many of his short films.
Similarly, one of the film's obsessive metaphors, the mask, readily lends itself to queer readings despite being a much-used trope in 1960s Japan (consider Abe Kobo's novel, and Teshigahara Hiroshi's adaptation, of The Face of Another just a couple of years earlier.) Funeral Parade opens with an almost laughably solemn voiceover on the subject of masks, but the film is very much aware that, as RuPaul says of drag, anything more than naked is a mask. The film literalizes this with generous use of nudity, playing with our expectations of the erotic gaze, as when Eddie showers or makes love to Gonda, or when it indulges in mischievous vulgarity (a tracking shot of bare asses ends with one clenched around a rose). During an extended drug/party sequence, it's anyone's guess whether the shirts coming off will reveal a male or female chest — and just to drive the point home that it's not simply a question of performative androgyny, Matsumoto has the most "masculine" of the cast members, the bearded political agitator "Guevara" (Uchiyama Toyosaburo), lose his beard when he sneezes. Every goddamn thing is mask.
In that spirit, Funeral Parade also feels like a delicious fuck you to the hyper-masculine, fascist homosexuality of Mishima, who would commit suicide a year later.
---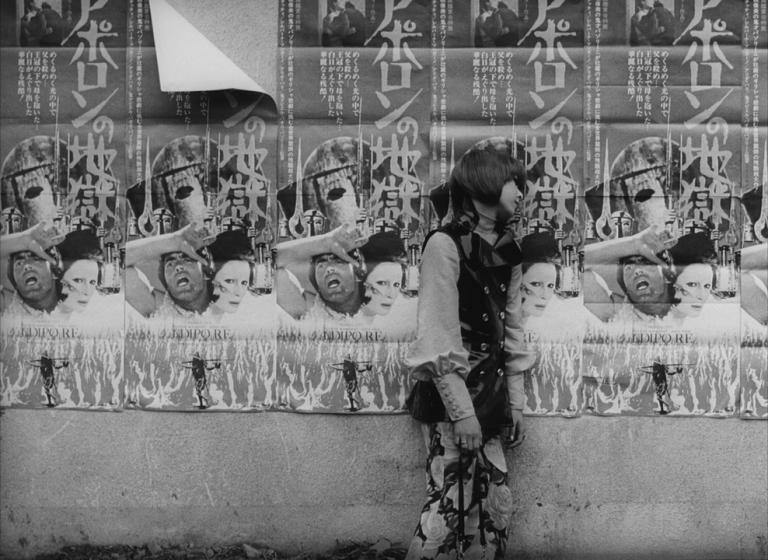 Finally, we can read the film in ideological context, or at least try to. In her book Cinema of Actuality: Japanese Avant-Garde Filmmaking in the Season of Image Politics, Yuriko Furuhata groups Matsumoto among a later generation of filmmakers dealing with the failures, or implied shortcomings, of the push for a more engaged cinema of reality in the early 1950s. Like many in the international left, Japanese filmmakers, often Marxists themselves, had looked for an ideal mode of representation for "the event," that sense of actuality, or as Furuhata puts it, "critical art that directly addressed or indirectly evoked contemporary social and political situations."
Soon enough, the cinema of actuality found itself unable to meet its own ambitions. By the time Matsumoto began working on Funeral Parade, the ideal of an actuality-cinema had given way to a cinema about actuality, that is, a cinema that looks at the way that media (and particularly the medium of television) creates that sense of actuality by documenting the event. In other words, it's no longer the moment itself, but what Furuhata calls the "artifactuality" of the documentation of the moment, that interested filmmakers in the late 1960s, and this is where she situates Funeral Parade.
This may seem like a concession to impotence, a shift from the impossible real to the parodic meta, but the gradual dissatisfaction with the former was not unlike the political dissatisfaction that was happening out West with the international left, which struggled through the 1960s with its own political contradictions (Chris Marker identifies 1968 as the year those contradictions finally led to complete meltdown). High-minded idealism was giving way to despair among the best and cynicism among the worst. There's something to be said for a fundamentally ludic response to hopelessness.
Still: while Funeral Parade is far from a hopeless film, its protagonist is unable to escape the fate that Oepidus Rex prescribes him. The young, idealistic characters may debate their political efficacy while they pass around a joint, but it's hard to come out of those scenes with anything but a sense of their complete inefficacy. Something has to give, and in that space of public and private tension, performance artists like Zero Dimension step in to test the existing social boundaries. Matsumoto is happy to oblige them. The "event," which doesn't so much avoid or surmount contradictions as indulge them to the fullest, is documented.
And look, if all this sounds a little too high falutin'…. Well, we can always to back and watch Funeral Parade for the pure pleasure of what unfolds. Give the trailer below a watch, and tell you wouldn't enjoy the hell out of this. And if not, then at least we can all look forward to a better movie next time.