I'm not a nostalgic person. I didn't grow up in a time or place I feel particularly warm about or would like to go back to.
But A Christmas Story is my favorite Christmas movie.
I'll tell you how I reconcile those things.
My favorite period pieces– like this, Freaks and Geeks, and F Is For Family— work not just because they depict a specific time so well, but because they depict universal experiences and feelings through that lens. I didn't go to high school in 1982, but few experiences have felt as authentic to me as Lindsay Weir's alienation, her feeling like she doesn't quite fit in to any of her school's subcultures and her uncertainty about what she really wants to do next, all while dealing with reactionary parents. Or Sam Weir's repeated embarrassments from being thrown into a world he's not ready for, or Bill Haverchuck's isolation and finding comfort and companionship in comedy and pop culture. Similarly, I didn't grow up in the 1970s, but I understand growing up in a home where managing the anger of a domineering figure was a coping skill everyone learned, or where accidental yet constant trauma was perpetually inflicted on an oversensitive child.
In much the same way, A Christmas Story uses its idyllic pre-war setting not to suggest a time when things were better, but to tap into universal childhood experiences and feelings, and in getting the details right has made a work that stands the test of time beyond the era in which it was set or made. It's shown all 24 hours on cable on Christmas Day not because it's the ideal Christmas, but because it's the quintessential Christmas.
Told not so much as a straight narrative but, like the Jean Shepherd books it's based on (mostly In God We Trust: All Others Pay Cash), as a series of vignettes, the primary throughline of A Christmas Story is little Ralphie Parker's desire for a Red Ryder BB Gun for Christmas. While the Christmas setting and buildup is important for whatever story momentum exists, the vignettes allow the story to explore all sorts of aspects of childhood, and in doing so, land on some universal experiences, feelings and formative moments that happen in everybody's childhood.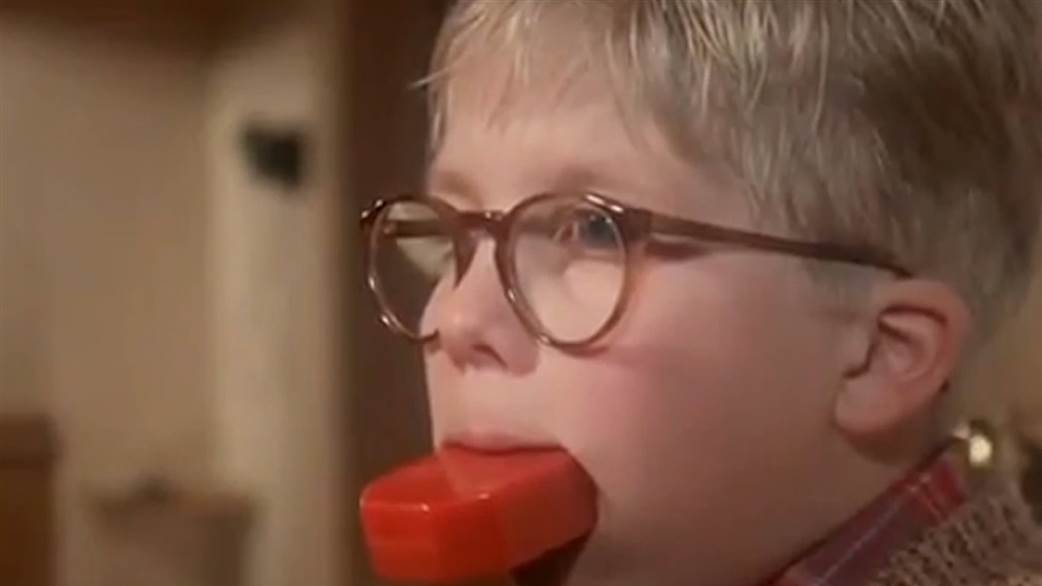 I never had my mouth washed out with soap. (I might have had similar they'll-be-sorry fantasies to Ralphie had that happened.) But I do remember how it felt to first learn cursing, and the knowledge that my parents didn't approve and I couldn't just do it around them. And I recognize Ralphie's decision not to tell his parents the truth, that his parents might get even angrier if they learned it; I recognize blaming an outside source so you don't have to open up to them.
(I was lucky: In second grade, I did have a friend whose parents' approach to cursing was essentially "Let them get it out of their system safely at home." I'm not exaggerating when I say I'd sleep over at his house, we'd play video games in his room, and do our best to curse as loudly as possible. What rebels we were! I remember cursing once in front of his father on a field trip, and he told us "Hey, not out here." Okay, respect.)
My father never won a lamp shaped like a woman's leg in a fishnet stocking with a lampshade that implied a rather short skirt. (He certainly wouldn't have mistaken "Fragile" for an Italian word.) But I recognize Ralphie's discovery of "the soft glow of electric sex" and remember my own prepubescent attraction to the female form. When I was Ralphie's age, it was Barbara Feldon as Agent 99 on Get Smart, airing in Nick at Nite reruns.
(Second grade, again: I convinced another friend to swipe one of his dad's Playboys for a sleepover and we giggled and gawked at the naked bodies therein. For some reason, every time I called him to sleep over after that, he told me couldn't make it.)
The academic achievement so well done that it garners superlative praise from teacher and classmates alike? Well, I never got wrapped up in a fantasy about a paper like Ralphie did, but I knew the dream of wanting to do something so great it was undeniable, would finally win me recognition and respect. (I may not have let go of that one.)
I didn't grow up in a climate one could get one's tongue stuck on a light pole, but I remember the shenanigans I got into with my friends, I remember when they went too far, and I remember when and how we weaseled out of them anyway.
And I remember the sinking feeling that it's the end of the world. It's Ralphie after beating up the bully. It's Randy's "Daddy's gonna kill Ralphie!" My parents didn't have the same wait-until-your-father-gets-home approach (which would have required both teamwork and a more attentive father), but I was a sensitive and perceptive kid; I knew when I'd really crossed the line. (That made it easier to defend myself when I got older and I knew I hadn't.) I never fought a bully, but I recognize The Old Man's small surge of pride that his son took care of his business. (The biggest difference is that my father would've been more effusive; he'd always made that clear.) And I recognize the catharsis Ralphie gets out of it, finally putting an end to the bullying, finally snapping. (As a child, I couldn't bring myself to hurt someone intentionally, even if they were hurting me. I've changed.)
I can relate to the disappointment of discovering something you've been eagerly awaiting is actually pretty crappy, as with Little Orphan Annie's secret message.
I can relate to the repeated disappointment of being shut down– the constant refrain Ralphie hears of "You'll shoot your eye out!" I can relate to the disappointment of really crappy presents (although I don't think any of my kin mistook me for a perpetually four-year-old girl). And I never wanted a gun growing up, but I can sure relate to the feeling of the One Perfect Present that would make Christmas complete and fulfill all the promise and magic of the season. I can relate to the feeling of excitement when it did come through, even if that feeling faded with time.
Of course this movie is set at Christmas; it's the quintessential American holiday for children, where part of the joy is not just in the anticipation of your own presents, but that your friends are buzzing with the same. (Of course that's not true about Christmas for everyone, and this movie is pointedly set in a very white small town in 1940, but I still think anyone who was once a child can relate to the sense of magic and anticipation.)
Shepherd's narration is a winner and perhaps the key to making the whole film work. Its distinct specificity and delightful seriousness recounts the ways certain events and objects in our memory have indelible or even mythical qualities. The Old Man's pride in the lamp butting heads against Mother's distaste for it isn't just a fight; it's The Battle of the Lamp. The rules of schoolyard dares are taken seriously by the kids and narrated with the gravitas and respect for protocol of two sovereign nations negotiating. And of course, Ralphie never just asks for a Red Ryder BB gun; he always uses the full name: the Red Ryder Carbine Action 200-shot Range Model air rifle. After all, the Greatest Christmas Present Ever has to have a grandiose name, a mythos.
But Shepherd's narration does more than that. If that sense of childhood were the only level the movie operated on, it would be fine, perhaps a bit sentimental. It's a classic because in addition to all of this, it's really funny, and that starts with the knowing distance Shepherd's narration puts us from the action. That specificity and commitment not only captures the gravity of the schoolyard dare but makes us laugh in hindsight for how seriously we took such a thing. His reviews of soap by flavor add a sophisticated touch to an experience only children ever have. And "the F-dash-dash-dash word!" is maybe the best example; it's the way a child might say such a thing, with Shepherd's inflection conveying the gravity and the panic of the situation.
Really, the narration elevates the story most of all because it demands we take Ralphie's feelings seriously. When Adult Ralphie is able to articulate so well how he felt at a given moment, we can see that in young Ralphie, and we respect those feelings and empathize with them a little more.
The whole movie is very funny from an adult perspective. Ralph's fantasies are hilariously over-the-top, whether it's Miss Shields breaking the grading scale for his theme, it's so good, or his parents wailing in grief over their grown son (still played by Peter Billingsley, of course) having returned to see them (where he's gone or how isn't clear, another bold lack of detail just right for a child's fantasy) and now blind from soap poisoning.
We laugh at Randy when he hides under the sink, because we know enough about The Old Man to know that while he might be a grouch, he would never kill Ralphie. And we laugh at The Old Man swearing because maybe we recognize it in our own fathers, or now we recognize it in ourselves.
The kids provide some great sight gags: Randy curled up under the sink, Randy in his immobile layers of coats, Ralphie in his ludicrous pink bunny suit, Flick with his tongue stuck to the light pole. Ralphie feeling up the lamp upon unpacking it is one of the funniest moments in the movie– even his mother seems to find it funny, she just unfortunately can't let that take priority over raising a child properly, and so she pulls his arm back down.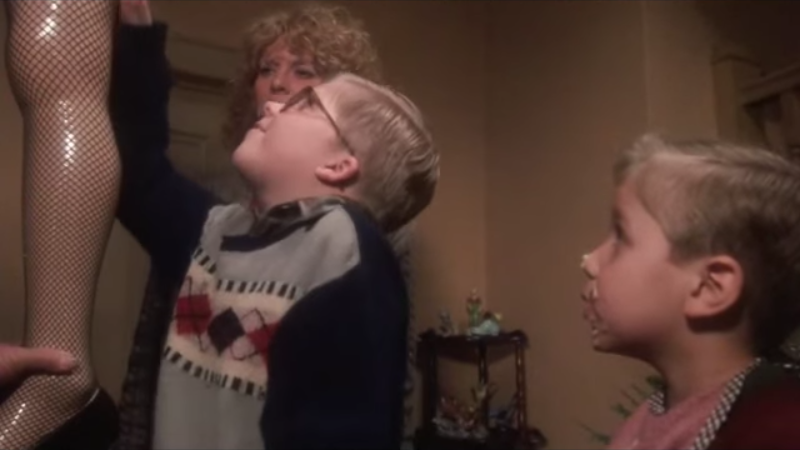 The cast is terrific all throughout. Years before he would decide to stake his hotel chain on a bet regarding his son's education, Darren McGavin hits all the right notes for The Old Man, in that sort of gruff and just-removed manner men were expected to be back then, while of course still being a loving and providing parent. It's the showier role, though, and Melinda Dillon deserves the credit for being just as much his equal, the source of emotional nourishment for the children, mild-mannered but also knowing the best way to get what she wants, whether discreetly (of course she deliberately knocked over that lamp) or overtly (encouraging Randy to eat like a pig at dinner). Peter Billingsley has the perfect look, complemented by those giant glasses, of the kid at once eager and hopelessly goofy, and his performance brings the right sense of excitement and wonder for the part. And Scut Farkus… well, I really hope that actor grew up into a less punchable face and voice. (He did. Go see if you recognize him from a recent role!)
The final scene takes place at the Chinese restaurant after the turkey has been ruined, and I don't have much to say about it, but I'm going to try to hit it quickly since it can't go without comment. Some folks find the restaurant workers' accent, heavy on L/R confusion, racist, and they might be right. (Someone might have a "historically plausible" argument or some such, but I'm not looking to defend that decision. If I were defending it, I'd say that the characters themselves don't ever mock the waitstaff's speech, which would've really soured me on the film.) On the other hand, we get the hilarious beheading of a duck, and I love that the fact that they're at the restaurant at all, which I see as a little nod to the Jewish tradition of having Chinese food on Christmas. It's not much, but it seems like a wink of inclusiveness to me, a recognition of traditions outside of Christmas.
I honestly don't know if everyone will relate to this movie. I can say that I do, even though I didn't have the kind of picturesque childhood depicted here. I still recognize the emotions, the experiences, and the sense of just how darn important everything was as a child. And as an adult, I find the humor in the sense of proportion time has given me, as I have had to in my own childhood. (My father and I are pretty good friends now; I can definitely say I get along with my family better as adults than I ever did growing up, although I'd be lying if I said I still didn't keep a certain comfortable distance from them.) Indeed, perhaps I like this film because it's not like my childhood. I always feel a certain sadness at Christmas, a sense of something (the magic?) missing, perhaps because I don't really have warm memories to look back upon. But A Christmas Story provides that element. And it works because the movie taps into those universal emotions and experiences. It provides my Christmas with a sense of stability, a comforting place I can go where things are as they ought, even if that comforting place is only in my living room, through the glowing warmth of television's warming glow. It's a place where, despite the trials and tribulations of childhood, Ralphie's parents always get him the Red Ryder BB gun in the end.
P.S. Stick with the movie version. I caught that live adaption of the musical version when it aired– or as much as I could put up with. Maybe it's because of elements that were adapted for the stage, maybe it's because it was overall played much more broadly, or maybe it's that the songs feel unnecessary when the narration does so much of the same work, but it just doesn't have the same magic.