This is how the flyer announced the event for February 26, 1967:
THE MISS ALL-AMERICAN CAMP BEAUTY PAGEANT
A SATIRICAL HAPPENING
ZIEGFELD'S PSYCHEDELIC REWRITE OF "HELLZAPOPPIN"
THE NATION'S MOST BEAUTIFUL FEMALE IMPERSONATORS
DIRECTED AND NARRATED
BY
FLAWLESS SABRINA
Before RuPaul's Drag Race… Before Wigstock… Before Paris is Burning… The Queen gave audiences an intimate, backstage look at the nuts and bolts of the drag pageant world. The contestants included such household (for drag aficionados) names as Crystal LaBeija, Rachel Harlow, and Dorian Corey.  The jury included Terry Southern, George Plimpton, Andy Warhol, and Edie Sedgwick. In fact, the original event, according to Gail Gerber (aka Gail Gilmore), was intended to be an even more mainstream event until the cameras came out:
For the New York pageant, Doroshow [aka Sabrina] lined up the Muscular Dystrophy Association as the charity du jour and they in turn brought in Lady Bird Johnson and Sammy Davis, Jr., as co-sponsors. The star-studded panel of judges was purportedly to include Judy Garland and George Raft. To document the pageant, Si hired filmmaker Frank Simon to make a movie of the event with financial backing from Lewis M. Allen. After this was announced, most of the celebrities dropped out, probably fearful that participating on celluloid would tarnish their reputations (82).*
It was Southern who helped compile the rest of the celebrity judging panel after the others dropped out. First-time feature director Frank Simon brought his camera into the cramped hotel rooms as the event was prepared and rehearsed, the non-glamorous world of yellow wallpaper and narrow, shared beds. The film punctures the fantasy from the very beginning and has little interest in indulging it.
There are two main threads in The Queen. The first, and more interesting one, is the sense of camaraderie that has developed among the drag circuit. For long, uncut scenes, Simon lets the camera roll as contestants discuss their lives (hearing the word "husband" tossed around casually among gay men in 1967), their families (who's accepted and who isn't), and to some extent even their politics (one contestant writes the White House asking to serve in the military, and is told that service will be open to gays eventually). Under the shadow of Vietnam, they joke about the various ways the military draft boards rejected them. They help each other with makeup and wigs. They sing, they practice their dance months, they snipe at each other the way especially catting siblings might. With little to no forward propulsion, we're drawn into the sense of larger community that only can only seem to flourish in these tight, windowless spots among, as one organizer puts it, "the night people." It's less candid and revealing than something like Shirley Clarke's Portrait of Jason from the year before, but it's a charming half hour or so of footage.
The second thread deals with the most controversial contestant, a beautiful naif who performs as Rachel Harlow. The other contestants resent Rachel (here prior to her transition) for her sense of entitlement: with her young and naturally feminine features, she walked into her first competition with no preparation and took home the grand prize under the jealous eyes of her harder working peers. As the other contestants mingle and share stories, Rachel stands alone, unpacking her clothes and ignoring the good cheer around her. What could be dismissed as harmless introversion becomes harder to defend when Rachel finds herself wigless and throws a tear-stained tantrum until the pageant organizers rally to find one for her.
The pageant itself is a mostly dull affair: we see very little of what happens on stage apart from one or two shots of the whole group and some individual walks. We get only snatches of Doroshow's charismatic emcee, a politely awkward walk by a fully dressed contestant who feels too self-conscious to appear in a bathing suit, and a hilariously mondegreen'd version of "Diamonds are a Girl's Best Friend" ("I've heard of affairs / that are strictly Plutonic… I think affairs / that you must keep Masonic / are a better bet." – the latter gets a big guffaw from someone in the audience.) As competition, it's impossible to follow, nor is the film particularly interested in this.
Instead, the competition and crowning are edited at a rapid clip: we get a final five contestants who are quickly whittled down to three, then two, and Rachel Harlow is crowned the winner as Crystal LaBeija storms off stage. No one apart from the organizers seems particularly happy. Hated and humiliated by the other contestants, Harlow travels back to Philadelphia alone, with a heavy head.
---
There's only one scene from The Queen that people still talk about regularly, and it occurs after the pageant is over, when Simon follows third runner-up Crystal LaBeija backstage as she reads the ceremony to nuclear ash:
I have a right to show my color, darling! I am beautiful and I know I'm beautiful! … I don't say she's not beautiful but she wasn't looking beautiful tonight. She doesn't equal me. Look at her makeup! It's terrible!
More than just an epic read of Harlow's laziness, Crystal accuses the ceremony of being rigged, and given the evidence on hand, it's easy to see things from her point of view. The organizers had been helping Harlow with basic tasks, and head organizer Joe Venuti in particular provides him with one-on-one emotional support during his meltdown. Though everyone involved denies anything untoward had happened, we see Venuti run up to judges just before the final announcement, hands full of paper ballots.
On the other hand, Gerber claims the judges were legitimately smitten by Harlow, falling over themselves to bask in her beauty at the afterparty (83).* Regardless, the scene is memorable because Crystal is memorable, spinning her rage into what would today be instantly meme-able moments. She is angry and hurt, but she performs that anger. It jolts the film awake. Heck, Frank Ocean even used it for an interlude on Endless. It's also the only scene with real filmmaking panache: Simon shoots Crystal head-on as she emerges from the backstage darkness to rage against a rigged system, smoldering eyes aimed directly at the viewer: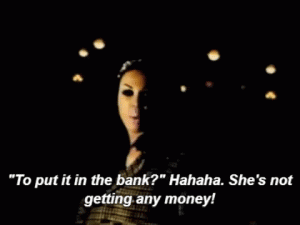 (note: click on the image to see the gif in motion)
I found myself on Crystal's side here, for formal reasons. Until the actual ceremony begins, Simon devotes only one scene (and a strange aside on "negro skincare") to a single black contestant: the film's motel rooms seem otherwise stuffed to the gills with white queens. But the ceremony we eventually see is more evenly split, and for that matter, three of the five finalists are black. We have no way of knowing why the backstage footage is so oddly unrepresentative of the competition – the more charitable explanations might be that Simon didn't have access to all the contestants, or the footage he filmed with them was somehow unusable – but the final product seems to vindicate Crystal's sense that the fix was in. Despite her starring role in the final act, we don't even meet her until the grand finale.
In effect, Simon couldn't have anticipated how well The Queen would function as unintentional satire of the American dream.The last shot from the pageant itself presents Harlow, sulky and inexperienced, blessed by nature but vapid, crowned and seated on a throne with her hardworking black runner-up attending her, all frozen smiles.
---
The Queen could have been the sleeper success of 1968 and launched Frank Simon's career. Its stars aligned just-so: chosen for the Critics' Week at the 21st Cannes Film Festival, a year that promised a murderer's row of classics like Forman's The Fireman's Ball, Němec's A Report on the Party and the Guests, Jancsó's The Red and the White, and Lester's Petulia, a first-time documentary feature by an unknown director with a socially outré theme was bound to raise eyebrows.
Sure enough, Simon's documentary turned out to be a personal favorite of main competition jurors, who assured producer Si Litvinoff that he wouldn't go home empty-handed. As Litvinoff later recalled, "At the Cannes film Festival I was told by juror Roman Polanski that he and Truman Capote who was also on the jury that they were going to vote the film a special prize" (84)* But this was 1968. Student protests elsewhere in France snowballed into a nationwide political crisis. Godard led a movement to shut down the festival in solidarity, followed shortly after by Truffaut and others. More than half the screenings were canceled outright. The festival was called off mid-week. The Queen couldn't even land a distribution deal. Litvinoff did in fact go home empty-handed.
Still, the Cannes experience did yield an important contact for Simon himself. After the festival, juror-fan Roman Polanski asked Simon to direct two documentaries for him. The first, behind-the-scenes footage of Polanski's Macbeth, is probably Simon's most widely accessible work now that Criterion has included it as a supplement to their Macbeth release. The second, Weekend of a Champion, follows Polanski as he hangs out with Monaco Grand Prix driver Jackie Stewart.
Simon's only other feature-length project, per IMDB, was a late 70s teen sex comedy starring a then-unknown Steve Guttenberg, filmed at the home of future Mad Men creator Matthew Weiner. Here's how Guttenberg later described the experience:
Frank Simon was a tortured talent. He wanted to elevate the film into something with higher aspirations, but he had to direct a teen comedy. He smoked nonstop.
"Steve, have you thought about the angst and deep import behind how David, your character, handles the drama of the film? I think he's trying to make sense out of his parents' distance from him, his confusion with the Vietnam War, and his curiosity toward women and their inner meaning." Frank looked at me and took a long drag off his cigarette. Walter [Shenson, producer] poked his head between us.
"Frank, I want to make a teen comedy that makes a lot of money" (92).***
Alas, The Chicken Chronicles made no money and Frank Simon never directed another film.
---
Despite the disappointment at Cannes and the hope for broader notoriety that an award might have conferred, The Queen did at least come home to rave reviews from critics. Renata Adler wrote about it in the New York Times, praising the film's manner as "funny—but not tactless."
The drag queens are, of course, perfectly aware that they are not women, and even their mannerisms—the flatted vowels, the relaxed wrist, the gait of the homosexual who wants it known—are not female imitations at all, but parodies. Very witty, detailed parodies at that. […] At times, Miss Sabrina, Miss Crystal and Miss Harlow and the rest seem to have taken Hollywood's old message very much to heart: Both the two-fisted gunfighter and the sex queen could find stardom, but the sex queen really had all the lines. The cosmetic idea was bound to spill over a bit.**
The film played well at the Kips Bay Theater, but struggled to find wider distribution. Gerber ascribes some of this to the length: at just over an hour, even theaters inclined toward arthouse fare were reluctant to book it (82).* It has been hard to find for years, with only a privately-released DVD in 2014.
Crystal LaBeija, cofounder of the legendary House of LaBeija, joined with other drag queens of color to break away from what they perceived as an unfair pageant scene and create the sprawling, influential world of drag balls (the kind profiled in Paris is Burning, the kind that gave birth to the modern drag competition as we know it).
Rachel Harlow, who underwent gender reassignment surgery a few years after the film, went on to own a popular Philadelphia nightclub and date Grace Kelly's older brother, Olympic medalist John Jr. He was allegedly pressured out of the relationship by family.
Men grow cold
As girls grow old
And we all lose our charms in the end.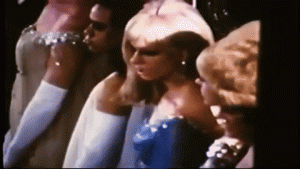 ---
---
Notes:
* from Gail Gerber's autobiography, Trippin' with Terry Southern.
** God, I love Renata Adler. At the bottom of her review of The Queen:
Two shorts opened at the Kips Bay Theater yesterday with "The Queen." One, French, about a factory where plaster mannequins are molded, filed, hammered and repaired, is about the most extreme, laconic anti-female movie since Dean Martin last starred in anything.
*** from Steve Guttenberg's autobiography, The Guttenberg Bible: A Memoir.