Tune in Next Week is an ongoing feature, examining serials one chapter at a time. You can watch Chapter Ten here.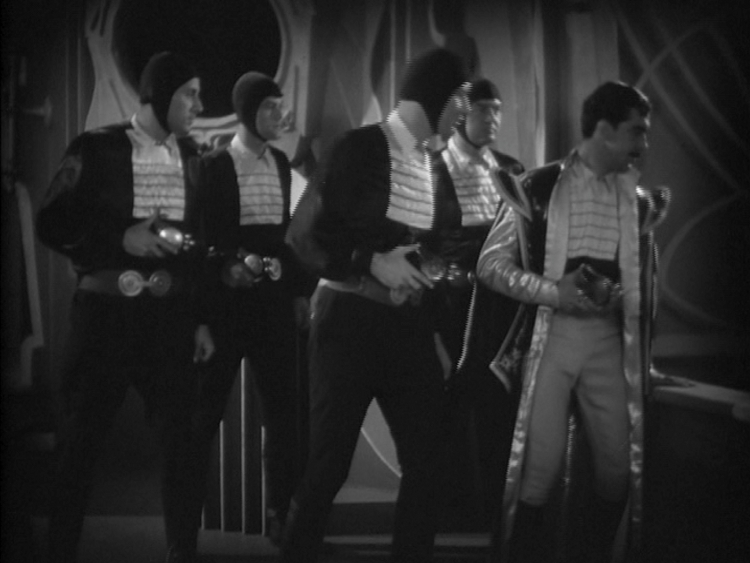 Let's look at the tape, shall we? At the end of Chapter Nine, Buddy Wade had infiltrated Killer Kane's palace and was using Kane's "televi" to locate Buck Rogers, who had been forced to don an amnesia helmet and been put to work in the dynamo room. After Kane discovered him and summoned his guards, Buddy was clearly shot with a ray gun while trying to open the window to escape. As Chapter Ten gets underway, however, Buddy jumps out the window and makes a clean getaway, without being shot. I'll let Annie Wilkes handle this one: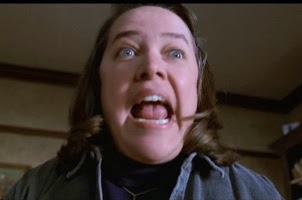 He got shot with a cockadoodie ray gun! CHEEEEEAT!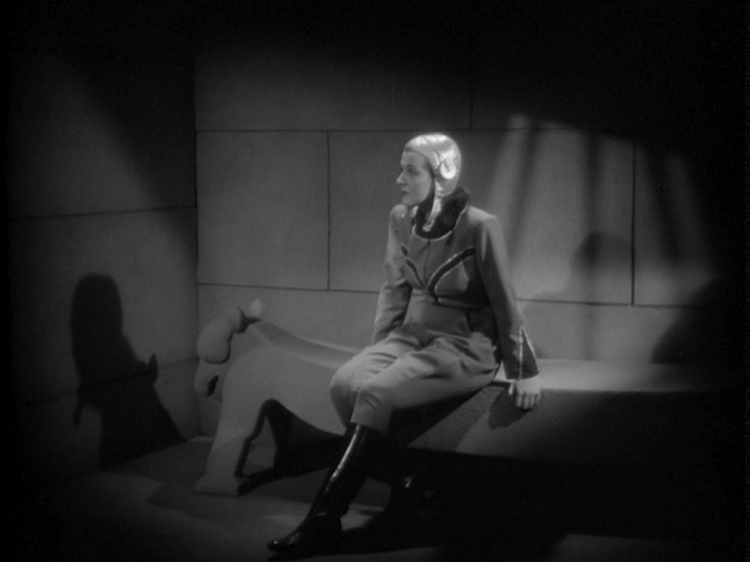 Ahem. Overlooking that little sleight of hand, there's a lot to chew on in this chapter. Buddy escapes into Kane's city, with Kane calling an APB on him to all his guards. As we saw last time, Wilma Deering was also brought from the wreckage of the patrol ship when Buck was captured, and now we find her in a jail cell. She overhears the orders to capture the boy from the Hidden City, and the guard, gloating on the other side of the bars, confirms that it's Buddy Wade. "I didn't think even Killer Kane would make war on children," she says, and when the guard leans in to correct her false impression, AWWWW YASSSS Wilma grabs his gun and zaps him in the face. I'll never make fun of the guards in the Hidden City again. (I like that a moment later, another example of Kane's elite palace guard bravely says, "We'd better get back to our stations and wait for detailed orders." Clearly Kane's authoritarian ways have sapped his underlings of their sense of initiative, or all the skilled henchmen are languishing in a Saturnian prison with Captain Laska.)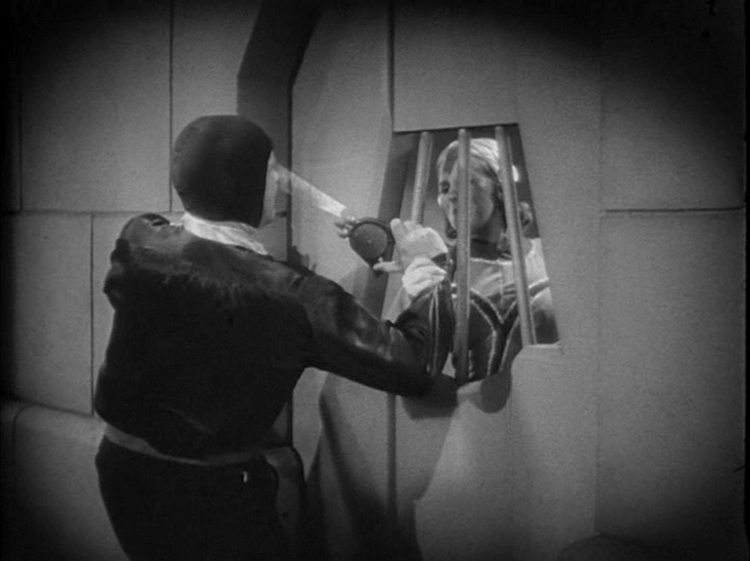 Actually, the leader of the guards hunting for Buck Rogers and company in Kane's palace has a familiar face, and I'm honestly not sure if it's a continuity error or not: throughout the earlier chapters, Captain Laska's most prominent underling was a soldier named Patten, recognizable by his mustache and pugnacious features. Longtime character actor Wheeler Oakman, who plays Patten, amassed nearly three hundred acting credits in his relatively short life (he died at age 59 of a heart attack). Beginning in the silent era and continuing to the last year of his life, Oakman often played "heavies"–sometimes secondary parts like Patten, but often larger roles as the main villain. I recognized him from The Phantom Empire, where he plays the traitorous Lord Argo of the titular underground kingdom, and he played a similar role in Flash Gordon's Trip to Mars, but it's likely that I saw him in smaller parts as well, as he really got around, acting in shorts, serials, and features.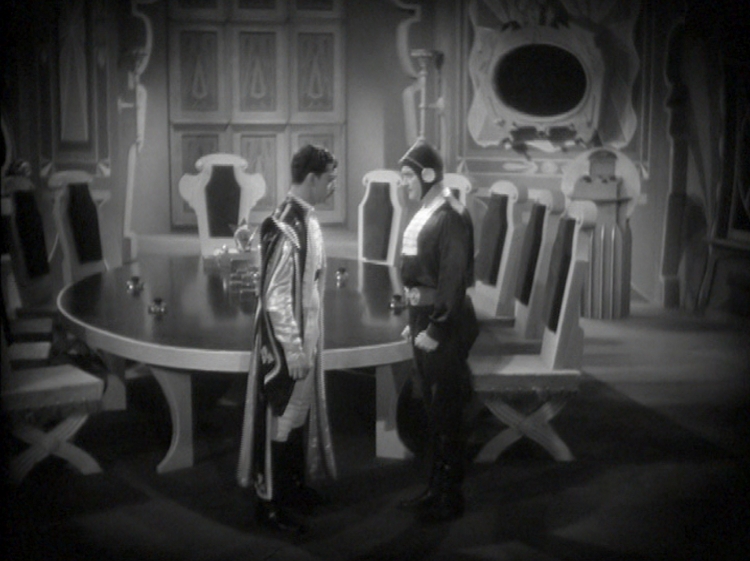 In any case, seeing Oakman in this chapter puzzled me, because I was under the impression that his character Patten, like Laska, had been captured after the failed Saturnian coup. Maybe he escaped somehow. It's just as likely that Oakman and the other actors playing soldiers were considered interchangeable, and he's not meant to be the same character in this chapter, but his features are too distinctive for him to be a background extra. Unless other details emerge in the remaining chapters, I'm going to pretend that Patten has a twin brother on Earth, wondering where he is and when he will return.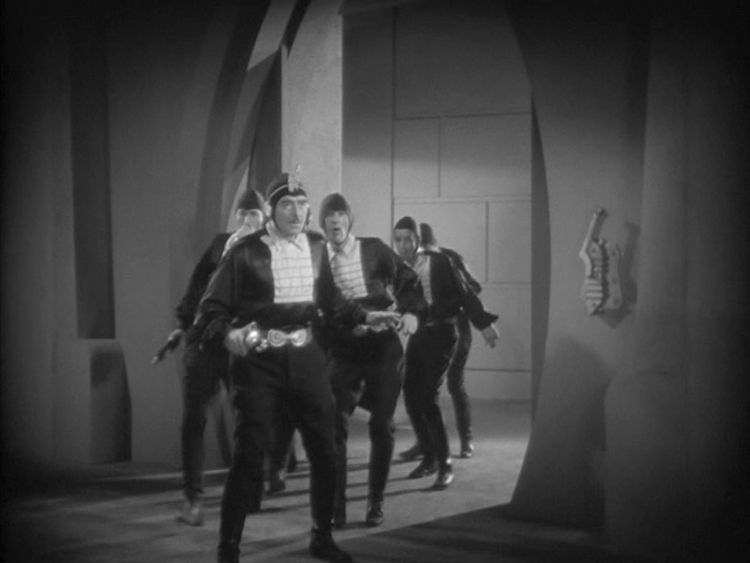 Wilma uses the ray gun to escape from her cell and for the next two glorious minutes the serial becomes Lt. Wilma Deering of the Sky Patrol (at least I like to imagine that she killed a bunch of Kane's men while the scene cuts to Buddy). She and Buddy find each other and head for the dynamo room where Buck Rogers is slaving (I thought that Buddy had seen that on the viewer, but I guess I was wrong about that; it's Wilma who reveals Buck's fate).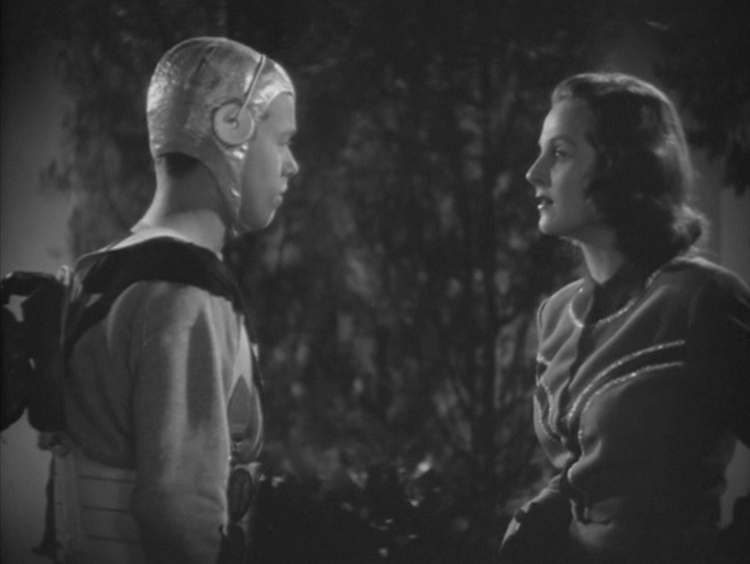 Entering the dynamo room, Wilma and Buddy pass a pair of helmeted men, assuring themselves that they are harmless robots. But Kane, watching through his viewer, cannot resist gloating over the intercom: "You little fool! You've done just what I wanted you to! Those men you passed are not robots–they're guards!" The two guards move to arrest the pair, but Buddy, leaping to the floor of the dynamo room, happens to bump into Buck Rogers hard enough to dislodge his amnesia helmet. Buck quickly comes to his senses and joins Buddy in fighting off the guards, while Wilma hurls "gas bombs" to provide cover.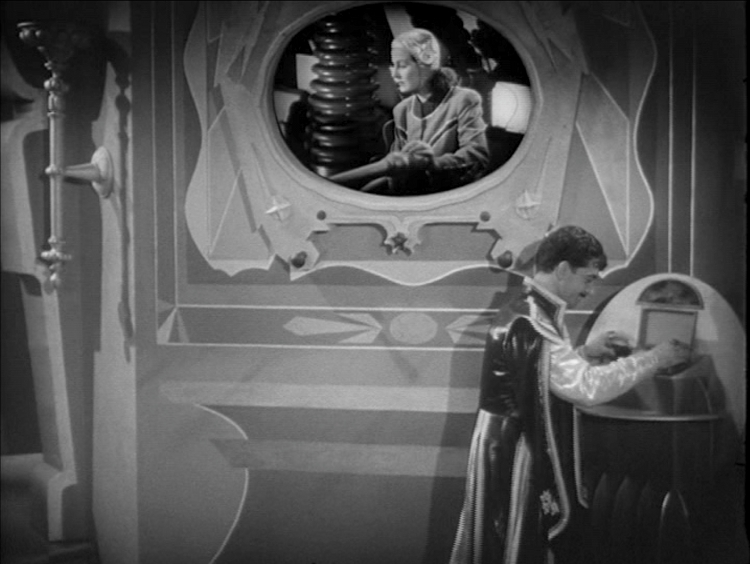 While Kane impotently directs reinforcements to the dynamo room, Buck, Buddy, and Wilma steal one of Kane's patrol ships to make their way back to the Hidden City. Unbeknownst to them, one of Kane's men is stowed away aboard the ship. The brief shot of him poking his head through a doorway is a nice if unsubtle touch: it's typical of the serials to foreground just about any detail that is going to pay off later so that we don't miss its significance. Further, the deep shadows in the frame around him–also seen around Wilma Deering in her jail cell earlier in this chapter–give the scene the semblance of a cameo, and are reminiscent of a silent movie, perhaps indicating his isolation as he infiltrates enemy territory. We could use more of that kind of simple but expressive framing in this serial.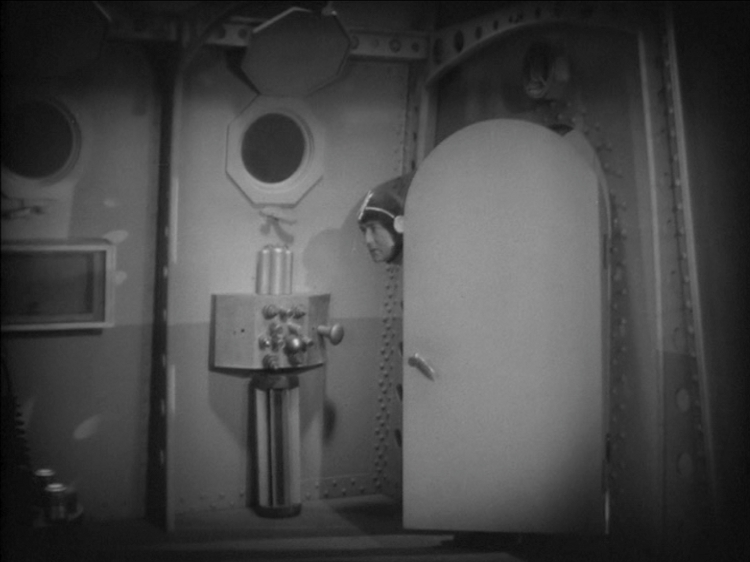 Fortunately, the radio works, so our heroes are able to contact the Hidden City and avoid the unpleasant case of mistaken identity that almost cut their adventures short at the end of Chapter Two. Buck jokes that they'll probably make Buddy a general for this. You know what they should do first? How about making Wilma a Captain, Colonel Rogers?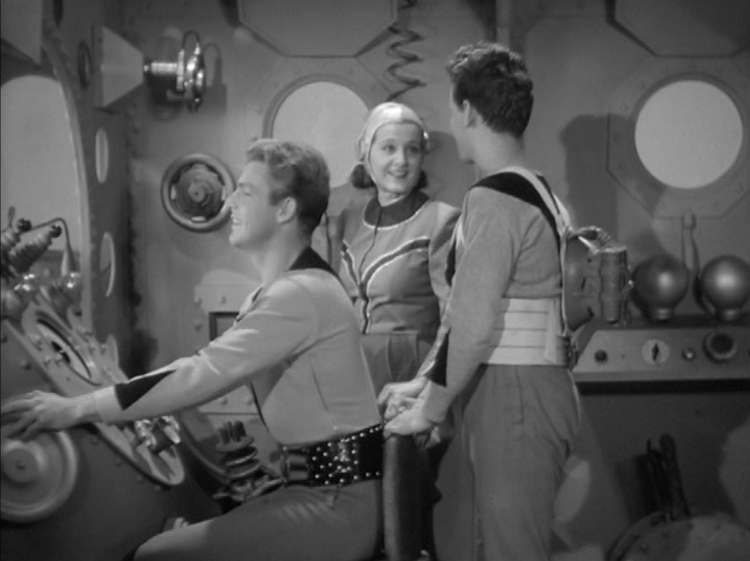 After an uneventful flight, they arrive at the Hidden City. "Why, we'd given you up for dead!" says Air Marshal Kragg; "I never expected to see any of you again!" echoes Dr. Huer. Considering that Buddy Wade engineered the rescue, I guess "never leave a man behind" is a forgotten principle in the twenty-fifth century.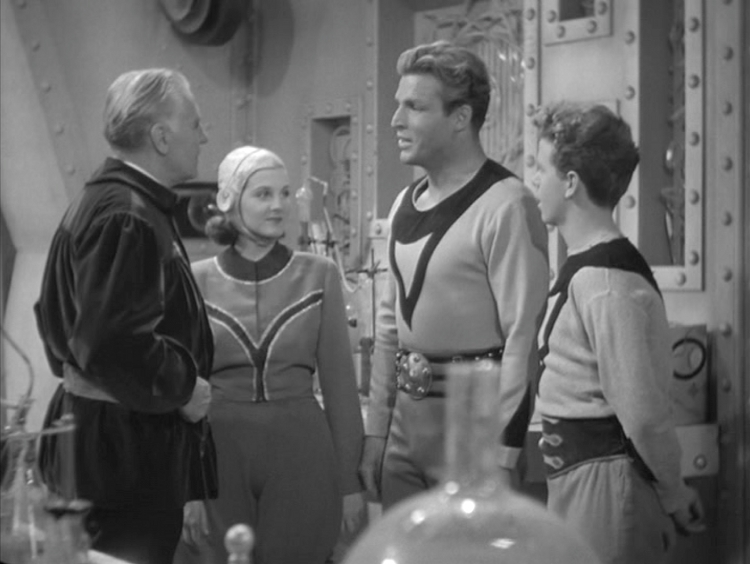 Buck directs a crewman to inspect the ship for intelligence purposes, but the stowaway knocks the unfortunate redshirt out and steals his uniform, disguising himself as a Hidden City soldier. The spy takes the place of a radio operator and contacts Kane, giving him the secret location of the Hidden City gates: "Valley 100" on Kane's maps. An aerial attack is quickly organized. Buck and Kragg discover the imposture and a fight erupts, but it makes no difference: Kane's ships are already on their way to bomb the Hidden City out of existence!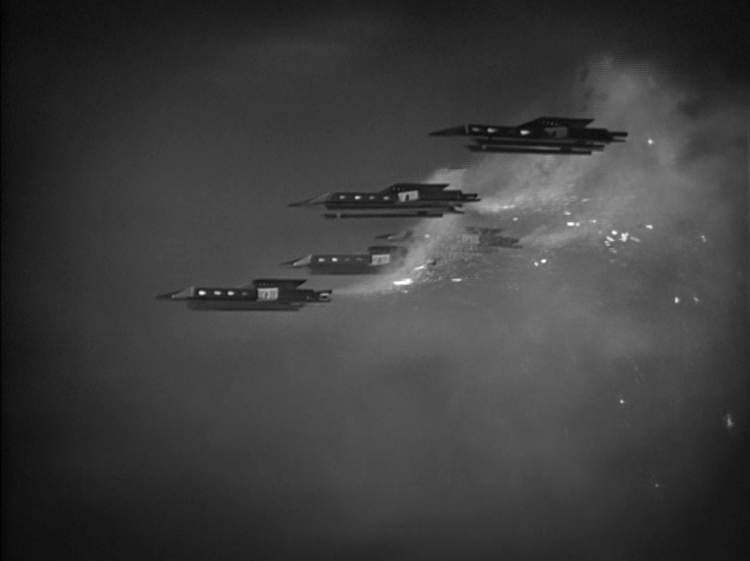 Will the forces of the Hidden City be able to ward off Killer Kane's attack? Tune in Next Week to find out in Chapter Eleven, "A Prince in Bondage," which, I dunno, that sounds kind of kinky. Are we sure that isn't a Flash Gordon chapter?