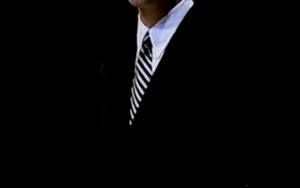 "Working with Michael Jackson on Bad was the counterbalance to my experience with Paul Newman on The Color of Money, just as The Last Waltz was the counterpoint to New York, New York, American Boy to Taxi Driver, Italianamerican to Mean Streets, and, I suppose, Mirror, Mirror to After Hours. I still need to do smaller projects, to keep myself moving."
– Martin Scorsese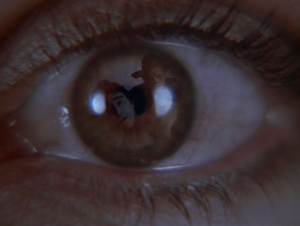 The last decade of Scorsese's feature directing career may seem impossibly varied, jumping from Touchstone star vehicles to no-budget surrealism, from boxing pictures to biblical epics. His extracurricular activities will do nothing to change that impression. After Hours was already a strange project for the director, working with a writer named Joseph Minion whose vision was wildly different from anything we'd seen in Scorsese's earlier work. It would seem Scorsese has never worked with a writer just once, though, and during the same time they were melding their visions again for Steven Spielberg's Amazing Stories TV anthology. Unfortunately, this ended up being the closest thing to a bad movie Scorsese has produced at this point in his career. There are some good visuals with Sam Waterston's house, the same kind of grotesquely minimalist space as After Hours' Paul Hackett lived in, and with the multitude of faces reflected in the mirror he breaks in his terror.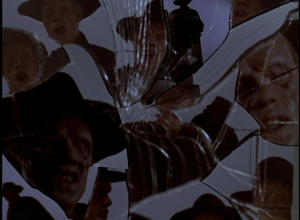 But if Scorsese was working with a familiar writer here, he had no such luck in the acting department, and that loss is felt much more acutely than in the cast of After Hours. Whatever Waterston's other talents might be (and, full disclosure, I, like the loudmouth in Annie Hall, know nothing of his work), expressing primal terror is not one of them. He seems to be aiming at a kind of total incapacitation, but he's such a ham that he looks like a human cartoon, and not a well-drawn one either: he literally mumbles "Hubba hubba" as he runs from the monster at one point. After Hours and What's a Nice Girl Like You Doing in a Place Like This showed Scorsese's skill with blurring the line between comedy and horror. But in this short, the scales tip the opposite way, with scares so hysterical they fall into the deep abyss of camp. Michael Kamen's score is little help either — it sounds more appropriate for a Chuck Jones animated special than harrowing horror.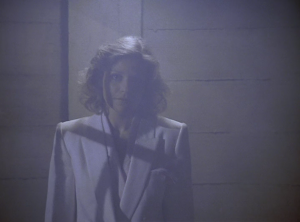 Whatever harm Waterston's contribution might have done, Scorsese's lack of contribution does far more. As in most of these side projects, the director seems interchangeable, producing the same kind of 80s cheese as any schmuck could have. There's some nice Scorsesean intertextuality at the beginning: he has borrowed scenes from past films before, but in this case he steals wholesale, using original footage from Hammer's The Plague of the Zombies. Scorsese cites Mario Bava as another influence.That director and his followers in the Italian giallo genre favored bold, garish colors (hence the name: giallo means "yellow"), which would seem to be a major draw to the color-conscious Scorsese. But Mirror, Mirror's favored color is the sterile white that envelops Waterston's house. It's broken up a bit by the unnaturally deep blue of his carpet, but for the most part that side of the genre fails to translate in this film the way it did in After Hours. Aside from that, there's little to distinguish this from standard TV fare except for the 35 mm format.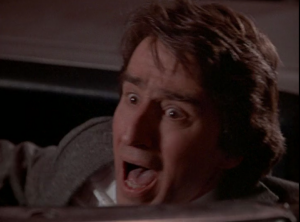 The story, based on an idea from Spielberg, follows Sam Waterston as a horror writer named Jordan Monmouth. He meets a Rupert Pupkin-like fan waiting outside his house, and it looks for a moment like Scorsese might continue King of Comedy's exploration of fame. No such luck: the idea does get brought up occasionally, but the Pupkin character is a red herring. Instead, the monster is a black-cloaked bogeyman played by Tim Robbins who Monmouth can only see in reflections, but who disappears when he turns around. When Monmouth looks into his lover's eyes long enough for the phantom to catch up with him, he changes into the monster. This could be a fruitful metaphor for all kinds of things; near as I can tell, the short doesn't explore any of them. Maybe this would have been a better movie than a TV episode, where it could have had time to explore just what it is in Monmouth's consciousness that manifests itself so horribly. Instead, before we have time to figure out what's going on, he flails around like an idiot and jumps out the window. Neither smart nor scary, Mirror, Mirror is a rare misstep from the great director.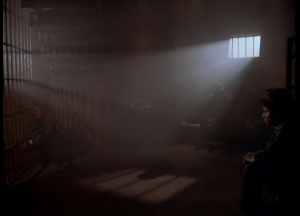 While not as embarrassing, the other shorts show the same lack of Scorseseness as Mirror, Mirror. His commercials for his friend Giorgio Armani don't really do much to deserve having his name in big letters at the beginning of the first spot. It probably was worthwhile, though, since without it the films could be mistaken for any generic soft-focus eighties perfume commercial. The video quality on YouTube hasn't done them any favors either, but you can see them here:
The first spot is an overheated minimelodrama, where, if and only if you pay close attention, you can see the story of a woman who shows up at her lover's apartment to discover pictures of his wife. She runs away to his bedroom, where she finds a bottle of his Armani aftershave, dripping out in slow motion. She puts some to her face and ascends to a state of bliss — Armani solves everything, everybody! The second commercial, for the Emprio Armani clothing line, isn't quite so kitschy, but it's not a whole lot more memorable. In it, Scorsese looks back to his first feature, Who's That Knocking At My Door for inspiration, shooting two lovers in a decrepit old building in black and white. One shot, of the woman's eye, is lifted almost directly from the earlier film. The setting, an apparently Renaissance-era building (forgive my ignorance in architecture) full of classic Italian style and the action, of an Italian girl teaching an American boy her language. The commercial might be the film genre least friendly to artistic expression, and Scorsese doesn't quite manage to overcome the challenges that come with the territory.
Music videos are more or less the same thing, but they offer a lot more leeway with their greater length, need for striking images, and working relationship with fellow artists instead of corporate bosses. Not that that necessarily makes Scorsese's video for Robbie Robertson's "Somewhere Down the Crazy River" any good. If the first Armani commercial was pure eighties advertising cheese, this is eighties music video cheese distilled even more finely. The same kind of kitschy dissolves Scorsese used ironically in King of Comedy are handled with a poker face here, transitioning between close-ups of glittery guitars and some kind of prehistoric hand-held synthesizer, all bathed in red and blue dive-bar light. Bold colors and silhouetted figures are both Scorsese trademarks, but it's still hard to imagine Taxi Driver featuring Travis giving a monologue against a weird color-shifting screen that occasionally turns hot pink. The lone backup dancer looks especially silly, and not just because her moves leave a little something to be desired. And if Scorsese ever directed a scene as unintentionally hilarious as Sammy BoDean poking his head in to shout "somewhere down the crazy river!" and stare into space, I haven't seen it.
Of course, part of the problem with Somewhere Down the Crazy River is the song itself, which is mostly Robbie Robertson saying some spoken-word gibberish over a very, very eighties instrumental track. Given the chance to work with one of the greatest songs of the decade, Scorsese does a lot better. Michael Jackson's Bad gives him an opportunity to tell a possibly autobiographical story of an intellectual who can't fit in with the tough guys on his block — at least, it's more likely his autobiography than Jackson's, a midwesterner who never was allowed much of a chance to develop relationships in his hometown. Unfortunately, that's about as much signature style as Scorsese contributes here: that, some of the usual swooping camera moves, cameos by Charlie and Catherine Scorsese, and a return to black and white for the first time since Raging Bull (though it's the strange, bluish black and white that comes with working on video) are the only signs of his involvement. Like the previous side projects, his flair for the timeless is also sadly lacking in Bad, which features a goofy multiracial eighties gang right out of Death Wish, including one guy who looks like a sushi chef (yeah, they turn out to be a fantasy, but come on).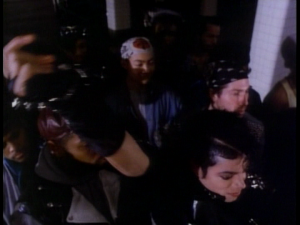 Jackson himself does well, and whether intentionally or not, creates a good contrast between the unintimidating, shy character conveyed by his whispery, feminine speaking voice and the dangerous, macho character he becomes when he starts singing. Even better is a New Jack City-era Wesley Snipes as the tough guy who tries to push Jackson back into his old wicked ways. Scorsese talked about the video as an opportunity to return to the Old Hollywood-style musical choreography he worked with in New York, New York, and there are a couple of thrilling moments, like a tracking shot that follows Michael and his crew as the march down the subway and make a synchronized jump over the turnstiles, and the weird, exaggerated group shuffle that was homaged in Bruno Mars' recent Uptown Funk video. Overall, it's a pretty solid music video that comes close to justifying its classic status, but Scorsese is mostly a hired gun on it.
He'd bring a little more style to another project for Armani, Made in Milan. Maybe I'm just a sucker for soothing voices reminiscing in Italian over beautiful cityscapes over a moody, Popul Vuh-y score by Howard Shore, but this one really stuck with me. The short is an opportunity for Giorgio Armani to make a style manifesto, to talk about how his mother's homemade clothes inspired him, and the aesthetics that drive his work. Those aesthetics include the elegant simplicity that allowed the poor Scorsese's apartment in Italianamerican look so much more pleasing than the gaudy excesses of the coke-rich Henry Hill in Goodfellas, and the "lived-in look" that parallels the easygoing naturalism of Mean Streets and Taxi Driver. Scorsese focuses on the aspect of Armani's work that fit most closely with his own experience as a director, showing the familial camraderie and constant instruction of his models in the same light of his own work with his actors. As well as the scenes of historic Milan, Scorsese includes some striking shots of the runway, bright white lights in the blackness of the theaters, leaving the models to float in the void.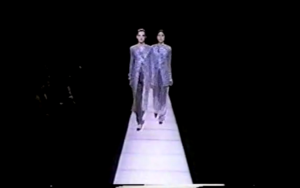 Just as he drew on Bava for Mirror, Mirror, he pays tribute to another giallo master with an Argentonian shot of Armani's eyes peeking from the darkness as he watches his models from behind the backdrop.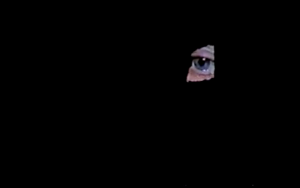 And there's a touch of those same old-timey musicals again in the structure, building up to "the big show." There are echoes of Scorsese's own films here too, like a lighthearted scene of the models playing with a camcorder that plays like an updated version of the "Silvano" monatge from Raging Bull, or the use of archival photos that recalls both Italianamerican and his student shorts. Made in Milan is a mood piece, with a little bit of Fellini and a little bit of Malick, that turns out to be a surprisingly worthy addition to the great man's filmography.
New York Stories is even better. Scorsese contributed the short film Life Lessons to the anthology, but Stories is worth seeking out in its entirety. The other segments are Life After Zoe, a wonderful rich-kid fantasy by Francis Ford Coppola that suggests he maybe wasn't such a terrible choice for Jack after all; and Oedipus Wrecks, a hilarious Woody Allen joint that features rare onscreen roles for Mae "Betty Boop" Questel and Julie "Marge Simpson" Kavner. Life Lessons, inspired by Dostoevsky's autobiographical story "The Gambler" and letters from the mistress who Scorsese believes inspired it, follows Nick Nolte as an abstract painter and what he does when his protege breaks up with him. "It starts at the end," Scorsese says, "and goes onto the very end." The protege is played brilliantly by After Hours' Rosanna Arquette, and by the time she tells him they're breaking up, she's already broken up with her rebound. He convinces her to stay with him under the guise of being adult about it, but it becomes clear pretty quickly that that's the exact opposite of his real reason. Even though he's an artiste instead of a blue-collar guy, Nolte still has all the Scorsesean machismo of Travis Bickle, or Charlie, or Jake LaMotta. He displays a deeply warped sense of chivalry, picking fights with Steve Buscemi as Arquette's ex, for reasons that have much more to do with his own feelings than hers. At one point, he stomps over a magazine photo of a nude model, and that domination and degradation of the female body defines him. Like all Scorsese antiheroes, though, he remains sympathetic for all that, and Nolte beautifully conveys the deep sadness of his character. He's become a bit of a punchline for having the voice and appearance of a shaggy old dog, but he uses that to his advantage here, looking constantly defeated, even at his best moments, moving his voice between chain-smoker sorrow and the lilting cadence of a hippie Tom Waits. He's a Bicklishly solitary man — he looks uncomfortable at a party, wearing a suit so he looks like a dressed-up circus gorilla. The whole film is steeped with heartache, really. As awful as this character is, he's one Scorsese knew well from a trail of failed relationships that had followed him all his life, and he directs the film with every bit of that melancholy experience, as well as the clear-eyed portrayal of the kind of man who can hurt himself and the women around him like this.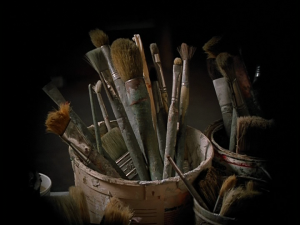 Arquette, likewise, is a classic Scorsese woman, but with a difference. In Alice Doesn't Live Here Anymore, and The Color of Money and Taxi Driver, and most of all in Raging Bull, the filmmaker is fascinated by strong women who don't let their relationships with controlling men overwhelm their inner toughness. He gets those same notes from Arquette, but the story by Richard Price takes her character in a completely different direction. Where Vikki LaMotta's strength had come from her ability to suffer Jake's abuse for so long, Arquette's comes from her refusal to let him control her. Instead she controls him: after professing his love for her for the umpteenth time, Arquette challenges Nolte to prove it by making out with a nearby cop. And Nolte almost does it, lurching over to the police car in a hypnotized daze. When he gets home, she strips down to a robe and panties, and barely reacts when he says he could rape her, or kill her, or kill himself. "You see right through me, don't you?" he says. It's a bit like if Jake was married to another boxer, matching him punch for punch. In fact, Arquette's moody, mysterious paintings may show her artistic superiority to the muddy splatters of her teacher.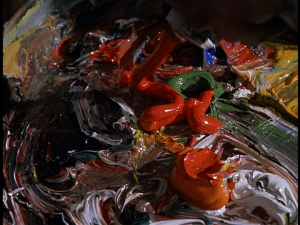 But given my bias towards representational art, I won't linger over that. What is worth lingering over is how much this film does with the act of painting. Cinematographer Nestor Almendros (who Scorsese met on one of the Armani commercials, of all places) brings enormous tactility to the big, glossy, messy globs of paints, and the rough canvas underneath them. Shiny, fresh paint, dusty, caked-on splatters all over Nolte's shoes and loft and furniture; Almendros captures it all that makes me sad he worked in 3D.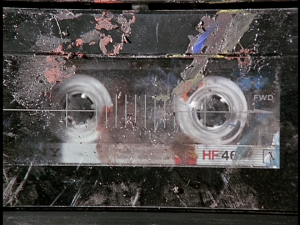 That solidity is emphasized by Nolte's ecstatic painting technique, making wide, wild sweeps over his enormous canvases, working frantically as he listens to the dark, heavy rhythms of Cream on on his paint-caked boom box. Almendros continues to add beautiful stylistic flourishes to other aspects of the film, like the iris effect that introduces Arquette as she walks off the plane, or that shows Nolte's perverse, laserlike focus on her ankle.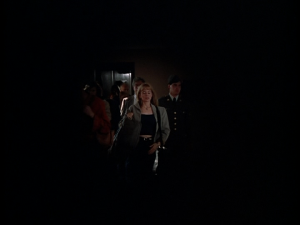 Or Nolte's blue-drenched fantasy of Arquette, which has the kind of sensuousness that was sorely missing from Crazy River.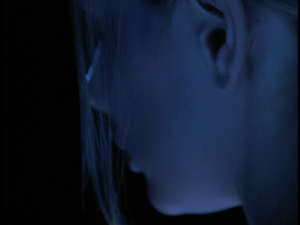 And there's a very Scorsesean nod to The Maltese Falcon as Nolte's agent disappears off the bottom of the frame behind the chain-link fence of the elevator.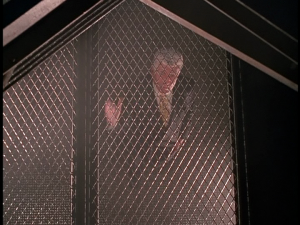 And there's another rewriting of Raging Bull in a lightning montage of camera lenses, flashbulbs and viewfinders, interspersed with flashes of the pictures they're capturing.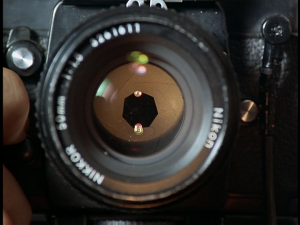 For Nolte's pathetic protagonist, the film is a series of self-inflicted humiliations in the King of Comedy style. The character really is a dog, in more than hairstyle: he has a dog's unreasoning, unchangable loyalty, and wears a look on his face like he's perpetually just been called "bad boy."He takes on the behaviors of a lovestruck teenage stalker in his own home, because thanks to his insistence, it's Arquette's home too. The closeness could never have worked — just watch the way he stares up at her glowing orange-pink curtains the night she takes a boy home. Nolte's pain is deserved, but it's still heart-wrenching: just look at the way he stares up at his canvas, naked, to the sound of that old Scorsese standby, Italian opera. He talks Arquette into seeing Buscemi's performance with him so she can "walk in with firepower, with dignity," and she seems to understand his real motives better than he does. "I love you, I'll do anything for you," he says. "You want me to go back in the tunnel, pull him out by his hair, I'll do it," because that's what he wants, not what she wants. After Nolte starts a literal fistfight with Buscemi, she finally cuts ties with him, literally pushing him out the door. He says goodbye as he paints frantically, letting the Rolling Stones' cover of "Like a Rolling Stone" say what he did to her, or maybe what she did to him. She abandons her abusive relationship with Nolte and maybe with art as well. He destroys both himself and her, but as often happens with Scorsese, he gets off a little too easy. The last we see him is a long shot, blacked out except for a small circle illuminating him and another younger woman. Scorsese describes it as a sign of the vicious cycle starting over again, but to my mind, he doesn't quite communicate that intention. Moviegoers are so used to happy endings that many of us will think that's what's happening here, just like in the baffling, frustrating ending to Taxi Driver. The story demands a different kind of catharsis, not of a hero we want to see rewarded, but a villain we want to see punished even as we feel for the suffering he has already seen.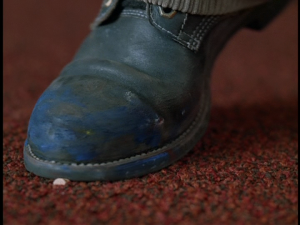 But then, Scorsese was never one for fulfilling expectations: after all, who would expect him to make most of these little side films? But they shouldn't be left entirely by the wayside. They show Scorsese at the heights and depths of his filmmaking powers, making himself anonymous like the great journeyman directors of his youth or showing off his inimitable style. As I said, this is not the Scorsese we expect. But they show him gearing up for another epic project, one that would define the world's expectations of Scorsese, for better and for worse.
Up next: Goodfellas