In October of 1962, an album released by the now-defunct Cadence Records, sold over a million copies in two weeks and earned a place in the Guinness World Records as the fastest-selling album of all time. It would eventually win a Grammy Award for Album of the Year, and turn comedian Vaughn Meader into a household name. Meader performed at Carnegie Hall, was on all the chat shows and written about in the gossip columns. He was even asked to join the Rat Pack by Frank Sinatra. He declined.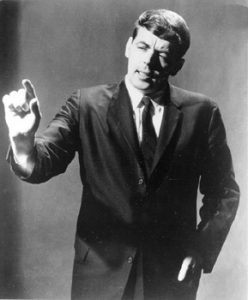 Yet, by 1964 Vaughn Meader's career was virtually over.
That's because that album, The First Family, was parody of the Kennedy Family. Specifically, President John F. Kennedy, who was voiced by Meader, and to a lesser-extent his wife, Jacqueline Kennedy, who was played by Naomi Brossart.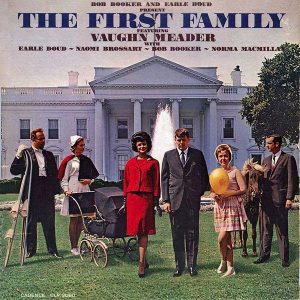 Born in Maine, Meader's father died in an accident when he was only 18 months old, and his mother subsequently left him when she moved to Boston. Later, she would be institutionalized. Spending his childhood being shuffled between the homes of relatives and children's homes, Meader found solace in comedy. After a stint in the Army, he began performing musical comedy in nightclubs in the late-1950s. As a fellow New Englander, Meader realized that he could easily change his voice into a humorous version of the president's voice and began closing his act with an impression of Kennedy.
At the same time, record producers Bob Booker and Earle Doud began got a idea to make an parody album based on the Kennedy's, which the admitted was to cash-in on both the fascination with the first family and the popularity of comedy albums, as Bob Newhart had just won a Grammy. The pair saw Meader on a talent show and new that they had found their man.
The First Family, is a good-natured parody of the Kennedy's. It's jokes are about things like the family's famed athleticism, the first lady's restoration project of the White House, and the fact that Kennedy went to Harvard. The funniest bits are about the John and Jackie's supposed glamour. Particularly about how everyone assumes they're busy doing fabulous things, so no one bothers to invite them anywhere, so they sit around bored and lonely.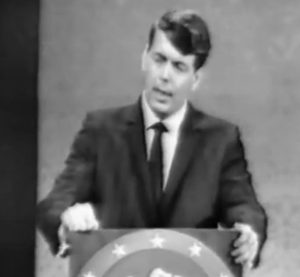 When Kennedy was killed in 1963, no one wanted to joke about him, no matter how gentle the parody. The producers and record company had the album pulled and the existing copies destroyed and Vaughn Meader stopped doing his impression of Kennedy, and at just 27 had to reinvent his career.
Meader released new material, where he didn't even mention the Kennedy's, in 1964 and 1965, which flopped. Over the years, he would try to make a comeback several times, including releasing another parody album with Doud, 1971's The Second Coming, a comedic look at what life would be like for Jesus if he had returned to earth around the time of the release and popularity of Jesus Christ Superstar. It flopped too. After battling drug and alcohol addiction, he eventually found success locally as a country and bluegrass performer in his native Maine under his given name Abbot Meader (Vaughn was his middle name), and would be featured intermittently in newspapers, magazines and TV shows as the subject of "where are they now" type profiles.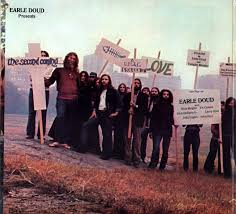 In one such interview in 1998 he claimed that he wasn't bitter saying, "When I had the album, all those lowlifes around me who said they were friends, what I didn't realize was they were in it for the business. Now the funny thing is I'm a bum and I find people who really care. I have a wife who cares, friends who care. I look at Elizabeth Taylor at the Academy Awards or wherever, and I say, 'She any better off than me?' and I doubt she is."
Miscellaneous:
In 1999, The First Family was reissued for the first time since the Kennedy assassination.
Vaughn Meader died in 2004.
In 2006, a documentary was released about Meader called First Impersonator.
The First Family was followed by a sequel, The First Family Volume Two, which sold well, though not as good as the first one.
Earle Doud produced The First Family Rides Again starring Rich Little as then-President Ronald Reagan.
The album was recorded on same night as Kennedy's Cuban Missile crisis speech.
John Kennedy enjoyed The First Family and gave copies of it as gifts, though he said it "sounded more like Teddy." Jackie hated it because she felt it made fun of her children.
Shortly before his death, Meader sold the rights to his life story. Bill Hader was reportedly interested in the lead role, but the project has yet to come into fruitation.