When EPCOT opened in Walt Disney World on October 1st, 1982, it was a project of high ideals and lofty aspirations. Based on an unrealized concept by Walt Disney himself for an Experimental Prototype Community of Tomorrow – where people would live and work is a city controlled by the Walt Disney company – the theme park was designed as a permanent world's fair. Blending education and entertainment, the park incorporated exhibitions of new technologies, cross-cultural exchange, healthy living, environmentalism, and creativity alongside the rides and entertainment that made Disney parks an international travel destination. If Disneyland and the Magic Kingdom offered an escape into the comforts of the past, EPCOT shined an optimistic light onto the future that could be. After all, promotional advertising for the park proudly proclaimed that opening day was the day "The 21st Century Begins."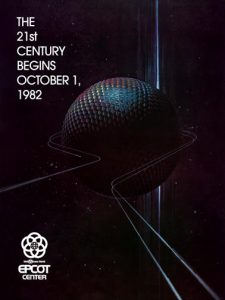 Then the '90s happened, and irony came crashing into the parks, sometimes to its detriment (The Enchanted Tiki Room (Under New Management) [1998]) and sometimes as a stunning achievement (ExtraTERRORestrial Alien Encounter [1994]). Ellen's Energy Adventure fell somewhere in the middle. It was certainly a step up from the pavilion's opening day incarnation, a very dry 45 minute series of short films about energy resources, briefly interrupted by a slow ride through a massive primeval diorama featuring animatronic dinosaurs. Both versions of the attraction were sponsored by Exxon, which meant giving more attention to fossil-fuels than a ride about the future of energy probably should.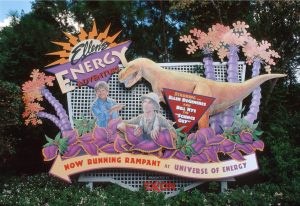 The 1996 overhaul still ended up being 45 minutes long (the longest Disney attraction on record), but there was now a narrative to go along with the various facts (sometimes "facts") about energy resources. Ellen DeGeneres is at home watching Jeopardy!, where her old college roommate and nemesis, Dr. Judy Peterson (Jamie Lee Curtis), is a contestant. She promptly falls asleep, and soon finds herself in a nightmare. She's a contestant on Jeopardy!, facing off against Dr. Judy and Albert Einstein, and every category is about energy! Ellen promptly fumbles her way into a negative score, and then watches helplessly as Dr. Judy wipes the floor with her until the first commercial break. Remembering that this is her nightmare, she pauses the action to give herself time to collect her thoughts. That's when her neighbor Bill Nye the Science Guy shows up (she thanks him for the moral support, he corrects that he came to see Einstein). He then offers to take her on a journey through time and space, in order to turn her into an expert in the field. Thus endeth the pre-show.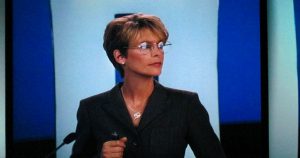 Enjoy Jamie Lee Curtis's Flash pendant necklace.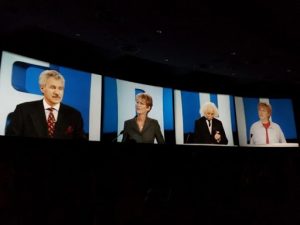 Alex Trebek gets the best joke in the whole show: "And Dr. Einstein is nowhere, relatively speaking."
What follows is a jaunt starting at the beginning of time (indeed, slightly before the beginning, as Ellen and Bill hang out in a black void until the Big Bang happens). Ellen and Bill end up in a primeval jungle, at which point the vehicle leaves the first theater and travels through that diorama mentioned previously, largely unchanged from its original incarnation. The only significant addition being a clunky audio-animatronic of Ellen that is menaced by a dinosaur with a long neck and sharp, pointy teeth. The Ellen audio-animatronic is one of the worst looking audio-animatronics Disney Imagineering has ever crafted, though the Donald Trump who haunts the Hall of Presidents saves it from taking the championship belt.
In context…
… and in detail! Enjoy your nightmares!
The vehicles then enter another theater, where Bill and Ellen wrap up their tour, and Ellen returns to Jeopardy!, where she stages an incredible comeback, tying with Dr. Judy right before Final Jeopardy! Dr. Judy protests that there's no way Ellen could have learned so much during the commercial break, and that Ellen is obviously cheating, but Alex Trebek is having none of it, because the ride is almost over, and we all know how this is going to end. The final Jeopardy! answer is this: "This is the one source of power that will never run out." Dr. Judy bets everything on saying that there is no answer, but loses. Because the correct answer, as Bill Nye told Ellen as they returned to the present, is Brain Power. Ellen doubles her score, humiliating Dr. Judy. Ellen then turns off the dream like it's on a TV set and yadda-yadda-yaddas the wrap-up. The lights come up and everyone exits the air conditioned building to return to the unbearable heat of Florida.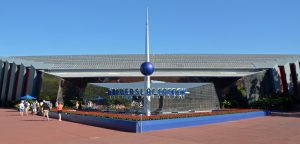 The 21st Century may have begun on October 1, 1982, but EPCOT's problem has always been that the future consistently outpaces the Imagineers. On top of that the thesis of EPCOT changed, moving away from a permanent World's Fair devoid of familiar Disney characters into a perhaps even stranger mix of traditional Disney magic and hardcore drinking. Ellen's Energy Adventure became a strange symbol of the bridge between that original concept and present reality. An earnest explanation of energy science punctuated by celebrity personalities delivering winking asides to the audience.
To a lesser extent it was also something of a bridge for Ellen herself, premiering a full year before her coming out in "The Puppy Episode," and sticking around through the lean years before she successfully reinvented herself as a beloved daytime talk show host. (And sticking around further for when the whispers of her toxic work environment first became audible to the mainstream) During its later years it operated on the opposite end of the park as another attraction featuring Ellen, The Living Seas with Nemo and Friends. The Ellen Who Was balanced by the Ellen Who Is, the past and the present anchored in a park looking toward the future.