As we re-view the 80s it becomes rather evident that the larger the budget for a film the more risky taking chances became.  The logic of the blockbuster was a vicious circle: the more money a film made, the more money spent on the next film in expectation that it would make even more money. These expectations forced an artistic conservatism—as I discussed previously, the high- concept aesthetic attempted to thematically simplify films to attract a wider audience.
So focused on the lowest common denominator was Hollywood was that even ideas that worked on a smaller scale, when applied to big-budget filmmaking, often failed if they strayed too far from the formula.  Case in point: the two films I will now re-view.
"Too Much Fucking Perspective": This Is Spinal Tap/Ishtar
(dir Reiner 1984; dir May 1987)
What can get overlooked in This Is Spinal Tap, a small but successful film directed by Rob Reiner,  is that the satirical documentary about a fictitious hard rock band conveys a timeless message about the music business.  Hit songs depend on capturing a fleeting pop-cultural moment, and youth culture dictates these moments.  Therefore, being young is a major advantage for a songwriter.  Spinal Tap's moment in the sun was "Listen to the Flower People."  But the band has been unable to follow up that level of success with another hit song.  Now as the band members get older, they are getting further away from the youth culture they are chasing.
Spinal Tap faces problems familiar to many touring musicians: the release of the record they are promoting has been delayed, shows have been cancelled, and an appearance at a record store is a disaster.  Adding to the tension between band members, they are humiliated as they watch musicians that once opened for them now outshine them, and they have lost cultural relevance, as they overhear a DJ on the radio, after playing one of their songs, say they "currently reside in the 'Where are they now?' files."
None of this is helped by Ian Faith, their manager, who masterfully deflects blame for the band's problems.  When a show falls through in Boston, he reassures them, "I wouldn't worry about it, though; it's not a big college town."
Judging from the outtakes, however, the story could have been darker, showing the even greater costs of their poor decision-making in personal relationships: sexually transmitted diseases and ruinously high alimony payments.
The one moment of soul searching, in the released film, happens at Graceland.  Of course, the irony of their inflated egos meeting an even larger one, albeit deceased, undercuts the seriousness of the scene.  A comically off-key version of "Heartbreak Hotel" leads to an exchange between lead singer David St Hubbins and bass player Derek Smalls:
DSH: Well, this is thoroughly depressing.

DS: It really puts perspective on things, though, doesn't it?

DSH: Too much.  There's too much fucking perspective.
Now, on the one hand, the members of Spinal Tap are, at the very least, successful as rock survivors.  At the end, break-up is averted as a lucrative tour of Japan materializes.  The band keeps on going, like countless other, once-relevant bands.
But add more perspective, and the picture changes.  Their attitudes are shaped by misogyny, and they look embarrassing–glitter makeup and tight leather pants on aging faces and bodies.  Though they are skilled musicians, their showboating on stage increases the cringe factor considerably.  And their proposed plans after Spinal Tap are ridiculous: David wants to do a musical based on the life of Jack the Ripper, titled Saucy Jack.
The fact is that their continued touring blinds them to the obvious truth of their irrelevance: ignorance may be bliss—except when no one else around them is, including the viewers.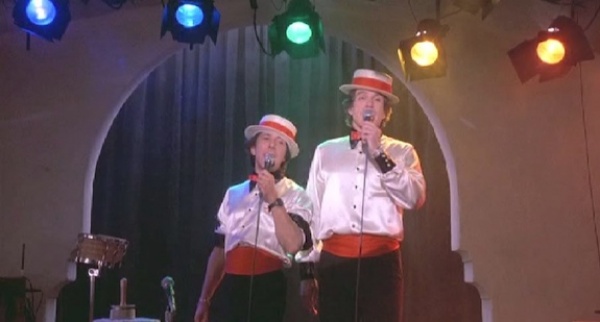 Ishtar takes the satirical possibilities of clueless, aging musicians and makes them even bleaker.  Singer-songwriters Lyle Rogers and Chuck Clarke can only dream of the success that Spinal Tap have.  They are still trying to get out of New York.  While Spinal Tap could disguise banal lyrics behind a thunderous sound, Lyle and Chuck only have the minimal musical backing of a cheesy-sounding keyboard.
Like in This Is Spinal Tap, the comedic performances are played straight faced.  The songs are deliberately bad (created by director Elaine May and ace songwriter Paul Williams) and delivered with the same intent.  The effect is all the more unsettling when the songs are performed in an intimate setting.  In a memorable scene, the idea of establishing a personal connection with the audience is pushed to the breaking point in an unbelievably bad-taste dedication of "Love in My Will" to an elderly couple, with the heart-stopping opening lines:
I promised I'd love you forever
A promise I'm planning to keep
You'll be well taken care of
After I've gone
Off to the land of the big sleep
Now the premise alone is fairly sound—there is on-screen chemistry between Warren Beatty, who plays Lyle, and Dustin Hoffman, who plays Chuck.  Beatty is a skilled comedic actor as demonstrated by the commercially successful Shampoo (1975) and Heaven Can Wait (1978).  And, of course, the same goes for Hoffman, especially in his gender-switched role as Dorothy Michaels in Tootsie (1982).
But May, who had previously worked with both Beatty and Hoffman, proposed going for broke: putting Lyle and Chuck in the middle of a complicated political situation in a foreign land (North Africa) and watching them react.  The film thus operates on two levels, as screwball comedy (featuring, for example, the antics of a blind camel) and sarcastic political commentary on U.S. Middle Eastern policy.
The shoot in Morocco, to say the least, was dicey.  In the account that Peter Biskind reconstructed for his 2010 biography on Warren Beatty, May quickly got in over her head with the logistics of shooting in a difficult location.  Beatty clashed with May, while Hoffman tried to stay out of the way.
That Ishtar ran over budget was not surprising given the well-known perfectionist tendencies of both May and Beatty.  But the film then missed its release date, which, according to Biskind,
is like raising a red flag on which is inscribed in bold letters FILM IN TROUBLE.  And indeed, after Ishtar failed to make its Christmas 1986 opening, the press, already alerted to budget overruns, smelled blood in the water.  The picture was too expensive, it was going to be a bomb, etc., etc.
After being canonized for making unconventional films that were hits, Beatty was due for a severe reckoning in a year when the top-grossing film was Three Men and a Baby.
Even now, after finally being made readily available, Ishtar has generated, at best, measured praise.  In The Dissolve, Noel Murray opined that the film "certainly feels like the work of people with more money and charm than workable ideas."
I think, however, the film works on two levels.  First, the songs are funny, as they reveal the meager reserves of Lyle and Chuck's creativity and mock the idea of assembly-line song construction (often promoted in songwriting circles).  Second, the theatricality of the performances takes un-self-awareness to comedic heights.  This is the same type of satire that makes This Is Spinal Tap so enduring.
And, even in the desert scenes, Ishtar continues its satirical trajectory, as a third comedic straight man is added.  Jim Harrison, played brilliantly by Charles Grodin (also memorable in Heaven Can Wait), is the CIA agent who has the thankless job of dealing with Lyle and Chuck.  His subtle twofacedness reminds me of Ian Faith in This Is Spinal Tap.
Taken together, the two films remind us that, while having an ego is a practical necessity for competing in a cutthroat music business, it is indeed a fine line between self-determination and self-delusion.  Crossing that line creates satirical possibilities, yet watching the savage dissection of one of the more cherished tenets of the American Dream can be a rather uncomfortable experience for some filmgoers.