No "funniest films of all time" list would be complete without the works of Howard Hawks and Billy Wilder. In 1941, Hawks was on a hot streak, having released Bringing Up Baby, Only Angels Have Wings, and His Girl Friday in the preceding few years; Wilder and his regular collaborator Charles Brackett had written a bunch of hits for Ernst Lubitsch, Mitchell Leisen, and others, and Wilder was on the verge of making the jump to directing himself — Double Indemnity was only a few years away. But before taking that leap, the fates conspired to give us a Hawks-Wilder movie that can match anything in either man's filmography.
The "Once upon a time…" opening text takes us straight into modern-day fairy-tale territory, as we meet a lovably crusty gang of academics on their way to work. Each has his own specialist subject, and for the last few years, they have been working on a new encyclopedia, an all-consuming duty that has left no time for life outside of the library where they sleep and work. An eccentric, elderly bunch, they are kept in some kind of order by their youngest member, Bertram Potts (Gary Cooper), who is responsible for research on the English language.
While the motivation behind their research may not be entirely pure — the inventor of the electric toaster financed the project after being upset that he didn't make the Encyclopedia Britannica — the men are entirely committed to delivering the best collection of human knowledge ever compiled. And so, Professor Potts is devastated when a chance encounter with a slang-spouting garbage man reveals his research to be years out of date: by relying on printed material, he is missing out on the way modern people actually speak. And so, he embarks upon a wonderful trip through the city, eavesdropping on everyday people and filling his notebook with phrases like "plenty gestanko" and "oolie droolie."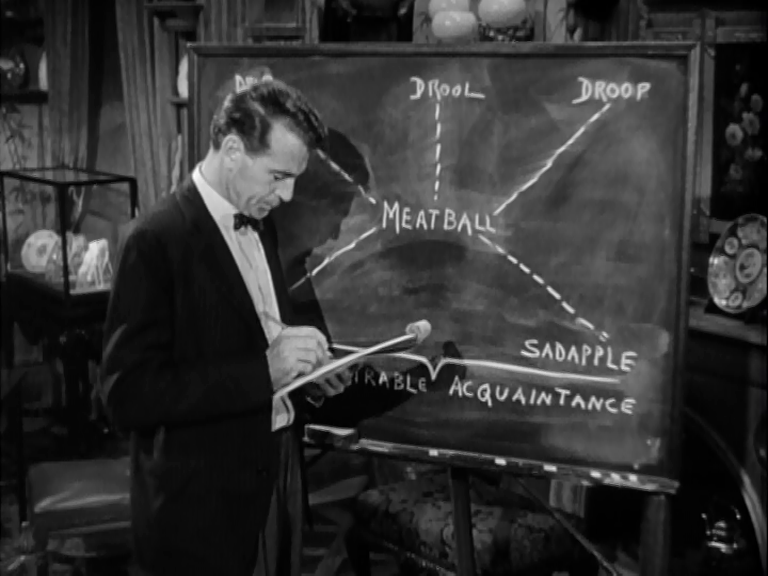 The final destination for this fact-finding mission is a nightclub, where the frankly astonishing musical performance — which features the legendary Gene Krupa doing a drum solo using matchsticks — is still only of secondary importance to Potts; the borderline-incomprehensible phrases spouted by headline performer Sugarpuss O'Shea are the real music to his ears. Unfortunately, O'Shea (Barbara Stanwyck) finds it altogether too easy to brush him off when he asks her to come into the office for a research session. That is, until the criminal machinations of her gangster boyfriend lead her into hot water and she needs a place to lie low.
O'Shea's unexpected midnight arrival at the professors' residence initially causes them all to scatter like nervous animals, but before long, she has all of them — seven lifelong bachelors and a widower — eating out of her hand. She's an invaluable source of slang for Professor Potts' research, but the effect she has on the rest of the team is less productive, and long-suffering housekeeper Miss Bragg is the only one willing to say anything. And say anything she does, "That is the kind of woman that makes whole civilizations topple" being one of her memorably brutal outbursts. 
And so, a standoff emerges — O'Shea needs to lie low for a few more days, but Miss Bragg wants her out. With Potts teetering between his work and his newly awakened emotions, Sugarpuss takes action — and before anyone really knows what's going on, she's engaged to a lovesick professor. From here, things escalate fast — the gangster boyfriend wants her back by any means necessary, even if it means arranging a quickie wedding for her new beau, over state lines, where he's free to interrupt without running afoul of the police. But it turns out that a few days in the company of people who treat her with respect has taken some of the sheen off her old, wild lifestyle…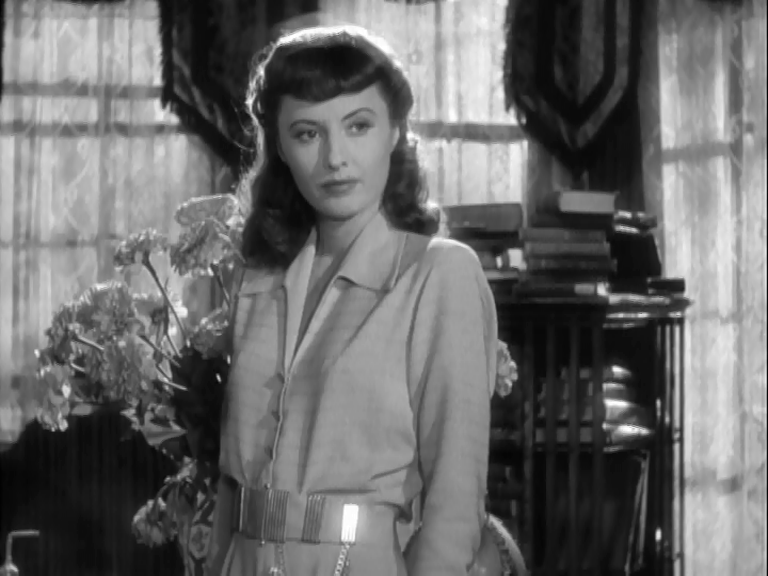 Ball of Fire is essentially a fish-out-of-water comedy, but with multiple fishes and a variety of waters. We get to see a bookish professor struggle with modern nightlife, a streetwise nightclub singer thrown into academia, and before the ending, we'll have a face-off between seven wise men and a bunch of wiseguys (in which the angel from It's a Wonderful Life gets to wield a machine gun). Each of these culture clashes is delightfully observed by Wilder's sharp pen, and the frequent slang is a hilarious time capsule — all the more amusing for being as incomprehensible to our modern ears as it was to Gary Cooper's character in 1941. 
The cast is an incredible character actor hall of fame, with Elisha Cook Jr. turning up at the nightclub to spout a bunch of '40s nonsense and the wonderful Dan Duryea spitting gangster lingo and further staking his claim as one of the all-time great sleazeballs— the fact that his character is named Duke Pastrami doesn't hurt one bit. But the killer supporting cast never overwhelm the sweet chemistry between Stanwyck and Cooper; her old flame (Dana Andrews) is repellent enough to make it totally believable that she'd fall for Cooper, entirely corny but good, honest, and not afraid to read an entire book on pugilism before confronting his rival in love.
A lot of classic comedy is particularly commendable for cramming as much humour as possible into a tight 90 minutes — Ball of Fire sprawls out a little to closer two hours but does so much with that time that it's hard to imagine anything could be trimmed. It may wander from time to time, but those diversions are every bit as charming as the main story — the film wouldn't be the same without Sugarpuss teaching the professors to dance, or the unexpectedly moving scene where Professor Oddley (perhaps my favourite of the professors) leads a serenade to his late wife. It's frequently packed with screwball energy but knows when to slow down a little too — a rare treat from a pair of masters.