My all-time favorite movie is Showgirls, the glorious camp masterpiece written by Joe Eszterhas and directed by Paul Verhoeven about the steamy backstage life of Las Vegas dancers. I first saw the infamous VH1 version where the film's pervasive nudity is covered with weird CGI bikinis. It also exorcizes the brutal and graphic rape scene that kicks off the film's third act entirely, so it was quite shocking when I saw the unedited version. The scene itself is not only hard to watch, but it casts a pall over the film (until the revenge scene) because, before that, the movie is hilarious, and it totally spoils the mood.
In his annotated screenings, David Schmader skips over it altogether.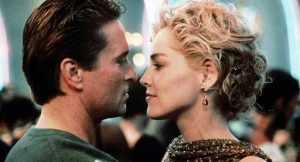 Basic Instinct, also written by Eszterhas and directed by Verhoeven, features one of these scene too. In it, the film's protagnost Nick Curran (Michael Douglas) goes to a nightclub chasing suspected killer Catherine Tramell (Sharon Stone). Douglas has more than two decades on most of the club's patrons, which makes him look like somebody's dad come to drag his kid home for staying out past curfew. Stone fits in a little better, except she's wearing a fancy dress and has a glamorous hairstyle, like she stopped in the club on her way home from some fancy dinner party. Most of the people around her are in jeans, including Douglas. It is jarring watching them dance together surrounded by casual twentysomethings, and it ruins the entire atmosphere of the film.
So gang, what scenes do you just hate in movies that you love?