The fall of the major studios' effect on Hollywood animation is clear enough, but it's harder to draw a straight line to the state of the medium in Europe. They didn't really need Disney as a model for animated features. A Frenchman and a German had already released their own years before Disney's Snow White: Ladislas Starevich's Reynard the Fox premiered months ahead, and Lotte Reninger's The Adventures of Prince Achmed beat them both by over a decade. 
Either way, two European movies from 1988 are perfect examples of the pure weirdness the Dark Age opened the door for. One is the undiluted vision of one genius paying homage to another; the other was an American coproduction that lurches between mind-blowing imagination and mind-numbing clichés without any singular vision to hold it together. But they're each fascinating in their own way.
First, we'll return to Jan Svankmajer and his first feature, Neco z Alenky. It's usually translated as Alice, which annoys me first because it forces you to clarify you're not talking about the Woody Allen movie whenever you bring it up and second because the literal translation, Something of Alice, gives you a much better sense of what Svankmajer's up to. This isn't Lewis Carroll's Alice, or John Tenniel's Alice, or Disney's Alice. Svankmajer's taken something of the novel and turned it into a look inside his own strange brain. And he was smart enough to choose one of the vanishingly few works that's so embedded enough in the popular imagination that can hold up to that kind of treatment. The Mad Hatter and the March Hare are still recognizable as a bearded marionette and a wind-up doll whose eye falls out every time he wears down. Even the Caterpillar is still recognizable as a sock wearing glass eyes and dentures, sitting on a mushroom-shaped wooden sewing tool.
Svankmajer is one of the few truly unique filmmakers out there, and he lays his obsessions — abandoned buildings, glass eyes, Czech marionettes, gross wads of flesh, puppet theaters, dead animals, living furniture, long takes of silence except for the maddening sounds of machinery at work — on top of Carroll's to defamiliarize this all-too-familiar story, to bring back the shock of surrealism it inspired when we first read it. I first saw this in my senior year of high school, based on a rave in Videohound's Golden Movie Retriever and its availability on Netflix (that's right kids, Netflix used to have real movies!). 
At the time, I thought I hated it. It was so excruciatingly slow, so exhaustingly repetitive (I highly recommend watching one of the subtitled versions on YouTube to make the dozens of cutaways to an extreme close-up of the narrator's mouth at least slightly tolerable.) But it set up residence in my brain in a way movies I liked better rarely did. In time, I graduated, found a disc of his shorts in the college library, and I was hooked. By the time I came back to Something of Alice, I realized it had been a masterpiece all along.
The prologue calls Alice "a film for children…perhaps," and it's probably better to keep it from kids with short attention spans. Or weak stomachs — even after all the dozens of books and movies based on the premise "What if Alice in Wonderland — but creepy?" none of them can match the disturbing power of this one. Svankmajer knew all about the power of the uncanny, especially with his version of the White Rabbit, a taxidermy nightmare that frequently stares straight at you with its unblinking eyes and bladelike teeth. He still has his pocketwatch, but he keeps it sewn in his stomach, and every time he checks it, sawdust spills out and he licks some off the clockface with his horribly realistic tongue. In most cartoons, it would be safe to assume the creators hadn't thought through the implications of a character spilling out and eating his own guts, but Svankmajer relishes it. 
Even Alice can get subsumed into the uncanny horror of Wonderland. While she's mostly played by a live actress, Kristýna Kohoutová, the shrinking potions and cookies turn her into a doll just as creepily lifeless as any of the other characters. And that's before the White Rabbit and his friends dump her in a potion that restores her to her normal size but traps her in the doll's plaster body. 
But let's get back to Svankmajer's decision to cast a real child as Alice. Most children have vastly inflated ideas of their own capabilities, but as he exaggerates the violence of the novel — in this version, the Rat makes camp on Alice's head by hammering in stakes and setting her hair on fire — it's impossible to overlook the horrible fact that this was always the story of a helpless child at the mercy of a cruel universe. Svankmajer exaggerates Carroll's satirical imagination too. In this version of the trial, the Queen of Hearts doesn't just demand the sentence before the verdict, everyone involved has to read from a script.
Some of Svankmajer's best ideas build on Carroll's, but others are all his own. In one of the most shocking moments, one wall of Alice's room is replaced with an endless wasteland with nothing but a desk in it. The desk drawer serves the function of the rabbit hole in the novel, leading to a dizzying effect when Alice disappears inside it. The mob that tries to evict Alice from the White Rabbit's house is a collection of weird Frankenstein monsters of the bones and skins of different animals. The slithering meat that would make his name on MTV show up in the closet where the White Rabbit imprisons Alice. So does a nasty loaf of bread that grows rusty nails (previewed in Alice's trip down the rabbit hole). Svankmajer sums up his approach in a scene of Alice testing the two sides of the mushroom that are supposed to make you taller or shorter. Alice stays the same size while the trees in the room grow and shrink. "It works," Alice muses, "but not exactly how I thought."
Meanwhile, in Hungary, one of animation's oldest characters returned in Felix the Cat the Movie. The effort was spearheaded by Don Oriolo, son of Felix's TV adapter Joe Oriolo. But he farmed out the production to (among others) Pannónia, the birthplace of Marcell Jankovics' astonishing Son of White Mare, and the director's chair went to Tibor Hernádi, who'd worked for Jankovics on Johnny Corncob. 
When I was a kid, I loved this movie. When I returned to it as a slightly older kid, I thought I was sophisticated enough to recognize it for the cheapo Star Wars knockoff it was, but still found this version of Felix too charming to say no to. I have no idea what I was thinking. This Felix is a copy of his copy, with the most obnoxious imitation of Mickey Mouse's squeaky voice you can imagine and a nasty habit he shares with most of the cast of loudly laughing at his own terrible, terrible jokes. It doesn't help that he does that thing you sometimes see with bug-eyed cartoon characters where his pupils blink while his eyes stay open. Brr.
Meanwhile, the fantasy world of Oriana Felix accesses by "dimensporter" has some overly familiar elements, but they're mitigated by an array of other elements you could never find anywhere else. Yes, the main villain, the Duke of Zill is a heavy-breathing cyborg whose body was destroyed in an accident and who commands an army of faceless drones. (At least George Lucas can rest easy knowing he had the good sense not to tie frilly red ribbons to Darth Vader's arms.) And yes, Princess Oriana is Princess Leia right down to sending her version of "Help me, Obi-Wan Kenobi" — if, again, at least Lucas had the sense not to convey that message by way of bouncing, helium-voiced teardrop. I'll say this — Hernádi's story of zany cartoon characters lost in a high-fantasy world must have primed me for Jeff Smith's much better interpretation of the same idea in Bone years later. 
But while you can sense half the crew pulling Felix in the safest, most marketable direction, you can sense the other following their own wild muse. A movie's art, even if it's a soulless cash-in like Felix, and the movie never lets you forget it's the work of artists, some of them doing the bare minimum expected of them while others go above and beyond. So if you're willing to sit through the by-the-numbers plot, you'll be rewarded by psychedelic imagery like a swamp haunted by pink-and-black bubbles that'll swallow you whole. Or another bizarrely-proportioned swamp monster with its neck emerging from somewhere in its pear-shaped torso, flanked by shoulder spikes.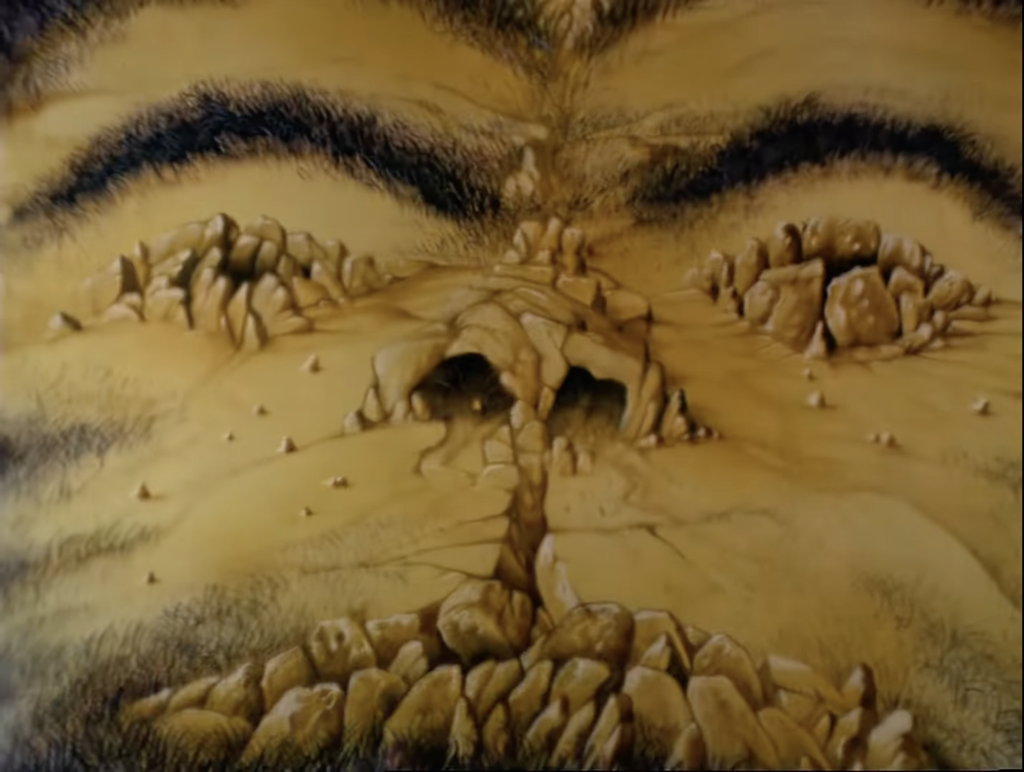 Or the Forest of Hair at the edge of a face-shaped desert right out of Dalí and its inhabitants, the Head Hunters, shrieking skeletal things that send their heads flying on wings of Flock of Seagulls hair and wear pythons as belts. In one scene, Felix accidentally floods the dimensporter room as he tries to escape, which seems to have been nothing but an excuse for the animators to draw all the weirdest fucking fish they could think of.
Maybe that's nostalgia talking, but I'm not so blinkered I can't see the overall shoddiness between the brilliance. I haven't been able to find the original Hungarian cut (if any such thing even exists), so I don't know if I can blame the abysmal editing and sound design on the import. I know that one of the most off-puttingly strange scenes — where a monster appears for a split second while Oriolo does a terrible Brando riff without even an attempt at lipsync — is pure incompetence. Oriolo seems to have taken a heavy hand in the project — Felix ignores the silent shorts to focus on the elements his father added for TV like the magic bag (this time with a flashy laser-eye effect from Felix when he transforms it) and the Professor and Poindexter, who contribute nothing to the plot except reminding viewers they exist. I will give him points for this though — Felix upgrades the TV villain Master Cylinder into a whole system of Cylinders and Cubes (and then I'll take those points right back for reasons we'll get to in a moment). Most of the animation is painfully crude. Not only does the Duke of Zill take a hugely undignified dive down the stairs, that scene, and many more, get recycled to pad out the runtime. The most realistic character, the Princess, is as unnerving as anything in Alice. Then again, the background art certainly isn't. Even the Professor and Poindexter's lab/observatory gets a major upgrade from the TV version.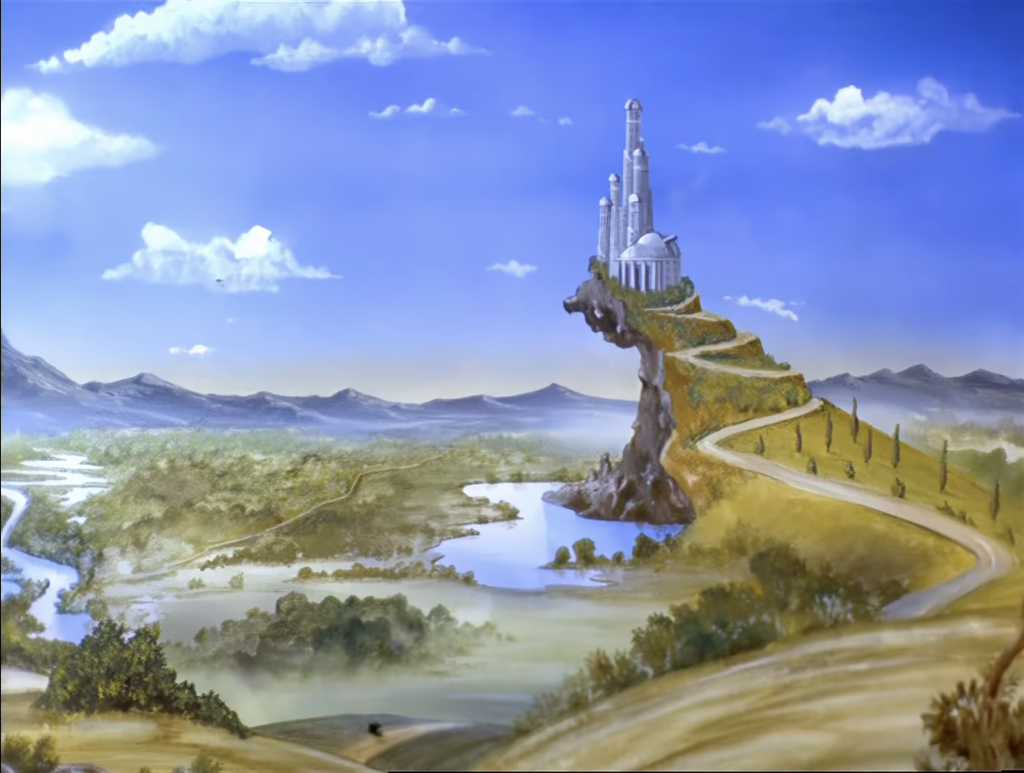 Possibly the strangest thing in this strange movie is that after over an hour of heavy padding, Hernadi seems to want to get the climax out of the way as quickly as possible. The final fight with the Master Cylinder is over in half the time the characters spend explaining who he is ahead of time and what just happened after the fact. Not that any explanation will cover what happens — Felix hurls the Book of Infinite Wisdom at it, which for no particular reason makes it explodes, which for no particular reason makes all the other Cylinders and Cubes explode. In other words, yes, this is a shoddy, incompetent mess of a movie. But I'll take that over a shoddy, boringly competent, boringly coherent movie any day of the week.