Today is the five-year anniversary of my first article on the Solute, so it seemed like a good day to finally publish my TV writeup for last year. Don't worry; I'm not doing it as some kind of farewell article, even though my writing output is down significantly from its usual volume. I've just had a hard time making the time between my new (old) vocation and all my other general responsibilities.
I have not felt particularly motivated to separate out the parts of the list where I'm having difficulty, nor to write a blurb on every single thing I watched in 2021, though I tried. That's a big part of the reason this is so late.
Another part is that I had several shows I wanted to finish before writing them up, but the further and further into 2022 we've gone, I had to admit to myself that it may not happen and I had to go forward. My TV consumption has slowed down a lot– getting back to making a go at poker is a big factor, but I also want to take some time to blame Mrs. C* for not wanting to get into or finish some of the shows we watch together. That's in part because of the strong lineup of network sitcoms that have been on this season– which could be another feature article in its own right– and the familiarity of routine of having those to watch weekly. (I'm not really a binge type, so when our schedules line up to watch something together, our weekly rotation of new sitcoms has kept us with plenty of TV to watch.)
(* – blame firmly tongue in cheek, which I'd like to hope is clear but I can't be very sure.)
A big reason I wanted to finish more shows (aside from just "seeing more good TV") is because nothing really blew me away in 2021. Looking at every previous year I've done this, my #1 show completely upended or surpassed my expectations in some way I couldn't foresee. No show really did that this year– which doesn't mean there wasn't plenty of excellent TV. I was just hoping to have something I could point to as the clear best show of the year; instead, the #1 show is basically the winner by default. That's also why the rankings are broken into tiers this time; without such a standard-bearer, I had trouble separating the other shows by comparison, and while this is a ranked list once more, it almost wasn't. (Also, I just didn't think the time it would take to figure it all out would be worth it.)
I'll take time to highlight some particular shows, but I just don't have much to say about everything this time around. I tried to give every show at least one sentence, but in particular when multiple shows on the list are in their double-digit seasons, it's hard to find anything new to say.
Best Pre-2021 Discoveries
Champaign ILL (YouTube): Funny series starring Adam Pally and Sam Richardson as Ronnie and Alf, hangers-on to a very successful rapper who find at 35 they have to suddenly get their lives together and start living like ordinary people after their meal ticket dies in a freak music-video accident. Haven't finished it, but it's very funny. Now available on Hulu.
Those Who Can't (TruTV): Discovered this on HBO Max last year during the pandemic. Created by the Denver comedy trio The Grawlix (Adam Cayton-Holland, Andrew Orvedahl, Ben Roy), it stars the trio as a group of not-very-good high school teachers (the aging hipster, the idiotic golden-retriever gym coach, and the ex-punk with severe rage issues, respectively) and Maria Thayer as the librarian. A very funny show about how this deeply dysfunctional school and all the adults' use of it for their own self-interest fucks everything up, with a ton of fantastic guest and recurring casting as well. Got a lot of good, strong, classic sitcom vibes that also make it a fun rewatch– you know you're getting good structure and payoff and punchlines. Cancelled after three seasons, but all are available on HBO Max now.
Derry Girls (Channel 4 / Netflix): Delightful comedy that reminds me of Letterkenny in that it portrays universal human relationships and struggles through a very specific cultural experience. In this case, that's Northern Ireland in the 1990s during the Troubles, and those struggles are primarily those of five high schoolers– parents, schoolwork, popularity, boys and girls, and all with the backdrop of the conflict and strife going on at the time. A show like this has to feel real in order for the comedy to land, and while I can't say how accurate the experience of living during the Troubles is, the high school trials and tribulations and the family life all ring very true to me. Just really delightful and well-observed, with a great cast, and very, very funny. Season 3– the final season– just wrapped up on Channel 4, and will be hitting Netflix soon for Americans. Funny and moving, it's very much worth your time.
The Shows I Didn't Watch At All (But Thought About Watching)
Central Park
Kevin Can F*** Himself
Resident Alien
Squid Game
Station 11
We Are Lady Parts
White Lotus
The Shows I Watched One Episode Of And Didn't Go Back
Rutherford Falls (Peacock): Watching a show about native / indigenous issues primarily from the perspective of a privileged white guy wasn't that appealing as a concept to begin with, and after the first episode, wasn't that appealing in execution either. Michael Greyeyes' character, maybe third billing in the cast, was by far the most compelling in the show. I'd watch a whole show about that guy. Hey, hopefully that's what it became.
Starstruck (BBC One): Entertaining enough as a pilot and concept, but I think the idea of watching another self-sabotaging twenty-something head case has, at my age, lost my interest.
The Shows I Meant To Finish By Now and Didn't
Curb Your Enthusiasm (Season 11, HBO): At least this one is not a show I could possibly imagine having a new or necessary opinion on. Curb is Curb, same as it ever was.
The Other Two (Season 2, Comedy Central): I haven't even finished season 1, which has been pretty good if not outstanding. I hear season 2 is even better, though, so I felt like it deserved mention.
Reservation Dogs (Season 1, FX): Liked what I saw well enough, but I was also led to believe this was a more tightly plotted show when it really turns out to be more of a slice-of-life hangout show. While it's pretty good for that, the general lack of plotting means it's just not the kind of show that compels me to keep going with it. Enjoyable, but after five of the eight episodes, this would probably slot as a top-20 show, but not in one of the top categories.
OK, now on to what would be the Official List. I almost didn't number it, but then I figured, what the hell, just do it in the order I wrote them. Said numberings may not be very accurate until we get to the final two categories (where they might still be inaccurate, but less so). I do feel good about the categorization, though, so you can safely assume every show in a particular category is roughly the same level of quality, and then the shows in the next category are better.
The Shows I Watched Entirely
30. No Activity (Season 4, Paramount+): The show moved to an animated format for season 4, and it just wasn't as good as previous seasons– the longer the show has run, the further it's had to move away from its original concept and into a lot more, well, activity. Still a fun one to check out from the beginning if you're looking for something to watch.
29. Brooklyn Nine-Nine (Season 8, NBC): I watched it. What am I even going to say about it at this point? A fine enough sitcom whose concept became increasingly ludicrous as contrasted with real-world events, and that attempted to address those events in its final season, but in a predictable milquetoast liberal middle-ground half-measure. The one thing worth specifically noting and praising is John C. McGinley's turn as head of the policeman's union, perfectly playing the kind of obstinate asshole the job requires.
28. The Great North (Seasons 1 and 2, FOX): Getting better as it goes, but at this point in time it still felt like too much of a Bob's Burgers knockoff that was somehow more conflict-free, and in particular, the family felt unhealthily co-dependent more than loving, let alone funny. It's definitely improved as season 2 has continued, with more side characters, more stories that split the family up, more character development (particularly of Beef and Moon), and more just plain good jokes and comic set pieces, but at this point in time it wasn't living up to its pedigree.
The Comfortable Sitcoms
27. Mr. Mayor (Season 1, NBC): Sluggish start gave way to some really funny comedy down the stretch and in the Christmas episode in particular. Season 2 was even better this year, but sadly the show was canceled. This may be the funniest Bobby Moynihan has ever been. (I've never disliked him, but it's like discovering a long-time utility player has an MVP season in him.)
26. Kenan (Season 1, NBC): Nothing groundbreaking, just a pretty good network sitcom about a widowed father hosting a morning show in Atlanta and raising his kids with the help of his brother and father-in-law. Good cast, with Chris Redd and Don Johnson in those aforementioned roles. Sadly canceled after season 2 (which will show up in the 2022 list, I'm sure).
25. Superstore (Season 6, NBC): The show wrapped for good last spring, as the Cloud 9 store turned into a fulfillment center a la Amazon, and everyone went their separate ways (except Dina and Sandra who stayed behind to work the fulfillment center). Ended rather nicely, although it's now a year in the rear-view so details escape me. One of the better and most underappreciated sitcoms while it was on air.
24. Letterkenny (Season 10, Hulu / Crave): The show definitely hasn't been quite as sharp since the Hulu partnership, but it's still very good, and still gives us some classic Letterkenny humor, brawling, and social group interaction. (A highlight in the latter is the skids and the hockey players getting together for video games.) Suffers a little because an episode has to be dedicated to setting up the Shoresy spinoff (which is apparently coming out in America tomorrow). That said, the special episode (just titled "Special") released for International Women's Day was very good. (And it doesn't count for 2021, because it was released on March 8 of this year.)
23. American Dad! (Season 18, TBS): Same as it ever was. Still a funny show.
22. It's Always Sunny in Philadelphia (Season 15, FXX): The Ireland trip was a lot of fun. What else is there to say? Sunny is Sunny.
21. Home Economics (Seasons 1 and 2, ABC): A show about three adult siblings who are all in different socioeconomic strata. Strong cast; Topher Grace is a very good actor, in case you forgot, and maybe nobody on TV right now plays a better bro than Jimmy Tatro. Renewed for season 3.
The Bronze Medalists
20. Tacoma FD (Season 3, TruTV): Not as strong as season 2 but still a pretty funny show with an easy and comfortable vibe for us Broken Lizard fans. Strong cast even outside of the Broken Lizard guys, too. Getting at least one more season.
19. What We Do in the Shadows (Season 3, FX): Another "not as good as the previous season but still fun" show. The trip to Atlantic City is a highlight, as is the growing friendship between Laszlo and Colin.
18. Zoey's Extraordinary Playlist (Season 2, NBC / The Roku Channel): Also not on the level of season 1, but I still enjoyed it. The Roku Channel gets mention because they aired the Zoey's Extraordinary Christmas movie, which was a great button to the now-canceled show– and, like in the season 1 finale, got some real emotion out of a song that's been so played to death I thought that was impossible. (At least "Wish You Were Here" is much better than "American Pie.")
17. How To with John Wilson (Season 2, HBO): Same for "not as good as the previous season but still fun." Wilson's show is one of the most unique programs on air, but it just didn't provide as many mind-blowing moments as it did in season 1– although one of them is incredible and arguably makes for the TV episode of the year. If you see one episode from this season, make sure it's "How to Appreciate Wine."
16. Bob's Burgers (Seasons 11 and 12, FOX): Still good after all this time. "Driving Big Dummy," with a Bob and Teddy road trip, is a highlight.
15. Mythic Quest (Season 2, Apple TV+): Weirdly, the best episode of the show might have been the second interstitial between seasons. Season 2 is still pretty solid, though, and gives us some great episodes, in particular the ones looking back at C.W.'s life and history (including one of William Hurt's final credited roles, as an old colleague of C.W.'s).
14. Ted Lasso (Season 2, Apple TV+): We've talked about this. "Show, don't tell" is often overrated advice, but it's pretty important for plausibility in communicating who your characters are.
The Silver Medalists
13. Black Monday (Season 3, Showtime): Another one sadly canceled on us. For season 3, Mo has a record label, Dawn gets out of prison by ratting on her cellmate (Cohlchez Canon personal favorite and friend Jen Kober), Blair is finding a junior congressman isn't all it's cracked up to me, and Keith is still under the remaining Lehman brother's thumb. Not quite to season 2's level, but still works pretty well, anchored by a season-running mystery where someone is killing associates of our central foursome.
12. Hacks (Season 1, HBO Max): One of those shows where I can't point out anything specifically above and beyond in the comedy or the drama, but it works great on both fronts. Hacks really sucked me in with the characters and the story– aging Vegas-residency comedian hires young comedy writer (somewhat against both of their wills) to stay relevant and try to keep her residency. Beyond the great storytelling and relationship that develops between Deborah and Ava, it still has enough good laughs (which, in shows about standups, is surprisingly not always the case) to be entertaining on that level along the way. Jean Smart is fantastic, and Hannah Einbinder does quite well in the "struggling writer / comedian who still has a bit too much entitlement given where she is in her career" role.
11. A.P. Bio (Season 4, Peacock): Final season, sadly. It still remains very funny and develops Jack's character and his growing fondness for his role and where he finds himself. Admittedly I'm kinda surprised they got as many as four seasons out of this, but they've done such a great job of slowly developing Jack's character and his changing feelings about Toledo, that I'm quite convinced it could've gone on a fair bit longer.
10. Solar Opposites (Season 2, Hulu): More fun adventures from our aliens who don't understand human customs or morals! Plus another great episode developing the plot of The Wall. Check out "The Emergency Urbanizer" for a really inventive adventure.
9. Rick and Morty (Season 5, Adult Swim): The show has been steering out of the "Rick is secretly depressed and the family yells at him for being an asshole" skid for the last couple of seasons, and this one in particular has some fun adventures as well as some meaningful stories for Rick and Morty's relationship (and a terrific story where Morty starts dating). Not the zeitgeist-y show it was years back, but when it's on its game, it's better than most television.
Six of the Best
8. Bill Burr Presents Immoral Compass (Season 1, The Roku Channel)
I'm a big Bill Burr fan– what an appropriate parallel to have him here for the five-year anniversary of my very first article here– and this is unique among the things he's done. It's a series of short episodes, with the framing device of Bill Burr as blue-collar guy Rick explaining to a video camera certain moral issues and emotions and how to handle them. Each episode then has one or two short sketches revealing someone confronting that issue in very, very darkly funny fashion, with a wide and impressive range of guest casting in those sketches, from Nick Swardson to Ione Skye to Kurt Fuller to Grace Zabriskie to Vince Vaughn to Lori Petty. (And the ending segment, where Rick's videos are put in context, is one last hilariously dark button on the whole thing.) One of the best laughs-per-minute shows you'll see this year, and the whole thing can be watched in less time than it takes to watch a feature film.
And speaking of one last hilarious footnote and dark joke: This was originally planned for release on Quibi.
7. Only Murders in the Building (Season 1, Hulu)
This one was lots of fun, with the plotting really given to the kind of what-happens-now? hooks we love to see. The story turns out to be genuinely engaging with the kind of twists and turns a true-crime podcast would relish. Selena Gomez does a terrific job as every bit Martin Short and Steve Martin's equal.
6. This Time with Alan Partridge (Season 2, BBC One)
The critical reviews were not as positive on this show as I was, but I don't worry about that too much. I've greatly enjoyed the older version of Alan trying to fit in to the modern media landscape but being unable to shed his Alan-ness. Now with the permanent co-hosting role, Alan has more confidence in his presenting and segments, which means that while he may have somewhat curbed the unprofessionalism, rudeness, and bigotry that marked his performance on shows like Knowing Me, Knowing You, the banality and wildly missing the point remains. And a new addition is a new makeup artist (Natasia Demetriou) who begins a flirtation with Alan.
One particular segment that still cracks me up to think about is Alan doing a field report on "Chemsex," which I guess is a British term for parties where people take drugs and have sex on drugs, and Alan manages to be the most boring party guest on MDMA in all of world history. The finale, where Alan has an on-air meltdown after a miscommunication and then tries to spin it into a Howard Beale moment, leaves it open whether he'll be welcomed back for another season of This Time. (This Guardian article where Partridge "interviews" Steve Coogan seems to suggest he won't be.) But between this and From the Oasthouse, the 2020s output of Alan Partridge– now more than thirty years after he first appeared as the sports presenter on Chris Morris' On The Hour— has been strong enough that I continue to look forward to all things Partridge, and I hope Coogan continues to play the character as long as he's able.
5. The Great (Season 2, Hulu)
While it would be impossible to surprise me in the way season 1 did, the second season of The Great stands at or near that same level of quality. The dramatic plotting manages to go a number of surprising and unexpected places after a coup, as well as some of the more expected difficulties of trying to run a country after deposing its leader. Catherine (Elle Fanning) continues to prove skilled at court, while her attempts at sweeping reforms are… less well received. And Peter (Nicholas Hoult) first finds himself plotting to win the throne back, then realizing he doesn't necessarily even want it, and even starts to grow as a person, against all odds.
Meanwhile, everyone else at court has their own machinations, jockeying for power, revenge, and whatever else is on their agenda. At points we get some returning visitors from other lands as well as new guests, chief among them a visit from Catherine's mother Joanna, played by Gillian Anderson. Some of those machinations are not quite as intriguing as season 1, or feel a little forced, particularly with Orlo and his family, but all in all season 2 delivers on the same sense of royal style, offbeat humor, dramatic plotting, and ownage as season 1– with no shortage of the bawdy humor or rampant sex from that season, either– and stands as a worthy follow-up to the terrific first.
4. Girls5eva (Season 1, Peacock)
A middle-aged former girl group finds themselves back in the public eye after being sampled by a popular rapper, and decides to launch a comeback. The latest from the Tina Fey / Robert Carlock creative tree (Meredith Scardino is the creator) has that wonderful sense of dense, off-kilter humor, combined with fun performances and some genuinely great stories about female friendship. Sara Bareilles, Busy Philipps, Paula Pell, and Renee Elise Goldberry play the four (living) members of Girls5eva. Terrific show, and not just because it takes the time to make fun of some of the Solute's favorite critically-overrated television targets.
Also, between this and A.P. Bio, Paula Pell earns the rare distinction of getting to make out with her real-life wife (Janine Brito) on camera on two different sitcoms in 2021.
3. MacGruber (Season 1, Peacock)
I dunno what to say about this, exactly. It doesn't reinvent the wheel or anything; it's one of the most "If you liked the movie, you'll like the show" series I've seen in a while. That said, you all know how much I love the movie, and the show lives up to the standard it set– and it's surprisingly well-plotted, too, for something that could get away with coasting on the jokes.
Will Forte, Ryan Phillippe, and Kristen Wiig are all back reprising their roles from the film, but the show also contains some terrific guest casting: Laurence Fishburne fills the late Powers Boothe's shoes as the commanding officer, Billy Zane makes a great villain, and Sam Elliott shows up in a role I won't give away.
Funny as hell and it uses the episodic structure to great effect, often giving episodes over to different action-movie tropes and letting MacGruber fuck them up. (The fourth episode, "The Scientist", stands out in my memory in this regard, as MacGruber has to attempt to fill the "spy at a fancy gala" role.) I think I need to give it another watch soon.
The Top Two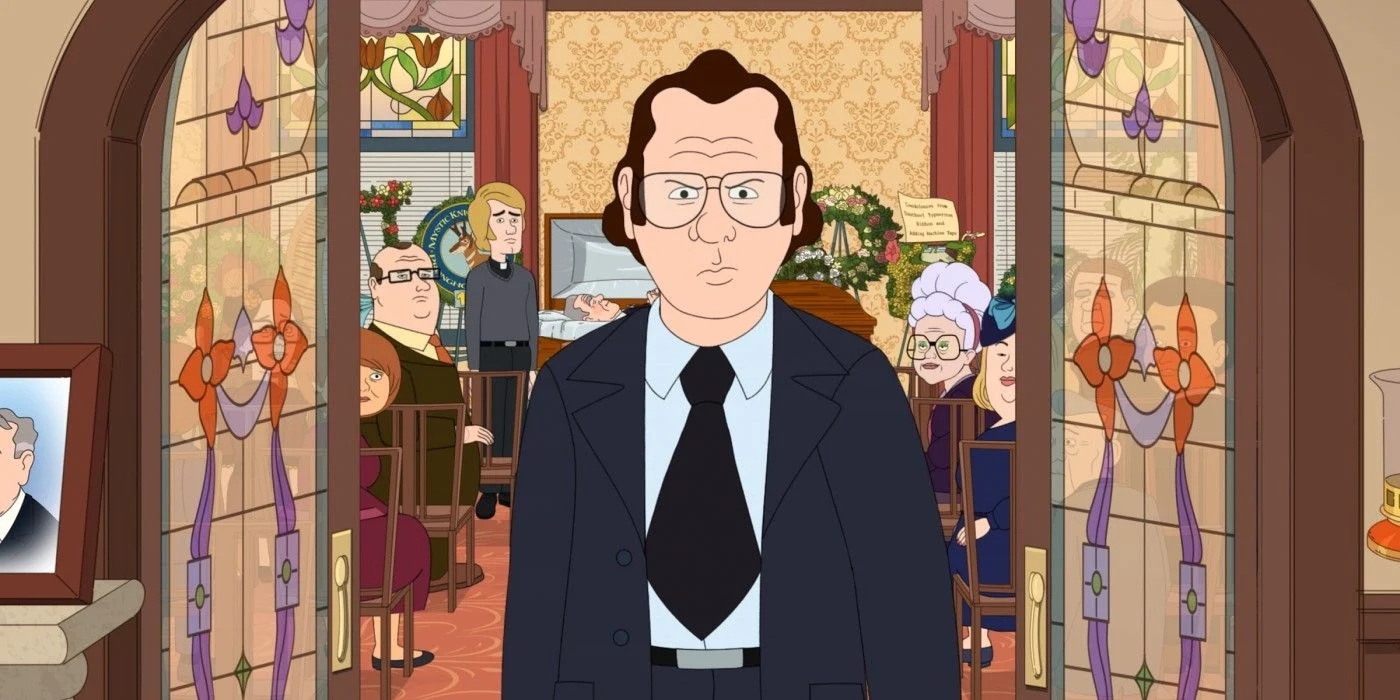 2. F Is For Family (Season 5, Netflix)
Another show on our list puts its final season in the books, although at least this one got the grace of a proper ending rather than an unexpected cancellation.
"You know what it means? It means my parents were two fucked-up people who fucked and had me."
So Frank Murphy tells his wife Sue, the conclusion of his long-running journey to understand his parents and himself, to find some resolution in his relationships with them– especially his father, who Frank seemed to be patching things up with until he died of a massive heart attack. Frank spends most of the season on that journey, trying to find some meaning in his father's final words, which leads to some dark, hilarious moments (Frank crying in a photo booth at a bowling alley while the booth takes pictures of him, for example).
The final answer to what those words meant really underscores the futility of Frank's quest. In the end, there's no master key that unlocks everything we needed from our parents and puts our resentments and trauma to rest: You just have to keep living and appreciate what you do have. And Frank is going to enjoy Christmas Day with his family.
The entire series takes place over a little more than a year– from shortly before Christmas 1973 to Christmas 1974– and it's arguably the most eventful year in the Murphys' lives. In the end, for everything they've been through in the last year, the Murphys come out of it a little better off and a little closer to one another, and sometimes that's all we can hope for. Great, great show that rarely got its due for just how good it was.
I should have saved the mention of my Bill Burr article for this show, since it's about this show. It would've been more appropriate had I put this at #1, and while it was pretty worthy, I had to be true to myself, and you'll see why in the next writeup.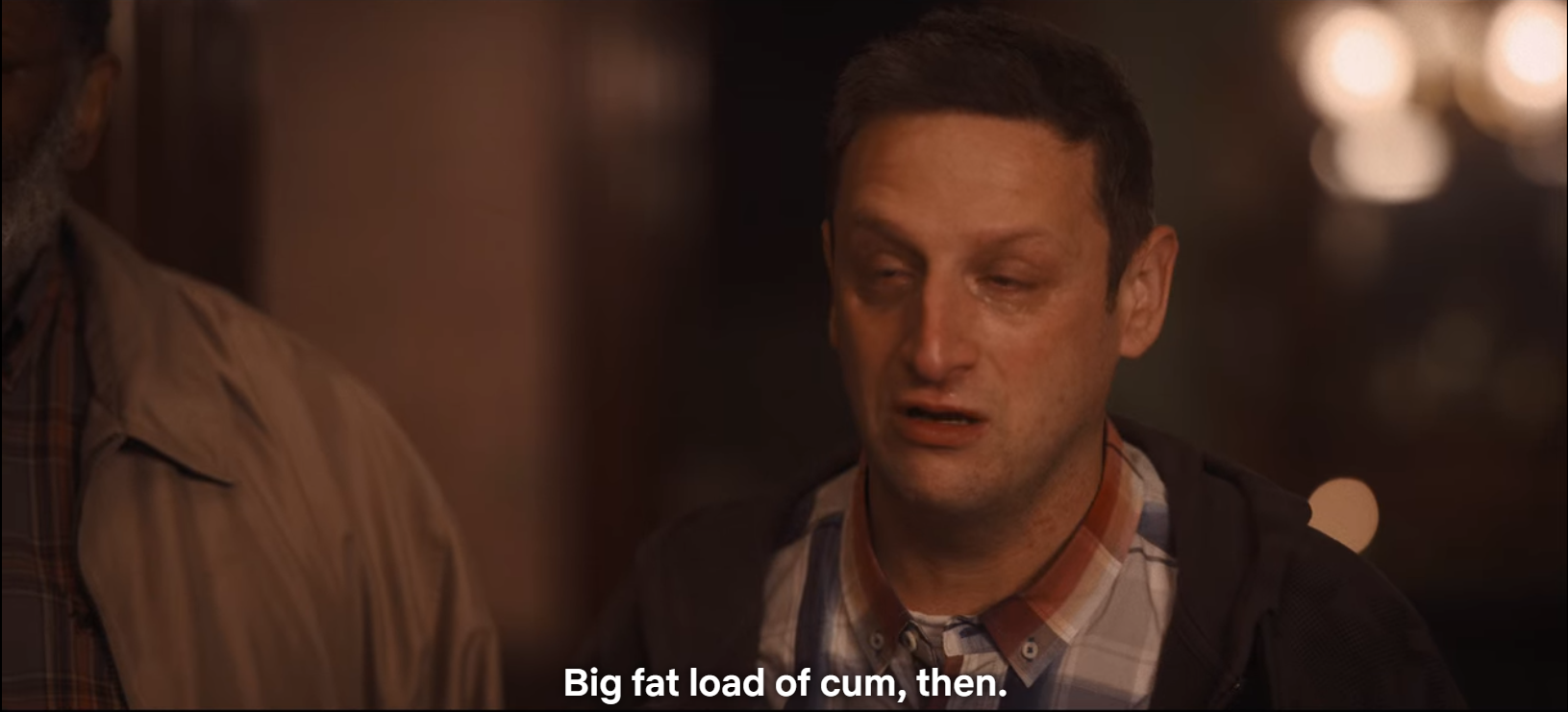 1. I Think You Should Leave (Season 2, Netflix)
It feels a little lazy or default to pick this one as #1 this year– the first returning champion to our list, aside– but like I said at the beginning, nothing really blew me away this year. Looking through the past lists, each #1 hit me in some deep way that I wasn't expecting, blew the doors off what I expected from a TV show in some way, or both. Nothing really did that in 2021. However, I Think You Should Leave is still funny as hell and extremely rewatchable.
More to the point, one big factor for me when trying to separate out the best of the best is "What's really stuck with me this year?" (This is especially true with how far in the rear-view mirror so many of these shows are.) And I don't think anything I watched on TV has stuck with me as much as "Ghost Tour," an extremely funny sketch that's also a beautiful commentary on the gap between implied vs. stated social rules. (The first tip where the sketch is going is that the tour guide says "We can say whatever the hell"– not "whatever the fuck"– "we want.")
Or "Coffin Flop," essentially an extreme rake gag with a sweaty and desperate narrator that somehow keeps getting funnier the more of those bodies bust out of shit wood and hit pavement. Or Patti Harrison's performance in "The Capital Room,"* a great showcase for her gifts to commitment and delivery– telling a preposterous story with the dead seriousness one would expect from a Shark Tank-style business expert, except when she veers into absurd moments that still work for their contrast to that type of show's presentation and characters.
(* – Despite the fact that SOME of you don't appreciate this as much as I do. The re-education camps will begin shortly.)
Aside, another season of this is coming, and Tim Robinson is developing another sitcom set in Detroit (Computer School) for HBO.
Post-script
As a little bonus, here are some shows from 2022 to look forward to as potential list entries that didn't make it in 2021 due to not airing:
New Shows
Abbott Elementary
American Auto
Grand Crew
Returning Shows
Barry
Better Call Saul
Derry Girls (I know I mentioned it, but it last aired a season in 2019)
The Kids in the Hall
The Marvelous Mrs. Maisel
The Righteous Gemstones
Toast of Tinseltown
Movies Based on TV Shows
The Bob's Burgers Movie (out tomorrow)
Standup Sets
Norm Macdonald: Nothing Special – Recorded when he suspected his death from cancer was imminent, this will be out on Netflix May 30. It's a standup special with no audience, serving as something of a last testament and last set of jokes for Norm. One of comedy's most beloved comedians and one of the finest craftsmen of a joke has given us a final word, and I expect it to be both funny and moving.