Ability may get you to the top, but it takes character to keep you there.
-John Wooden
I wrote about Ted Lasso season one more than once because the show captivated me and demanded deeper analysis: Here was a comedy that could've coasted on good vibes and niceness and even tipped into the realm of toxic positivity*, but it didn't do that.
(* – On the other hand, some of its fans certainly did: The Ted Lasso discourse hit suitably insane highs during season 2 as the "watching TV shows about Nice People makes you a Good Person" crowd defended their latest Nice Show from fair criticisms, inspiring a feeling in me I hadn't had since witnessing the "watching Rick and Morty makes you a Smart Person and a Misunderstood Genius by Society" shut-ins unhealthily overidentifying with their favorite TV program. This may have influenced my decision to withhold more substantial commentary until I'd finally seen the complete season.)
Ted Lasso avoided that by having a terrific cast of characters, a whole lot of hilarious moments (both one-liners and character-driven), and, perhaps most importantly, the well-constructed storytelling and the steady, plausible, and realistic plotting. Ted doesn't just charm everyone he meets with his can-do spirit and relentless optimism; it's a slow-and-steady effort for him, day in and day out, of getting to understand the people around him, staying positive in the face of all that hostility, and figuring out how to reach his players and make them better. And it's only after he's done that for quite a while, and those people start seeing the effects he has on them and on the team, that they finally start coming around.
Ted Lasso season two has a lot of those things, and thus it still makes for a very good show. The characters are still great, as are the performances; the show is still funny; the plot is capable of delivering some terrific, moving moments; and I'm even on board with some of the show's flights of fancy, like "Rainbow," the romantic-comedy episode. But all in all, season 2 is slacking on a critical element that helped season 1 challenge for the best show of 2020: The care and detail in the plotting.
It would be easily to call that criticism unfair: First of all, the show is still very good and was appointment viewing for me even as I could see the ways the plots strained at the seams. Second, it's worth noting that the plotting of season 2 didn't have the hook of season 1 anymore, not with Ted having won the trust and respect of ownership and his players.
That said, the writers did come up with plenty of good and plausible stories for season 2, so they weren't short of ideas. Some of those stories were well-executed, some of them led up to fantastic moments. Others, unfortunately, skipped over crucial steps in their development, involved conflict that felt artificial, or left the potential fallout or consequences of the story unaddressed and unexplored. This left these stories less satisfying or plausible, less organically built, or at worst, as though the show was treating certain storylines as consequence-free wish fulfillment. It left some of the potentially great moments of the season feeling unearned.
This article may, in fact, be nitpicking, but when a show does everything right its first season, it's easier to see in the details where it falls short in its second. It's definitely going to be long, because season 2 tried to give more storylines to secondary and tertiary characters, but even with a longer season and added episode runtime, some of those stories felt incomplete.
(Spoilers for season 2 beyond the image.)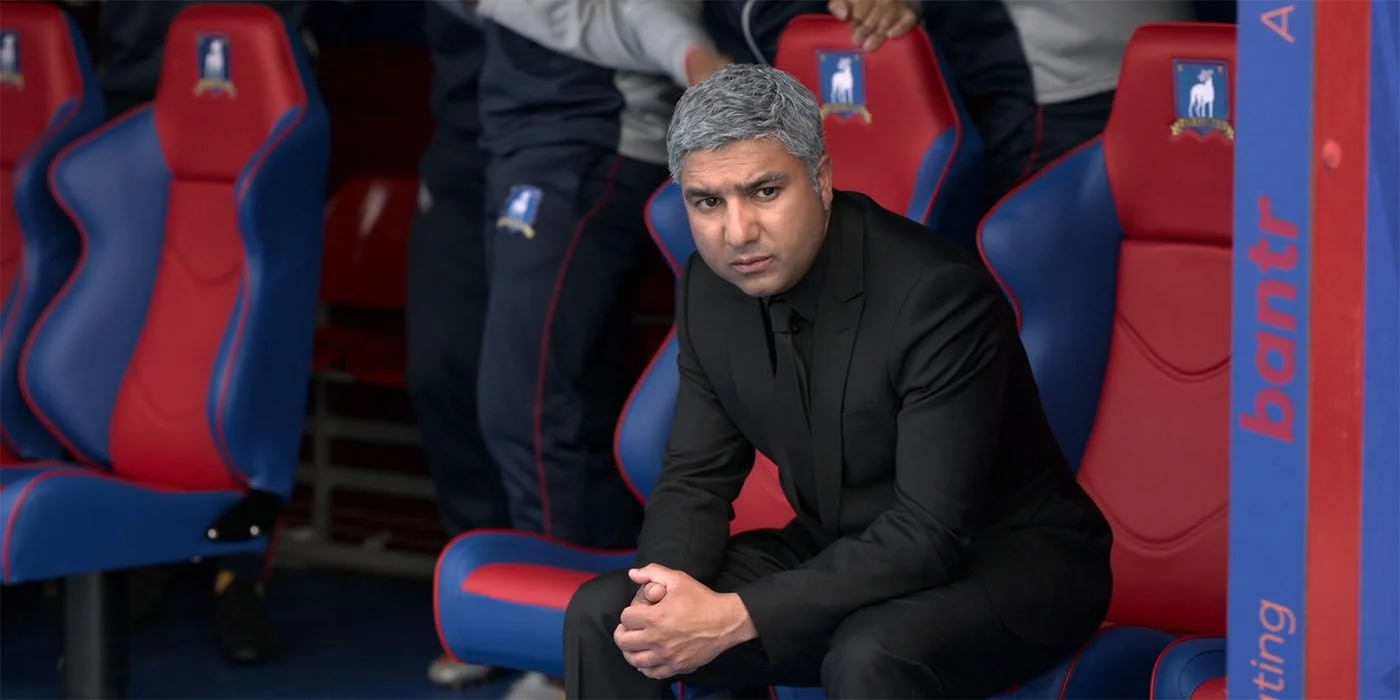 The first thing I want to mention, because it plays into a lot of the other stories this season, is how little the sports action is served. Compared to last season, we get scant little time with games, training, or even the team bonding. (The Christmas dinner at Higgins' house is a delight in this latter regard, I should say.) But part of the charm of Ted Lasso season 1 is that Ted's homespun wisdom and ways of reaching people actually worked; we see the team in its struggles, we see it practice to become better, we see that Ted does reach his players and get them to play better as a team, and that he does get the most out of them.
Even though season 1 ended in a bittersweet loss, the results of the work put in were evident. In season 2, we're mostly told how the team has been doing lately right before it's time to get back involved in game action. As a result, it's harder to feel invested in the team story, and it's harder for the results of the finale and AFC Richmond's re-promotion to feel triumphant. It felt inevitable to me, as the direction the story would have to take. Since we barely see any game or training action, the team's results feel untethered to the work they did to achieve them, a stark difference from season 1.
The sporting elements and the team-building were some of the best aspects of the show last year, and even if it's A Show About More Than Football, I think it suffers when it doesn't tie the work off the field to the work on the field. One of the best scenes of the year did the former: Jamie's dad shows up to the locker room to taunt Jamie after Richmond loses 5-0 to Man City, which leads to Jamie finally standing up to him and punching him out. The moment after is just stunning, with the whole locker room finally seeing Jamie and what he's had to deal with his whole life, what made him into the selfish jerk he had been, and Jamie himself, emotionally spent and bare, the man finally standing up to his father revealing the boy underneath who wishes he didn't have to. And Roy Kent of all people walks over and gives him a hug, and it's one of the most moving things you'll see all year. (Tremendous work in that scene by Brett Goldstein and especially Phil Dunster.)
Since we don't know what the work on the field looks like, that throws into question one of the better plots of the season: Nate's slow villain turn as he continually feels marginalized or disrespected. This is handled well, showing continually the little moments* where Nate feels belittled or infantilized, where he feels like he's not getting his due, where he lashes out by bullying people beneath him, until he finally reaches a boiling point at the end of the season and blows up at Ted, laying out how neglected he feels and that he thinks Ted is full of shit.
(* – My favorite subtle touch is his discomfort with Roy joining the staff, because they fill very complementary roles and Nate is too insecure to recognize that: Nate is a strategist, who comes up with the tactics and formations that allow the team to succeed; Roy is a player's coach, an ex-player who understands how to motivate players to play their best and when something is off with them mentally or physically.)
Nate obviously has his own issues, stemming from his father constantly downplaying any success or achievement of his, and given the shades we've seen of him before– as someone who can be quite mean when he has the power to do so, and someone heavily dependent on external opinion and praise– he's much more likely to be a fake Nice Guy brewing with resentment who would've snapped at some point anyway. Still, though, we don't know how right his criticisms of Ted are: Perhaps Ted has been slacking in his duties as he deals with his personal trauma. It's plausible from what we've seen on screen, because we've seen so little of the actual football work, but because the team wins anyway, we can't really say Ted's not doing his job.
I don't think we need a solid answer on that question, but it's another area where the de-emphasis on football hurt the storytelling. More to the point, whether or not we know the answer, it's worse that we don't know what Ted thinks about all this, because we never see him reflect on it, which really sticks out in a main character whose defining trait is perhaps his constant drive to try to do better for others.
We get hints that the Lasso Way isn't always optimal: In "The Sign," Roy calls out Ted for having made Jamie into too much of a team player, that Jamie does have gifts no one else on the team has, and Ted should unleash them from time to time. (This makes for a great scene when Jamie is finally unleashed.) And, of course, Ted's own issues (we'll get to those) and whether the Lasso Way is just compensating for them are another valid question here. But there's no real deeper inquiry into these questions.
Coach Beard certainly did see some of Nate's warning sign behavior, and apparently he never let Ted know. Isn't that part of his job as a coach, to either nip locker room problems in the bud or kick them up to Ted if he can't? It's plausible, at least, that Beard is so wrapped up in and emotionally exhausted by what seems to be a toxic relationship (at least, the warning signs are unmistakably there) that he's not confronting Ted, or that he's giving Ted space while Ted works through his own issues. We don't know, though– we're only left to speculate.
The story of Beard's relationship is also left unresolved– Higgins says something to Beard once about his concerns, and that's a great scene, but it changes nothing. And it doesn't have to change anything, but I did expect it would seed a time later when Beard would be brought into confrontation with how unhealthy his relationship with Jane is. It doesn't happen; this is another way we could've seen that the Lasso Way doesn't work, that either Ted is overlooking what's going on with Beard, or whatever "Bro Code" is preventing Ted or the other guys from saying something is actually an unhealthy rule to live by.
These potential details, conflicts, and consequences are overlooked and feel like they feed into each other: Ted doesn't notice Beard's relationship problems; Beard doesn't confront them; Beard doesn't approach Ted about Nate; Ted doesn't notice Nate's behavior. As a result, neither Beard nor Ted end up asking themselves what they could have done better, which feels like such an essential element to their characters that it stands out that the show doesn't take the time for this.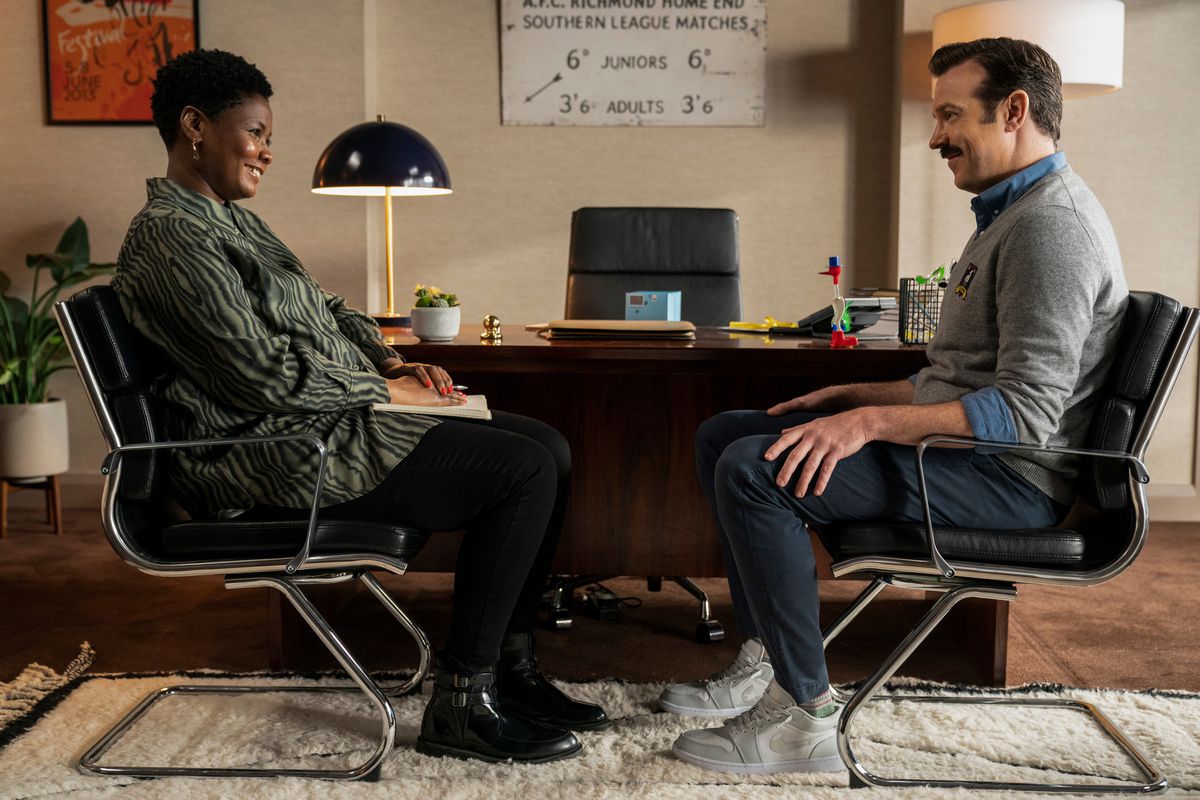 Ted's plot is one of the better plots of the season, as he finally comes to terms with the essential trauma underneath it all that has shaped his outlook since. Like with season 1, Ted's journey is also a process (albeit more in fits and starts, although that actually makes sense with the topic at hand): Ted first is suspicious of psychiatry; then gradually comes to trust the team's new sports psychologist, Dr. Sharon Fieldstone; then has a panic attack during the critical late moments of a match; then is finally pushed (in the scene with Jamie and his father) to confess to her the worst thing that's ever happened to him. Later, when he has another panic attack getting ready for Rebecca's father's funeral, he calls Dr. Sharon for an emergency house call.
It's a masterful scene of Ted fully coming forth to Dr. Sharon about the trauma from his past, and his anger, and his sorrow over it: One day when Ted was sixteen, not long after he arrived home from school, his father shot himself. Again, one of the best moments of the year comes when Ted utters just two words– "He quit."– and Jason Sudeikis loads all the anger and betrayal Ted feels behind those words, and they hit like a lightning bolt. After getting through his anger, Dr. Sharon then encourages Ted to remember what he loved about his father, and that's where his real breakthrough comes:
He was a good dad. And I don't think he knew that. I think if he would've known how good he was at stuff he didn't really care about being good at, he– I don't think he would've done what he… And I wish I would've told him. I wish I would've told him more. I was just so angry at him. 'Cause he was always going to work, or out with friends or something like that, and then he was gone.

And I knew right then and there that I was never gonna let anybody get by me without understanding that they might be hurting inside, you know. 'Cause life, it's hard. It's real hard.
(I will say that I wasn't a big fan of cross-cutting Rebecca confronting her mother about her father's infidelity with Ted's confession to Dr. Sharon: I get what the writers were going for, but Ted's situation was so much more severe that the juxtaposition was more jarring than anything else.)
Unfortunately, we don't get to see much of that breakthrough in action, as Ted hardly interacts with the team after that– save addressing them after the report of his panic attack during a game runs in the newspapers. (And, like I said, he never reflects on what happens with Nate, which seems a failing of his core philosophy: He let someone who was hurting inside get by him.)
Another great moment I love comes in a scene early in the finale– the story breaks at the start of it– where a fan passes by Ted in the morning tells him "Hey, wanker. If my father had a panic attack at Normandy, we'd all be speaking German." Ted gives him a "Yes, sir," before the fan turns around: "Just do the work, pal. You'll be all right" and gives him a thumbs-up. It struck me as very real, the kind of fan moment where passion for the team and anger over its misfortunes charge ahead before one realizes, oh, I am in fact talking to another person right now.
At the press conference in the finale after Richmond secures the promotion– and after the morning the story of Ted's panic attack ran– Ted starts by talking about mental health, but we cut away before we get to see what he has to say. This is another problem with some of the show's plots this season; too often they omit what could be the best or most satisfying scenes and leave us to assume everything worked out.
The Ted and Nate plots succeed because, like the stories of season 1, they show the slow build gradually and plausibly, whether it's Nate's brewing resentment or Ted first reconciling himself to the idea of psychiatry and then to finally addressing his underlying issues. They weren't perfect, but they were the best this show put forth in this regard this season. Other stories seemed to skip important steps or essentially get a resolution in one step, with no follow-up– this didn't happen too often, but when it did, it was a notable change from the slow-and-steady plotting of Ted's efforts in the first season.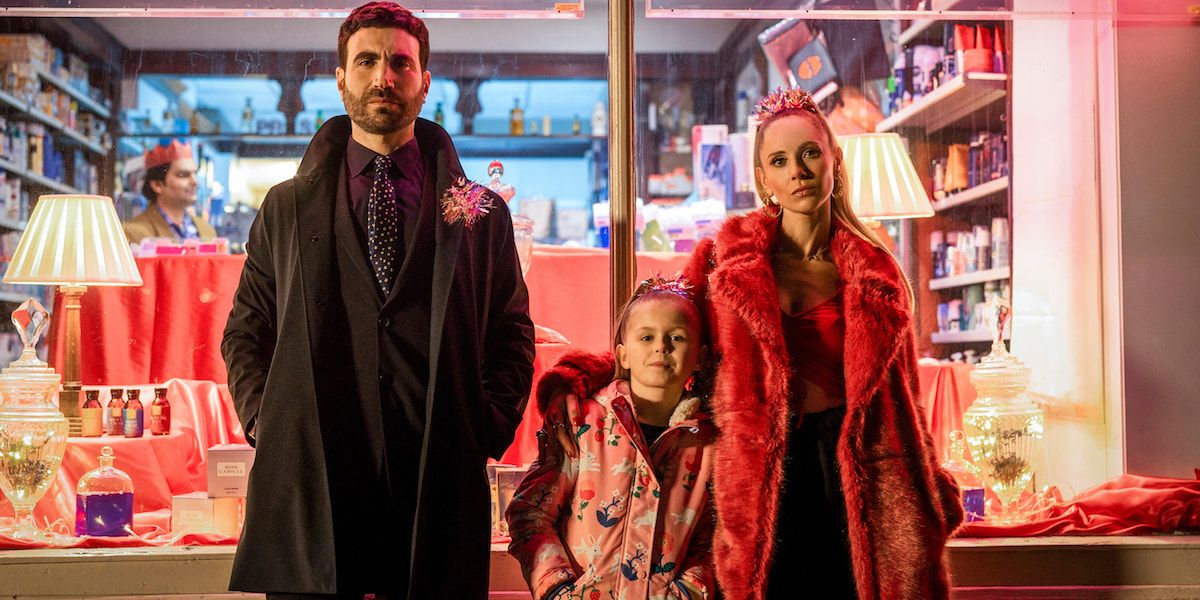 Sometimes plots are set aside for so long they become forgotten. Take the scene in the finale between Jamie and Dani. Dani's issue with the penalty kicks was resolved in the first episode, the same one it happened– more or less with one session with Dr. Sharon, a good example of the quick turnarounds of stories and conflict vs. the steady efforts of season 1– and then not mentioned again. So the moment of Jamie turning over the PK to Dani seems disconnected from those earlier storytelling efforts; it does include a callback to the opening episode, but because Dani's journey seemed to happen quickly and without much effort and then was forgotten, it doesn't land as intended. (Jamie's journey for the season doesn't particularly seem to tie to him making that decision in that moment, either, although I can see how it could work as a culmination of his efforts this season to follow the Lasso Way.)
I don't have too many criticisms about the Roy/Keeley story in hindsight. The majority of the season seemed to be about how the two navigated each other and a level of commitment they hadn't had to anyone else before, so having smaller conflicts between them as they grew to understand what their relationship was was fine with me. (And they are as ever still two of the most fun characters on the show.) Some of their conflicts later in the season felt a little rushed or forced, though. In particular, their final conflict of the season seems to come out of nowhere: Keeley gets tapped to run her own PR firm in the finale, even though we've seen her doing scant little PR for the team (her dating app Bantr seems to be a success, at least), and the two potential crises it ought to be her job to head off– the Sam-Rebecca relationship and the story Nate leaked about Ted's panic attack– we never see her address. This is a fairly minor point, but it detracts from the story– for all we hear about how successful Keeley is and what a great mentor Rebecca has been, we don't see much of that actual work and success. Even Bantr we don't really know how or why it's a success, just that it is. That makes the new career opportunity and the conflict it causes between her and Roy feel more artificial. And because of that, it also stands out that said conflict doesn't feel particularly tethered to their previous conflicts in the season.
The Sam-Rebecca story gets to the point where I suspect there's a divide between viewers on season 2: I enjoyed the story as it was happening, certainly, and I got invested and cheered them on, in no small part because it's between two terrific actors with bang-on chemistry. But, afterwards, I was left wondering why the details weren't explored more, why no one considered the potential fallout*, and what impact it had on the story, how the experience changed the characters. "Enjoying it as it happens" is a very good result for a TV show; it certainly beats the alternative. But season 1 of Ted Lasso was so good at the details and so consistent in its plotting that it's noticeable when season 2 doesn't live up to that standard.
(* – A team owner dating one of her players would be a PR nightmare if it became public, not to mention something that could potentially undermine team unity, and those possibilities are just never addressed. Nobody in the know, including the team's director of PR, expresses anything but full-throated support of the relationship. It's not even like I required anything bad to happen here, just some indicator that someone in the inner circle was aware of the downside.)
It's similar with Sam's choice to boycott Dubai Air and Rebecca's choice to stick by him: In the real world, telling off a sponsor like that would certainly result in some blowback– finding new sponsors at the very least, if not some form of retaliation– and I kept waiting for nine more episodes for the other shoe to drop, and it never did. (Conveniently, Bantr– which is also how Sam and Rebecca met– takes over the sponsorship.) The dramatic weight behind a character making a difficult moral choice is cheapened when the consequences of that choice are simply not explored or addressed. These two stories speak to another shortcoming, that the show had a much stronger foot in realism in season 1. ("Reality Ensues on Ted and his outlook" was a source of so much comedy and even some critical dramatic moments, including the finale, in season 1.)
But to say something positive, I did enjoy Sam's story in the final two episodes. It's unfortunate that the offer in question strains plausibility more than a show based around an actually-existing football league ought to, because Sam being pushed into that kind of choice is a great move for the character. I particularly enjoyed how Sam came to his decision, the reward he finds in bringing Nigerian culture to England and in being a role model for kids, and, you know what, I will never complain about a show giving Sam Richardson a chance to act petulant and childish.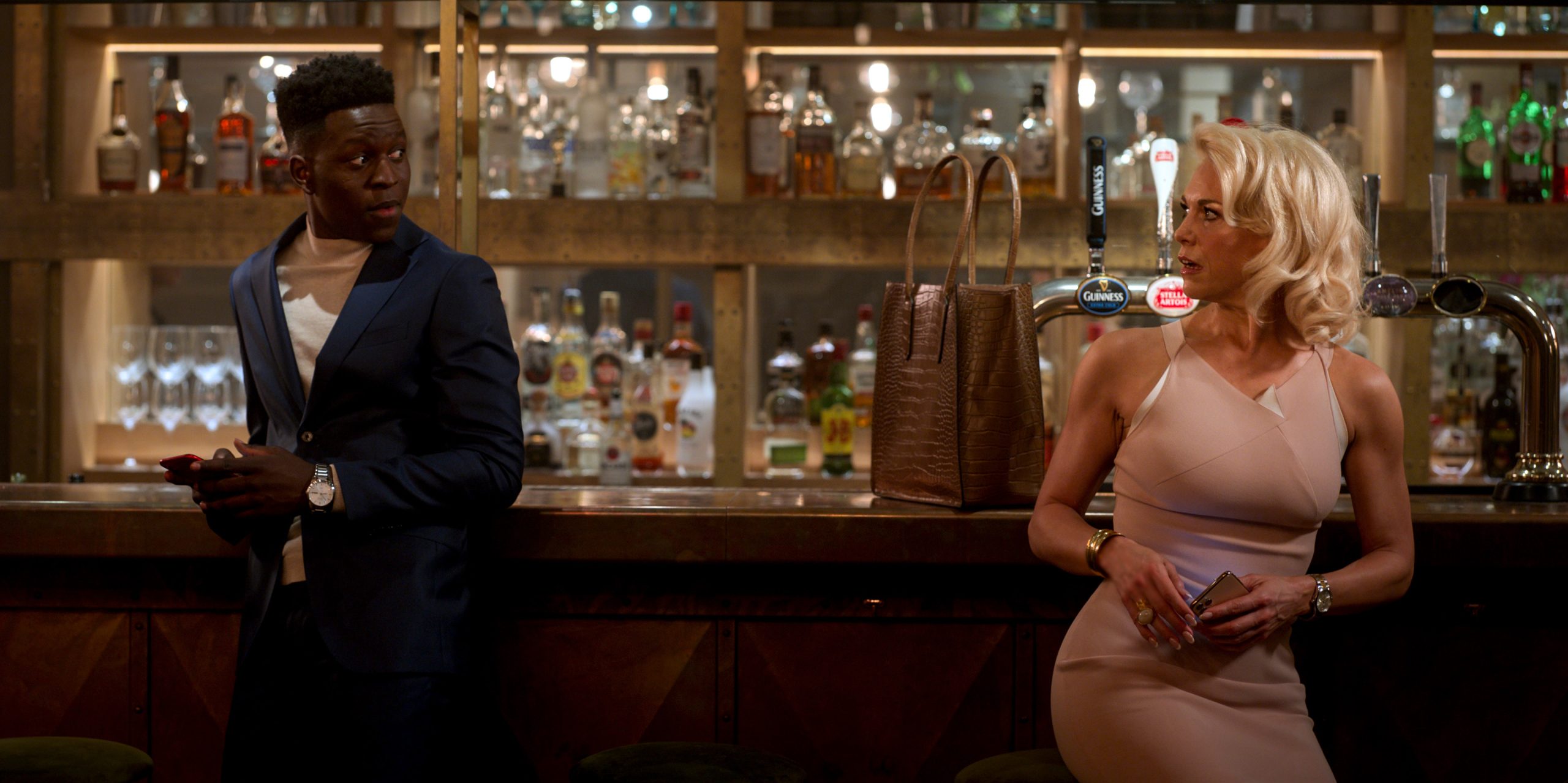 Oddly, it wasn't for lack of time that these plots ended up being undercooked– many episodes ran for 40 minutes or longer, and the season's order was extended from 10 episodes to 12*. Both the added episodes involved stand-alone stories unconnected to the main plot, and in hindsight it's easy to suggest they might have been better used on better developing some of the season's other plots, or on dealing with the potential fallouts of plots– if, in some way, we'd gotten other scenes I felt this season needed that we didn't get. In particular, "Beard After Dark," while a fun little After Hours-esque romp for our most tightlipped character, could've been sacrificed for this purpose, as it didn't really shed a lot of light on Beard or change him.
(* – And yet somehow we still barely got any Higgins. More Higgins!)
It might have even been better to add a denouement episode, with the club's promotion coming in episode 11, and the finale dealing with some of the fallout that was only hinted at in the epilogue afterward or outright ignored– Roy's worries that Keeley's work won't leave time for him and that he's not good enough for her; Rebecca learning to deal with not having Keeley around; Ted doing some self-examination (possibly aided by Beard or the rest of the Diamond Dogs) as to whether he'd failed Nate, whether he should've seen the warning signs coming; some kind of reflection (Beard, Ted, anyone else who cares enough to notice) on whether Beard's relationship is as unhealthy as the hints we've seen it is, whether it's getting in the way of his job; etc.
The tone of this review may sound overly negative– nitpicking, even, if none of the details I've talked about affected your experience– but I'm really not negative on the show. I still enjoy it as a week-to-week watch, and it still provides us with some incredible moments. I'm willing to concede that I may end up liking this one better with time. Maybe it plays better in hindsight as a binge-ish watch than weekly. Maybe it's as simple as the show having more highlight episodes for characters this season, and thus often resolving plots for those characters in shorter time, rather than layering the journey throughout the season. Heck, some of my issues with the plots that were forgotten or the consequences left hanging might be resolved in season 3.
It's to the show's credit that it achieved something so great last season that it's easy not to be satisfied with very good. If season 1 wasn't as good and well-written as it was, I wouldn't even be able to formulate these kinds of criticisms about season 2. Season 1 was on point in that most critical of all storytelling elements, the "structure of incidents," that it makes season 2 stand out when it fails in certain aspects, even if it's still better than most shows on TV.
There are times when it works just as well as season 1: While writing this article, I just realized how Ted's history with his father must make his feelings about having to leave his son behind to take the Richmond job that much more devastating. It's easy to think about this show so much because, at its best, it's very rewarding to do so. But the flipside of that is, I'm pretty sure we don't see Ted interacting with his son after that scene– and we barely saw it during the season. So the show didn't really give us a moment for that idea to land. And it also raises the question, how is Ted's relationship with his son? And all the questions that stem from that.
That's about how I can best sum up season 2: At its best, it's every bit as fulfilling as season 1 and rewards close study; at other times, that close study reveals the seams in the storytelling, the missed moments and the unanswered questions. Sometimes in the same scene.
I'm optimistic the show can right the ship in this regard– more than anything, I think this season just needed another pass in the writer's room to better connect the dots and more carefully develop the plotting. If I can see the ways this season could have been just a little different and thus lived up to season 1, surely a room of professional TV writers can, too.
Just do the work, pal. You'll be all right.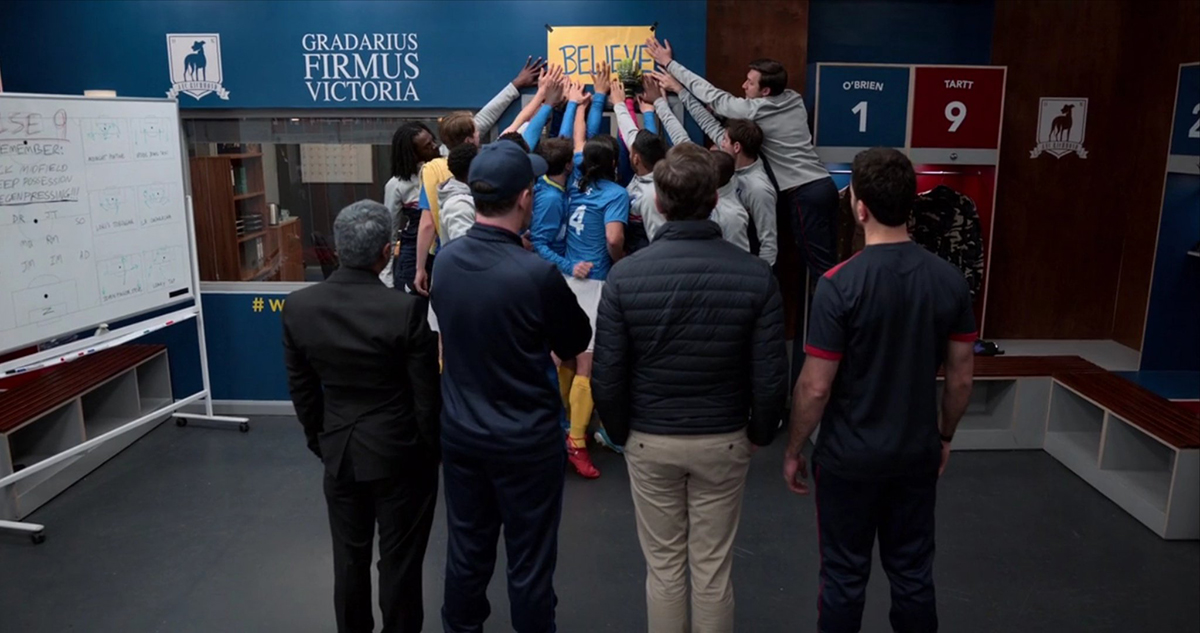 (Thanks to The Ploughman for letting me fill in on this Thursday morning. I'd also like to recommend Myles McNutt's weekly reviews at the AV Club, as while I enjoyed the season more on the whole than I think he did, he delineates many of the issues I discuss here with clarity and precision.)