The golden age of the B-movie gave us a few directors whose actual filmmaking was overshadowed by their other qualities. Roger Corman's ability to turn out cheap movies on a small budget is undeniable, but he also frequently delivered on quality, too (especially when teamed with Edgar Allan Poe and Vincent Price) and William Castle's promotional gimmicks — lovingly homaged in Joe Dante's Matinee — are far better remembered than the films they existed to promote. Ed Wood's incompetence… well, that one is inextricable from the movies themselves. But Corman and Castle were both extremely capable directors who just happened to have certain other outsized characteristics that remain better remembered than their actual movies.
By 1961, Castle had been directing for nearly 20 years and had more than 40 films under his belt, but it was when he made the switch to horror in the late '50s — and started promoting his films with outlandish gimmicks — that he really became B-movie royalty. People buying tickets to see 1958's Macabre were given a $1000 insurance policy lest they die of fright during the screening. The combination of thrills and gimmicks paid off, and Castle would repeat the formula for the majority of films that he made from that point on. Within a couple of years, Castle's horror films were making enough waves that Hitchcock listed his work — as well as Roger Corman's — as part of his inspiration for Psycho. Apparently he had noted the solid box office that both were able to command with their violent B-movies and "wondered what could be done if a more adept director made such a film" — a brutal example of faint praise, but I'm sure both directors were delighted all the same. In fact, Castle's first film of 1961 returned the compliment somewhat, as Homicidal is very much inspired by Psycho.
The film begins with a mysterious woman checking into a hotel. Introducing herself as Miriam, she picks out the younger and less decrepit of two bellboys to carry her luggage up to her room, then offers him a $2000 tip if he'll marry her the same night, no questions asked. Another bundle of money gets them into an extremely depressing late-night wedding, but as soon as the brief "ceremony" is over, our mysterious antihero kills the justice of the peace and makes off into the night. It's a great opening, piling mystery upon mystery as "Miriam" executes her strange but very deliberate plan. And as the film goes on and "Miriam" is revealed to be Emily, nurse to a mute woman who communicates by tapping, things remain both excellently weird and extremely intriguing. 
There is enough bizarre colour thrown in by Castle that you can almost forget about that Psycho inspiration…until the outlandish twist hits and brings everything crashing home. The strange performance given by one of the characters is a clear signpost as to where the film is heading but the finale still packs a punch — and Castle's chosen gimmick does make a difference. With a few minutes of running time remaining, he appears on screen with a timer to give squeamish audience members a chance to escape — although under the condition that they will (at participating theaters) have their blood pressure checked by a trained nurse and be forced to sign a card acknowledging their cowardice before they are entitled to their money back.
Few people took up this offer of an escape and a refund — at least, once loopholes in the system had been ironed out, using coloured tickets to prevent people hanging around for the next screening. But the delay before we find out what is going on in Emily's twisted murder-house builds tension surprisingly well. And Castle is a charmingly goofy screen presence, making the unconventional finale an unforgettable experience. Critics were somewhat mixed at the time, but Time magazine actually preferred Homicidal to Psycho, writing"t surpasses its model in structure, suspense and sheer nervous drive." I'm not sure I'd go that far, but it's a blast of a B-movie and up there with Castle's best work.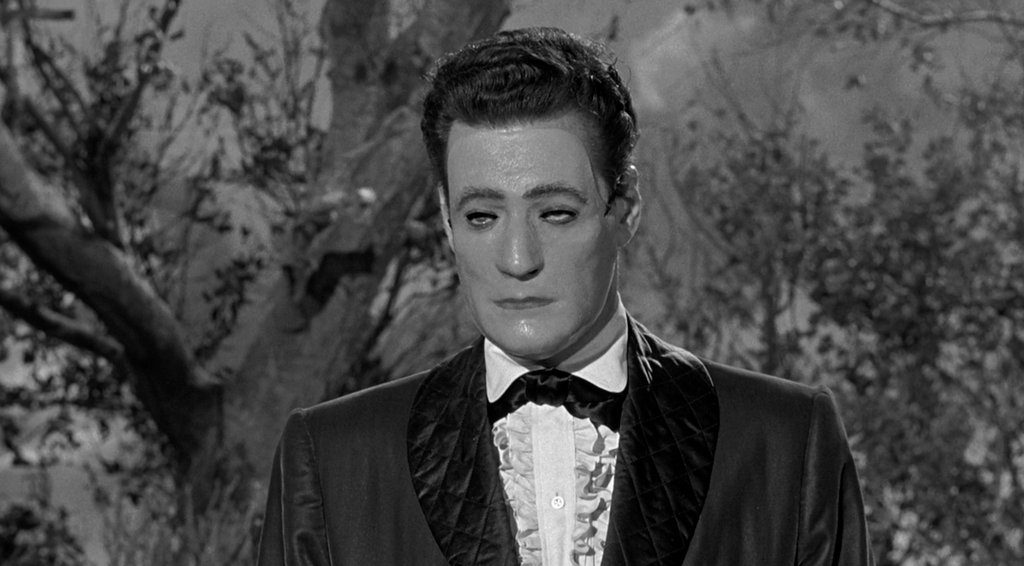 Homicidal fans didn't have to wait long for a follow-up — Mr. Sardonicus was released just four months later. Working in a similarly sadistic vein of Gothic horror as Corman's Poe movies — the excellent Pit and the Pendulum had been released in the meantime — and adapting a story that Castle had read in Playboy magazine, the story follows a respected, pioneering British doctor as he heads to the fictional European country of Gorslava to pursue a former lover who has married into the aristocracy. Unfortunately, he gets more than he bargained for — Baron Sardonicus is a twisted, cruel creature who has lured the doctor to his home under false pretenses. 
Guy Rolfe's performance as the sinister Baron helps sustain some rather thin material, and he is matched by his shambling manservant Krull(!), played by Oskar Homolka. Despite their efforts, the film never quite matches to the excellence of Corman's Gothic films, but it's a nicely twisted little film that waits for the perfect moment to deploy its main shock, the effective facial make-up hidden beneath Sardonicus' mask. Castle also had another gimmick to deploy — as the film seemingly ends, viewers are given the choice to vote on whether Sardonicus' fate was cruel enough, or if further punishment is deserved. Naturally, only the cruel ending was ever shot — and the final minutes are a deliciously nasty sting at the end of the tale.
Castle had a good few years of shocks and oddball promotion ahead of him, but 1961 was certainly a high point for his career, and for the B-movie as a whole — in addition to his entry into the Poe cycle, Corman managed to release the entertainingly goofy horror-comedy Creature from the Haunted Sea as well as a swords-and-sandals movie; Ed Wood's trash masterpiece Plan 9 From Outer Space was sold to late-night television and began building a cult…and Hammer Films released seven films, including their only werewolf movie and the brilliantly odd feline murderer movie The Shadow of the Cat.