Clearing the paths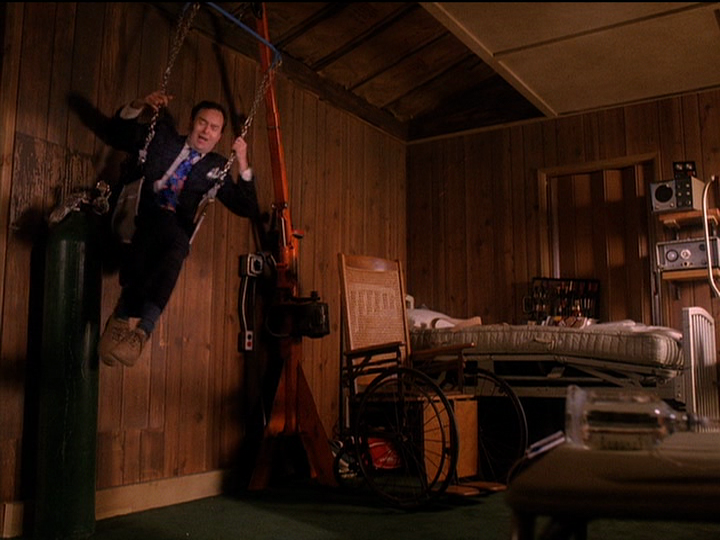 Ratings were falling. Fast. The pilot of Twin Peaks pulled in 34.6m viewers. The S1 finale and S2 premiere both pulled about 19m. Day 11 was down to 12.8m, and Day 12 fell even further to 11.4m. Let me put this into perspective, the season finale of Breaking Bad was the highest rated episode of the series, and that episode estimated 10.28m viewers. Sure, Breaking Bad was a show on basic cable where Twin Peaks was a network show, but Breaking Bad still had lower ratings than Twin Peaks had up until this point.
We're 12 episodes in, and so few of the plots have had definitive end points. Donna never officially broke up with her original boyfriend Mike; Mike just sort of vanished into thin air. After Bobby put the cocaine in James' gas tank, he just sort of stopped caring about that feud during the season break. The Ghostwood Development is still hanging around the show like a ghost in the woods. Even Norma and Big Ed's break-up came with a lot of longing and leaving the door open for more romance down the road. And, 12 episodes in, we're still not much closer to discovering the identity of Laura's killer than when we started.
Channel executives saw the plummeting ratings and put a kibosh on this whole soap opera-y mess. Evening mysteries are supposed to have stop points so that we can go on with our daily lives after having been entertained for an hour. Twin Peaks, with all its weirdness, prevented that. But, something else happened between Season 1 and Season 2 that was massively important, at least in my house.
Over the summer break, the US went to war. In August, Saddam Hussein invaded Iraq, and the US responded by sending 15,000 troops over to Saudi Arabia. The Gulf War, had begun, and the endless tension of whether we were going to war with Iraq was boiling into the American conscience. Dick Cheney was conducting military-led embargos, and our troop levels reached 320,000 by November 8. By the end of of the war in February 1991, we'd have sent 700,000 troops to fight in the region. The ever building endless tension in the nation created little patience for unending tension and sadness in television. All of the suspense shows were losing big, from MacGyver to In The Heat of the Night.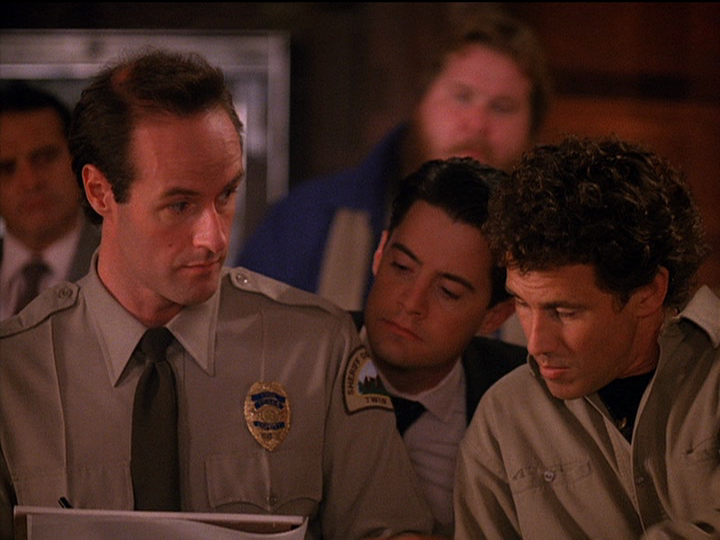 But, even that isn't everything. Over the summer break, another show premiered with an abbreviated season. Northern Exposure was a lighter, funnier, and kookier version of Twin Peaks without all the noir-tinged rape and murder that defined Twin Peaks. My father loved watching Northern Exposure. We never watched Twin Peaks, but my mother discovered it earlier this year and would have loved it back then. Northern Exposure was about a big city physician who moves to a small town in Alaska where he has to care for the wide variety of kooky characters, and nobody is trying to burn down the city's industry or molest their children.
So, the ABC executives put pressure on Twin Peaks to wrap things up. Their solutions were to put some periods on some of these extraneous plot points, solve Laura Palmer's murder, and fix your goddamned ratings. At this point, we're getting lingerie-clad madams forcing teenagers to get addicted to heroin after that teenager had to defend herself from her father's lustful ways, women impregnated by fops, and nobody has solved any of the mysterious crimes that have occurred in Twin Peaks. ANY of them.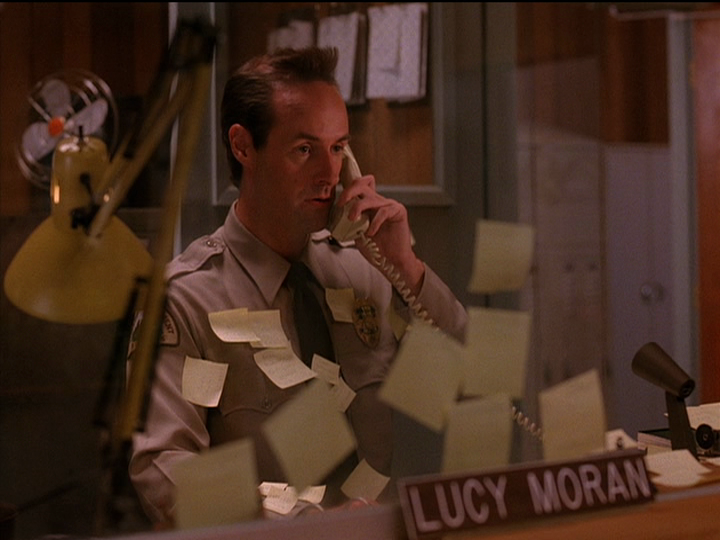 Finally…on Day 12, we get some closure. But, first we have to move a couple plots out of the way, namely Lucy gets shuttled off to Tacoma to stay with her sister who just had a baby. She makes a big deal of leaving, waiting to train the temp worker – "Sometimes the Can Do Girls can't" – and is literally pushed off the show. Later, when Andy is manning the desk, he finds out that his balls have fixed themselves and he can have babies now. Trying to tell Lucy the news, he calls one of the numbers she leaves, which turns out to be for Adam's Abortion Clinic.
On the day after the storm, Dale Cooper returns to talking to Diane, an action that has been missing for the past few weeks. He wakes up in pajamas, something he hasn't worn on this series before. He turns himself upside down to heal himself from his being shot, and he sees Audrey's note saying that she's at One Eyed Jacks. Harry and Cooper are supposed to do the money exchange to rescue Audrey from the claws of Blackie and Jean Renault.
Sure, they're supposed to deliver $125k to some place where Jean Renault can easily kill Cooper. Instead, Cooper and Harry do a raid on One Eyed Jacks and rescue Laura through an extralegal raid, killing Blackie in the process. Hank Jennings, who had been instructed to follow Cooper and ensure Audrey's safety, is caught outside One Eyed Jacks reporting back to Ben Horne. Except he has a stolen ID of DA investigator Daryl Ludwick on his body, and is kidnapped by Jean Renault. Hank Jennings is airlifted out of Twin Peaks for a few days, and One Eyed Jacks is otherwise over as a plot device.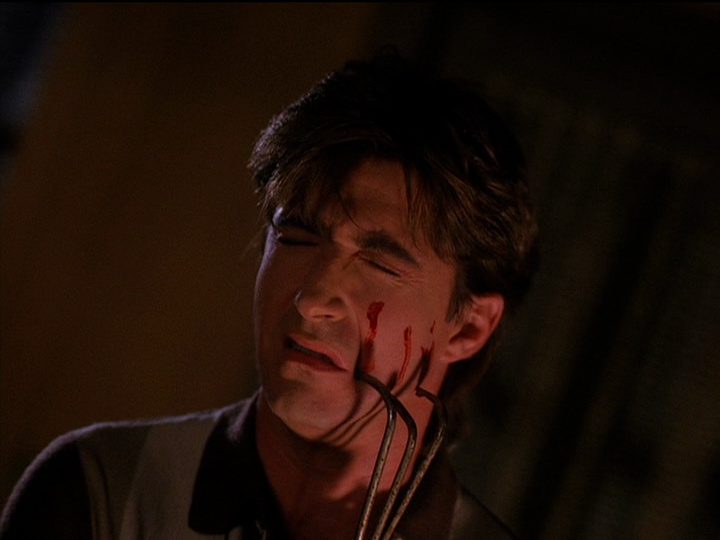 Donna and Maddy have hatched a plan to trick Harold Smith to get his diary. Donna is going to distract Harold out of the front room while Maddy runs in and steals Laura's secret diary. Donna's first method of distraction is to rile Harold up with her point of view of a story from The Secret Diary of Laura Palmer. It's the story of skinny dipping with Josh, Rick, and Tim. Laura's side of it is naughty and from a point of view of rebellious sexuality. Laura was a 13 year old getting naked with 20-year-olds, all of them were hard, and she had them wrapped around her pinky. Donna, is more a wallflower and went in because Laura led the way. But, Donna also didn't go as far. Donna's is a far more romantic tale while Laura is much more authoritative. It has many of the same points, but she emphasizes the kiss that she can still feel and the way that she fell in love, while Laura was acting more like a sexual being who put limits on things.
While Donna and Harold look at orchids and make out in his conservatory, Maddy runs in to try to steal the diary. But, while opening the shelf, she makes a noise and Harold calls out their ruse. He shouts "ARE YOU LOOKING FOR SECRETS?!" as he cuts his own face with the garden rake. The two girls cower in fear, but they know they have to get out. Harold, the Hermit, has almost finished his plot device.
The judge and the DA are here to serve two plot lines at once. Five days ago, Leland Palmer killed Jacques Renault, and the judge is here to set bail. Given the outstanding emotions related to Jacques Renault's killing and Leland's upstanding reputation within the community, Leland is released on his own recognizance. Meanwhile, Leo Johnson is still brain damaged and can't stand up in trial. Because of Bobby's greed over the disability checks, Shelly convinces the judge to release Leo into her care.
Bobby and Shelly, in all their scamming haste, get in bed with another scammer, Tim Pinkle. Pinkle is an all-around moron who is looking to scam in any way possible. Previously, Tim was offhandedly mentioned by way of his shop. In Season 1, when Pete was taking part of the fishing competition, Tim and Tom's Taxidermy stuffed his fish and may have made it smaller. Later, Mr. Pinkle will show up as a dance choreographer for the second season beauty pageant. And, here, he's hustling home care solutions for Leo, including a robotic crane to lift Leo from his chair onto the bed. But, the crane goes wild and slams him into the wall. Solutions and scheming are never as easy as one thinks (see also: kidnapping Audrey and stealing Laura's diary).
It's not all endings today! Remember the guy with the Fu Manchu mustache that checked in last night? He's starting up his story line as Mr. Tojamora, a Japanese investor who wants in on the Ghostwood deal, and has a cashier's check for $5,000,000. The $5m check is a hot potato in the upcoming episodes, so keep your eyes on who has it. Today, Mr. Tojamora gives it to Ben Horne.
---
Stray Notes
Super Nadine makes it back home, still thinking she's only 19, and breaks one of the doors off with her super strength. Wacky!
Josie and her cousin are also missing today.
Have you noticed that Laura keeps getting further and further away from the proceedings? If it wasn't for Laura's diary, this would be a relatively Laura-Palmer-Free day. We don't even hear much about the diary. It's just a MacGuffin.