This episode is one of those episodes that people don't often remember, but when they see it, they go, oh yeah, I love this one!
— Josh Weinstein, writer for The Simpsons
I'll agree people don't bring it up as often as classics like "The Itchy and Scratchy and Poochie Show" or the same year's "You Only Move Twice," but I'll take it one step further. If "Bart on the Road" isn't the best episode the Simpsons crew ever made, it has to be somewhere in the top five.
At its best, The Simpsons has the same egalitarian affection for its large cast of characters as the great Old Hollywood comedies that inspired its creators so much. There have been plenty of episodes focusing on each one of them, but few have managed to cram a glimpse into the soul of each one in just twenty minutes as well as "Bart on the Road." Homer, Bart, Lisa, Marge, Milhouse, Martin, and Nelson all come alive here.
That doesn't just make them feel real, it makes for great comedy of the kind only long-running serial fiction like The Simpsons can give you. And if nothing else, "Bart on the Road" contains the single most underrated gag in Simpsons history, which I just could not stop laughing at both times I rewatched the episode in preparation for this piece.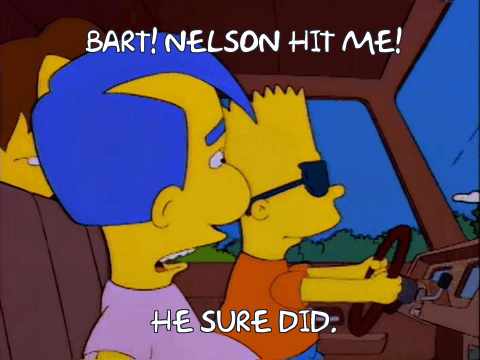 As you'd guess from the name, the main focus here is on Bart. The Simpsons earned its place in history by proving cartoons could be for adults (and that's certainly something I keep telling myself to justify all the hours of my adult life I've spent watching it). But it always had a uniquely clear-eyed perspective on childhood, and a lot of the best episodes, what I like to call "boy's adventure stories" (even if they often focus on the girls) tread more familiar cartoon territory.
"Bart on the Road" is certainly one of those episodes. In it, Bart gets stuck at the DMV with Patty and Selma for Go to Work with Your Parents Day, but it turns out not to be all bad when he makes himself a fake driver's license. After beer and R-rated movies turn out to be disappointing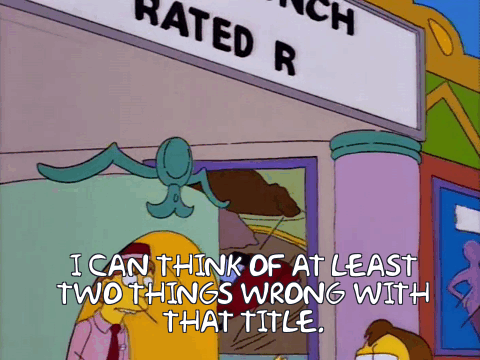 Bart and the boys rent a car to spend spring break road tripping to Knoxville, Tennessee. In a lot of ways, it's a kid's fantasy of what adult freedom would be like. Even though Bart tries to drive a car when he's only ten, the only serious accident he gets into is when he's not even driving. (Yes, even getting cruise control mixed up with autopilot doesn't even leave a scratch.) The writers take that sense of fantasy literally towards the beginning. Bart muses that at least he's not as bored as Milhouse must be at the cracker factory. Cut to the factory, which looks like something right out of Willy Wonka with Batman-style firepoles and a dogsled riding through mountains of salt.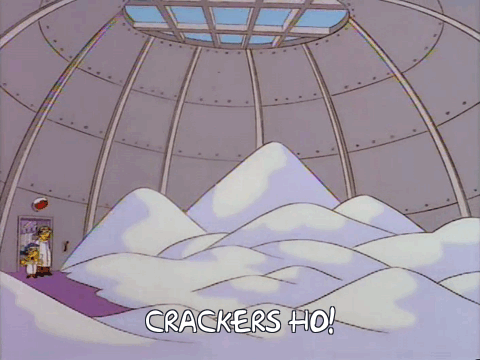 But "Bart on the Road" also brings in that heavy dose of cynical reality that made The Simpsons so revolutionary. The boys have big hopes for their spring break road trip to the wonders of the World Fair in Knoxville (which they unanimously pick over Disney World). Even the things adults would find mundane are wondrous to the boys: Milhouse breathlessly describes the Sunsphere, with all the other kids reacting with a big "Wow!" when they learn it contains — an information desk! But the reality of the World's Fair — sorry, Wod Fir, according to the disintegrating sign — is even more mundane than that. Bart learns it came and went years earlier — there's a great shot of Milhouse revealing the date on their AAA guidebook for the first time as an old wig outlet worker fills them in — and they've already burned through Martin Prince's $600 with no way to pay their way home.
The A-plot is great, but the B- (and C- D-, etc.)-plots are downright magical. The writers say they enjoyed playing with unusual character pairings for this episode, and it pays off brilliantly for their exploration of Homer and Lisa's relationship. Lisa's shtick is that she's wise beyond her years, but she's always at her best when the writers remember she's still just a kid. This episode is a perfect example.Instead of having to teach Homer a lesson, she gets to enjoy just being a daughter to her dad. And they're able to bond, of course, because Homer's more than a little childish himself.
The scenes of the two of them roasting marshmallows in a trashcan full of paperwork or playing astronaut in radiation suits aren't funny, exactly (at least until Homer mentions that it's a lot more fun with a second person) but the fun of them is infectious. And they get at the sweetness at the heart of The Simpsons' cynicism. For all the trouble they cause each other, it's wonderful to see how much Homer and Lisa love each other. 
This plotline also means "Bart on the Road" is an acting showcase for Yeardley Smith as Lisa, with her giddily giggly confession of her crush on Langdon Alger and her breathless recitation of all the improbable things that have happened to Bart over the course of the episode. And that in turn sets up another hysterical moment for Homer, as his face turns red and he calmly, understatedly says, "Yes…that's a real pickle. Will you excuse me for a moment." Then he muffles himself under a radiation helmet so he can cuss his brains out so he can cool himself down enough to say, "All right. I have thought this through. I will send Bart the money to fly home, then I will murder him" with such eerie calm it might take a second to realize what he said. 
But it's no surprise The Simpsons is able to give its primary, plot-relevant characters something to do. "Bart on the Road"s genius is in filling in the details around the periphery most writers would only sketch out. All of the kids Bart goes on the road with get one or more moments that that wither crystallize their established character or add something new to it. There's Martin with the revelation that he went on the trip thinking it actually was a grammar rodeo, Milhouse trying to shut him out because the job of "nerding it up" is already taken, and Nelson sending some poor road-tripping family all the way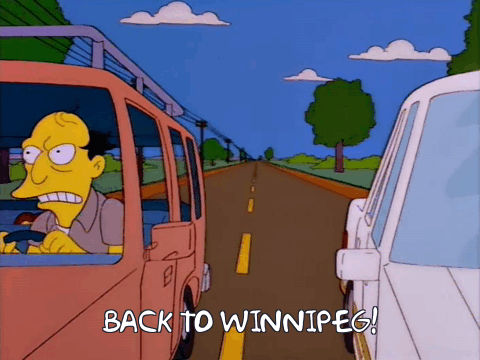 Those jokes are all funny because they're so right for the characters, but Nelson's soul-deep love for Andy Williams is even funnier because it's so unexpected. And the punchline uses the simplest form of humor to brilliant effect. Even babies know peekaboo is funny, and we never really grow out of laughing at things unexpectedly entering the frame, and that's what makes the long tracking shot of the boys all watching Andy Williams in abject boredom before we see Nelson watching in slackjawed awe so hilarious.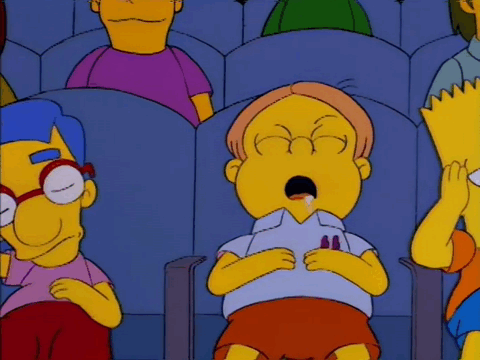 And then there's Marge. She has pretty much nothing to do with either the main plot or the B-plot. The writers have every excuse to sideline her, as so many other comedies do with their straight-man wife/mother figures, and as even The Simpsons is guilty of in other episodes. But the crew does something far more interesting instead, suggesting in just a few brief moments what being a sidelined wife/mother figure really feels like. 
There's a great running gag where she excitedly picks up the phone to find Bart and Homer calling and then crestfallenly realizes they want to talk to Lisa. As Lisa bonds with Homer, she drifts away from Marge, and when Lisa packs up for her sleepover with Homer, Marge confesses how lonely she'll be alone in the house — and then, to twist the knife, Lisa runs out to see Homer before she can even finish.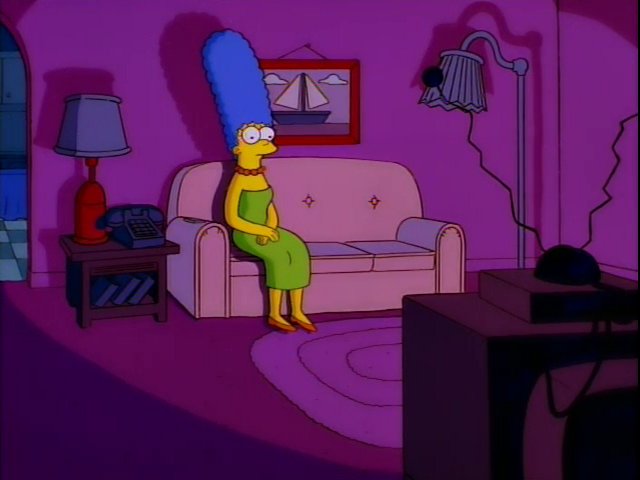 When we check in how Marge is actually doing alone in the house, director Swinton O. Scott lets the visuals do the talking, bathing dead-eyed, zombielike Marge in the eerie purple light of the TV as it casts long shadows behind her. She walks past the kids' lonely, empty rooms before we see she'ß so desperate she's willing to wake up Maggie just to have some living thing to talk to — gently, at first, by politely clearing her throat, then forcefully by poking Maggie until she wakes up crying. It's so cruel, so sad — and so, so fucking funny. 
All this could have been cut without affecting Bart and Lisa's stories one bit, and a less accomplished show would have cut it. Marge's total irrelevance becomes a source of great comedy at the end, as Bart lies his ass off about the Grammar Rodeo and we get another great Andy-Williams-concert style peekaboo gag. The camera moves to Homer glaring at Bart, Lisa glaring at Bart, and then Marge — smiling in total blissful obliviousness.
And Marge gets to close it out as she answers all kinds of bizarre calls in the night that make some sense to us after seeing all the weird shit that went down in the past half hour but make no sense at all to her. And Julie Kavner's delivery of "Aaampsterdaaam!" makes sure the episode goes out with one last big laugh. Because that's what The Simpsons can be at its best — stuffed full of laughs from the beginning all the way to (or in this case, through) the end credits.