What happens when bad taste goes bad? When you aim for ironic trash and hit sincere pedophilia, when you go for the ghoulish gore of EC Comics and wind up re-enacting the Holocaust? Hard Rock Zombies probably did not set out to answer these questions, but ends up answering them anyway.
The project of writer David Ball, who wrote one other film, and director Krishna Shah, who once wrote an episode of The Flying Nun, Hard Rock Zombies is a misnomer in every aspect of its name; the music leans toward a new wave no harder than Huey Lewis and the undead are referred to as "ghouls" within the movie. It features no discernible talent behind the camera or in front of it, with one major exception — it is the casting debut of Allison Jones, the genius who has arguably made the most contribution to the last 20 years of American comedy with her work from Freaks And Geeks onward. But here she lands nothing but overactors and stiffs put through the machinations of a ridiculous and nonsensical plot.
Thing is, that mostly makes for excellent bad movie entertainment in the model of cheese like Miami Connection and Hard Ticket To Hawaii. Movies made by people people who know what the good parts of movies are like, dammit, and are just going to use that stuff instead of boring character development or mis-en-scene. Action, tits, blood, mayhem — these are the cornerstones of trash cinema, and that can make for a fine time, especially when seasoned with willful incompetence.
A sexy hitchhiker seduces two horndogs and drowns them while a grinning man takes photos as two dwarfs cavort, and the movie begins. Hitchhiker, voyeur and little people are part of a family that is lying in wait for the on-the-cusp tunesters (their name is never mentioned), led by the bemulleted Jesse. The band has been booked to play a big show attended by a major record producer in the small town of Grand Guignol, which as its decadent French name suggests is populated entirely by gormless music-hating hicks.
Jesse, an adult man who does not like groupies, is warned away from this promising gig by Cassie, a Grand Guigonlian who has the personality of a hotel carpet and is twelve. She is not sexualized at all, is always dressed in young girl's/teen's clothing, and is CLEARLY TWELVE YEARS OLD, something even the most hardened of critics cannot help but yell at the screen every time she makes cow eyes at Jesse and, more stomach-churningly, Jesse makes cow eyes back. "I'm so in love, but you're so young!" Jesse sings to Cassie the twelve year old, saying he has written a song about her. But don't take my word for it, here is the song in all its glory.

(Something to note here — as a power ballad, this is perverted but pretty great. Paul Sabu writes and performs most of the music and while it rarely rocks hard, it is fun and in this case great cheese. And Sabu does come up with a nifty menacing bassline that, when coupled with some Latin incantations, apparently reanimates the dead. Jesse discovers this while repeatedly smushing a tarantula — could magical music be important to the plot?)
The movie is in many ways parodic — when the band and their insistent manager come to town they run afoul of local rubes who arrest them, ban their concert and burn their records on the grounds of "Rock and roll music causes sex!" and these scenes are clearly meant to mock such boorish behavior. And as the story gets wilder, it goes more broadly comic even as the blood starts to gush. But the love between Jesse and Cassie (age TWELVE) is always played completely straight, it's as if the filmmakers are unable to tell they're making something more disgusting than any bloodbath.
Speaking of bloodbaths, the band decides to spend the night at the sexy hitchhiker's house, which includes a bald guy beheading chickens and werewolf grandma howling in the attic when she isn't fucking an elderly German man while the dwarfs watch. Just like the expressionless twelve year old (SHE IS TWELVE GOD DAMMIT) said, it's not safe in Grand Guignol and the family soon slaughters the band — a few kills directly ape shots from Psycho and The Texas Chainsaw Massacre (the latter subbing in a weed whacker) but they also include a werewolf grandma switchblade sneak attack, which one doesn't see every day. And while the gore in the movie is cartoonish and amateurish — a favored technique is to have someone on screen stab/chop their victim just out of the frame as a crew member squirts them with what could be ketchup — at least there's a fair amount of it.
And while this would be enough story for some, this movie is just getting started. At a post-funeral dinner, the elderly German man reveals that he is of course Hitler (werewolf grandma is Eva Braun) and that he's ready to resume world conquest, he's built some gas chambers in a nearby cave and everything. Cassie (WHO IS TWELVE), despondent over the death of the band, reanimates them with a tape of sinister Latin/funky bass, and while half the band is now wearing weirdo uniforms out of Sgt. Pepper's and their lurching is more malfunctioning Gong Show robot than undead, they're competent enough to quickly kill off Hitler and crew, before setting up for that one final show.
But wait, there's more! Hitler and the gang zombify and kill off the good town fathers of Grand Guignol who've come by to loot their corpses, setting up a classic exponential zombie curve as the dead become ghouls and create more zombies. We get some slapstick involving a shrewish girlfriend so insistent on keeping her boyfriend from straying that she totes around his severed head. One of the zombie Nazi sex dwarfs attacks a cow while the other starts eating himself. And under zombie siege, the town's learned nerd theorizes that "Ghouls hate big heads, the way Satan hates the church!" and equips an escape party with giant cut-out domes of Marilyn Monroe, James Dean and Jimi Hendrix that happen to be lying around. It turns out that ghouls are fine with big heads.
"This sounds like a cheap movie," the manager muses at one point — oh ho, the filmmakers are sophisticated ironistes. But it is cheap and frequently makes use of the penny-pincher's method of moving things along, the montage. Early on, Jesse and his band have a hilariously cheesy video shoot in which they dance around the city, complete with sped-up footage, wacky hijinks and furious hicks looking on. Multiple montages of slaughter include shots of the sexy hitchhiker doing some kind of aerobic dance in the desert. The meaning is unclear. And as the band, now officially Hard Rock Zombies, plays "Cassie (SHE IS TWELVE)," the song about wanting to fuck a twelve year old, before the increasingly ecstatic and coked-out record producer, we get a montage of Cassie's thoughts about Jesse. Refer to the video above, I'm not typing this crap out.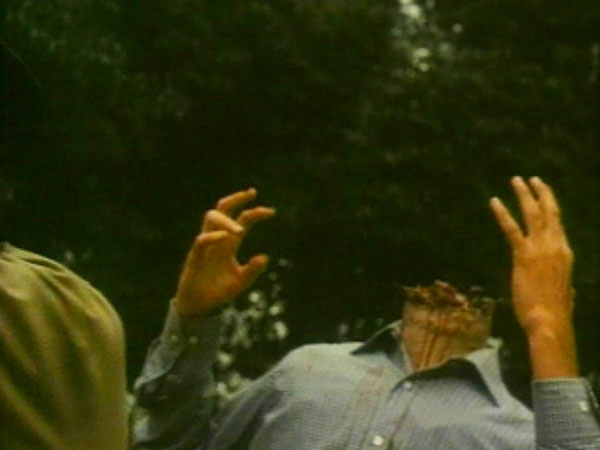 But it is not all fantasies about having sex with a man who is twenty years older then her (A TWELVE YEAR OLD) for Cassie. The remaining townspeople have hit upon a solution for getting rid of the zombies — let them rape her to death and consume her ravaged corpse, which will then make them sleep for 100 years. Town lore says this has "worked before." It's a pretty dark turn, which the movie then turns darker. The manager begs Jesse and the band to save Cassie ("so a little girl can end the day as alive as she started") and using the power of their reanimating rock (the full band version of this is pretty boss, actually) to lure zombie Hitler and the zombie townspeople away from Cassie and into — you guessed it — the gas chambers. And the gas is turned on.
What makes this so unpleasant is the sense that, as with the Jesse/Cassie (WHO IS TWELVE) romance, the filmmakers genuinely have no clue of what they're doing. A Troma film would dial up the offensiveness even more and in doing so neuter it — trying to seem edgy is a sure way of being lame. But here, the focus is just on showing the death, the camera slides and leers, swirling around as the zombies cough and choke and gasp and bang on the walls, trying to get out as more and more bodies line the floor. As irony it fails — doing this to Hitler is one thing, doing it to everyone, even zombies, has no meta-punch — and as A visual it's a window into something ghastly to think about. Something like this actually happened, and re-enacting it with corpse paint is more appalling than "Grand Guignol."
Hard Rock Zombies is one of my favorite bad movies, so much nonsense in so many different directions makes for a fun time. But I've hesitated to recommend it to people or show it at screenings because of this ending. I'm not going around burning copies, but it's a weird thing to feel some form of identification in censorship with the dipshit townsfolk who think that rock music, and by extension all boundary-pushing culture, is corruption. Heavy metal was at peak demonization in 1985, it was turning kids to Satan and suicide and all sorts of nasty business according to the Tipper Gores of the world, so it's not surprising the movie seeks to satirize that attitude,however ham-handedly. But it stumbles into a whole different kind of obscenity. Some things are offensive, whether they try to be or not, and there's no point in denying that just as there's no accounting for taste. Oh well. We'll always have Grand Guignol, won't we?