1964 doesn't just feel far removed in time, but artistically removed as well. Bob Dylan wouldn't release his mind-bending song, "Mr. Tambourine Man," until a year later, on Bringing It Back Home, his first album that had both electric and acoustic arrangements. The sonic innovations of the Beach Boys' Pet Sounds and the Beatles' Revolver wouldn't be heard for another two years. But if you happened to see a certain film in 1964, you could say with conviction that new artistic possibilities were emerging.
That film was Red Desert, directed and co-written by Michelangelo Antonioni. His first film in color, it expands his vision of environmental complexity through the technological transformation of the landscape: the silver of a spiraling radio telescope, the reddish-orange of a rusting factory tank, the yellow of poisonous smoke that drifts in the air. Less of a political idealist than he may first appear, Antonioni is presenting us, in a rather pragmatic—yet imaginative—way, with a cost-benefit analysis of Italy's postwar economic boom.
The sensory overload starts in the opening scene. Synthesized white noise—like machine conversation—plays over blurred images of a chemical plant complex. A woman's voice sings a wordless melody. As the singing stops, we see the cooling towers of a refinery, and our vision is pulled downward by the camera into a crowd of workers on strike.
Monica Vitti, in the role of Giuliana, is the wife of an industrial manager; she and her little boy walk towards us. Her green coat stands out because there is nothing of that color in this world—a disparity heightened by the desaturated landscape (created by the use of camera lens filters and painting the ground and vegetation).
If there's anything that feels alien, it has to do with inner, rather than outer, space—namely the psychological effects of technological change that Antonioni explores through Vitti's performance. Our feelings of disorientation anticipate the hallucinatory trip that Dylan would take on "Mr. Tambourine Man."
Antonioni had a different way of describing this disorientation. He said, before filming Red Desert, "Science has never been more humble and less dogmatic, whereas our moral attitudes are governed by . . . an absolute sense of stultification." Such an abstractly philosophical statement is dramatized in a scene that brings together Giuliana, her husband Ugo, another bourgeois couple, and Corrado, a traveling business man who works with Ugo. They are slumming (literally), hanging out in a rundown shack on the edge of a dock. A free-spirited woman tries to incite them into sexual game playing, but desire hangs then dissipates in the cold smoky atmosphere.
The interior where these games take place is faded red—the failed orgy is juxtaposed against the emotional void suggested by the film's title: Red Desert. Giuliana is one of the few persons in the film who ever seems to take herself seriously; her attitude opposes the widespread devotion to leisurely chit-chat. Her seriousness, however, leads her to question the source of her anxiety that registers in her feeling distanced from what is happening around her.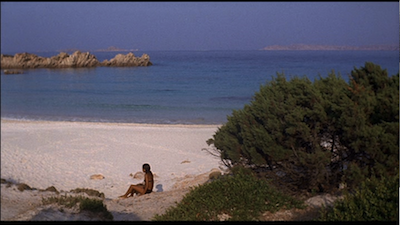 The person whom Giuliana values most is her son. In a tender scene where she nurses him through an illness (though he might be overacting, as children are wont to do), she tells him a story about a girl alone on an island. The scene abruptly shifts to a stunning image of pink sands, blue water, and green foliage (the original title of the film was Pale Blue and Green). The girl swims out to a mysterious ship that sails away from her and over the horizon. Hearing a woman's voice singing a wordless melody, she looks for it around the island. Later, she swims into a cove of human-looking rocks. There is a feeling of wholeness to this world, a cosmic harmony where, as Giuliana tells her son, when he asks who was singing, "Everything was singing—everything."
Projecting the sounds of the rich and resonant vocal harmonies of the Beach Boys and the Beatles, Giuliana's story is a rather obvious contrast to the mechanical buzz and manipulated colors of the industrial world depicted in Red Desert. Yet Antonioni would remind us that we can only experience Giuliana's story through the filmic apparatus, which connects vibrant colors and sounds to her desire to escape the traumatic memories of a near-fatal car crash (which may have been brought about by suicidal ideation). The woman's voice is the same one heard during the industrial scenes. The two worlds are closer together than we might think.
The narrative thread that winds through these incredible scenes is the attempted connection between Giuliana and Corrado. In his ongoing efforts to free himself from the constraints of playing the role of a company man, Corrado has a fantasy, expressed, like Giuliana's story, in color. He has a pop-art vision, losing himself in the reverie of seeing a blue line painted on a meeting room wall.
They are alone together. Giuliana, unsure of, and perhaps frightened by, the future, tries to live in, and with, a shaky sense of the present. Corrado constantly travels in search of a future that could become a livable present.
After a final, failed attempt at intimacy, which, in its overtones of sexual violence, suggests that Corrado is as unwilling to lead as Giuliana is to follow, Giuliana is left to walk around the docks at night. The color red fills the scene, an intense expression of a breakdown brought on by her feeling lost in a world where nothing can be understood. Antonioni heightens this feeling for us by not providing a translation of Giuliana's encounter with a Turkish sailor, who unable to speak Italian, tries to help her by gesturing that she should return home.
Lost in translation is lost in time—the nightmare shifts to a day scene of Giuliana with her son at the chemical plant complex. He tells her that he's worried that the birds will die from the poisonous yellow smoke. She replies that the birds have learned not to "fly there anymore."
The electronic music rises in volume: its sonic bursts could be imagined as the static of a radio tuned to the future, where Dylan sings that "there is no place I'm going to." While a stable sense of place eludes Giuliana, the psychic landscape traced by the film feels both more expansive and challenging than what's happening outside—the lack of narrative resolution mirrors the inability to fully express this inner world of being that could put the environment, disrupted by technological change, back into balance.