In 1956, screenwriter Burt Kennedy submitted a script for a Western to John Wayne. He ultimately passed on the story, feeling that the lead role of a sheriff out for vengeance against the band of outlaws who killed his wife in a botched bank robbery didn't fit his screen persona.  Guessing that the screenplay had promise, Wayne produced the film, titled Seven Men From Now, through his own production company, Batjac. He gave his friend Budd Boetticher the director's reins, and colleague Randolph Scott another chance at playing another if loner cowboy hero that role that he had perfected since reaching middle age.  Based on the strength of that picture, Scott and producer Harry Joe Brown signed Boetticher to a five picture deal with Columbia.  These films became known as the "Ranown" cycle among Western Genre auteurists.  The first film of this collection, The Tall T, was written by Kennedy (who would be credited with two other films in the series) from a story that he and Elmore Leonard had developed for an earlier project.
That screenplay, like the one before it, pitted archetypal characters against each other with intensely compressed narrative efficiency.  Scott plays Pat Brennan, an aging cowhand trying to get his own ranch started in an undisclosed rugged desert area on the cusp of civilization.  After losing his horse in a sucker bet initiated by his former employer, we sense that he may be a bit out of his element here. Forced to ride shotgun on a privately chartered stagecoach, Brennan, the driver, and his passengers are taken hostage by an enigmatic outlaw named Frank Usher (Richard Boone) and two young henchmen, who mistake the coach for one carrying a lucrative payroll.  Upon discovering that a female passenger, Doretta Mims (Maureen O'Hara, the grande dame of Western romantic leads) is the heiress to a copper mine, they hold the group for ransom, making clear that they intend to leave no witnesses behind.
From this basic set-up, thrusting disparate characters together in a series of mistaken assumptions and fortuitous events, a deadly game of wits unfolds.  In The American Cinema, Andrew Sarris describes the Ranown cycle as prime examples of the "floating poker game", one of the master narratives that characterized both the Western and the film noir cycles of the fifties.  As the moniker suggests, plot is organized as a competition in which a reward (life, freedom, security)  is achieved through a procession of rounds where short term wins and losses culminate in fateful, advantageous outcomes and shifting alliances. The game subsequently arranges character archetypes with different skills and abilities that are advantageous in some circumstances but detrimental in others.  Brennan and Usher, for example, possess a pragmatic wisdom that comes with age and a code of professionalism that makes them worthy adversaries.  Usher's entourage has youth, an impulsive heedlessness and a skill with guns that control the setting on an elemental level of fear, but limits their ability to generate long terms strategy and goals.  Doretta and her husband, Willard Mims (an oily John Hubbard), have money and influence that allow each round to proceed to a next level, but not enough versatility or commitment on Willard's part to his role as husband to last as a team.
Each "round" in the game consists of characters "owning" another, thus refashioning team dynamics to a shrinking set of players or altered power standings among individuals.  Doretta, for example, teams with Jeff once her husband's "hand" in the acquisition of the ransom runs out.  Sometimes the negotiations for new allegiances become a dramatic crux, as when Usher hints that, by joining his crew, Brennan could save his life, and even vanquish his whore-mongering crew. This refashioning of alliances offered a potent psychological innovation to the star-driven Western romance, allowing heroes and villains to horse trade their attributes to better their strength on the terms of their situation.  A "good" character may have to make morally compromising decisions to obtain victory. Likewise, a bad character might respect the positive resolve of the hero, and his long term objective might be reconciling his values to his goals in the future.
This exposes a third level of the poker game; one in which the objective serves a higher purpose than merely cleaning out your opponent, but in staking out a meaning for winning in terms of bigger stakes down the line.  To Doretta, marrying Mims was a means of escaping her father's patriarchal contempt.  In finding a new ally with Brennan, who respects the honor by which she respects feminine modesty and obligation, she may have a new role in the West where her virtues are given proper (by fifties standards) recognition.  Of even more interest is Usher's growing, obsessive interest in Brennan.  Taken by his captive's cool demeanor and professional competence in living within the parameters of the West's inherent wildness, he begins differentiating himself from the rest of the crew, desiring to use a potential friendship with his captive to play out his string as a bandit for a longer time, until he can afford to buy a spread and settle down.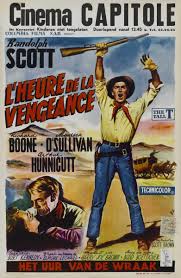 This theme, of shared characteristics between adversaries, is a recurring motif in the Kennedy-scripted Ranown films.  The writer himself indicated he was attracted to establishing conflicts between characters who, under different circumstances, would otherwise be friends.  He became so enamored of his antagonists that in Ride Lonesome, the penultimate movie in the cycle, he contrived a situation in which Scott, always the hero, permits his adversary to ride off with the prize, instead of taking him down in a climactic gunfight.
Having been a matador before venturing off to Hollywood, Boetticher learned a thing or two about choreographing violent spectacle.  He uses the deep focus and wider vertical proscenium of the 1:66:1 aspect ratio to align his groups throughout the frame, and repositions characters within the scene with remarkable, unshowy clarity.  The costumes and the arid cragginess of Lone Pine's landscapes sustain the Western's symbolic abstractions of civilization and wilderness with a simple, unselfconscious matter-of-factness that doesn't impede the dramatic momentum of this terse, 78 minute chamber piece.  Other Western auteurs of the period, most notably Anthony Mann, deployed the floating poker game narrative with a more florid, Freudian visual panache, but this should not be interpreted as a critique of the directors' creativity and visual inventiveness.  Mann was a psychologist, conflating nature's wildness with neurosis.  Boetticher and Kennedy were about values, roles and goals connected to the materialistic presence of the world, gracefully reconciling circumstance, cooperation, self-reliance, and a commitment to the future as a simple dance, with death always lying on the line.
The Ranown cycle, along with Scott's last screen appearance in Sam Peckinpah's Ride the High Country (1962), signaled the end of this conservative strain in the libertarian Western, where the moral consequences of opportunism played out with precision and grace.  Even at the time of The Tall T's release, one can imagine teenagers seeing a Randolph Scott Western as its era's equivalent of "dad rock."  The prolific carnage, rampant cynicism and stylistic pyrotechnics of Leone's Dollars trilogy would set the stage for both anti-colonialist revisionism within the genre and a glorification of hyper-aggressive capitalism in the world at large.  The formulaic Westerns of the fifties, of which the Scott/Boetticher/Kennedy films are a part, constituted an adult variation of a familiar, juvenile formula that their intended 30-40 something male viewer was comfortable with.  They could experience familiar movie star heroes make existential choices in realistic conditions, as opposed to having a studio-imposed code of conduct dictate their behavior, allowing masculine self-assurance and moral certainty organically coalesce in theatrical form, shorn of modernist abstraction and doubt.  For better or worse, they projected a distinctly American will to combine the talents of individuals for the act of civilizing the untamed; to connect tested values to the material benefits of progress.  It seems naïve and foolish at times to think that this promise might come to fruition, but, as another bullfighting expert once said, it would be pretty to think so.