"I've been out here a long time."
Before. It's not possible to overestimate the impact Alien and Aliens had on pop culture. Alien came out after Star Wars made science fiction a viable blockbuster genre, and defined the rules for that genre: straightforward mythic adventure with cool 'splosions and stunts and heroic characters. (Alien also came out a year before The Empire Strikes Back showed that you could take all those elements and still go very, very dark.) So when a film took essentially working-class, everyday characters and shoved them into a tight space with a seriously uuuuuuuuugly HR Giger-designed Xenomorph (I prefer "Xenomorph." The X makes it sound cool), and when holy living fuck that thing just ripped out of his AAAAAAAAAGH, it jammed in the public consciousness and stayed there.
Aliens went into a different and great direction, remaking a war movie with a Howard Hawksian breadth of character types on board (Stupid Chief, Non-Stupid Chief Redshirt, Weak Guy Who Nevertheless Comes Through in the Clutch, Tough Broad (several versions), Figure of Unsure Loyalty Who Betrays Everyone, Figure of Unsure Loyalty Who Saves Everyone, so forth) and then dials up the momentum to a level never seen before. Cameron holds off on the action for so long, and then just charges through disaster, rescue, worse disaster, right through to the end in a way that's exhausting and exhilarating all at once. (When I saw this in theatres, after the Queen got blown out of the ship, I said "swear to God if there's another one I am leaving, my heart can't take any more of this.") It remains Cameron's best work, where the story and the spectacle were in perfect balance.
So when Alien³ went into production, there was a need to do something different. There were rumors all through the production and the release as to what happened: it would be set on Earth; it would be set on a planet with no technology, only wood; there was no idea how to end it; it would be about a religious cult who would worship the Xenomorph; the first-time feature director out of music video didn't know what he was doing; the producers kept demanding changes; the script was being rewritten on the fly; the producers didn't know what they were doing. I won't be discussing that here; it's just not a story I find sufficiently unusual enough to be interesting, except for the "and that young man grew up to be. . .David Fincher" aspect.
When it finally was released, though, it hit a wave of disappointment, more than anything because of the amazing stories of courage and survival of the first two films, after we'd been brought to such identification with Ripley (and Hicks, and Bishop, and Newt), everyone dies, and on the level of plot, for no good reason. (So the Queen must have grabbed an egg before she took off after Ripley, because, well, no wait, maybe she birthed the egg while she was on board the Sulaco! Because although she ripped herself off her birth canal, she could still LOOK JUST GO WITH IT, OK?)
Arrive. Still, Alien³ announces itself as something extraordinary right away. The 20th Century Fox fanfare doesn't end but goes into a screech. As with the other films, we start in space, with not quite identifiable washes of sound/music. Then we get, cut in with the titles, not quite still images, but 1-2 second shots of single motions. There's a pan to an open egg, glass cracking over Newt's face, blood moving through a sheet. Under it, a boy soprano intones "Agnus Dei, qui tollis peccata mundi, dona nobis pacem" (Lamb of God, who takest away the sins of the world, grant us peace–the conclusion of the Latin Mass). Fincher gives us just enough information to make the continuity that an alien got on the ship, has possibly impregnated one of the crew, and caused the rescue ship to crash on the all-male ("double Y chromosome") prison planet Fury 161. He uses the syntax here not of film, but of music video, in a way that's wholly compelling; the continuity is broken up in time by titles, but our minds can still find the story.
In addition to Fincher, this film introduced me to Elliot Goldenthal, who would go on to write some of the absolute best film scores (Interview with the Vampire, A Time to Kill, Heat, Michael Collins, Titus) and compositions (Fire Water Paper, a ballet of Othello) of the next ten years. Goldenthal studied under John Corligliano (who scored Altered States, The Red Violin, and whose remarkable 1st Symphony is an astonishing memorial of the early years of the AIDS epidemic), and he has a late-Romantic style that you don't get in film scores today, or in much music at all. His closest ancestor is Gustav Mahler; Goldenthal has Mahler's tendency towards dark, tricky harmonies and a sense of how to use the vast resources of a modern orchestra sparingly and effectively. (There's a flute solo in Alien³'s score that calls back to Mahler's Das Lied von der Erde, and it comes back in Fire Water Paper. He also does orchestral grunts, howls, and clusters better than anyone else. That's his own voice in the "Wreckage and Rape" track, too.) He also knows how to write simple, memorable themes and work them through an entire score; the "Agnus Dei" theme keeps recurring, as does a four-note orchestral motive that has a whiff of Wagner's "Fate" motive and the opening of Mahler's 5th symphony. His greatest talent, though, as a film composer is right here at the beginning–his ability to set a mood in just a few notes. Listen to the beginning of this score or any of his films and you are hooked in about three notes; probably the Michael Giacchino of Lost is the closest thing we have to him today. His score, filled with scares, dread, mourning, and hope, is essential to setting the film's tone.
Witness. Rescued from the ship, Ripley finds out that the others are dead. Hicks got impaled in the crash (he's even more disturbingly broken in the original cut) and Newt drowned. (She died screaming in this version, and it's a nice touch that the medical officer, Clemens, lies to Ripley about this.) Ripley realizes, immediately, that there's the possibility that Newt has been implanted with a Xenomorph, and demands to see her body. Look closely and you'll catch the flowers on Newt's and one other door in the morgue. Another child? Another female? Never explained, but a beautiful bit of texture.
What starts as Ripley grieving ("I'm sorry") over the body of the girl she tried so hard to save turns into something more disturbing. She starts palpating the body, searching it really, and her breathing (say it again: Sigourney Weaver's breathing has an emotional charge, how fucking great a job of acting is that?) turns into something like worry. She directs Clemens to perform an autopsy, and it's a stunning and heartbreaking sequence. Fincher shoots it like the credits with quick glimpses (blood running, hands wiping, bone saw cracking, a shadow passing over Newt's eyes) cut between Ripley's face, having to watch this child torn to pieces, growing more and more anguished. Her whisper of "chest. Open the chest" gets at a level of pain that's new to the character, and to these films. The first two films were adventures, where the characters faced a series of problems and tried to solve them. They sometimes succeeded and sometimes failed, but Ripley made it through each time. Here, for the first time, she's confronted with a situation where there is nothing she can do.
Fincher does something here that he would fully develop in Seven: the pain and necessity of witnessing. Brian dePalma said that films are about what people see, and I'd add that novels are about what people think and feel and drama is about what people do. What dePalma got most powerfully in Casualties of War and Blow Out is sometimes there's nothing you can do, sometimes you're just too late, sometimes all you can do is watch, and it's what we see Fincher do here. What he does here and in Seven is to make us see through the character's eyes. We don't see the whole thing because there's no way Ripley can see the whole thing and take it; we get only the glimpses. (In Seven, we see only the aftermath of John Doe's crimes until almost the end; "we're castaways on a desert island, collecting diamonds in the hope that someday we'll be rescued.") We keep coming back to Ripley's face like music pulled back to the tonic harmony and we keep seeing the pain in it as Newt gets cut up. It's the pain and empathy of being a spectator, and Fincher pulls us into it in this extraordinary sequence.
Charles Dance's Clemens (great touch that he's always "Mr.," never "Dr.," and that has an explanation) is the first iteration of a recurring Fincher character: a man, not quite at the center of the story, compassionate but somewhat remote, the one who witnesses. Clemens is the first, and this persona will come back with Morgan Freeman in Seven, possibly Benjamin Button (Kent Jones pitches the idea that Benjamin is more of a witness to his life than a participant, and that Fincher's father is the model for this character), but the greatest version of this will be Anthony Edwards' Bill Armstrong in Zodiac. Less flashy than Mark Ruffalo's Dave Toschi, he's someone who still emanates caring, and the idea (common among homicide detectives) that part of their job is witnessing and giving honor to the dead.
Clemens begins that tradition, and Dance plays him perfectly, in the same way that Freeman, Edwards, and (maybe) Pitt do; there's a tremendous calm and sorrow to his performance. (You don't emote in this kind of role; you absorb the emotion of others.) His face is so expressive with minimal movement, and Fincher gives us time to simply look at him and see what he's thinking. He knows there are some things that cannot be changed, wishes he could, and accepts that that is part of being alive. There are limits to our actions, and that attitude is perfect for his character, a former doctor and junkie who killed eleven people with a misprescribed dosage when he was drunk. A former prisoner on the colony, he chose to stay on, doing whatever good he can while he can, accepting his limits and still caring. Dance embodies all these things, at every moment.
The movie, though, survives entirely on Weaver's performance. After the autopsy, her acting grows quieter, more inward; she stays in mourning for almost the whole film. Pretty soon she shaves her head like all the men there (Fury 161 has a problem with lice) and it emphasizes how unique her beauty is. (It also brings up an obvious comparison in film history, coming next paragraph.) Her eyes are angled and shaped like no one else's, and her face is long with more forehead space visible with her hair gone. She doesn't look alien so much as ancient here, and her expressions look like they could belong on a Greek vase from a few thousand years ago. Her voice stays quiet for most of the running time (no "get away from her you bitch!" moments) and with her, that means it's a lower register; it would be seductive if she wasn't in so much pain. She conveys that pain, but never weakness; when she asks Clemens "are you attracted to me?" ("In what way?" "In that way") it's the most vulnerable I've ever seen Weaver be. Again, vulnerability, not weakness; Ripley is never weak, and neither is Weaver. Her face, body, voice, and acting convey some of the "absolute emotions" (I think I'm swiping that phrase from Mark Rothko); she wants to have sex with Clemens out of an elemental desire for human contact.
The comparisons to The Passion of Joan of Arc really hit when Ripley ventures out of the infirmary and joins the rest of the men in the cafeteria. (Fury 161, we're told, was a prison colony of hundreds of men with an ore-refining operation. It's been largely closed down, with 25 prisoners left, two guards, and Clemens.) Fincher tracks her in medium and long shots, and cuts between her and closeups of the men's faces. And what a group of faces: Holt McCallany (who will later appear in Fight Club), Pete Postlethwaite (God rest 'im), Paul McGann (8th Doctor represent!), Ralph "Don't Call Me '85'" Brown, Brian Glover (magnificently blobby as the warden, Andrews), Dance, and as Dillon, the lead prisoner, Charles S. Dutton. It's almost as vivid a group of faces and heads as in Dreyer or The Shield, and Fincher's angles on them are almost as interesting; Dutton has some of Michael Chiklis' sloped-forehead expressive-bulldog look, and a serial killer's hornrimmed glasses too. Just by showing the faces, Fincher, like Dreyer, creates a strong sense of threat, backed up by Dutton's off-rhythmed line "I'm a murderer and rapist of women." The threat breaks into violence, a few scenes farther on, when McCallany's character attempts to rape Ripley (truly disturbing moment when he puts on dark goggles) and Dutton whales the shit out of him with a crowbar.
Begin. Really, the first hour of the film holds together wonderfully. Fincher creates the same sense of dread he sustained all through Seven and The Game, with even the BOO! moments of the new Xenomorph (birthed during the funeral of Newt and Hicks) not bringing us any real relief. One of the nice touches here is that for most of that first hour, Ripley isn't sure there's a threat here; instead of the expected sequence of None of These Idiots Believe Her So I Hope They Die, we get Ripley searching, trying to reactivate Bishop in order to tap into the ship's memory. She does, and finds out there was a Xenomorph on board. Right after this, in an elegant beat of foreshadowing, Bishop asks Ripley to shut him off. She does.
Fincher also shows in this hour what he would soon become: cinema's greatest director of interior spaces. It's not just the attention in the production design (a particular favorite detail here is the grime on the white tiled surfaces), it's the way he constantly chooses angles and positions the camera to show us not just the space, not just where people are in the space, but their relation to the space. The central meeting place is multistoried, and Fincher scatters people all around the edges and the center; the cafeteria has bunches of people and a lot of empty chairs; in this scene, he isolates the characters in a corner and gives them a line of candles to run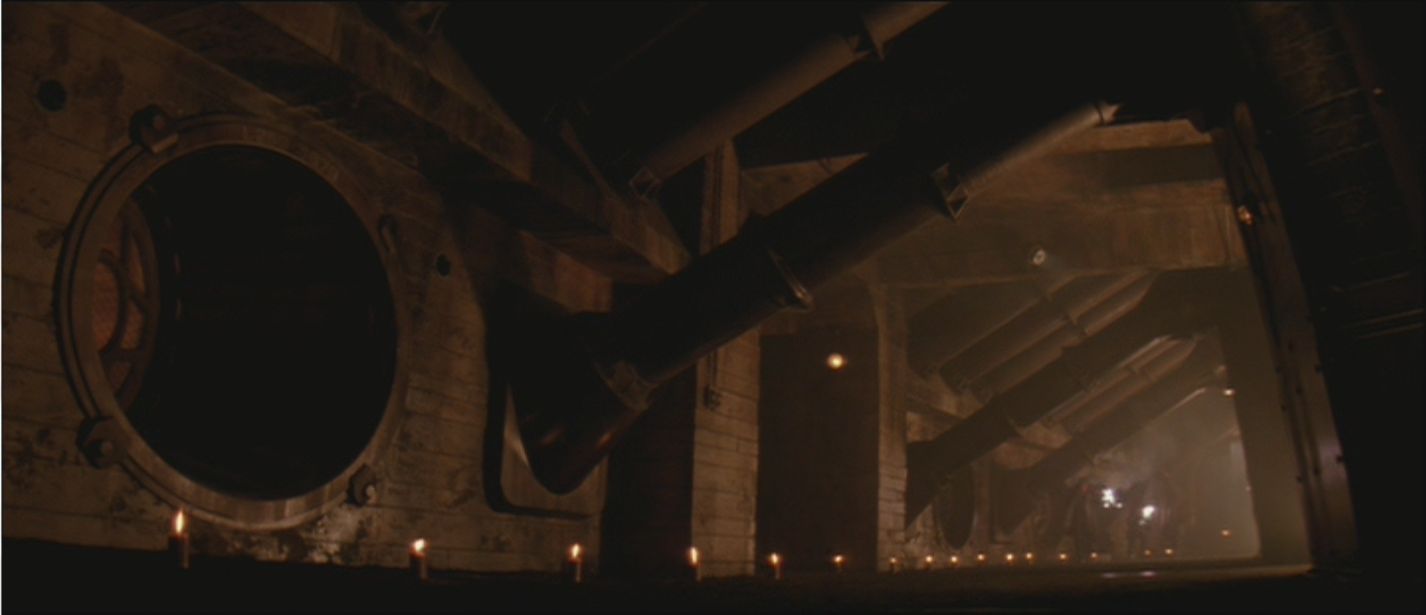 along. Another reason that he directs interior spaces so well is that he always shows us the space; there are always large areas of a Fincher space left unoccupied, so we get a sense of scale as well as position. Fincher still had a lot to learn (more on this soon), but this was one aspect of his talent that was present right from the beginning. His sense of space is so strong that the last shots of the film, just the camera traveling over a few empty rooms with Goldenthal's chords blasting, give us the feeling that the whole universe is shutting down.
The Xenomorph takes out a few prisoners, and in an incredibly painful (and perfectly composed) scene, gets Clemens, right in front of Ripley. (It doesn't kill Ripley though. Huh.) Again, there's some elegant story here, because Ripley goes into full IT'S HERE! mode, gets shouted down by Andrews and BAM he gets taken right then. With the battle now joined, there's an intense sense of limits here, very much welcome after the heavy firepower of Aliens. "Nothing much works here," says Aaron "don't call me '85'" (it's his IQ)–there are no guns (none were needed–if the prisoners revolt against their jailers, they'll be killed when the next supply ship comes), there are flashlights but almost no batteries, almost no weapons except what they can improvise.
Shortly after, the stakes get raised one more time, and irreversibly. Ripley's feeling sick (Clemens was about to give her a sedative when he was taken), goes to the crashed ship for a scan, and discovers she's carrying a Xenomorph now. Fincher gives us a great series of blurry, static-laced images before the reveal; one of the things that he's gotten so good at is not showing things clearly. (He creates images that are as messy but more artful than life.) It's where this film fully embraces the spirit of Cronenberg's work, where the enemy isn't an enemy but as disease–it's in you, it's part of you, and it's not just going to kill you, it's going to change you; losing your life is one thing but a Cronenbergian antagonist challenges what you are. You aren't just going to die here, your body is going to turn against you. Ripley goes in search of the Xenomorph, hoping it will kill her, saying "we've been together so long, I can't remember anything else."
Remove. Honestly, the film has been going downhill before this moment. The second act is really a series of chases and speeches, none of which are any good. Fincher hadn't yet learned how to show us where things are; in the final chase (the prisoners are going to bait the Xenomorph into the lead works, and they keep sealing off corridors behind it), it's impossible to know where anyone is, so there is exactly no suspense to the sequence. (Paul WS Anderson would not make this mistake.) At one point, Pete Postlethwaite seals off the Xenomorph in front of him, and then it comes up behind him, which makes what they're doing totally incoherent; I suspect this was a case where there was really only one corridor on the set and they kept reusing it. Fincher got a lot better at this sort of thing, and quickly; compare the chases here to the Somerset/Mills/Doe chase in Seven (analyzed here by Mike d'Angelo) and you can see what he learned.
Another aspect becomes more prominent here, without creating any point. The prisoners stayed on because they've all gone religious, and it's probably the least interesting aspect of Alien³. It's uninteresting because the writers are clearly uninterested; when Clemens describes their beliefs as "some sort of apocalyptic millenarian Christian fundamentalist uh" ("Right," Ripley replies) there's no indication that anyone knows what any of those words mean. You'd think at the very least, there would be some use of Revelations, some concept of purification before death, some active idea of repentance, shit, even some damn reading from Scripture or the Creeds, but there's nothing.
The recent releases of Alien³ include the "workprint"–a restored version that's as close to Fincher's original cut as could be made, and I checked it out hoping to find that the reason the religious aspect was so weak was that it had been largely cut. Nope. Most of the cut material is from the second act (that is, after the Xenomorph's presence is known), and most of it absolutely should have been cut. There's more scenes of prayer (Dillon leads all meetings with a prayer) but nothing deeper. There's a subplot involving Paul McGann's character–the Xenomorph gets trapped in the first chase, with Ripley's attempted rapist sacrificing himself to do so, and McGann goes bugnuts and frees it. (If you were wondering why he got 4th position in the credits, there it is.) There's nothing thematic or indeed interesting about his madness, though; in Ryan McGee's great formulation (plot is what happens, story is why it matters), the deleted material adds plot but no story. (Danny Boyle, in Sunshine, at least gave his third-act madman some thematic reason to go mad.)
There are several places where cutting definitely improved things, especially in the prisoners' religion. In the cafeteria, when Dillon says "we've got a good place to wait here, and until now, no temptation" the scene ends there in the theatrical release. We have a sense now of who Dillon is and what motivates him. The workprint has Ripley follow up with "wait for what?" and Dillon starts laughing and goes into an explanation of belief that's not any deeper than what Clemens says. If you don't have a coherent story here, you're better off suggesting.
Alien³'s language is pretty weak too, as you'd expect from a film that went through so many different drafts. Alien had strong naturalistic dialogue, and although Aliens didn't have dialogue so much as a compilation of action-movie one-liners, it may well have had the best such compilation in movie history, and is still quotable over a quarter of a century later. ("MARINES! We are LEAVING!" is still my favored way of exiting a party.) Alien³'s dialogue is mostly forgettable; about the only thing I noticed is the repeated use of "fuck," not with any poetry, but because hey, these guys are prisoners, right? That's what tough prisoners say?
Depart. So: an impossible premise but a strong opening, a weak middle, and then things snap back into place for a stunning ending. Weiland-Yutani knows about the Xenomorph in Ripley and sends a team post-haste to collect her, with Bishop's human designer as "a friendly face" (i.e., Lance Henriksen plays him too). Dillon sacrifices himself to sink the Xenomorph in the lead, which then comes roaring out, and Ripley douses it with the sprinklers and it straight blows the fuck up. (Death by thermal stress, gotta love that.) The Weiland-Yutani team arrives and now everyone is in the furnace room, a single, dramatic Fincherian space and the story converges to its last, elemental act.
It all comes together–the sets, the performances, the music, the colors, even, briefly, the language–here, as it should; person-Bishop offering Ripley the chance at life, and to have a life, if she will just trust him. He promises that the Weiland-Yutani crew will extract the alien, kill it, and save her life. (Great staging in this moment, with Bishop flanked by techs in hazmat suits, but he's moving away so the camera isolates on him, and Ripley slowly backing away. It comes down to the two of them.) And she looks at him and his offer and makes her last decision:
"No."
Of course we reveal in the next moment as person-Bishop goes full Dr. Moreau ("you must let me have it! It's a magnificent specimen!") that she was right not to trust him, but what makes that moment so overwhelming is Weaver's face, and her voice; the unspoken rest of that sentence is "not even if I believed you." She is done, a journey too long away from home is over; she has come to the acceptance that's eluded her; it's not hard to imagine her thinking, falling backward into the furnace as the Xenomorph bursts from her, "it is accomplished."
That moment is what the Passion is about. I forgive Alien³ its flaws because they don't matter to this moment; it doesn't matter how she got there, because we will all get there. It doesn't matter if it's Ripley, Joan of Arc, Jesus the Nazarene, Private Witt, Hazel Grace Lancaster, Norman MacLean's Smokejumpers, Che Guevara, or you, or me: this moment waits for all of us, when there will be only one last veil between us and whatever is next. All our agency and power will be as nothing, and no one can go through it with us. (If the Son of God was forsaken, what chance do the rest of us have?) Our last task, our last challenge, will be Ripley's: to accept. Until then, there will be stories like this that will give us courage, and who knows? maybe even solace, for that most necessary moment of living.
"And speech, and wind-swift thought, and all the moods that mould a state, hath he taught himself; and how to flee the arrows of the frost, when 'tis hard lodging under the clear sky, and the arrows of the rushing rain; yea, he hath resource for all; without resource he meets nothing that must come: only against Death shall he call for aid in vain; but from baffling maladies he hath devised escapes." (Sophocles, Antigone)
This essay was originally written for the LoveFest 2014 series on The Dissolve, curated by The Narrator.