It's hardly surprising that films about bad love tend to expose the Hollywood machinery that churns out false fantasies about how true romance always saves the day. Like Vertigo (1959), In a Lonely Place is a textbook example of the nightmare world created by the erosion of trust. In a Lonely Place, however, was made nearly a decade earlier in 1950; its added sting comes from reminding us of a historical event most of us would like to forget—the paranoia caused by the Red Scare, seen from an insider's point of view.
If Scotty, the protagonist of Vertigo, has to be drawn gradually into a corrupt world, Dix Steele, the protagonist of In a Lonely Place, is already there. He's a hard-drinking Hollywood screenwriter who spends much of his time in a bungalow adapting mindless novels into blockbuster movies. He openly resents having to deal with the puffed-up celebrities and the industry lackeys who grease the wheels of the machine.
In the opening scene, Dix is driving — something, of course, people do a lot of in Hollywood. A female actor, in a convertible, pulls up next to him at a stop light, and offended because he doesn't remember her, says, "You wrote the last picture I did…at Columbia." With perfect timing, Dix replies, "Oh, I make it a point to never see pictures I write."
That's just for openers. Then, at a Beverly Hills hangout, Dix takes pleasure in openly biting the hands that feed him. He makes fun of his hapless agent, calls a big-name director "a popcorn salesman," and comes to blows with the son of a studio boss.
Still on a roll, he persuades Mildred Atkinson, a wide-eyed coat check girl, to come back to his bungalow and to tell him about the novel she's just read that is his latest assignment, thus saving him the time of actually having to read it. While she gushes about how the book would "make a dreamy picture," Dix is more interested in trying to catch a glimpse of the starlet, Laurel Gray, who lives across from him. She has just moved in, having escaped the possessive clutches of a Hollywood mogul.
Mildred leaves, later that night, and is murdered. The cops suspect Dix due to his lack of an emotional response when told what happened. He is on the hook, until Laurel rescues him. When called into the police station as part of the investigation, she and Dix meet for the first time. She is more than happy to vouch for his whereabouts, since she finds him attractive—his sense of integrity, no matter how tarnished, sets him apart from those who have none at all. Those around him think their falling for each other is a fine idea, especially Dix's agent who hopes his being in a relationship will make him more productive.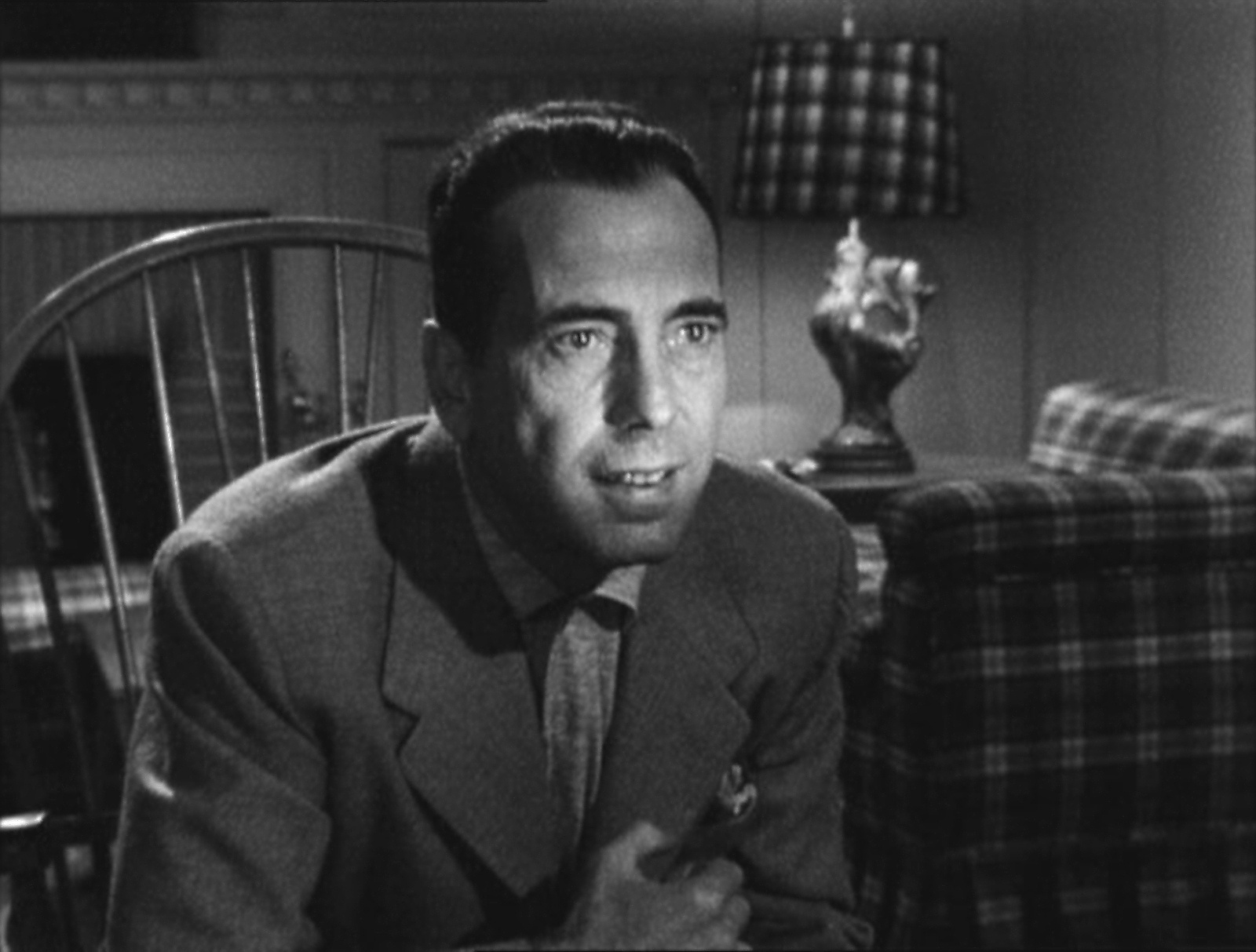 But Dix's dark streak stands out in unnerving ways. His imaginative replaying of the murder goes far beyond gallows humor, revealing a disturbing identification with the murderer. A careful watching of the film suggests that Dix is suffering from PTSD, which may make him more susceptible to acting on those violent impulses that are essential for wartime survival.
Someone says that Dix "was different when he came back" from the war. The country, however, was very different too. Once a trusted ally, the Soviet Union became enemy number one. What had been a fight for freedom now was an ongoing campaign of censorship, surveillance, and Communist witch hunts. Having long been a haven for nonconformists, Hollywood was investigated.
Humphrey Bogart, who plays Dix, suffered the humiliation, after the hearings by Congress, of being criticized in the press for his defense of those who were accused of having Communist ties. Bogart was then forced to publicly admit that he was an unwitting ally of the Communists.
Produced by Bogart, In a Lonely Place is a hard-hitting attack against the mindset that one is guilty until proven innocent. Bogart, however, leaves plenty of room to exorcise some, if not all, of his demons: especially, the proud attitude that, fueled by alcohol and self-loathing, turns into a hardened, bitter contempt. Reading, once more, between the lines, Dix's constant one-liners, such as, "It was his story against mine, but of course, I told my story better," mask an essential powerlessness.
As the hearings by Congress revealed, only those in power get to ask questions. The film unfolds as an allegory of the Communist witch hunts. Laurel is interrogated again about her initial statement. She tells the police captain that she's in love with Dix. When asked if they're going to be married, she replies, "If we do, I'll send you an invitation–after all, it was you who first introduced us to each other."
That the police investigation of the murder and Dix and Laurel's relationship appear related is, of core not helped by the police having few leads, except those that circle back to Dix. Even at his most abrasive, Dix does what he can to assist the investigation, using his street smarts, honed as a writer, to zero in on the facts of the case. At times, he is way out in front of the police.
In his former role as Philip Marlowe, a private eye in The Big Sleep (1946), Bogart did just that, using knowledge the police didn't have to guide them in the right direction. In a Lonely Place is a quite different film, even if it were made just four years after The Big Sleep. Marlowe may have gotten worked over, but in the end, justice is served. Dix suffers little physically, but the psychic costs build up quickly. And, Bogart would be the first to question the "justice" meted out during the hearings by Congress.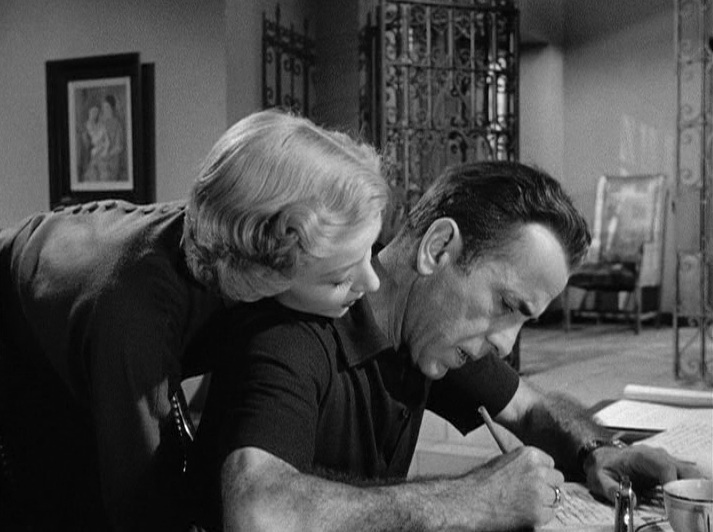 While In a Lonely Place has some generic elements of a film noir, Laurel is neither a femme fatale, nor a damsel in distress. Played by Gloria Grahame, Laurel is a complex character. She can overlook the physical violence that is part of Dix, because she was tough enough to escape her former lover and live on her own. She registers a studied indifference to the hypocritical advice she receives by those around her about how to live her life. At the same time. she is turned on by Dix, whom she thinks could be the man he really wants to be, if he would only get out of his own way.
But, unlike the murder victim, Laurel is less of a dreamer, and has to tangle with her instinctual sense for self-preservation: the ongoing investigation lends credence to her thoughts that it might be time to cut her losses and move on. When Laurel and Dix get into a car accident, and Dix nearly kills the other driver, the breaking point has been reached.
The crucial mistake Dix makes is romantic, not criminal. He proposes marriage. Under pressure to make a quick getaway, Laurel is unable to make up a story that would completely fool someone as intelligent as Dix. She is found out, and Dix has his hands on her until he comes to his senses. He knows now that it's over. The police get a confession from Mildred's boyfriend, but it comes too late.
Bad love haunts the landscape. From the Beverly Hills hangout, modeled after Bogart's favorite lunchtime meeting place, to Dix's bungalow, where director Nicholas Ray reportedly stayed after his marriage with Grahame dissolved, the power of the story is anchored in real life, where the trauma of WW II remained long after the battles were over.