"People don't talk to me like that!"
In both 1946 Raymond Chandler adaptations, a woman says this line to Philip Marlowe, only to fall in love with him later. This is part of private detectives' appeal: they are part of society but operate outside its social strictures, because their job is to look beneath the polite surface people present and find the dirty truth hidden underneath, and they'll do that no matter who they're talking to. 
Audiences in the 1940s tended to find this quality nearly as attractive as the women in the films did, and the releases of The Big Sleep and The Lady in the Lake in 1946 were responding to a demand for film noir that had hardly slowed since The Maltese Falcon's box-office success five years earlier. 
And if there's one thing Hollywood knows how to do, it's capitalize on a trend. After The Maltese Falcon, films with a similar aesthetic and dark moral universe started to trickle in—Shadow of a Doubt in 1943, followed by Double Indemnity and Gaslight in 1944, and Mildred Pierce and Detour in 1945. But 1946 is when the genre really came into its own: Gilda, Notorious, The Postman Always Rings Twice, The Killers, Shock, Deception, and The Spiral Staircase, and these two films.
In a crowded market like that, there are two ways a film can distinguish itself: it can make the prestige play, gathering the biggest actors, writers, director, and budget together, and hope they're all the biggest for a good reason. Or it can experiment, try to put a unique spin on the material, and give audiences something familiar but original. The Big Sleep is the prestige approach, and The Lady in the Lake is the experiment.
The Big Sleep was based on a Chandler bestseller, adapted into a screenplay whose writers included William Faulkner, three years before he won the Nobel Prize, and Leigh Brackett, many years before everyone realized she was the most dependable screenwriter in Hollywood. Its director and stars were a tested trio: Howard Hawks, Humphrey Bogart, and Lauren Bacall had worked together two years earlier on To Have and Have Not, a collaboration that earned the studio millions and led to Bogart and Bacall's marriage the following year. 
The Big Sleep's reputation as a labyrinthine, confusing narrative is a little overblown — and not just because I've read the book multiple times and it's pretty obvious that the chauffeur killed himself. It's true that the first time you watch it, you probably won't be able to describe the plot perfectly, but it's also true that you won't really care. 
This, even more than Casablanca, is an example of how psychological identification can matter more than logic: when Humphrey Bogart has to watch an innocent man get murdered, unable to interfere because it would compromise his own position, it doesn't particularly matter what sequence of events led him there. The screenplay provides the horror, Bogart sells it, Hawks captures it. And when Bogart and Bacall start guessing each others' aptitude at, uh, "horse racing," the question of how much they can trust each other takes a back seat to the pleasure of their facility with the double entendre.
There's a lot about how the movie treats Bogart that feels strikingly modern: Marlowe is constantly being pumped up in the early scenes, trusted by a reclusive millionaire, seduced by both of the millionaire's daughters, and winning whatever fistfights he gets involved in, all while Bogart plays the character as low-status and put-upon. It's oddly reminiscent of the way that all recent Tom Cruise movies have everyone speak of Cruise's character in hushed, reverent tones whenever he's not around, and like many of those movies, it works. I'm always impressed by how much the movie makes Bogart seem attractive purely by showing Dorothy Malone seriously consider a bit of Afternoon Delight with him: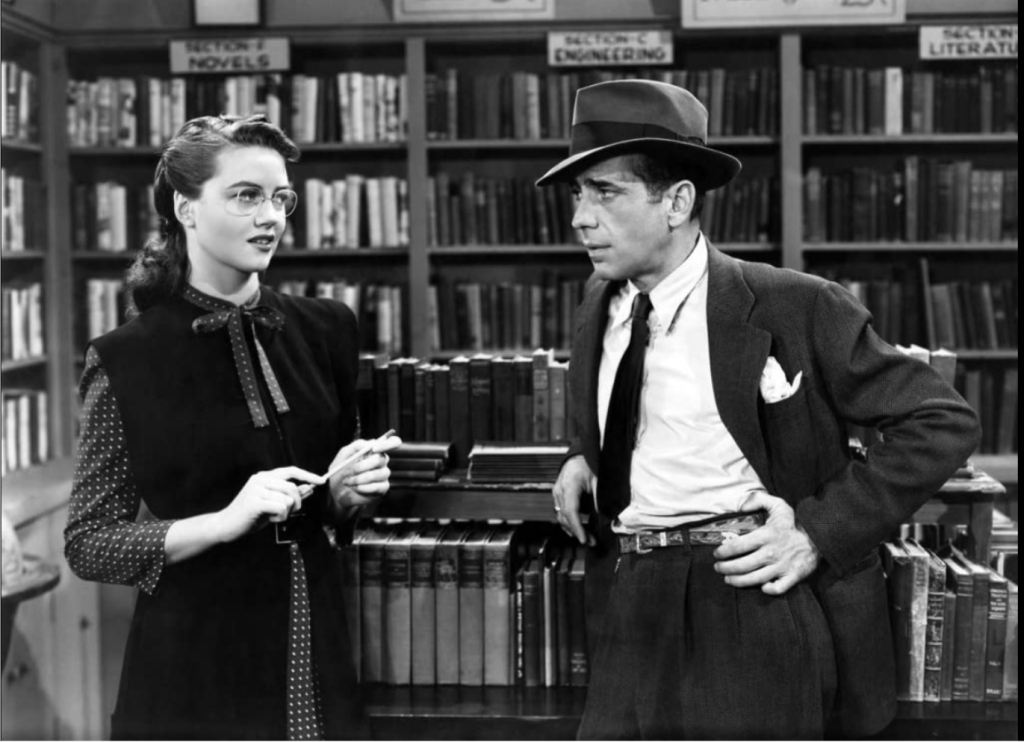 I first saw The Big Sleep in a high school class, almost immediately after watching Double Indemnity for the first time, and after the dread and nihilism that permeate Billy Wilder's film, it was like a breath of fresh air. It was nice to have a story that was serious but not too serious, and a protagonist I could uncomplicatedly root for, and I could watch a man get cut in half with a machine gun, but, y'know, in a fun way. After many rewatches, Wilder has more staying power, and The Big Sleep's stylish entertainment can feel a little slight. But only Hawks could make a dark, twisty story feel so effortless.
Budgets for 1940s films can be hard to eyeball, but going from The Big Sleep to The Lady in the Lake gave me a pretty good tutorial. Robert Montgomery's directorial debut is stylish and well-shot, but looking at the sets and costumes in comparison to The Big Sleep's lets you know that Montgomery was working with significantly less money. Marlowe has to relate entire sections of the book directly to the camera, presumably because the production didn't have enough money to shoot those scenes: the titular lady and lake are both entirely absent.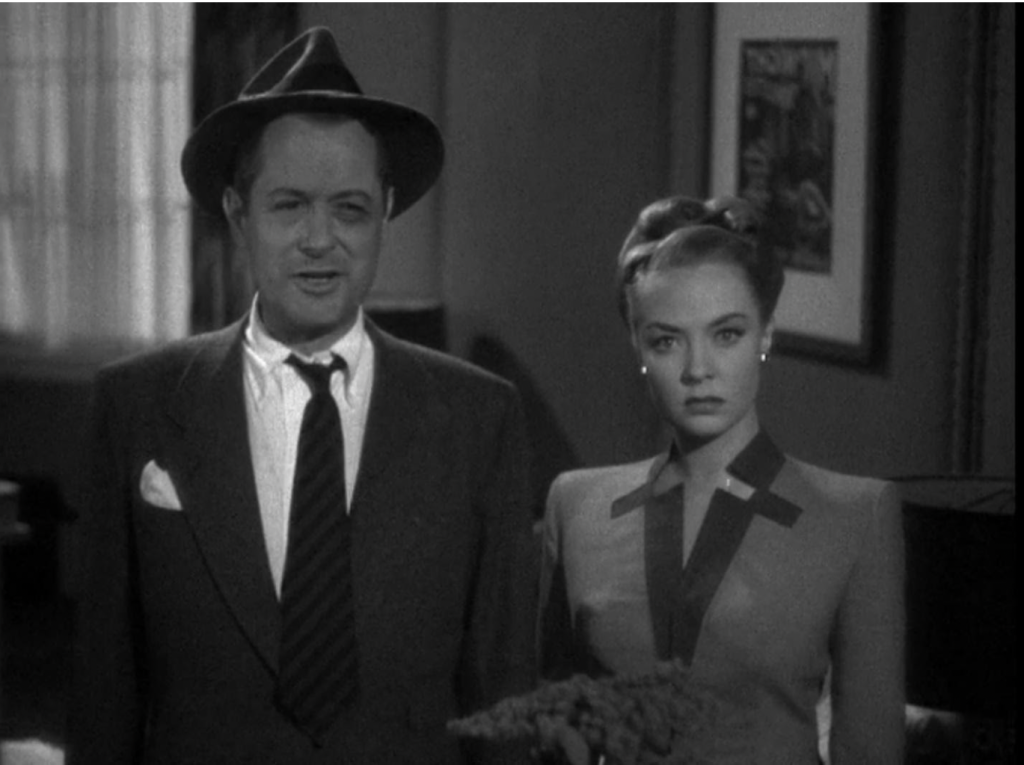 Characters looking into the camera is The Lady in the Lake's other claim to fame: other than three interstitial scenes where Marlowe (played by Montgomery) relates parts of the book the production didn't have the budget to shoot, the entire film is shot from Marlowe's first-person perspective, beating Hardcore Henry to the punch by 70 years.
The movie has a lot of fun with this idea, using special effects to let us see Marlowe smoke, drink, ring a doorbell, take a telephone call, kiss a woman, drive a car, punch, and get punched from a first-person perspective. The movie has a lot of fun with mirrors, too, which give Montgomery his only real screentime and create some genuinely arresting images.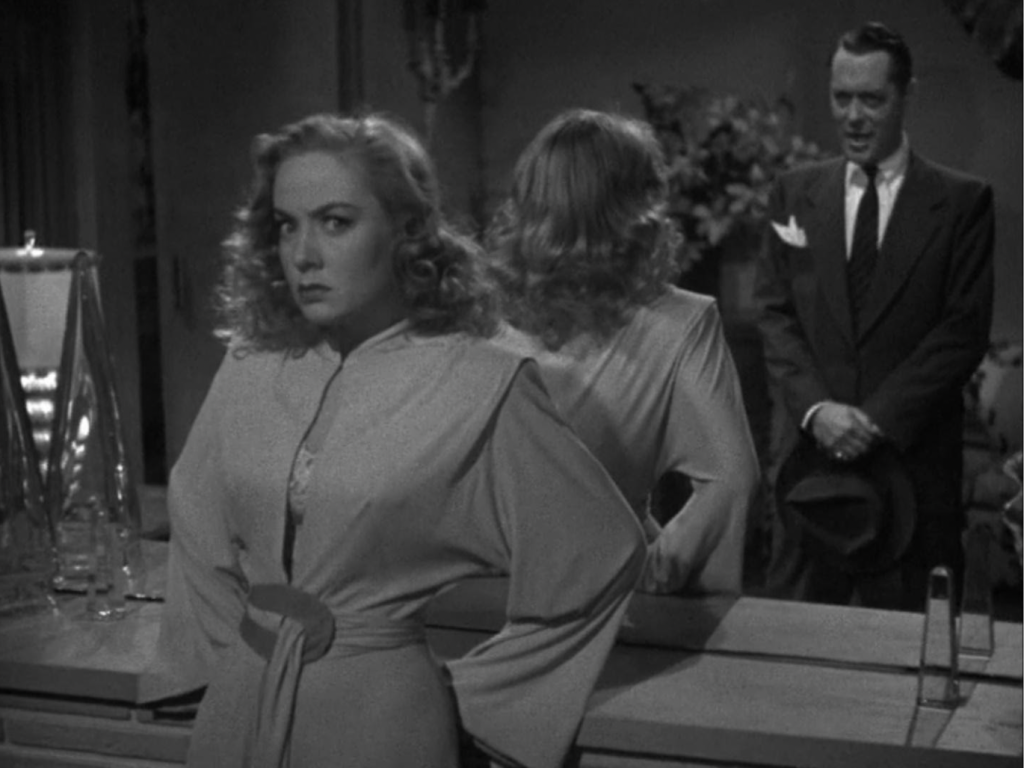 My favorite such trick shot is a head-on of a mirror that Montgomery appears to be holding at an angle in order to keep the camera out of it: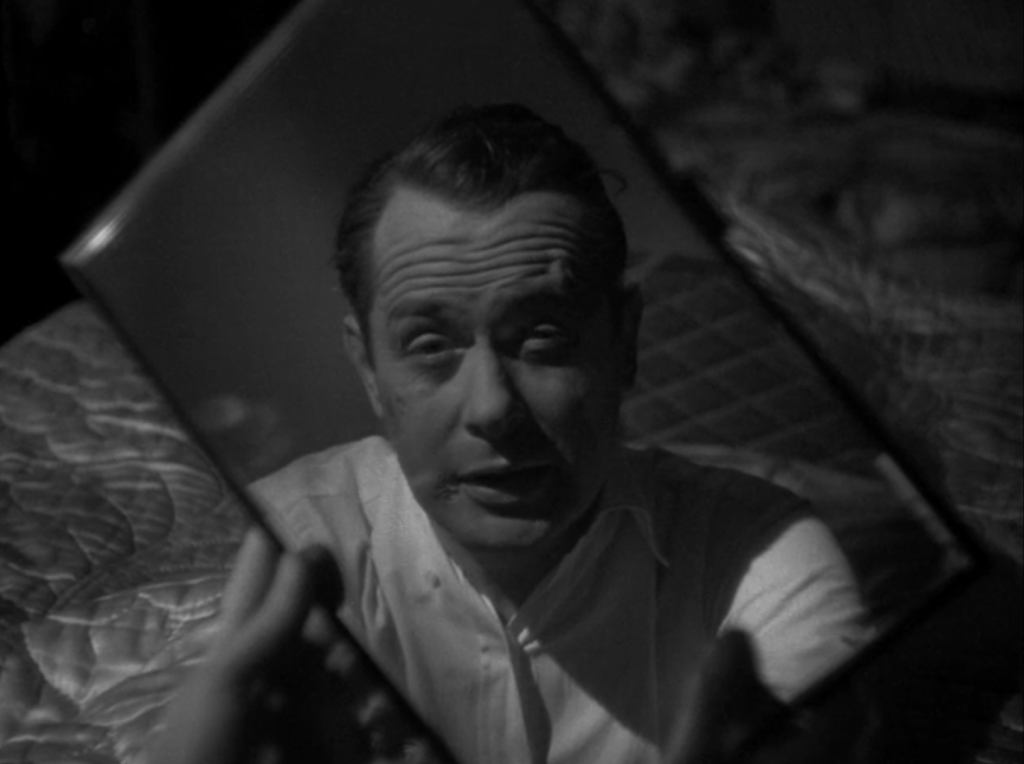 The other thing this choice means is that most of the scenes are designed to appear as one continuous shot — sometimes they are, and sometimes Montgomery and editor Gene Ruggiero use hidden wipes, match cuts, and other effects to make it look that way. It's all very complicated and impressive, but video games have kind of ruined it. Everyone stares at the camera so intently, I kept being reminded of Bethesda RPGs, or maybe an FMV game from the 1990s.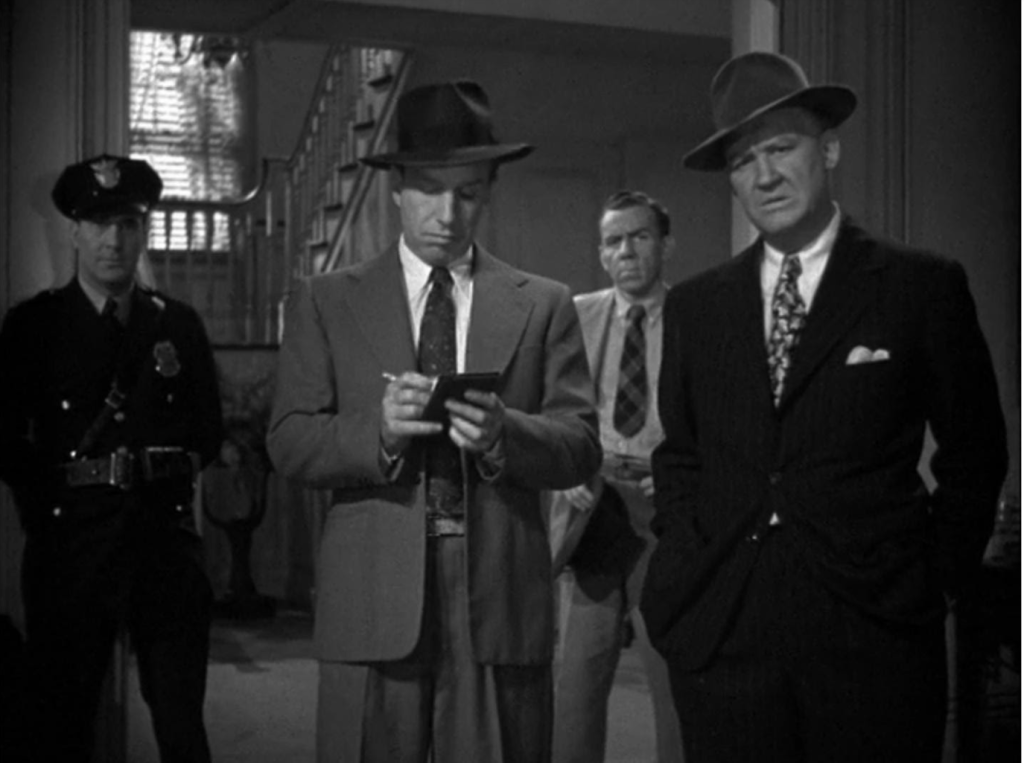 Still, Montgomery has some fun ideas, which occasionally lead to scenes of startling beauty and ambition, as in a scene in a police station midway through the movie where Marlowe watches a police officer recite "The Night Before Christmas" to his daughter over the phone, then berate Marlowe and threaten him with jail, then get another call from his wife, who insists that if he must work on Christmas Eve, he has to come home dressed as Santa. As the police officer returns to the phone, Marlowe/the camera glides through a door, sees perps being taken into the station, then goes through another door and sees an unlucky officer who drew the Christmas Eve shift talking to his girlfriend over a dispatch phone as he lies down on the desk. It's a little short story all seemingly told in a single shot. 
(Did I mention this is a Christmas movie? It is, and the opening credits are written out on Christmas cards that are being pulled away by two hands, finally ending with this amazing transition:
I should also mention that Christmas carols are being sung over the entire credits sequence. Anyway, yeah, there's like a 40% chance that Shane Black was conceived during a screening of this movie.)
The Lady in the Lake is in that sweet spot of relatively obscure noir movies, where the things that keep it obscure (a small budget, a camera gimmick that hamstrings all the actors, a much less memorable Philip Marlowe than Bogart the same year, dialogue just a little too purple to feel authentically Chandlerian) are entertaining in their own way, and occasionally the film just levitates into the air and becomes thrilling without the need for quotation marks.
There are several such moments in The Lady in the Lake. The first-person car chase scene, which becomes a first-person car crash scene, followed by a first-person crawling-away-from-the-police scene, is absolutely amazing and stands out all the more for being surrounded by scenes of people standing still and talking directly into the camera. And I like the postmodern twist the screenplay adds, with Philip Marlowe trying to earn an extra dollar selling novels based on his adventures, only to discover that the femme fatale is his new editor. Yeah, there's some wild stuff here.
I hoped I was going to find some sort of thesis that tied these two Raymond Chandler adaptations together, but in the end, I think they're a testament to the versatility of the detective novel, and the things talented people could do with the material given the right resources or the right idea. It's tempting to despair over the ascendance of a particular movie genre, but even at the height of its saturation, there is still room for good films with an effective take on the material. It's just a matter of finding it and getting the word out.