Seen as the prototypical city of dreams, Los Angeles is an interesting place to watch history unfold. It's perhaps an even more interesting vantage point for a married artist couple who have arrived in the U.S.
In 1967, husband and wife filmmakers Jacques Demy and Agnes Varda came to Hollywood. Demy was making a film for Columbia, Model Shop. Varda was making short documentaries about Northern California. She also was working on a project with Columbia, but backed out when the studio executives would not give her final cut approval. While dealing with this frustrating setback, Varda visited Andy Warhol's Factory in NY. There she met Viva, who acted in Warhol's experimental films, and recruited her for Lions Love (. . . and Lies). Viva joins James Rado and Gerome Ragni, the creators and stars of Hair, the famous 1967 rock musical. Varda films their triadic relationship, their characters based on themselves.
Both released in 1969, Model Shop and Lions Love document a country adrift the year before. In Model Shop, George, an architect-school graduate, lives on the social margins, his idealistic desire to build at odds with the destructive impulses of Vietnam and the aesthetic void of a metastatic consumer culture in Southern California. He drives around LA, trying to scrape up enough money to keep his car from being repossessed. Constraints on his freedom intensify when he finds out he's been drafted and has to report for duty in a few days. There's even less action in Lions Love: the film focuses on Viva, Rado, and Ragni's disinterest in the everyday working world as they sequester themselves in a rented house in the Hollywood Hills.
And cause for optimism in 1968 is doomed. George hopes that the Paris Peace Talks will bring the war to a close, but, as we now know (but Model Shop does not show), they failed—it's also known that Richard Nixon attempted to sabotage the negotiations with Vietnam. The assassination of Robert F. Kennedy, who had a good chance of winning the Democratic nomination and running against Nixon, disillusioned a younger generation who saw in Kennedy the possibility for political change.
Model Shop opens with an argument between George and Gloria, his girlfriend, at the house they share. Their relationship is imploding—you can sense the distance between them in every shot. She's an ambitious actor, hoping to break into Hollywood. George hides behind a cool indifference to her plans. It's another perfect day in LA, it might be said: except for the feelings of quiet desperation that cast a pall over the morning sun.
Having a well-earned reputation for melodrama (one of the reasons Columbia pursued him), Demy features the roles of luck and fate, key elements of the genre. George, by chance, meets Cecile, nicknamed Lola, a mysterious and striking French woman. He follows Lola to her workplace, a dingy studio where men pay to photograph attractive women in suggestive poses (a model shop).
There's a pronounced dreamy quality to George's day, much of it taken up by driving. His obsession with Lola remains; his second visit to the shop, the sun now set, emboldens him to talk to her more freely, and ask her out. They agree to meet at her place.
The ending brings the disparate parts of Model Shop together. In an extension of the dream world projected by the film, we discover that Anouk Aimee's character is an older version of the woman she played in Lola (1961), Demy's first film. She tells George that she's divorced, her husband Michel having run off to Las Vegas with the femme fatale from Demy's Bay of the Angels (1963). During her time in the U.S., Lola fought with Michel, whose gambling debts left her with nothing, forcing her to work at the modal shop. She's saving money to return to Paris to be with her teenage son.
George and Lola both lead socially marginalized lives; they differ philosophically in that George holds onto love as his last and only hope; Lola tells him, in no uncertain terms, that she's given up on love. Moved by George's passion for her, she goes to bed with him. The next morning, she won't tell him why she slept with him when he asks. He then gives her money for her trip, but refuses to tell her why.
George phones her later that day. Her roommate answers. He finds out that Lola has broken their plans to meet again; she's already left for Paris. In a powerful moment, George pleads, on the phone with her roommate, to have a new start in life, realizing he's probably going to die in Vietnam—like the American sailor who was Lola's friend in Demy's first film.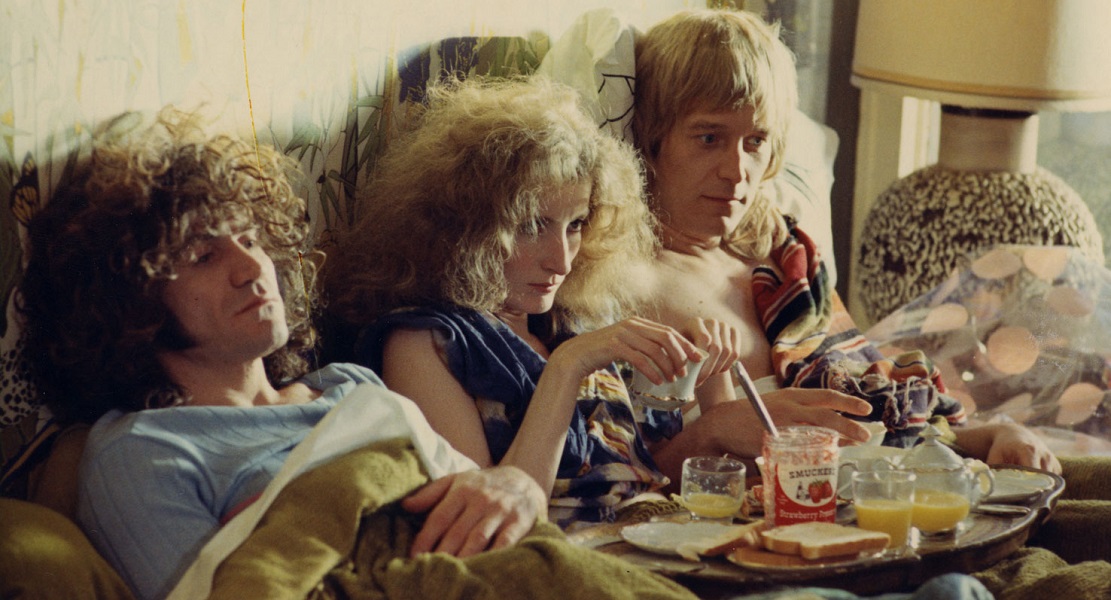 Lions Love starts on a more defiant note. We're at a performance of The Beard, a controversial play, written by Michael McClure, that imagines Jean Harlow and Billy the Kid, the sole occupants of a world beyond ("a blue velvet eternity"), locked in erotic battle—at one point, Billy goes down on her. During the play's run in LA, the actors were frequently arrested after performing, the LA Times editorialized against it, and it narrowly avoided being ruled as obscene. Varda is provoking us (would we attend had we the chance?) and taking a shot across the bow of Columbia (announcing that she has final cut on this film).
The resonances with The Beard continue in Lions Love. McClure's art project that inspired the play was a boxing poster of Harlow and Billy with the accompanying text, "LOVE LION, LIONESS, GAHHR THY ROOH, GRAHEEER." The film's title compresses the text. Viva says, "My grandmother actually knew Billy the Kid."
Like Harlow and Billy, fantasy and reality battle. Shirley Clarke, a groundbreaking independent filmmaker arrives, in town to work with the executives who produced Lions Love, a scenario that may or may not be historically accurate. In flashbacks, these executives discuss Clarke's project, in her absence, and decide not to give her final cut, thus making Clarke a double of Varda. This doubling is made explicit when Clarke refuses to enact a suicide attempt, brought on by the stress of dealing with the suits. After Clarke tells Varda she would never end her life by overdoing on pills, Varda performs the scene, taking the pills herself.
Death then makes a historically significant entrance. Clarke stayed at the house due to all the hotel rooms having been booked for the Democratic California primary on June 4. The next day, RFK, having won the primary, was assassinated. In documentary mode, Varda has us observe Viva, Rado, and Ragni watching the television footage. The effect is eerie: we feel distanced, yet fully aware of what this event would portend.