While double-checking that we hadn't reviewed this yet, I stumbled across the following delightful and highly accurate exchange: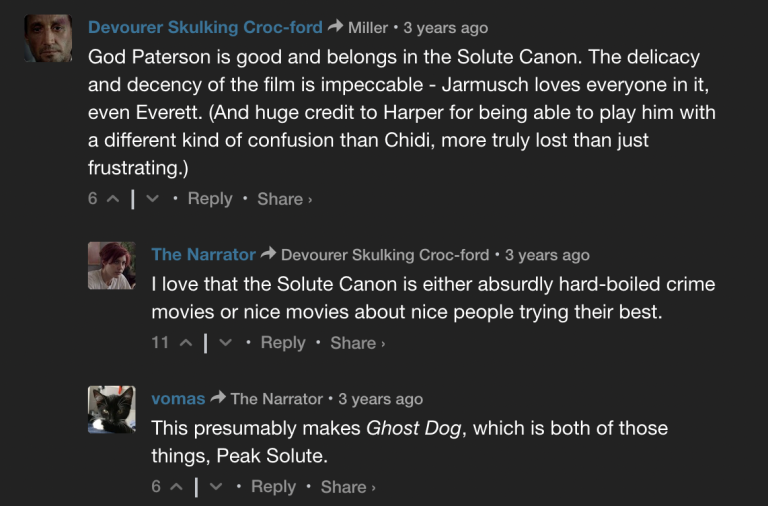 Jim Jarmusch's Ghost Dog is indeed Peak Solute, especially since it also features a man living by a rigorous code of honor and behavior. It's one of Forest Whitaker's best performances: Whitaker excels at a kind of deliberate grandiosity, and it's often a hallmark of his, but here he's not larger-than-life, he's outside-of-life, a man who draws his sense of self from a distant and different world. He's still and controlled, even convincingly invisible when necessary. In fact, he's a perfectly convincing samurai, and the film respects that about him and gives him a story fundamentally tied to his own principles and not overruled by contemporary realism:
Ghost Dog: You know, in ancient cultures, bears were considered equal with men.
Shane: This ain't no ancient culture here, mister.
Ghost Dog: Sometimes it is.
Sometimes it is, and this is one of those times. Ghost Dog is the hired samurai–the retainer, in his words, and the hitman, in everyone else's words–of Louie, a mediocre mafioso in a tapped-out and lackluster crime family. Ghost Dog has both found and manifested the past, but the Mafia only trail it behind them like a faded banner, one that makes it clear their glory days are long gone. They no longer have any luster or dignity, and they aren't imaginative enough or forceful enough to create it. There are no Vito Corleones here. Louie may have once saved Ghost Dog's life–intentionally or as a side-effect of self-preservation–but he can't understand him. He's weak and ordinary, and one of the quiet tragedies of Ghost Dog: The Way of the Samurai is that Ghost Dog has pledged himself to, and spent his life in service of, someone who doesn't deserve him, to a character who is more plausible but less real.
That's only a tragedy to us, however. Ghost Dog's adherence to his chosen code is a victory for him, and his liege is irrelevant. He gets his place in the continuity of samurai. In a neat parallel, one of the mobsters Ghost Dog kills sees his own death as a similar kind of victory: "There's one good thing about this Ghost Dog guy. … He's sending us out the old way. Like real fucking gangsters."
Ghost Dog is full of people looking for meaningful lives and meaningful deaths, and the answers they turn up are sometimes ancient, sometimes contemporary, sometimes dramatic, and sometimes small-scale. It's a film where chocolate ice cream, a conversation about Frankenstein and The Wind in the Willows, slaughtered pigeons, and attempted murder all feel like different shades of paint on the same canvas, working their way towards meaning. I'd agree that that sounds like Solute Canon material.
Ghost Dog: The Way of the Samurai is streaming on the Criterion Channel.