–Usually on the show, they came up with a complicated plan, then explained it with a simple analogy.

–Hmm. . .if we can re-route engine power through the primary weapons and configure them to Melllvar's frequency, that should overload his electro-quantum structure.

–Like putting too much air in a balloon! (Futurama)
The Core is Armageddon done right:  existential planetary threat (the Earth's core has stopped spinning) sets off disaster setpieces (heart attacks, dying birds, lightning storms) so the US government (represented by Richard Jenkins and Alfre Woodard) recruits a ragtag team (Aaron Eckhart, Bruce Greenwood, Tcheky Karyo, Delroy Lindo, DJ Qualls, Hilary Swank, Stanley Tucci) to Save the World.  Complications ensue, more setpieces happen, a Hidden Agenda gets revealed, heroes sacrifice themselves (you should be able to tell who and in what order from the cast list), shit blows up real good, etc.  So why, even at over two hours long, is this so damn enjoyable where Bay's film feels like an endurance test?
Director Jon Amiel (who has made only one more theatrical film after this, 2009's Creation) and team seem to have decided that if we all know the route to be traveled, we might as well take the ride in good company; it takes almost half the movie to get to the point where our heroes ride a giant power drill into the planet but that doesn't feel slow at all.  From the obligatory first casualty (how many disaster movies would start by ripping off The Big Lebowski?) to the final scene with "CYBER CAFE" obviously stickered on windows, there's a lighthearted wit here that may or may not be intentional, and I don't care.  Every single technical problem gets solved with some kind of metaphor (seriously, keep count of them), the CGI isn't anything you could call realistic but it is inventive (and when we're talking about a giant geode 700 miles into the Earth's mantle, "realistic" doesn't make a lot of sense), the script and direction are just inventive enough (there are things here that anticipate The Informant!, War of the Worlds, and Avatar) and all the actors are clearly having the time of their lives.
Samuel L. Jackson sez he keeps his head shaved in order to get the right hair for the part, and Stanley Tucci needs to do that more often.  Here, playing Asshole Carl Sagan (Delroy Lindo calls him out on that at one point), he. . .well, just look at his introduction: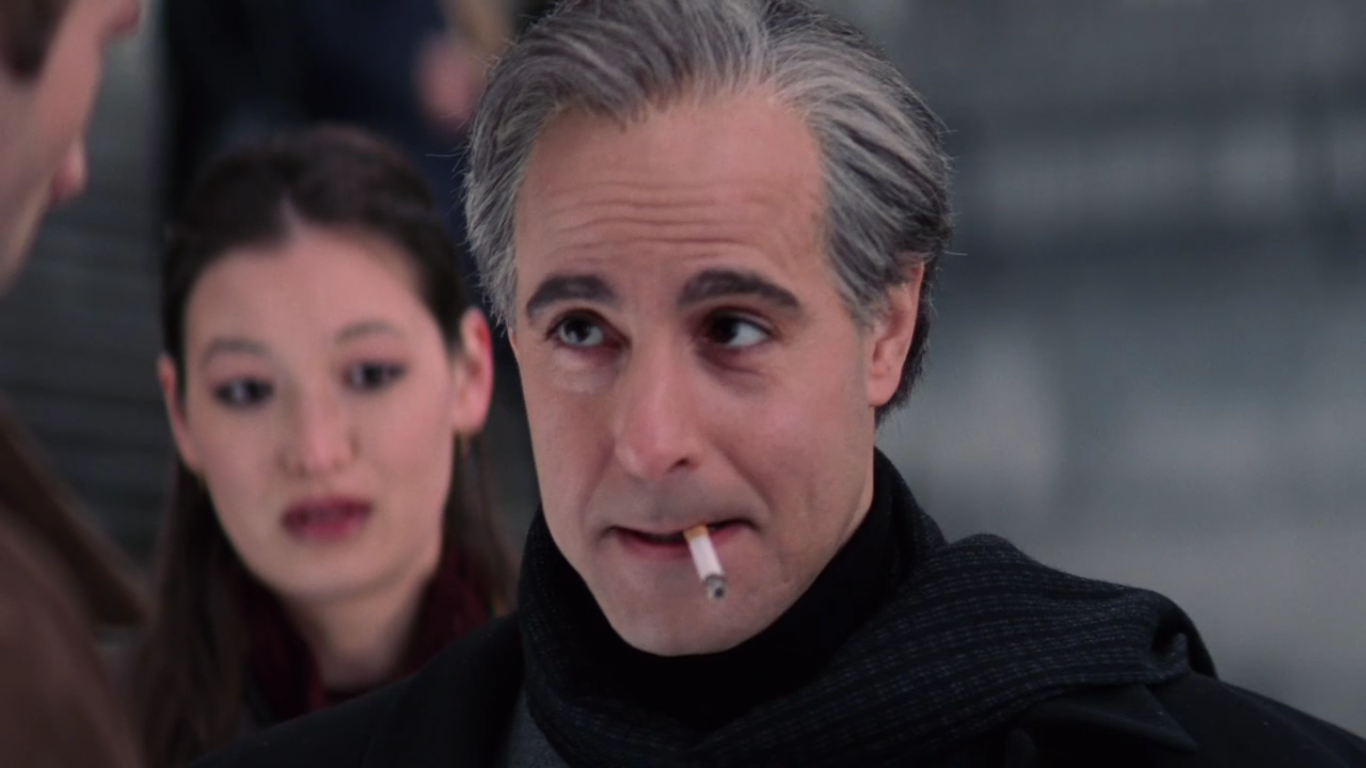 He makes his character worthy of that kind of shot, entitled, preening, and still smart as all hell, and he gets an arc where he ends up becoming the hero he always thought he was.  Everyone else is on his level, but Richard Jenkins is my favorite:  stuck with the most thankless role (Bureaucratic Heavy, Military Division), he's fully in command but more bemused by everything going on than anything else–his closest cinematic relative is Walter Matthau in The Taking of Pelham 1 2 3.
Where other movies go bombastic, The Core goes quickly; the obligatory heroes-walking-towards-the-camera shot that everyone steals from The Right Stuff happens without slow motion, at night, while it's pissing down rain.  There are jokes and/or emotion jammed into the most obligatory scenes; there are also opportunities for MST3K-style commentary all the way through, and sometimes the cast beats you to it.  ("As one does.")  Even if it's a film where geology plays a central role and no one mentions the Moho (not. . .once), it's fun, dammit, and what else should the end of the world be?
(h/t to Miller, who continually stanned for this back in the Dissolve era, which is what got me to see it.)