Movies talk to each other. What did the films of 2020 have to say? This is a look at how two movies from the past year tackle similar subjects in different ways. Be warned: SPOILERS for City Hall and Bloody Noses, Empty Pockets follow.
One of the trendy terms in architecture, especially in public projects, is "place-making." It's about creating buildings and shaping land based on how people use the space, as opposed to forcing the users into a design. The making is still done by architects and planners and approved by officials, of course. But what about the places people try to make for themselves?
Frederick Wiseman's four-and-a-half hour documentary City Hall shows lots of people, most notably Boston Mayor Marty Walsh, as they sit in rooms in the titular building and elsewhere around the Hub of the Universe, talking about their plans for the city and the people in it. City Hall the building is a notorious Brutalist block of concrete dumped in a plaza of brick ramps and low staircases, it's the building everyone loves to hate. Not the least because its construction was made possible by bulldozing an entire neighborhood, the now-extinct Scollay Square, the seedy red light district that was home to sailors on leave and burlesque houses, along with actual residents. A place where you would go if you were looking for a good time replaced by the place where you have to go contest a parking ticket.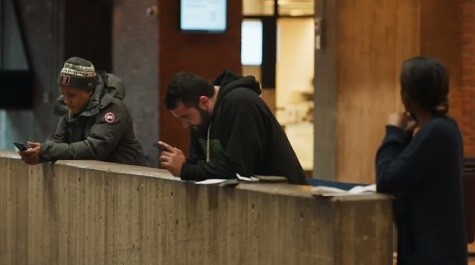 Definitely more fun than a burlesque houseWiseman films a few such hearings and the parking adjudicators shown are actually decent people, willing to take circumstances into account. We also see people taking 311 calls, Walsh holding press conferences about security for the Red Sox victory parade, housing officials discussing affordability, the Disability Commission reviewing accessibility in the city, and this is just what happens inside City Hall itself — from archivists to garbage collectors to people issuing those parking tickets in the first place, Wiseman goes around town to show the institution's reach.
The overall effect is to show a place where people are working to keep that place itself working. The contrast with how the federal government was not working in 2020 led lots of critics to lionize the humble bureaucrats (and not exactly humble mayor) depicted here; Wiseman's skipping places of conflict certainly makes that easier. But he's not making something so jejune as a Your Government And You promotion. In meeting after meeting, participants — almost always minorities — raise concerns about the places they're trying to create or to preserve and Wiseman lets these uneasy undercurrents flow. A space for the community that was chosen by community members instead of planners in back rooms, or a housing plan to prevent long-time residents from being gentrified out of their homes. The longest segment in a very long movie has people trying to set up a minority-owned marijuana dispensary facing off against a minority neighborhood that is sick of quality-of-life issues being neglected already and wary of a new business using their space and not giving anything back.
The people who make up Boston are often butting up against the people who are running Boston, the officials who make sure that Boston as a place officially exists and will continue to exist. They regulate the streets and the land and the many, many city and residential buildings that Wiseman films for interstitial shots that almost never have people in them. At one point, that city archivist pulls out fossils of "prehistoric clams" from several millennia ago that are preserved in clay that found its way into homes constructed in Boston's North End a century ago, making a subtle link between the City and its Hall to something that might as well be forever. "Cities are stones. People aren't important," Pere Ubu's David Thomas sings in "Electricity." "Stones are true. They don't die. They don't go anywhere, either." The cobblestones of Scollay Square might say otherwise, if you could find them.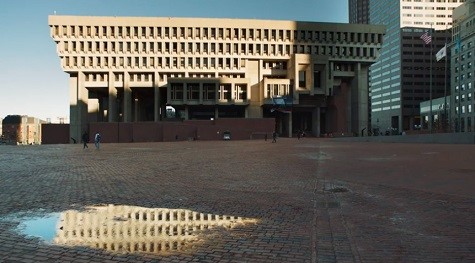 The Roaring 20s, a dive bar in Las Vegas, is about to die — the reason it's shutting down is never given, but there is no appeal — and Bloody Nose, Empty Pockets is a documentary of its final day and night. Except The Roaring 20s never actually existed in the first place — filmmakers Bill Ross IV and Turner Ross rounded up some real barflies and filmed them really getting loaded for a few days at a New Orleans bar before taking a few of the cast to Vegas for exterior shots and editing the whole thing together. The Rosses have pushed this as a documentary, I knew the conceit going in so that didn't matter much to me but it's not hard to see why some initial viewers felt hoodwinked. A documentary might not adhere to Wiseman's fly-on-the-wall rigor but the performances here aren't even re-enactments of something that happened. The boozing is real but the narrative is not.
Which is not to say it has no meaning. City Hall's portrayal of well-intentioned governance may have added resonance for some viewers during 2020's ongoing reveal of the U.S.'s rotting civic infrastructure; watching BNEP's depiction of a long night at a dive bar in the middle of a year where going out for a drink with friends was no longer an option both emphasized that need for me and helped fill it as well. Some of the people at The Roaring 20s know each other and some are just sitting at the bar, conversations meander and occasionally get heated, the music from the jukebox and the local news on the wall TV are constant presences in the background. Staged or not, this is real life, this was part of my real life that was unceremoniously yanked away.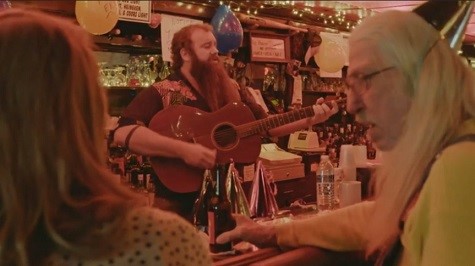 While the Rosses worked from an outline, their cameras improvise and follow conversations even as those conversing aren't quite able to follow themselves. People dance and wave party hats, hang out on the couches in the back, move in and out for smokes. There are some lovely moments that seem likely planned even as they fit perfectly into the night — people setting off cheap fireworks outside, watched in black and white by security cameras; half the bar drunkenly slow-dancing to the tender invitation of Percy Sledge's "Come Softly, Darling" — and just as Marty Walsh becomes City Hall's protagonist, here an old guy named Michael comes into a clearer focus than his fellow barflies. Played by professional actor Michael Martin, the movie's Michael is a homeless guy and former musician who sleeps at the bar and treats it with the respect of a home, helping tidy the place up at the start of a shift. He's the only one who really seems to sense the looming end.
At one point Michael gets into a heated discussion with a yuppie-ish guy who has definitely had a few too many. The belligerent yuppie gets shovey. His friends take him outside to cool off and Michael takes the loss. It's not a cool moment of confrontation but a pretty accurate take on how arguments flare up and can blow back down, with a few feathers ruffled but the bar still standing. I don't think we ever hear the yuppie's name, although the movie spends several scenes with him and his ramblings. Like Wiseman, the Rosses don't identify people onscreen, letting names come naturally or not at all. But in City Hall, this creates an institutional anonymity that a place imposes on individuals, Bloody Nose, Empty Pockets shows strangers willingly — if sometimes fractiously — sharing a space. It's a place where the people may not know your name, but where you can walk in with no reservations.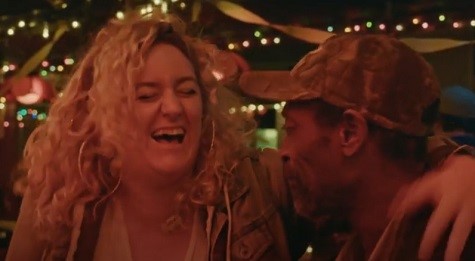 What does it say about City Hall that Frederick Wiseman made a four-and-a-half-hour movie about Boston without ever going into a bar or showing someone drinking a beer? Walsh, as he discusses in the movie and is very open about in general, is an alcoholic but that's not it. There are many scenes of community in City Hall, from veterans sharing their traumas with each other to politicians forming a (very photogenic) relay line to load up food for the homeless, and all are organized through the government, the same government riding a development boom that is pricing out the smaller places and the residents who visit them, like the minority building contractor who puts the lie to some officials who say they need to study discrimination he's been living for decades. City Hall listens, City Hall moves on. But a city has to be more than City Hall, right? The institution is not the people and the people have needs that it can't serve. Take away the places that do serve those needs and all you're left with is cold stone, slowly eroding as people walk over it on their way to somewhere else.
It's unclear what The Roaring 20s will become after its final night of service. The bartenders and regulars are sad but not despondent and there was clearly no big push to save the place, never more than 2/3 full at best on the last night of its existence. Its community vanishes easily and it was never that strong to begin with. The final bartender cleaning up tells Michael he has to go and thinks he can find a different place, not registering — never registering, after all this time? — how this one has literally been his home. From the look of betrayal on his face, it would've hurt less if she had glassed him. Better that than thoughtless exile. The unimportant people of "Electricity" have to gather around "suburban campfires" as night draws, talking of hopes and fears out there instead of over beers and shots in a warm room while the music plays. Michael knows what he's lost. On his way out the door, he bitterly mutters the eternal urban epitaph: "You had a good place here, once."