I confess I've lost control/I let my guard down/I let the truth out…
-'Control.'
Burn it to the Ground
The word 'hiatus' often has a negative rap in the music industry. Normally code for 'everyone in a band/group fucking hates each other's guts,' it doesn't necessarily inspire hopeful feelings the members will reunite and produce new material in the future. Sometimes it's a vacation, sometimes it's a permanent disbanding. However, what about the times when a hiatus gives a band a chance to heal and recharge before showing the world they still have some kick left? Well, hallucinatory readers, that is exactly what happened to Garbage.
When we last saw Garbage, they had just released their fourth album, Bleed Like Me. Following the eclectic, yet commercially unsuccessful experimentation of beautifulgarbage back in 2001, the band largely eschewed their electronica influence and aimed for a hard rock sound with Bleed Like Me. The production on the album was fraught with in-band fighting and general frustration at a lack of direction. While it was a commercial success, charting with a career high #4 position on the Billboard Top 200 Chart, coupled with the lead single 'Why Do You Love Me' entering the Modern Rock Top Ten Chart, the band's first since 'I Think I'm Paranoid' in 1998, the album earned mixed reviews, one common complaint being the production had the tendency to make several of the songs sound quite similar. Lyrically, listening to the album is a bit like flipping through a diary following a bad breakup: it's deeply personal, but the whole affair feels a bit perverse. Gone is the sardonic humor of the band's first three albums; what remains is a wallow in anger and bitterness.
The world tour didn't exactly help ease the band's tension either. Feelingly increasingly burned out, they cut their tour short and announced they were going on 'hiatus,' looking to pursue new projects. Between 2006 and the band's regrouping in 2010, the band released a few tracks: 'Tell Me Where I Hurts' for their greatest hits collection, Absolute Garbage, along with stand-alone tracks, 'Witness to Your Love' and 'All the Good Things in This Life.' Other than that, the band went there separate ways. So, what were they up to on their break?
*Steve Marker and his family moved from Madison, Wisconsin to Colorado. No reports of any music involvement during that time.
*Duke Erikson worked with the independent record label, Lo-Max records in the UK. He produced 'If You Go,' a song by the Greenlandic singer, Simon Lynge.
*Butch Vig returned to being a full-time producer, working with bands from Green Day to Foo Fighters to The Subways. In 2011, he won a Grammy for his work on the Foo Fighters album, Wasting Light.
*Shirley Manson made her acting debut in the second series of Terminator: The Sarah Connor Chronicles as a T-1001 terminator. She began work on a solo album, which was set to have been released in 2009, but a fallout with her label (she said in an interview they wanted her to be 'the Annie Lennox of her generation'), caused delays. The album was eventually buried, and Manson said she has no intentions on revisiting it.
So, they were keeping busy.
From the Ashes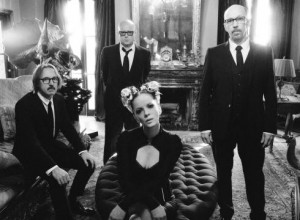 A chance meeting between Manson and Vig in 2009 led to their realization that music was still a passion for them, and they still had new ideas to explore. They later met with Marker and Erikson and in 2010, they wrote what would become one their singles, 'Battle in Me.' The song-writing process was initially slow, but the band began production on a new album in 2011. That album, Not Your Kind of People, would be the band's first release in 7 years, along with their first album produced outside of Wisconsin.
One question remained: would there still be a place for Garbage in the music scene? With a few exceptions, like Haley Williams and Karen O, aggressive female rock front-women were largely nonexistent in the late aughts. Indie rock, sickly sweet pop, and British neo-soul reigned supreme on the charts.
Back With a Vengeance
The hiatus did the band a world of good, but the question remained: was the comeback going to work? Ignoring the simplistic ideas of 'cool' and 'having one's moment,' was the album, even solely judged on the basis of the band's previous output, going to be good? Was it going to be a sharp, catch return to form, or it be a pitiful grab for relevance?
Thankfully, it was the former. I'd even go as far to say it was Garbage's best work since Version 2.0.
The most noticeable difference between NYKOP and Bleed Like Me is the former's sheer enthusiasm. The darkness remains (it is Garbage after all), but instead of picking at emotional wounds, the band had reclaimed their joy and sardonic humor. The album practically screams, 'You want pain?! Well, FUCK YOU! WE'RE HAPPY(ISH)!'
Probably more than any other 90s band, Garbage has specialized in blending joy and pain to the point were they are practically indistinguishable. The album's opening track, 'Automatic Systematic Habit,' begins with a shattering blast of electro-pop before the fuzzy, fiery guitars buzz into glory. Manson struts in, having lost none of her fearlessness since Garbage debuted 17 years ago. This time, unlike the sultry 'Supervixen' or the buoyant 'Temptation Waits,' she's reclaiming her Rock Goddess crown, taking on both a manipulative cad, or maybe the music business as a whole, hissing 'I won't be your dirty little secret.'
After the predominantly monochromatic angry rock sound of Bleed Like Me, one of the most welcome aspects of NYKOP is how the band dips their toes back into the pool of experimentation, It may not be quite as eclectic or polished as Version 2.0 or beautifulgarbage, but the electronica is back ('I Hate Love', 'Not Your Kind of People'), as are bits of trip-hop ('Sugar') and shoe gaze ('Felt'), all anchored by fittingly hot-and-cold current of alt-rock.
'Blood' for Singles:
Of the album's faults, which there are a few, perhaps the biggest is taking two of the weaker tracks and placing them front and centre in the album's promotion. 'Blood Like Poppies,' the album's lead single, isn't a bad track, and it hums with an assured energy and Manson's icy vocals, but the whole affair can't help but feel a bit slight. Sadly, first impressions are everything, and unlike lead singles from Garbage's previous albums such as 'Vow,' 'Push It,' or 'Why Do You Love Me,' it lacks the fire, the punch to the audience that announces the band is back and demands to be taken seriously. Like 'Androgyny,' it's a perfectly fine song, however perfectly fine just isn't enough. If there is a saving grace, the music video for 'Blood for Poppies' elevates the song and gives it a much needed boost of weirdness. Mirrored after the style of old silent, surrealist classics, it's a video that stands out in what has become a terribly undernourished art form in the music business these days.
The album's second single, and second video, is 'Big Bright World,' a sugary slice of feel-good power pop and the album's only full on misfire. It's always interesting seeing the band indulge in their sweeter side, but it lacks either some grounding darkness or massive hooks. It a track that, with an R&B makeover, lyrically would have fit in quite well on beautifulgarbage.
The album's remaining three singles, 'Battle in Me' (the lead single for the album's UK release; a far sharper move, in my opinion), 'Control' and the aforementioned 'Automatic Systematic Habit,' are significantly stronger, and it's a pity they never received the music video treatment (another sign of Garbage's oldness: their heyday was when the music industry still had a thing called 'money' for music videos). 'Battle in Me' takes a thunderous marching band beat, coupled with crunchy, distorted guitars, and Manson's slinky vocals, and steadily builds to a crescendo, complete with a stadium-ready chorus.
'Control,' the album's final single and one of the standout tracks, was, according to the band, inspired by the Led Zeppelin's 'When the Leeves Break,' and such a title can be used to describe what makes the song work so well. It begins with an icy, sombre bit of electronica, before the guitars come crashing in. It's manic, yet controlled, precise, and yet unpredictable. Simply put, it's the best single on the album.
The Hidden Gems
If the singles are overall a weaker aspect of the album, then thankfully there are quite a few goodies scattered about elsewhere. 'Sugar' sounds like a track plucked straight from the band's debut album. It's based in electronica and trip hop, with a smooth production that is reminiscent of 'The Trick is To Keep Breathing,' the standout track of Version 2.0, and my choice for the band's best song. Garbage is ostensibly a rock band, but their knowledge and mastery of electronica and trip-hop is a truly special gift, and while it would have been interesting to see them explore it more on NYKOP, it's nice to see they haven't completely given up their love of those genres.
However, the strongest track on the album is sadly the one that is only available on the deluxe edition (four extra tracks, all of which are excellent): 'The One' (how fitting a title). A fast and furious ode to love, in all of it's unpredictable, unsettling, manic glory, it's breakneck speed is similar to Bleed Like Me, but the sheer enthusiasm of the track elevate's it to one of the band's best. It's the song that should have been the album's lead single: the energy and the joyous exuberance make a lasting impression.
The most pleasant surprise, at least on the album's deluxe edition, is the closing track, 'Show Me.' Normally, Garbage specializes on bummer endings to their albums, from the melancholic love ballads of 'Milk' and 'You Look So Fine' to the suicide odes of 'So Like A Rose' and 'Happy Home.' On the regular edition, they continue this trend with 'Beloved Freak.' However, 'Show Me' feels a far more fitting ending. After years of uncertainty and gloom, the band says, 'Out with the pain; we're back and we couldn't be happier.' It's a happy ending that feels earned rather than tacked on.
'Bright Tonight': The Critical Appraisal
So, after a seven year hiatus, what was the response to the band's return to music? It was… generally positive. NYKOP earned glowing reviews from Spin, The Guardian, and The Irish Times, while earned more mixed reviews from publications like Pitchfork, along with an outright pan from NME. Commercially, the album peaked at #13 on the US Billboard 200 Chart, #10 on the UK Albums Chart, #5 on the US Rock Album Chart, #3 on the US Independent Albums Chart, and #1 on the US Alternative Albums chart, and a successful world tour.
A common point of acclaim was the band's enthusiasm with the album, while a more divided point of interest was how the band's sound hasn't particularly evolved. Which brings me to my next point…
'A Love Like Suicide': A Look Back at The Comeback
After a long hiatus, any band's comeback is going to be more heavily scrutinized, especially by its fans. Eager to hear new material from the band, I passionately fell in love from Not Your Kind of People. It felt like both a blast from the past and a breath of fresh air amid the current pop landscape. Or, as Tricky had said all those years back, 'Brand New You're Retro.'
After a couple years and several more listens, I can see the album's faults a bit more easily. The band's jaded irony can be a bit on the nose, particularly in tracks like 'I Hate Love' and 'Man on a Wire.' Similarly, as I've mentioned time and time again, Garbage is so great at electronica, that while it's nice to see it more pronounced on this album, it's hard not to be a bit disappointed they didn't take it as far as they did on Version 2.0.
Still, these are minor complaints. It's a polished, assured, tremendously energetic return to a special niche the band has carved for itself. Not Your Kind of People may not be a big step forward for the band, but it's like a visit from a collection of fun, good-natured old friends.
Welcome back, Garbage…
Into the New Year: I look back on the band's discography, Garbage's place in the music industry, their highs and lows, and what lies ahead for 2015.