When vomas recommended this movie to me, I assumed it was because of my interest in crazy "so bad it's good" type fiascos. Turns out it was because of my interest in true crime.
This movie is kind of like if Grizzly Man turned out ok. I say 'kind of' because while there were no fatalities on set, just about everyone involved in this production got mauled by a lion, except for Tippi Hedren who got mauled by a lion and crushed by an elephant.
I don't even know where to start with this one.
In 1964, Tippi Hedren, fresh off the two films she made with Alfred Hitchcock, married her agent, Noel Marshall. Her daughter (Melanie Griffith) was seven years old at the time, and Marshall had three sons of his own.  During a 1969 shoot of Satan's Harvest, the couple witnessed a pride of lions living in an abandoned house, and thought that would make a pretty good premise for a movie.  But, because everything Tippi Hedren knows about movies she learned on the set of The Birds, the couple went about making this movie by filling their actual house with actual lions. The next 11 years were spent in production of Roar (eat your heart out Richard Linklater). When the film was finally complete, the couple divorced (with Hedren demanding Marshall seek psychiatric care) and Melanie had developed a severe alcohol and drug problem.
This movie is unbelievable. You know the scene in The Birds where Tippi Hendren is going through the house and there are birds everywhere, just every inch of screen completely filled with birds? Imagine that, but it's lions. 132 lions, tigers, and other big cats were used in this film. Some reports say 160. Just the fact that estimates are give-or-take 30 lions should tell you how utterly full of lions this movie is. However many lions you're picturing right now, think way more lions. You're probably wondering, 'where do you even find 130 trained lions?' You don't! These were mostly just wild animals. One lion they bought second hand from Anton La Vey, the father of Satanism himself.  Would it surprise you that the lion turned out to be unruly and violent? Hedren and Marshall attempted to recruit animal trainers, or just anyone with any general knowledge about big cats, but were reportedly rebuffed as "brainsick" and "completely and utterly insane."  The industry standard, even then, was for two experienced trainers to be on set for each cat. Also for the cats to be trained cats, and not satanic cats. And to not put your head, or your children's limbs, in the animals' mouths.
Ultimately, the movie became a largely amateur production. The family themselves (including the kids) would play the cast, and the crew would have nearly daily turnover as workers were driven off by the constant maulings or the production's frequent inability to actually pay anyone. The only person on set who had even sniffed a union was cinematographer and future director Jan de Bont (Speed) who got scalped by a lion early in the shooting, requiring 220 sutures to reattach his scalp.  Nevertheless, de Bont returned and completed the film.
Alright, alright, let's start talking about what actually happens on screen.  The movie begins- Oh, at one point 15 lions escaped the set and had to be hunted down through the California suburbs.
Ok, the movie begins in Africa (really California) where Noel Marshall is living with a pride of lions and other big cats in a large multi-story house built especially for the production. Marshall is supposed to be a Jane Goodall type conducting some sort of research project. Instead he immediately conveys the unshakable, inattentive confidence that is only born of true ignorance. His friend (Dr Kyalo Mativo, whose doctorate is in theater not zoology), is visiting to warn Marshall that the town council wants to shut down this madhouse (a fiction invented for the movie, which seemed to face no bureaucratic red tape whatsoever). Mativo (most of the actors in this film use their real names, presumably because it's hard to stay in character while you're being mauled by a lion) seems to be some sort of local game warden and is far more cautious around the animals, though Marshall persistently dismisses his concern with a squeaky voiced "ohh, they're just playing" or "that's just Robbie" even as the animals are jumping and shoving Mativo around like, well, like a cat playing with its next meal.
Marshall takes Mativo around the ranch introducing him to the various animals then – mid-sentence – a full-grown adult lion just slams Marshall to the ground as the other cats swarm on top of him and he looks absolutely terrified and he struggles to untangle himself and scramble back to his feet, scared, winded, and bleeding. And then we just cut to him introducing more cats.
The movie is delivering all this incredibly banal chipper exposition, but behind the actors are a pack of lions just going at each other. You're not supposed to have more than one male lion on set at the same time. Even zoos don't have more than one male lion in an enclosure. But this movie is just lousy with them. There's a scene where Marshall is taking a bath and there's TEN full grown adult male lions crammed into the bathroom with him. They're constantly fighting each other. You first start watching this movie, and it's like, 'isn't that a lot of males' and then immediately it's 'oh, yeah you shouldn't do that'. Even The Lion King kept it to one per pride.
So the local government is coming by to check on this project. The locals are worried about all of the dangerous man-eating wildlife being held under extremely lax containment and particularly about the introduction of non-indigenous large predators to the area.  These seem like valid concerns!
Unfortunately for Marshall, his attempt at a counter-argument is interrupted as two lions start loudly trying to kill each other. Marshall runs off to try and pull them apart, but is immediately tackled by a lion, as large cats will tackle anything running around. After a couple awkward cuts, Marshall throws himself into the middle of the fight (something you shouldn't even do with dogs), and we very quickly see about seven different incidents of a lion almost murdering him. Marshall gets up, just covered in blood, and stumbles back to the house as his inane cheerful dialogue is dubbed over the scene.
He gets into the house, and there's just so many goddamned lions. It's wall to wall lions. He can barely push himself in, and they're all jumping up on him like excited dogs. Like excited 500lb dogs. Outside a tiger is fighting with several male lions. They don't seem to be playing. And then a couple of tigers start swimming over to the town council people (who are all in small boats). One tiger climbs into a boat, and it quickly sinks under his weight, and all of the cats start getting very aggressive. Everybody's yelling for Marshall, but he's not paying any attention.  He's trying to wrap up the very serious (and very real) wound on his hand, but the lions keep grabbing the bandage away, like it's a game. He's not going to clean that? Just wrap it up with a bunch of wild animals on top of him? That can't be sanitary?  You might be thinking. You're right! Marshall got gangrene from this bite and ended up hospitalized for 6 months, and didn't fully recover for years. He could have lost his arm. I mean, he could have died, but anybody could have died during any moment of this film.
Eventually Marshall goes outside, sees the chaos, and chases the animals off as several men, absolutely soaked with blood come crawling out of the water. They flee in the remaining boats while Marshall squeaks after them "Oh, it's just some scratches" And then we cut to Tippi Hedren and teenaged Melanie Griffith. I have no idea how Marshall didn't realize he was making a horror movie.
Tippi and the kids are on their way to visit Marshall, who was supposed to be there to pick them up, and who neglected to mention that their house will be filled with lions. And man, even as a child, Melanie Griffith could just command the camera. Tippi Hedren too. I feel like if Hedren's career had come 10-15 years earlier she'd have been a huge deal. She was too dignified for the 70s, but she feels like an icon, even if she hasn't ever actually been in a good movie (except this one, of course). You had those two, you could have made a great little drama about a complicated mother daughter relationship and you wouldn't have had to feed any family members to the lions. Noel's kids are a bit awkward, but one does a lot of really reckless motorcycle stunts so that's something.
With only one bus running a day, the family decides not to risk waiting for Marshall, and begins to make their own way to the house.  Meanwhile, Marshall is cleaning the house (seems like a lost cause) and taking a bath, and we get some slapstick music played over more footage of lions almost killing people. Every time the movie cuts back to Marshall, there's another set of claw marks in his shirt. Eventually Marshall and Mativo take two tigers out on a boat, which promptly sinks.  The family arrives at the house, not expecting it to be full of wild predators, while Marshall is stranded in the jungle and the movie starts to get really crazy.
I'm not going to go beat to beat, you just have to see it. But it's harrowing. The family is pursued through the house and grounds by the wild animals who are everywhere.  There's a long sequence where one lion goes after them and just demolishes the house like it's paper mache. Just the awe-inspiring strength and power of this animal. So many shots come so close to killing the actors. There's real terror here. Like, "look into somebody's soul" terror. Like, "watch a mother as a real lion lunges at her real daughter" terror. Like, "watch a 17-year-old process that her parents will let her be eaten by a lion (a lion that is inches from her face) in order to get a good shot for a movie" terror. One of the boys has an elephant tusk blast through a barrel he's hiding in, inches from his face. Tippi Hendren is thrown by an elephant (oh yeah, the family also bought two elephants for the movie). Melanie Griffith is mauled by a lion and needed reconstructive surgery and very nearly lost an eye. It's all on screen!
Nobody, and I mean nobody, in Hollywood had a worse childhood than Melanie Griffith. Not Lindsay Lohan, or Britney Spears, or Macaulay Culkin. Her parents threw her into a literal lion's den! Griffith has always had a hardness and toughness to her that a lot of similar actresses couldn't fake, and I always figured it was because of all the drugs and wild years. But no, it was because she survived repeated lion attacks as a teenager.
As the family is being terrorized by the lions, we also cut between Marshall's goofy journey to the airport and home, and a subplot about two of the men who where attacked earlier attempting to kill off the animals. We're supposed to be against these guys, but no, they're right! Go save Melanie Griffith! Unfortunately things do not go well for these two heroes, and they're eaten by lions (as far as I can tell the actors weren't actually eaten, but I wouldn't swear to that).
Immediately after the two men get eaten we cut to the family now making nice with the lions as schmaltzy music plays. Imagine if Jurassic Park ended with Laura Dern snuggling up with a velociraptor. And that's it. There's a long montage set to a super condescending pop folk song and roll credits. But two men are dead! Nothing is resolved!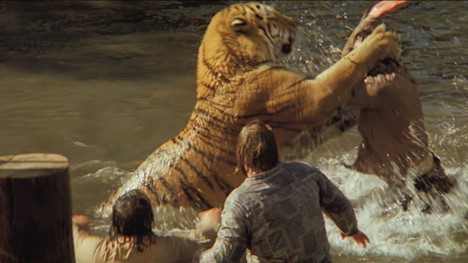 I notice no animal trainers or animal wranglers in the credits. There's a thing telling you to protest people who wear fur. My man, you let a lion maul your children for entertainment. Repeatedly, for years. You belong in prison. Everyone involved in this movie, in any capacity, belongs in prison, except for Melanie Griffith who was a child.
Some of the quotes floating around this movie – in interviews and the disc's commentary – are wild:
"After most of the issues resulting from the flood had been resolved, twelve wildfires in an Acton, California area broke out" 12!
"We didn't try to train them, we just tried to teach them not to bite."
"Noel comes running out of the set completely naked with blood pouring down his body from these two puncture wounds from a bite, screaming at this lion which is running in front of him just as this group of like ten Japanese businessmen are walking up. And here's their producer, director, star completely naked, blood all over his body"
"He's crazy!" [soberly] "He was crazy."
"It's very strange. Whenever I watch the movie, because I don't watch it very often, I usually get nightmares for two or three nights."
"Due to the large number of untrained animals on set, there were a reported 48 injuries within two years of the start of filming. It has been estimated that, of Roar's 140-person crew, at least 70 were injured during production. In a 2015 interview, John Marshall said that he believed the number of people injured was over 100."
"Most members of the crew were injured"
"This particular situation probably had no precedent"
"Where I come from, I'm an African, we don't come close to animals…"
"We thought it was controlled but, um [trails off]"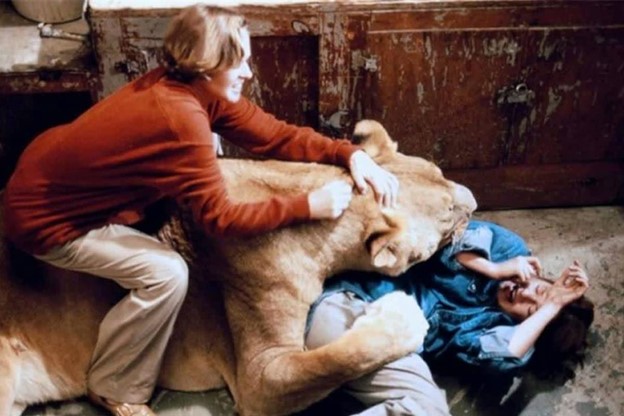 It's a great film, and they'll never make anything like it again, God willing. But this is also the most immoral thing I have ever seen. Real height of the Roman Empire shit.
Tippi Hedren is still living with the lions.