What do we tell stories about? For most of history, the answer has been, simply, "We tell stories about great men doing great things." From Gilgamesh, to Achilles, to Jesus Christ, to Childe Roland, to Hikaru Genji, to Prince Hamlet, the stories that have typified cultures from across the world have been the stories of men who could achieve that which has admirable beyond all things, fulfilling their destiny and forever transforming the world.
Storytelling in film has not been much different. In the "Golden Age" of Hollywood filmmaking, larger-than-life leading men like John Wayne or Gary Cooper, Douglas Fairbanks or Errol Flynn could do what no one sitting in the packed audience could do they. They could bloodlessly shoot pistols from bad guys' hands with a single bullet. They could swing from a medieval chandelier, sword in hand, grinning all the way. They were, for the most part, morally virtuous and exemplary of strong masculine ideals.
But, of course, that's just Hollywood, right? Shiny, shallow Hollywood. But even countercultural or intellectual approaches to film were characterized by a lot of the same thinking. After all, it is the auteur theory of Truffaut that celebrates above all else the accomplishments of a single director, one that ideally is gifted with the vision and genius that is most exalted in filmmaking. For film lovers, men like John Ford, Alfred Hitchcock, or Stanley Kubrick have become the Hercules, Odysseus, and Aeneas of international cinephilia. These directors are lone, solitary men of praiseworthy genius who face down the demons of boredom and indulgence to protect the nation of cinephiles, for now and forever.
But perhaps something can be gained from breaking away from the traditional narratives, not just in film, but of film as well. Looking at the filmography of an auteur that is not a director may reveal certain otherwise hidden patterns that are worth our attention. Most of person-centric film writing has focused on the director, to the demerit of other collaborators, and has thus been unintentionally blinded to the contributions and artistic statements of those creative personnel who don't get the most prominent credits. Turning away from the "great men" that we see directors are being, and focusing instead on those ever-important and ever-undervalued artists, the screenwriters, and viewing them through an auteurist lens can expand the notion of the artist in the cinema. Let's take on the works of Scott Alexander & Larry Karaszewski. "Who are they?" you may be asking. A pair of American screenwriters, Alexander and Karaszewski penned Ed Wood, The People vs. Larry Flynt, Man on the Moon, and Big Eyes, amongst others. An in-depth analysis of their work on the Problem Child movies will have to wait for the time being.
On the surface, the most obvious thing about these four films is that they all are biopics dealing with with pop culture figures of the 20th century. But while most biopics deal, as in the classical tradition, with "great men" — kings, presidents, generals, inventors, etc. — Alexander & Karaszewski deal with figures that are in some very obvious way flawed, or at least, culturally disrespected. The subjects of these films are Ed Wood, a notoriously unskilled Z-list Hollywood director who has been called the worst in film history; Larry Flynt, the self-made porno mogul who has been harshly criticized by both right-wing conservative Christians and left-wing feminist activists; Andy Kaufman, a genuinely brilliant, but abrasive and controversial comedian (whose art form is scarcely taken more seriously than porn by most); and Margaret Keane, the painter whose "big eyes" paintings were mass-produced and sold across the world in the '60s while the art establishment derided them as sentimental kitsch.
While the flaws or peculiarities of these subjects should be quite clear, the films in question are not negative critiques nor dark character studies, but are unanimously celebrations of the strengths of each personage. This is Alexander & Karaszewski's greatest quality: they are able to find what is commendable, or maybe just memorable, about someone that most stories would simply dismiss.
Ed Wood is 1994's Tim Burton movie about the "glory years" of the late director, played with charm and energy by Johnny Depp. Alexander & Karaszewski's Ed Wood is a dreamer and a doer, even when it would be most sensible for him to stop dreaming and to do something else. The continuity on Wood's films is terrible, the dialogue is redundant when it's not contradictory, and the actors range from wooden to hammy, but Ed is not concerned with these things. He says that filmmaking is not about the little details, but about the "big picture." And for Ed Wood, every one of his movies, not matter how low budget, are big pictures. Ed will proudly tell anyone willing to listen that he — like Orson Welles, he is keen to remind — wrote, directed, produced, and starred in Glen or Glenda, a no-budget, barely comprehensible mashup of an exploitative 1950s B-movie loaded with obvious stock footage, and a deeply personal story about a transvestite trying to connect to his girlfriend. When Glen or Glenda is barely released and makes no money, Ed is undaunted. When a potential producer tells Ed that it was the worst movie he ever saw, Ed — without missing a beat — tells him that his "next one will better." Investors withdraw their money, cast members die before filming, his girlfriend leaves him, the prop guy forgets to bring the motor to make a giant rubber octopus move — no matter what shit life throws at him, Ed Wood refuses to stop believing in his own dream. And no less than Orson Welles himself appears to tell Ed not to give up. After all, says Welles, "Why spend your life making someone else's dream?" The screenplay, in combination with Burton's direction and Depp's funny and heartfelt performance (the peak of their longstanding collaboration) go on to make Ed Wood a witty and ultimately sincere and moving tribute to the life and work of a man whose vision exceeded his means. By classical standards, Ed Wood accomplished nothing great, but in Alexander & Karaszewski's view, he saw greatness. And isn't that more than good enough? Isn't that more than many successful people can boast?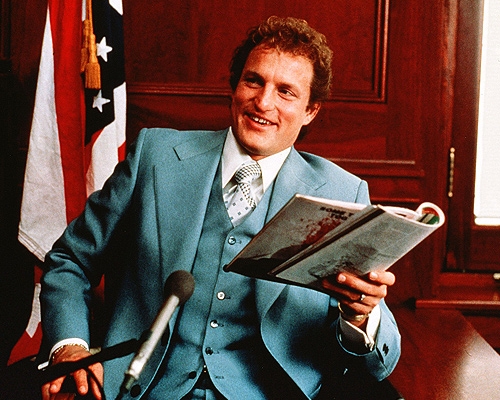 Few people in his profession have known success like that famous American hustler Larry Flynt, who made popular American porn more lewd, crude, and goddamn lucrative than it had ever been before. The story of his life, 1996's The People vs. Larry Flynt lacks the consistency of Ed Wood but is an admirable and clever statement from Alexander, Karaszewski, and director Milos Forman. The film lacks something of the necessary boldness to tell the story. The real Larry Flynt, as played in the film by Woody Harrelson, was infamous for putting "the pink" into American porno mags for the first time, and made his name by publishing paparazzi photos of a nude, sunbathing Jackie Onassis, and both of these are depicted in the film, but a studio-released, R-rated film was never going to to be able to show what Flynt had shown, even if that had been the writers' intention. This might have mattered less, however, if the film's message had been different.
The People vs. Larry Flynt, like Flynt himself, goes on to take a stand against censorship, and for the protection of the First Amendment, especially including unpopular speech. What starts off as an almost too rote biography of a rags-to-riches Kentucky country boy turned multimillionaire ends up becoming a stirring and even patriotic defense of that most American of liberties — the right to say what you want to say without the fear of censorship. By using Larry Flynt, an at-times very nasty figure accused of being a charlatan or misogynist, as their bulwark against puritanism, Alexander & Karaszewski do what they did for Ed Wood: they find what is admirable about the man, and pierce through the less-important issues (without, crucially, ignoring them) to highlight the more important truth at the heart of the story. Despite some miscalculated elements, The People vs. Larry Flynt is a work of art that is ultimately both tender and satirical, provocative and inspiring.
If Ed Wood and The People vs. Larry Flynt are the high points in Alexander & Karaszewski's career thus far, their next two films of this variety were disappointments despite fine elements. Man on the Moon, unlike the first two films, finds the writing duo unable to locate a strong through-line to connect the film together. There are some attempts to pay tribute of the comedy of Andy Kaufman — notorious for playing tricks on his audiences, pretending to be other performers, reading from The Great Gatsby in lieu of stand-up — but the film seems confused about what that exactly should entail. It begins with a scene of Jim Carrey, playing Andy Kaufman, himself in character as Kaufman's naive "Foreign Guy" persona, speaking directly to the screen and telling the viewer that the following film is full of lies and inaccuracies done for "dramatic purposes," as Carrey/Kaufman bitterly pronounces it. The film seems to be aware of its Hollywood nature (it ends by implying that Kaufman faked his death in the biggest prank of them all, giving its hero a happy ending different from the real Kaufman's cancer-stricken death at age 35) but doesn't do anything substantial to break away from it. In the end, Man on the Moon is a series of episodes without connective glue, a lark without a real point-of-view beyond telling the viewer that Andy Kaufman was a comedic genius.
What makes Big Eyes an important and revealing film in the context of Alexander & Karaszewski's previous work is how it ends up focusing on the wrong thing. If Ed Wood and The People vs. Larry Flynt benefit from going past the obvious flaws of its heroes and instead finding that about them which is "great," and Man on the Moon suffers because it can't find a focus on what is flawed and what is great about its subject, Big Eyes fails because although it knows which part of the story is worth focusing on, it still finds itself preoccupied with the "wrong" subject.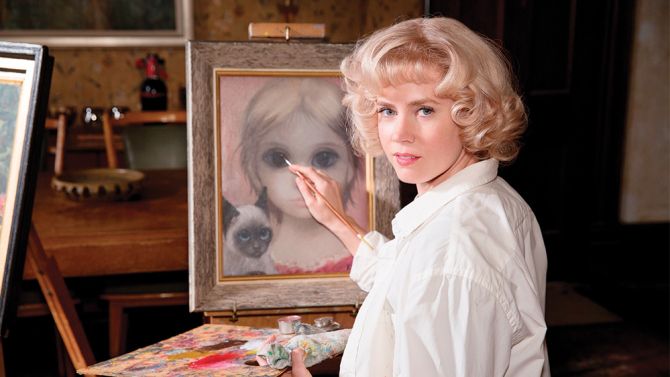 Big Eyes is, most broadly, the story of "Keane," the world famous (but not world renowned) artist who painted colorful pictures of children with enormous, all encompassing eyes. Keane sold painting across the world, and transformed kitsch art by mass producing copies of paintings, ensuring that millions of people across the planet could have authorized "Keanes" sitting in their living rooms. Unbeknownst the world for decades, who believed the paintings to be the work of Walter Keane, it was actually his wife, Margaret Keane, who created the paintings, and continued to do so for years while the credit went to Walter. Big Eyes is a visual feast about an artist mocked for her own visual aesthetic, and its problems primarily are attributable to its screenplay and not its visuals, which are top notch. The movie opens with Margaret (Amy Adams) ditching her husband and taking her daughter along with her to a new life in bohemian San Francisco, no small feat in the Eisenhower era. She is charmed by a local painter, Walter Keane (Christoph Waltz), who helps out with her daughter and eventually offers to marry her to solve her legal and financial troubles. What seems like a storybook romance soon becomes something far different when Walter begins taking credit for Margaret's popular paintings, and Margaret feels that she's obligated to go along with the ruse, even while "Keane" becomes a world famous artist.
Big Eyes wants to be the story of one woman's personal liberation in a time of oppression. For a while, it is that: the early parts of the film show just how hard it was for a single mother with no husband and little education to make her way in the world of Father Knows Best. Amy Adam's quiet, fully realized performance, and moments like an early shot where director Tim Burton and cinematographer Bruno Delbonnel show a newly single Margaret getting her first painting job — decorating cribs from inside of them, illustrating how women of the period were both trapped and infantilized by the culture at large. Unfortunately, there soon arise a problem that grows increasingly large throughout the film: Walter Keane. As played by Christoph Waltz, Keane first appears as a witty and urbane, with Waltz using that Continental Christoph Waltz charm that easily seduces audiences. But as fame goes to Walter's head, he gradually becomes more and more insufferable; a drunken, violent egomaniac who publicly doubts Margaret's sanity while threatening to have her killed in private. And Waltz's performance becomes broader and broader, until he seems to be already auditioning for his role as a James Bond villain. And while it is fun, on some level, to watch Waltz chew the scenery, it in fact distracts from what the story is really about.
Throughout the film, it is clear that what Margaret just wants is some level — any level — of recognition for her work, just the slightest amount of credit for it, really. She slaves away, morning and night, in a fume-saturated attic, making the paintings that bring Walter fame, popularity, and wealth (though not critical adulation). But she is too quiet, too shy, and too modest to confront anyone with the truth until the end of the film. The secret is even hidden from Margaret's daughter for the bulk of the movie. At one critical point, Alexander & Karaszewski have Margaret turn to her pet dog and tell it that it is the only soul in the world that she can confide in. In other words, the story of Big Eyes is the untold story of Margaret Keane, a woman who slowly learns that although she may be humble and quiet, that doesn't mean she should not take charge of her legacy.
But in the film's biggest misstep, Alexander & Karaszewski hand over the climax of the film to Walter Keane. In a scene drawn from real events, Walter clownishly acts as his own attorney in a slander trial, cross-examining himself and being a general jackass in a court of law. When the judge gets tired of Walter's grandstanding, he decides that both Margaret and Walter must have a "paint-off" in front of the jury, to see which of them actually was capable of creating the Keane portraits. While Margaret quietly attends to her painting, Walter foolishly flails about and plays with the supplies, sweaty and aware that he has no real artistic talent. The trial ends when Walter unconvincingly and melodramatically fakes a shoulder injury and claims he can't paint, and the judge rules in favor of Margaret. In a way, the scene is quite funny. But it's entirely wrong for the movie. This climax should be Margaret's moment of triumph; she need not be loud and ostentatious, but the focus should be on her and her accomplishment. Instead, Alexander & Karaszewski, so good in other films about stripping away distracting qualities in favor of the essential truth, have become too enraptured in Walter Keane's grandiosity and showman qualities to remember that the story they are actually telling is Margaret's.
The purpose of this article is not to pick on Big Eyes, a swiftly forgotten, but pleasant enough and visually beautiful little film. The purpose is instead to shine a light on how difficult it can be, even for talented and original writers, to break away from the old cultural ideas about what, and who, a story is about. The theatricality of Walter Keane's self-appointed bluster about his own "greatness" falls more in line with Ed Wood's self-confidence, Larry Flynt's speechifying, and Andy Kaufman's confrontational pranks than it does with Margaret's shy humility; not to mention the very obvious point of gender. For whatever reasons, in whatever measure, Alexander & Karaszewski, although they have made their reputation as chroniclers of the unconventional lives of real life anti-heroes, still can find themselves stymied by our ongoing fascination with "great men."