Lifetime likes its titles openly commercial, a series of tropes stacked on top of each other.  Are you the person who wants to watch Deadly Honeymoon, A Deadly Affair, or Deadly Matrimony?  Are you drawn to the bizarre, quasi-slasher setups, like Deadly Spa or Killer Coach (tagline: "Who will get cut from the team?")?  Or are you going to watch any of the "she's too young for this" titles, like Murdered at 17 or 16 and Missing?  It's not unlike the way porn titles are constructed, and in From Straight A's to XXX, kismet finally unites the two.
And yet From Straight A's to XXX is most interesting when it doesn't conform to the outline the title sets up.  It's based–loosely and with plenty of pushback–on the true story of Miriam Weeks, and whatever its level of accuracy, it does successfully evoke the feel of a biopic.  And, fascinatingly, a biopic made by someone very ambivalent about the film's subject.  As portrayed by Haley Pullos, Miriam is, more than anything else, a teenager: horny, impulsive, shortsighted, vulnerable, self-centered, and totally convinced she's more politically and socially conscious than you.  The film's advertising–and the real-life media surrounding the case–trades on the idea that Miriam's story is uniquely interesting, that her choice to do porn deserves national attention because she's a "good girl," where "good" mostly means "upper middle-class."  But as it unfolds, the story paints a different and more complex picture.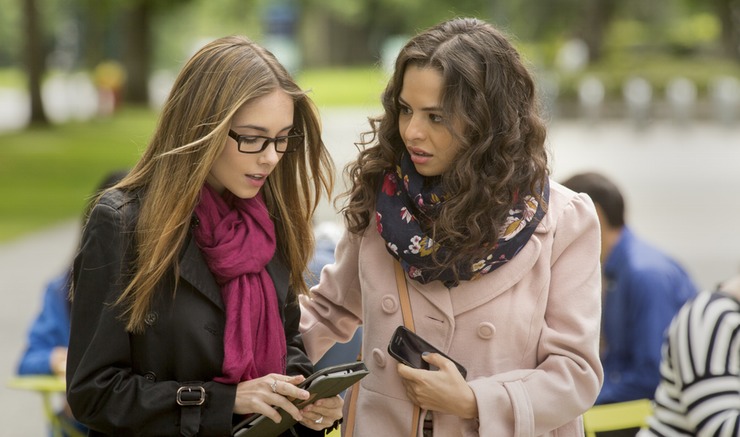 The movie opens with a collage of soft-core porn images.  Lifetime is making a TV-14 movie about the porn industry, so we'll be seeing a lot of French maid uniforms, skimpy bikinis, and angles that are designed to cover up body parts in a way that I can't imagine any porn viewer would actually put up with.  I find this bizarrely charming, but presumably it's supposed to be a tantalizingly ominous portent of Things (and People) to Come.  After it, we dive straight into that sexiest of all settings, a high school debate club meet, where Miriam Weeks is delivering an argument and failing to be innocent.  This isn't, remarkably enough, a movie about corruption; the real-life Weeks claimed to have watched and liked porn well before she'd starred in it and that gels with what we see on screen.  Miriam's sexuality is teenage and tame–she cheerfully fantasizes about what a guy in the audience looks like naked–but it's there.
The debate club appearance is actually the more thematically significant piece of this scene.  Throughout the film, Miriam will display a distinct ability to come up with fluid talking points; it doesn't necessarily matter what's true, what matters is how well she can defend her position, and whether or not she can do it photogenically and in front of an audience.  She can–in fact, as her friend points out, she can't stop: "You're really good at crafting arguments… but you're not on a talk show right now, you're talking to me.  And I feel like you're trying to sell me on something."
Miriam goes on from debate club to Duke, which her family can't quite afford.  (She rejected a full ride to Vanderbilt, which makes her later distaste for taking out student loans a bit of an eye-roll.  There would have been a way to avoid that, Miriam.)  They promise to make things work–but it's a promise that melodramatically falls apart on, of course, Move In Day, where her doctor father, in a Room-level non sequitur, gets an unexpected phone call ordering him back to Afghanistan.  Her parents tell her not to worry about it, so Miriam tries to concentrate on settling in and making friends with her delightfully Southern party girl roommate, Jolie (Sasha Clements), but in a couple of weeks, she's getting another phone call stating that they can't pay her tuition so she might need to worry about it after all.
The film makes the occasional nod to socioeconomic issues–Miriam's family falls into the category of "too much money to get need-based financial aid, too little money to pay for expensive schools," minimum-wage jobs are ridiculously low-paying and often unpleasant, student loan debt follows people around their whole lives–but also to a frustration with Miriam's desire to make those issues into her own personal talking points.  Her friend urges her in an all-caps text to just take out the loans, already.  There's genuine political engagement with the inequalities of American capitalism, and then there's not wanting to be a waitress, and both things are entirely legitimate, but Miriam's desire to present the latter as the former doesn't really fly.  It's notable that her other jokey solution to her problems, besides becoming a porn star, is starting a Ponzi scheme.  She's in this for herself.
So Miriam becomes Belle Knox, and the film really kicks off and gets out of the dull social negotiations of early college days.
Miriam is our protagonist, the one whose actions shape everything, but the heroes are actually in the supporting cast: the aforementioned Jolie, who is sweet and supportive at some cost to herself, and porn agent Don Engle (Judd Nelson), who is anti-bullshit and pro-professionalism.  After she's outed as doing porn, Miriam tries to paint "Porn Land" as a kind of candy-colored fantasyland; even before her arc of disillusionment begins, Don is there to counterbalance that.  "Belle" hires him after a disastrous, exploitative first appearance in a hardcore video for a site called Facial Assault.  An older actress later tells Belle that she needs to keep a thick line between the fantasy and the reality, and Facial Assault disregards that rule entirely.  They're not selling fantasy, they're selling the realistic assault of a woman on-screen, complete with having her give her real major.  She's not allowed to play a character, she's thrown into the scene as herself and then brutalized, her preferences disregarded entirely.
Don is a peculiar antithesis to that, as if to posit that the opposite of abuse isn't heroism but professionalism:
Facial Assault are unprofessional clowns that prey on women new to the business… No, I'm not being nice, Belle, I'm being professional… If you want to work and keep working, you show up on time, you do what you're told, you're pleasant to work with, and you thank everyone when you're done… Your job is to have fun.  Or at least look like you're having fun.
Porn is about fantasy only to the audience, and only Miriam ever pretends otherwise.  Everyone else, as Don would say, shows up to work, and From Straight A's to XXX strongest point is capturing porn as a believable industry.  It has its missing stairs, like Facial Assault, and it has its harassers and time-wasters; it has coworker friendships that fizzle out, competent workers, watercooler conversations, longstanding employees who resent newcomers suddenly becoming the public face of the business ("Nobody asked you to go on every show and blog and speak for us… you've been in this industry for like five minutes"), and the awkward commercialization of human politeness.  Nothing exemplifies the coexistence of the fantasy and the reality better than when Belle baby-voices her way through an adult film convention–"I go to Bad Girl University!"–and then agrees to take a picture with a fan, adding sotto voce, "That's twenty dollars."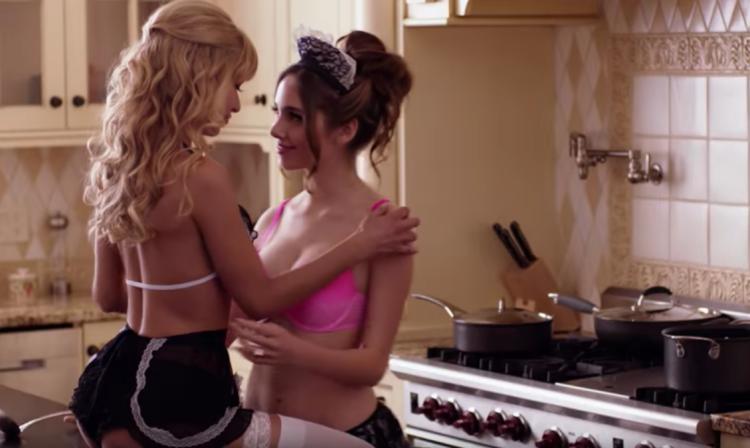 The movie is interested in that contradiction, and in contradictions generally.  Miriam complains that an interview is unflattering because it makes her seem like she contradicts herself, but a baffled, reaching-the-end-of-her-rope Jolie says it just makes her look human.  Life is messy, Straight A's implies, but stories are forced into neatness.  And maybe the problem with Miriam isn't that she's doing porn, it's that she's too good at turning her story into a talking point, too good at erasing whatever isn't convenient for her.  When she suspects an angle emphasizing women's judgment of her will play better in an interview, she leaves out the invitations to gangbangs, frat boys throwing garbage at her, and male students trying to break into her room, and insists that she has it worse from girls: "I feel like a lot of women feel insecure having a porn star on campus, and they're probably just mad because their boyfriends are watching my stuff."  Jolie and a student form the Women's Center, who have been nothing but supportive of Miriam, watch in disbelief, but then Jolie, of course, cues into the problem: "I guess [our friendship] just doesn't work for the story."
What the movie captures is Miriam's story in transition, the course of it going from "here's why I became a porn star" to "here's how I became who I am," and it finds something genuinely unsettling there.  Eventually, her official narrative is about breaking out of the confines of a conservative Catholic background to discover her sexuality and empowerment, and she seems to feel little for how that public story might affect her family.
(The religious background of Death of a Cheerleader worked for me because it felt like background–organic to the characters and substantially informing their choices.  In From Straight A's to XXX, it's irritatingly cosmetic, and the movie's clumsiest element.  Once Miriam starts doing porn, it's physically impossible for any member of her family to pick up the phone without standing in front of a church or a cross while dropping in perky anecdotes about helping with the church's food drive.  Yes, movie, we get it.  We see the distinction between what she's doing and what they're doing.  If there's anything illuminating here at all, it's the way when push comes to shove, her family's religious principles are less religious and more social.  Their engagement with God is superficial and concerned with what other people will think; the wages of sin are disapproval.)
Miriam's ending isn't one of tragedy or debauchery, just one of a different kind of fantasy, one where her image will be more carefully controlled.  As she makes a speech to a small crowd of Duke students with supportive feminist signs, she says:
I grew up in a very conservative family, and while I remain conservative economically, I feel much more socially liberal and in line with libertarian ideals and themes such as free speech, choice, and autonomy when it comes to what you do with your own body.
In short, she feels much more in favor of progressive ideals whenever they might benefit her personally, especially when it comes to protecting her from judgment.  She has no real interest in reforming the social structures that made pornography one of her few valid options for paying for school; she wants to make sure people like her are fine, not people who aren't her or even people who might become her.  (There's also no attempt to show her reaching out to current adult film actresses–this is an entirely personal endeavor dressed up in political clothes.)  Her cause matters, but it deserves a better, more invested advocate.
And of course, she has a clear path in front of her:
"What's next?" a student journalist asks her at the end of the film.
Miriam smiles.  "Politics."
Actually a Lifetime movie?: It is!
Recommended?: With moderate enthusiasm.  The way it goes for knotty over naughty in its conflicted portrayal of its subject is interesting, as is the behind-the-scenes industry stuff and the deft portrayal of a female antihero whose faults are unusual and, despite the premise, not obviously linked to her sexuality.  Plus, you get Miriam telling her family about her porn performances via text message, someone coming tantalizingly close to saying "your father is STANDING IN THE MIDDLE OF AFGHANISTAN," and at least one bit of actually intentional, actually pretty solid humor.