For the end of man is to know, but there is one thing he cannot know.  He cannot know if the knowledge will save him or kill him.  (Robert Penn Warren, All the King's Men)
True Detective has played this season as Wayne's memory, most obviously in its associative editing moving through three time frames (a fourth launches this episode), but more effectively in its pacing.  Like Wayne, it has good days and bad days, hours where it seems stuck, unable to find or remember anything new, and then hours like this, where almost too much happens, where the memory is so vivid and demands such an accounting that we realize why Wayne didn't want to remember it until now, if at all.
Almost the most notable thing about "The Final Country" is that from the perspective of plot, nearly all the mystery has been resolved:  it looks like Watts (the one-eyed black man from last week) and Edward Hoyt's daughter were the mixed-race couple, buying children and keeping them in the Hoyt estate basement.  (Why yes, I totally cheered when the producer mentioned a similar 2012 case in Louisiana, complete with a shot of Rust and Marty.)  In 1980, Lucy Purcell sold Julie, possibly with the assistance of her cousin Dan O'Brien, and Harris James covering up the evidence.  In 1990, James most likely killed O'Brien, then Tom Purcell (staging it as a suicide), and then got killed during, let's call it Wayne and Roland's interrogation of him when he tried to get Wayne's gun.  They may still be the wrong answers, but if you want answers, they're all here.
Pizzolatto has learned well William Goldman's rule "screenwriting is structure," because simply by placing all this in the penultimate episode (and giving this one such a killer closing moment), he's made it clear that this isn't the hole in Wayne's psyche.  When Amelia says in the last minutes "you have to tell me everything," it's an Inception moment:  Amelia most likely did say that but more importantly, it's Wayne's mind demanding he account to himself what he did, what he didn't do, and what he decided to forget.
"The Final Country" is as much about avoidance as accountability.  Stu Willis again got to the marrow of the matter by saying this season is about "the relationship between justice and narrative,"; this hour went past that into a broad presentation of the ways people avoid the truth, Zodiac in reverse:  drinking, not answering the questions, guilt, words, narrative, even professionalism all get used by the characters as ways of not asking questions, of turning away, of deciding to stop looking.  These are genuinely dramatic questions:  the search for truth isn't presented as some kind of transcendent and necessary good.  It's one kind of good, and there are others, and much of this season is about the conflict between them.
To take just one example from the above list:  Amelia sez in 1980 about beginning to write about the case "I think I have a voice," she makes it about herself, not the truth–which is pretty much what all writers, Nic Pizzolatto included, do.  I've always felt True Detective has been Pizzolatto's self-exploration, never more so in "The Final Country," a writer recognizing that there's always a lie in writing, always some kind of folly there, and still needing to do it, just like Wayne needs to investigate, or Hoyt's daughter needs a child.  "It ain't here to make you right," Roland tells Wayne in 1990, but that doesn't make what we do any less necessary.
By now, it seems redundant to write about the high level of acting here, but it still can astonish.  Overall, the 2015 performances of Dorff and Ali are the most impressive.  The makeup department made a smart and goddamn rare decision to do minimal work on their faces (it's a nice touch that Dorff's 1990 scowl has gotten etched more or less permanently in 2015, though) and let the actors carry the burden of age, which they do.  It's not just the slowness of the movements but the deliberation, the way that even standing up becomes something that has to be considered, almost planned.  Ali can now convey instantly how present Wayne is, and that ties directly into the action:  when he asks Roland to write down Watts' name "because I'll forget it," we feel how true that is.  This isn't an intellectual exercise about memory and time, but something that's onscreen at almost every moment.  (It's equally moving to see Wayne take a drink with Roland in 1990; it's a bond between them, but it also may be the beginning of Wayne's decline.)  Most Valuable Supporting Player of the week goes to Scott Shepherd as Harris James; where he had an almost Agent Smith (Matrix version) otherworldliness last week, this week he's positively reptilian, slithering in voice and body, something that becomes nearly literal when Wayne makes the mistake of uncuffing him.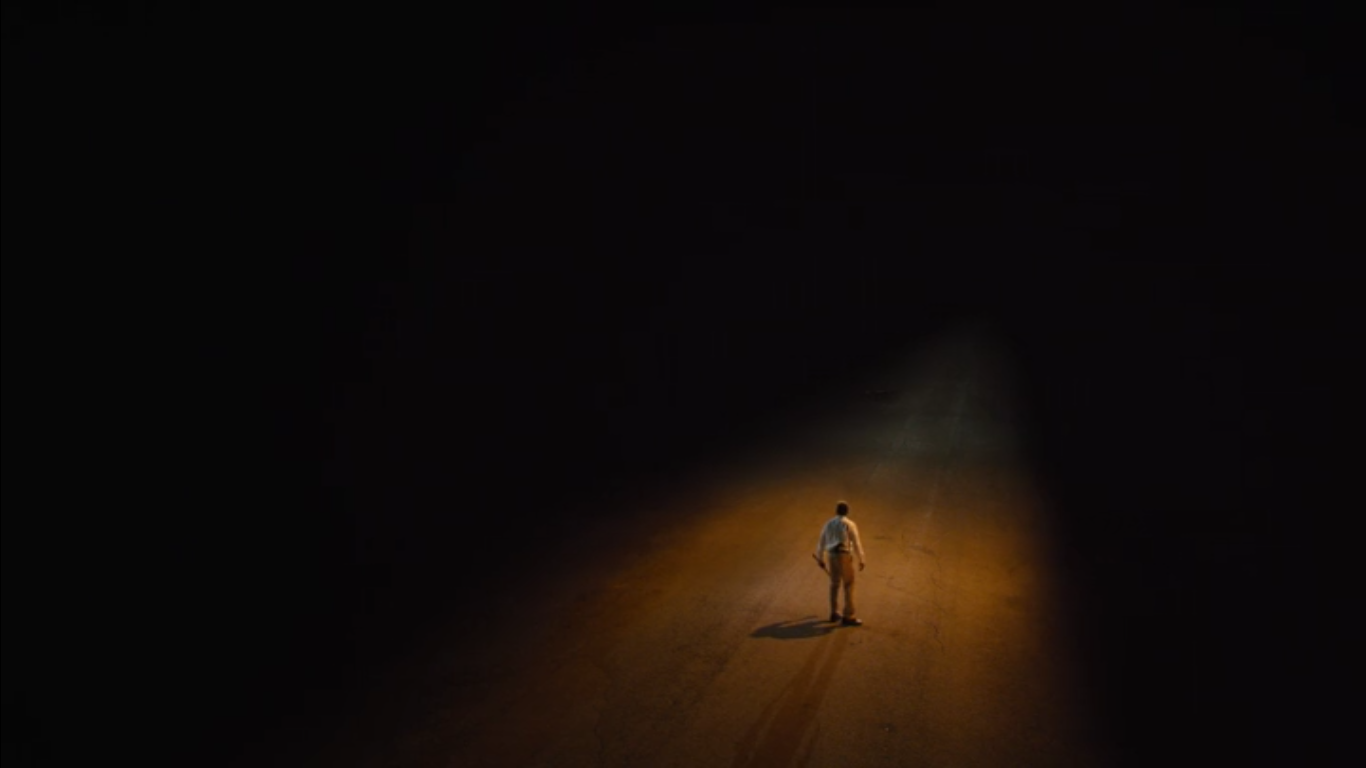 Daniel Sackheim's direction, unfortunately, remains largely pedestrian and unable to match the level of acting, although he pulls off one spectacularly Expressionistic shot as 2015 disappears into the backyard of 1990 Wayne and haunts him for the briefest moment.  (Realism becomes less important to Pizzolatto with every season, and I hope this trend continues.)  T Bone Burnett's score continues in its omnipresence and pulsing electronics; he reverse the attack-decay envelope of the sound at a late, crucial moment, an effective trick that Dave Porter used a lot in Breaking Bad too.  It does what a score should do:  not do the work of the acting or the story or the direction, but come up to their level.
"The Final Country" opens with a time we haven't seen before:  Wayne's daughter going off to college, no Amelia, and the beginnings of the end for Wayne.  (More than the touch of gray in his hair, it's the weariness already in Ali's performance that nails it.)  It's a dislocation, reminding us that Wayne lived with whatever happened in 1990 for 15 years before we formally start the story.  The hour ends with the last moment just before it happens.  After Roland and Wayne kill James (that Wayne didn't fire the shot clearly doesn't make a difference to Wayne, nor does it make a difference to him that Roland only thought and didn't say The Word), Amelia says the most dreaded words in marriage: "we have to talk."
So much of the talk between Wayne and Amelia is about the case; it brought them together and now it threatens to end them.  The talk comes down to Amelia's "with you, I need to know everything" (spoken like a writer) and Wayne's "I'd be a sonofabitch if I did that to you."  (I don't know why, but whoever chose the coffee mugs for this scene got the color exactly right.)  Again, it's the choice between truth and not-truth, and it's not, as David Mamet always sez, the choice between right and wrong, but between two wrongs.  The scene gets dislocated by the arrival of the voice of Edward Hoyt himself (Michael Rooker, exactly who should call if you want to scare the shit out of us with just a voice) and two long black limousines.  (Anyone who knows the Elvis song "Long Black Limousine" will get the meaning.)  Wayne gets taken away in them with a promise to Amelia to tell her everything, if he'll trust him just one last time.  Something we've seen in the first two seasons of True Detective is that the characters tell the story to the world, but that was never the focus of the action; it was always an afterthought, barely an epilogue.  This is the reverse–the drama of the season, and of Wayne's life, comes down to this choice:  what will he learn, and will he–can he–tell the truth about it?