Girls and Women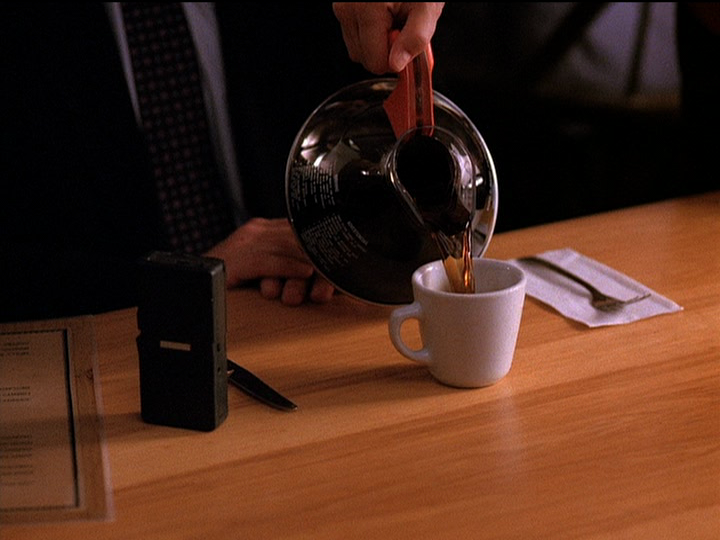 Over a slow pan across the odd down-home country decorations of Dale Cooper's hotel room (room 315) in The Great Northern, the first lines of this episode are dictated to Diane. It'd be too simplistic to call Diane just a mere tape recorder. Though she has no lines, Diane is Cooper's companion and confidante. She is at once Cooper's diary and his therapist. When Cooper is seated for breakfast, he puts the tape recorder on the table next to the pot of coffee; Diane is sitting out in the open like a long-time friend.
Diane might be Cooper's most intimate connection to Laura Palmer. Having arrived in Twin Peaks only yesterday, Dale Cooper is an outsider with nobody to truly talk to. Eventually, as he acclimates to the town's rhythms, Cooper forms bonds with the various denizens who populate the sleepy logging town. But, in the beginning, the only connection he can truly trust is Diane. Laura Palmer also keeps diaries and makes tape recordings. Despite knowing everybody in town, Laura is all alone and truly trusts no one with her whole self. Her diary and tape recordings are her way of maintaining her sanity, even if few people are allowed to read them. Day 2 begins with Dale Cooper recording his notes on a tape recorder, and this episode ends with Dr. Jacobi listening to Laura's last tape recording. Dale and Diane cheerfully get their first cup of coffee together in the morning, while Dr. Jacobi sobs with Laura in his ears as he holds up the half-heart necklace that he stole at the end of episode 1.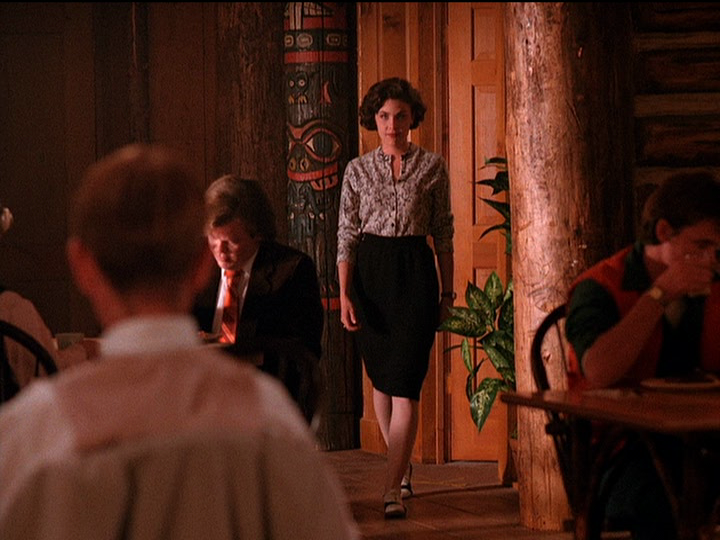 At breakfast, Diane is all but replaced by Audrey Horne, Twin Peaks' most immediate reflection of Laura. Audrey is the spoiled "rebellious" daughter of Ben Horne, owner of The Great Northern, Horne's Department Store, and One Eyed Jacks. As she walks into The Great Northern's cafe, she's already pretending to be a high school seductress; her mere appearance sends Dale into a tizzy of lust emphasizing "freshly squeezed" to the waitress taking his order. But, she's still a high schooler. Biting her lip, her attempts at seduction include sleazy dime store pulp questions like "Do your palms ever itch?" Where Laura wore her innocence on her sleeve and tried to hide her rebellious behaviors, Audrey is an open "rebel" who embraces her naughty nature even if it manifests itself in childish and innocent ways. Yesterday, she spills coffee all over the concierge's desk and uses Laura's death as a way to be naughty and shock the Norwegians. Today, she's seducing Dale Cooper and swaying to the sleazy pop jazz of Angelo Badalamenti.
Audrey and Laura are two daughters deeply affected by the behavior of their fathers. Ben Horne all but abandoned his family years ago in his pursuit of money and sex, cliche symbols of his success and manliness. He abandons his wife so he can fuck Catherine Martell in the course of their business crimes. He abandons his daughter so he can fuck the prostitutes of One Eyed Jacks. Strike that. Twin Peaks sets Ben up as one of Laura's pedophilic groomers, emotionally abandoning Audrey at a young age so he can dote over Laura, whom he can fuck without incestuous guilt. In The Secret Diary of Laura Palmer, Ben buys Laura a pony for her 12th birthday; something denied to Audrey. He allows Laura to sit on his lap, and otherwise prepares her for her eventual job at One Eyed Jacks, where he fucks her as one of his prostitutes. But, his denial of affection toward Audrey forced her to compete with Laura for Ben's love and attention without knowing the true nature of his perversions.
Donna Hayward is the opposite of Audrey and Laura. Her father, Doc Hayward, is a good and honest man who takes care of the town. At the end of Day 1, after Donna sneaked out of the house to meet with James and was arrested by the police, Doc Hayward immediately understands his daughters' erratic behavior in light of the day's emotional trauma. Rather than punishing her for breaking rules, he simply sighs understandingly and helps her make the day right. In Fire Walk With Me, Donna was a virginal goody-two-shoes who had no little clue of Laura's dark side. The Donna of Fire Walk With Me lived in a bubble until she followed Laura on her drug-and-alcohol-fueled night of prostitution. Twin Peaks' Donna has to grow up fast so she can resolve the complicated nature of Laura Palmer.
Neither Doc nor Donna's mother know of Donna's loss of innocence. She still sleeps in oversized pajama-like clothing, and they allow her to sleep in rather than waking her up to be interrogated by the police. But, Laura's shattered surface bursts Donna's protective bubble. Donna cheats on her jerk boyfriend, Mike, by falling in love with James, her best friend's boyfriend (she even invites him over to family dinner). She knew that Laura was in trouble – The Diary of Laura Palmer discusses their estrangement as Laura sinks deeper into her escapist pit of excess, and Fire Walk With Me had Laura drugging her in a Canadian nightclub – but she senses that Laura's death somehow freed Laura from the traumas of the physical world. In turn, Laura's death freed Donna to escape from under the claustrophobic wing of Laura's protection, a ripple effect of Laura's abuse. She experiences this conflict as both a beautiful dream and the worst nightmare, and it frightens her.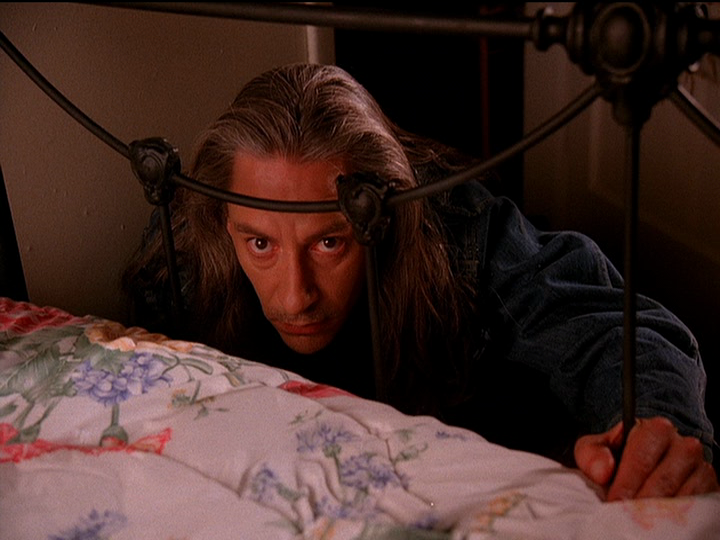 Sarah Palmer, however, is living her worst nightmare. Period. Her world has shattered and she is broken. She doesn't know how things went so wrong, or where they went wrong, but now she has to deal with the evil in the house. When Donna comes over to comfort her, Sarah is staring off into the distance. In her grief, she even sees Laura's face in Donna, sending her into a frantic outburst of frightening delusion. But, she's waking up. Sarah finally sees BOB, the embodiment of cycles of evil, for the first time crouching behind the furniture in the living room…watching, waiting, ready to pounce. It only took the loss of her daughter to get there…
Shelley Johnson already knows the evil that exists in Twin Peaks. She's married to it. Leo Johnson is an animal, the embodiment of unrestrained toxic masculinity. He's a drug dealer, a wife abuser, a sex freak, and possibly a murderer. While doing laundry, she finds one of Leo's shirts soaked with blood and hides it, for which she gets a beating with a bar of soap in a towel; incidentally, Leo swinging the bar of soap looks like the ceiling fan at the Palmer's house just outside Laura's bedroom. Even as Shelley is finding solace in the romantic arms of Bobby Briggs (himself, a victim of Laura's emotional collateral damage), she still needs to figure out how to escape the horror of her own home life. At least Shelley knows the count.
As we get further out, the ripples of Laura Palmer's death begin intersecting with other sources of evil (namely, greed) from the subplots. Josie Packard presents the biggest mystery of Twin Peaks, and is probably the most mistreated character in the back half of season 2. She's the first character to appear in the show, and her plot has early hints that she's a major source of moral disruption in Twin Peaks, WA. A year and a half before Laura was killed, Josie's husband, Andrew Martell, was killed in a mysterious boating accident; Josie was never found guilty in the act. Catherine Martell, knows the score but doesn't have the proof she needs to seek her revenge…yet. Instead, Catherine hatches a plan with Ben Horne to burn down the town's primary source of livelihood, the Packard Sawmill. When Josie and Catherine intersect, all life stops cold and, suddenly, a fish appears in the percolator. It's too bad that Josie and Sheriff Truman are intertwined.
Speaking of romance, Nadine and Norma have a chance meeting in the hardware store. Both women know the score on Big Ed's romantic affections, they just don't like to air them. Nadine wants to hide her dirty laundry with her drapes…but, even closing the drapes causes too much noise and draws attention to the problems in her life. As she was waiting for Big Ed to return home from the Intensive Care Unit after the big brawl at the Roadhouse knocked him unconscious, she engineered a way to keep her drapes quiet. She wants things to run smoothly and silently, so they won't draw attention to themselves. Nobody wants that.
---
Laura Palmer: The Abstraction and The Supernatural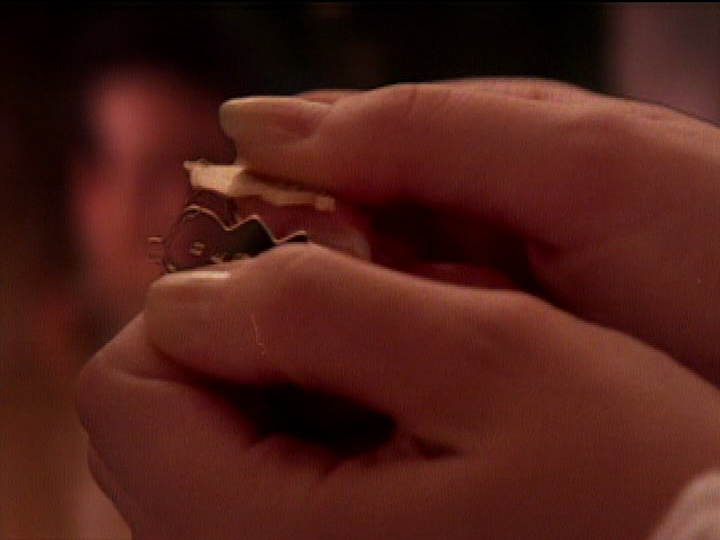 In recent years, people have criticized Twin Peaks for turning Laura into a postmodern abstraction throughout the course of the series. Though we have occasional flashbacks and the video and the tape recording, Laura is constructed in absentia. We don't learn about Laura through her own actions, we learn about her through the negative spaces she leaves behind. Though Laura was brutally raped and murdered, Doc Hayward's reading of the autopsy report doesn't have the same impact as that phase implies. Doc is practically in tears while reading it because he delivered her as a child and she was his daughter's best friend, but the audience doesn't have that experience. We learn of her through the trauma in the autopsy report and through the emotion in Will Hayward's voice as he says she was bound and had sexual relations with at least three men that night. But, these sidelong discoveries cover over the horror of that night's events.
Even though Laura is present in nearly every conversation – from Cooper meeting The Log Lady for the first time (he's not ready for that jelly yet) to Hawk's interview with the Pulaskis (incidentally, the Pulaskis' mournful embrace reflects the preceding scene where Leland embraces Sarah after she saw BOB) – Twin Peaks is more about the town itself. Laura never fully develops into a walking talking character until Fire Walk With Me. Does this approach interrogate or reinforce the very actions it seems to be exposing? Is Twin Peaks covering up the trauma of Laura's abuse in the same way that everybody in town ignored her outward cries for help? This episode has numerous examples of people trying to hide things that would normally show – Leo's towel wrapped around the bar of soap, the drapes hiding the living room, Sheriff Truman trying to hide his affair with Josie, James ditching his iconic biker gear for a terrible sweater to the Haywards' dinner, James telling lies to cover for his alcoholic sex-addicted mother, The Bookhouse Boys as a cover for extralegal activities by the police department – to such an extent that the show deeply ponders the gulf between the public and the private, the city and the woods, the tangible and the supernatural.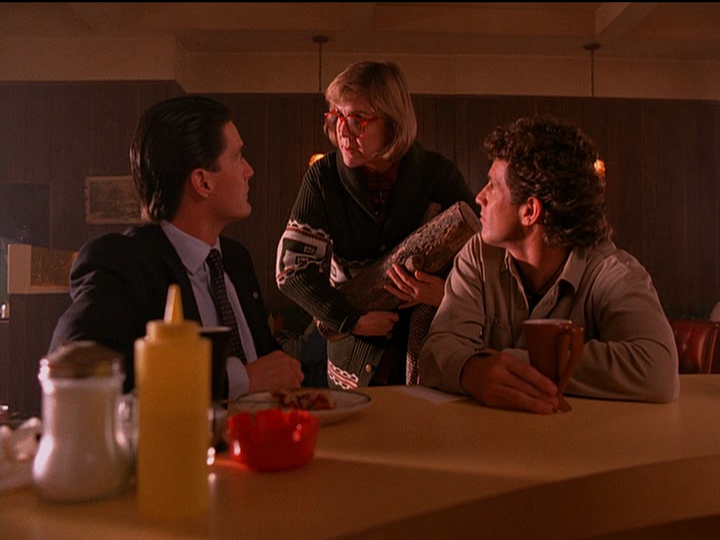 Laura Palmer's last lines of the episode hint that the woods have a power unto themselves. On the cassette she records for Dr. Jacobi, she says, "I'm in kind of a weird mood. I just know I'm gonna get lost in the woods tonight. I just know it." The woods frequently provided cover for all things wrong with the world. In The Secret Diary of Laura Palmer, Laura writes that BOB frequently takes her into the woods to rape her. On her 16th birthday, she conducted a ritual under BOB's favorite tree to excise the power BOB had over her. It's not just the woods that have power; there is a stream of spirituality that runs through the town for those who are able to see it. This episode starts introducing Twin Peaks' supernatural elements – BOB and Mike The One-Armed Man make their first appearances, and The Log Lady makes her first claim that her log is a living conduit to the spiritual world – which promises something wicked this way comes.
Though the episode ends, the night isn't over.
---
Stray Notes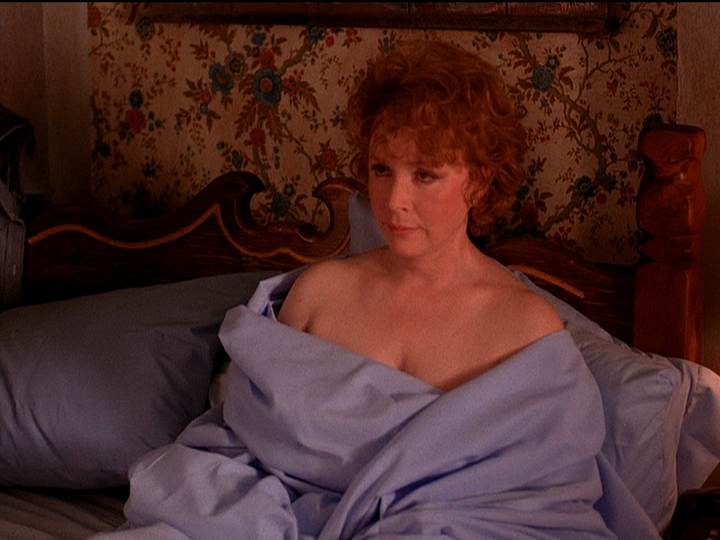 The post-credits view of Snoqualmie Falls shows just how dominant the forest is in Twin Peaks, WA, and how deep the pits can get. Off camera, there is a long and winding path from the top of the cliff all the way to the pool at the foot of the falls. They have a platform from which you can watch the falls and a protective barrier with a sign that forbids crossing. Going past the point of no return is at your own risk. The water from the mountains is always freezing in the most breathtaking of way.
The decorations of Room 315 are the best kind of kitsch: a gun rack that uses pig trotters to hold a long rifle, a stuffed bird next to a ceramic…something, a painting of a generic pond with wood carvings of birds mounted on top, and a plastic fish.
Cycles happen in the oddest places. Sheriff Truman asks Big Ed about his injuries, "How's that coconut?" Later, Dr. Jacobi keeps all of Laura Palmer's detritus in a hinged coconut, including the stolen necklace.
Piper Laurie's performance as Catherine Martell is a masterful piece of acting. It's strong, forceful, and periodically borders on camp with how deliciously evil she is.