Boys and Men
…And on the third day, David Lynch created the Black Lodge. But, before we get there, we still have to get through Day 2.
If Episode 1 belonged to the women, Episode 2 belongs to the men. Earlier in the evening, The Hornes are sitting down to a quiet family dinner in the middle of The Great Northern. A very quiet dinner. Nobody is even looking at each other. Audrey is still shamed from Ben's tongue lashing, neither Ben nor Sylvia want to be there, and Johnny is rocking himself. The only sounds are the clanking of silverware against the china. BAM, with a slam of the door, Uncle Jerry barrels into the show with five bellhops carrying his luggage filled with the best damn Parisian Brie and Butter Baguette sandwiches you'll ever have. His appearance steals Ben from his dinner and propels the pair to One Eyed Jacks for the first time this series.
Ben and Jerry fit into the yin and yang mold. Ben is tall (6'2″) and sophisticated, Jerry is short (5'6″) and impetuous. Ben wears a black and white suit with a severe and hideous red and black spotted necktie, Jerry has thick framed glasses, suspenders and a clown-colored polka dot bow tie with a little crystal pendant. When they get to One Eyed Jacks to try out the new girl (freshly scented from the perfume counter), Ben seduces the madam by quoting Shakespearean sonnets which Jerry interrupts by bluntly asking "Where's the new girl?" Ben has the feeling of old money surfaces hiding deep disturbing secrets, Jerry is new money who revels in sin and debauchery.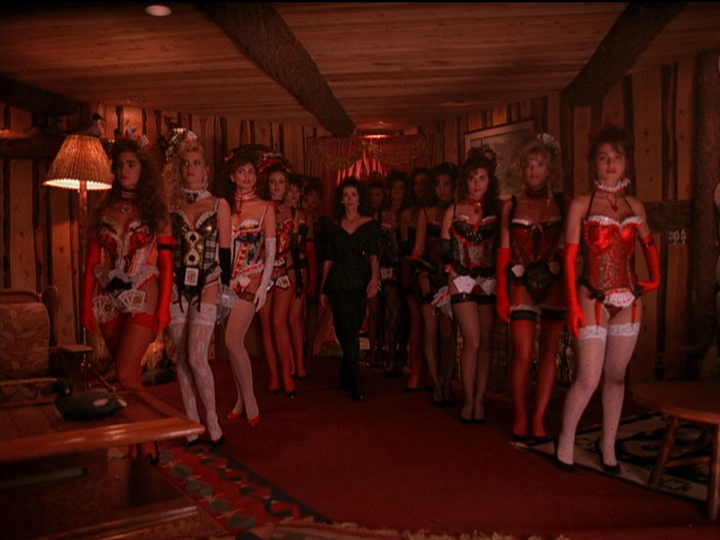 Ben was introduced as owning half the town. Besides owning The Great Northern hotel, and Horne's Department Store, he's also making the deal with Catherine Martel to decimate the sawmill for a globalist country club. But, he also has a secret. He owns One Eyed Jacks, a casino and brothel just on the other side of the Canadian border. It's a small and intimate hideout for wealthy businessmen and a final pitstop for drug runners sneaking drugs across the border. While Benjamin owns Jacks, its Blackie, the madam, who makes sure the place runs smoothly. She has secrets of her own.
Ben and Jerry aren't the only ones seeking amorous affection, as James and Donna finally make the moves on each other sometime around midnight, mirroring the romance between Big Ed and Norma Jennings. They're just two lost souls grappling out for each other in this dark and confusing world where Laura's absence has finally freed them to finally seek out emotional healing in each other.
As James and Donna are busy making out on the couch, Mike and Bobby are out trying to make a drug exchange with Leo Johnson. According to The Secret Diary of Laura Palmer, Laura was the main reason Bobby started dealing cocaine in the first place. As first, Bobby was just a low level pothead who supplied her with smoke. But, then they went to a party at Leo Johnson's where things got a bit out of control, and Laura became a cokehead. In turn, to keep Laura happy, Bobby became a coke dealer so he could keep her in supply. He tried giving it up, but she wouldn't let him. During the week before her murder, in Fire Walk With Me, a very coked-up Laura and Bobby attempt making a drug deal for the as-yet-to-be-introduced Jacques Renaud, but it all goes wrong. Now, Bobby owes Leo Johnson the money from the sale of the coke in that deal, and half of it is in Laura's safety deposit box. To top it off, Leo seems to know that Bobby is romancing Shelley, his wife.
---
Invitation to Love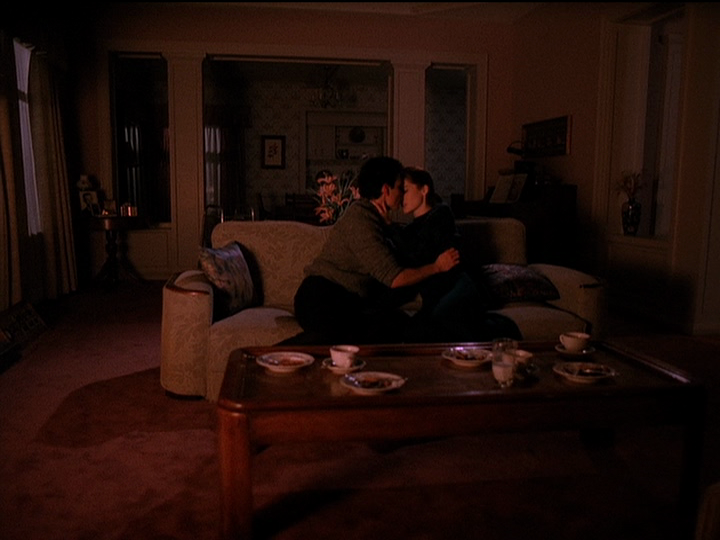 If there was ever an inspiration for Twin Peaks, it is the daytime soap opera. There are two factors that distinguish the soap opera from other traditional formulas. The most obvious difference is its continuous nature, where very few episodes are fully resolved. To bring the audience back day after day, the stories spread across weeks and months, as characters engage in intricate planning for their ornate schemes of devious behavior. But, they also move the plot forward in tiny increments, repeating previous plot beats in various conversations; if a viewer missed a day or two, they're able to pick up where everybody is by the end of the episode.
The other separating factor is a lack of a clear singular protagonist or group of protagonists. The soap opera is about a community and how those community machinations push the plots ever forward. Many sitcoms, especially pre-Arrested Development, are about a single household resolving an A-plot and a B-plot of the week. Dramas, like CSI, are usually about a single group connected by a profession or place of operation. Most soap operas – General Hospital is a very notable exception – include a large cast from a wider community with multiple households and situations.
David Lynch and Mark Frost wear their influence on their sleeve. And, it's here in Episode 2 that we're finally introduced to Invitation to Love, the soap opera within a soap opera. The show-within-a-show frequently provides a running commentary on events immediately surrounding it. The day after Shelley is battered by Leo Johnson, she's watching Invitation to Love with the introductory line, "Each day brings a new beginning and every hour holds the promise of an…Invitation to Love." And, in walks Shelly's secret lover, Bobby Briggs. Infidelity, battering, high drama, this is all soap opera. Bobby finishes the scene with the soapy dialogue, "If he ever does this to you again, I'll kill him. I mean it."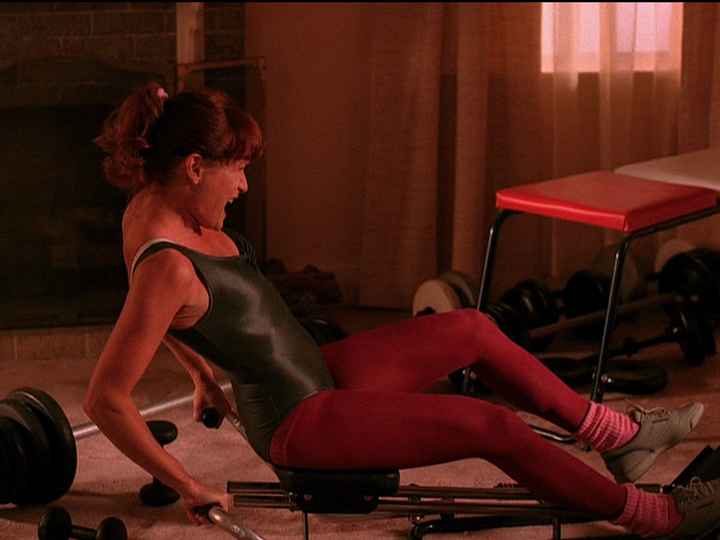 NOW, we're finally ready to tackle Day 3, and Big Ed started it off by stepping all over Nadine's drape runners. By doing this, he kicks off two events that signal the controversial Super Nadine subplot that emerges in Season 2. At first, Nadine is pissed off that Big Ed broke her drape runners and got grease all over them. In order to get out her frustration, she destroys her rowing machine by bending the arms back (some red herrings are deliciously funny). But she's wrong to be mad, as the dropped grease solved her drape runner problem. Having created the world's first completely silent drape runner, she embraces Big Ed in a loving tackle while babbling about their high school romance and how she beat Norma to the punch, setting the stage for her later mental regression. She intuits, but doesn't fully realize, that Big Ed has been making passes at Norma behind her back. Big Ed and Norma are each other's new beginning and an invitation to love.
---
The Investigation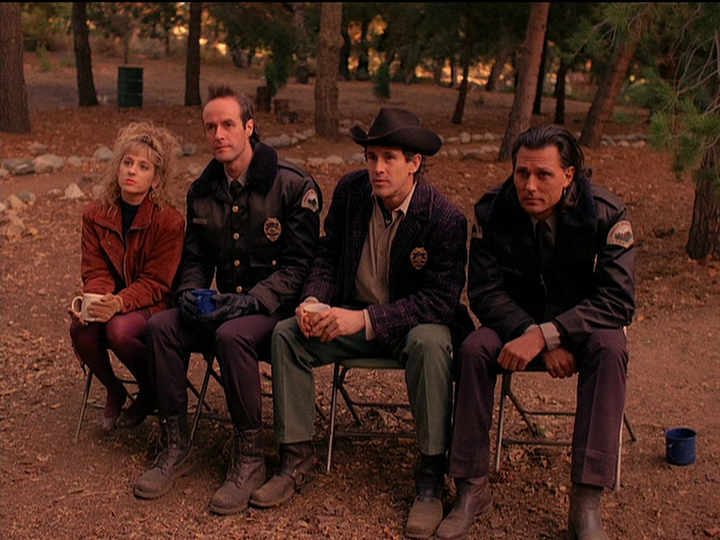 In the days before DVR and On Demand, if you missed any episodes of a television show, you were shit out of luck. You better have somebody who recorded that shit, otherwise, you were in the dark. And, with how DENSE Twin Peaks is, you missed a hell of a lot if you were starting on Episode 3. To help out the viewers, Cooper gives us a recap of the investigation, but not before he gives us a lecture on the Free Tibet movement (this was HUGE in the 80s).
This is no boring recap. Cooper is still hung up on who Laura Palmer was referring to in her diary as the Mystery Man "J." Cooper woke up from a dream about the plight of the Tibetan people with the knowledge of a new investigative process that coordinates the body and the mind on the most basic intuition levels. This means that he's throwing rocks at a glass bottle while recapping all the many people with the letter J in the name (including women): Dr. Jacoby, Leo Johnson, Shelly Johnson, Nadine Jennings, James Hurley, Jack with One Eye, etc. Dr. Jacoby gets a hit, but doesn't break the bottle; he knows something the cops do not. But, the method points the finger at Leo Johnson, "relation with Laura: unknown."
In the comments yesterday, Man with a Robot Arm points out, correctly, that Leo Johnson is one of the Red Herrings in these early episodes, and with good reason. His bar of soap in a towel attack on Shelley looks like the haunting ceiling fan at the top of the stairs. The cowering Shelly Johnson is surrounded by plastic. Leo Johnson has the most explosive temper in the series. And now the bottle breaks. Leo Johnson is intimately connected to Laura the night of her murder, and the signs are first pointing to him.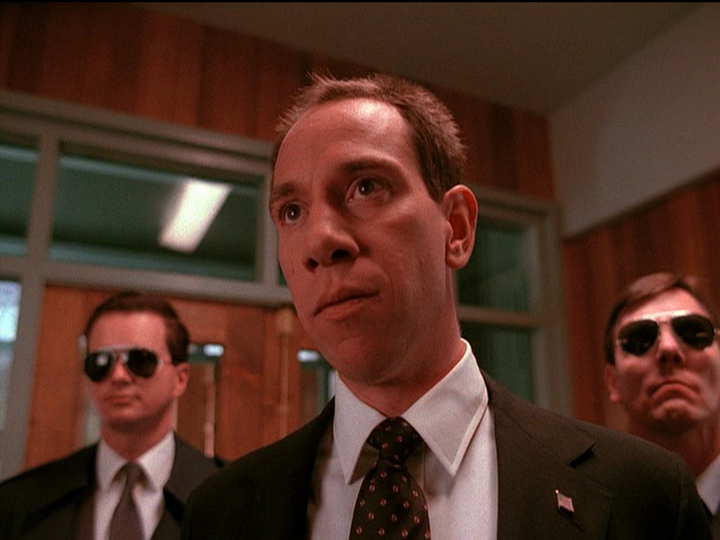 The investigation continues slowly but surely, and kicks into high gear when Agent Albert Rosenfield finally arrives into town. There are two minor characters that I absolutely adore in Twin Peaks: Lucy Moran and Albert Rosenfield. Albert blows in from a different world entirely, and its entirely to David Lynch's credit that Albert immediately feels of a singular piece with the Twin Peaks universe. He's a fast talking city boy who insults everybody and everything within sight for not living up to his standards of acceptability. Miguel Ferrer finds the intense Lynchian humor in Albert who cuts people off without giving them a chance to do their job. Where Cooper affectionately tweaks Sheriff Truman's nose, Albert decimates in the most unconstructive manner possible.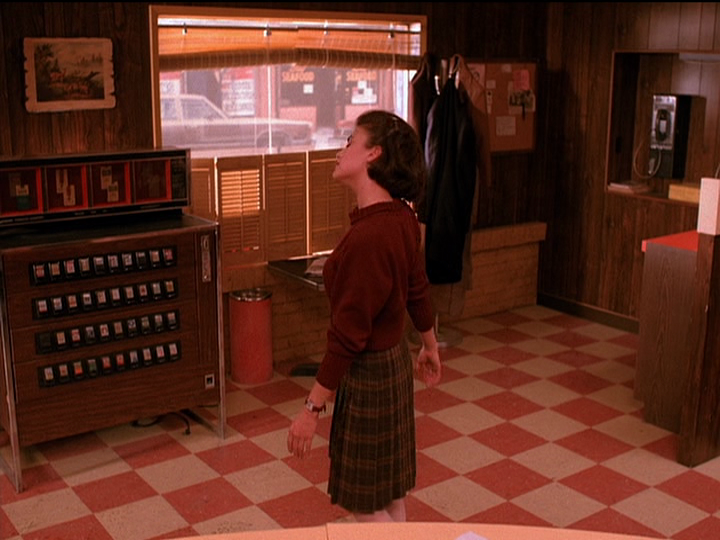 A chance meeting kicks off an unofficial leg of the investigation when Audrey Horne deigns to walk into the Double R for coffee, spawning a conversation with Donna. Audrey is in search of answers about Laura's death, and Laura's relation with Ben Horne. Audrey is out of sorts, saying that Ben used to sing to Laura, but he never sang for Audrey. Before things develop too far, she catches the mood of the jukebox and dances…
---
…And then things get weird
Up until this point, there have been hints of Lynchian spirituality and weirdness weaved throughout the series: The Man with One Arm, Sarah Palmer's spotting of BOB, The Log Lady, TIBET. But, at the end of Day 3, David Lynch finally throws us into the deep end of the pool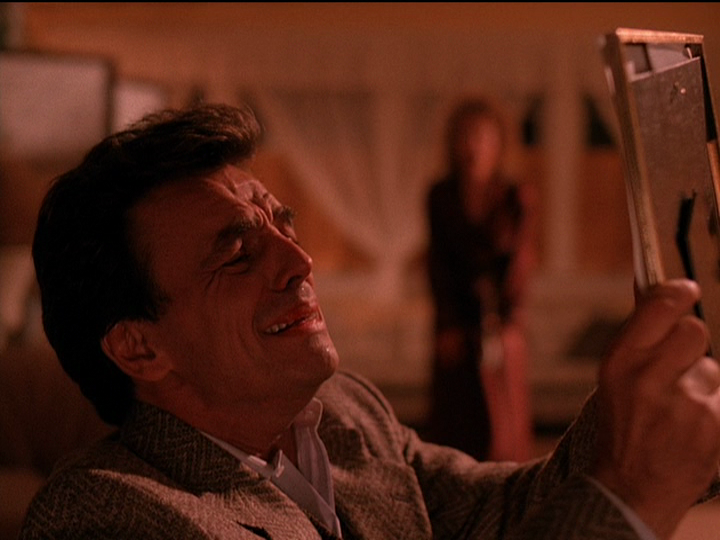 Something is wrong with Leland Palmer. People who have finished the series knows that BOB is fighting Leland for Leland's soul. But, for the first time viewer, Leland is finally cracking with grief. He's held it together for two days, and on the third day he broke. He puts on an old record of Transylvania 6-5000, and mourns over Laura's senior picture. Gripping it, he wails with sorrow and disbelief…as he dances with her image. When Sarah checks in on his grief, he he tries involving her, as if their dancing with Laura's image will bring Laura back from the dead. But, something's very wrong. The picture breaks. Laura is broken. Leland gets blood all over the photo (the same photo that closes out nearly every episode). And Sarah screams in distress, "WHAT IS GOING ON IN THIS HOUSE?!" She knows but she doesn't know, and it scares the shit out of her.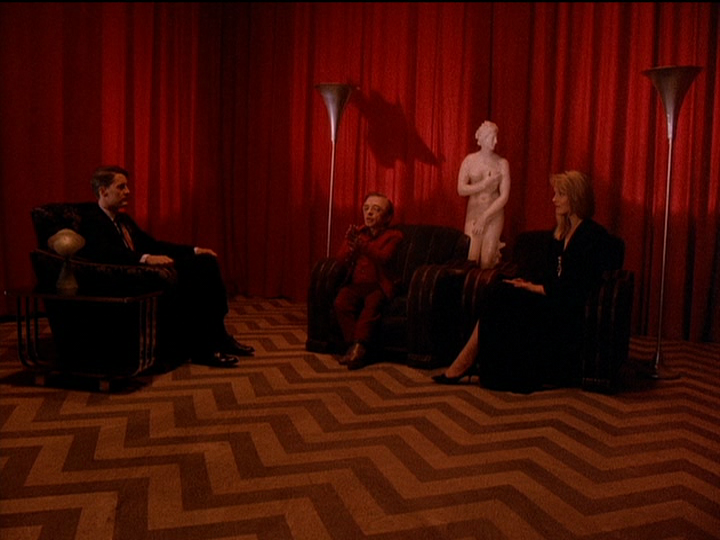 And, finally, we get to Cooper's first dream. Cooper's Dreams are clues wrapped in code wrapped in Lynchian weirdness. A series of flashes go forward and backward in time, disjointed from a linear narrative. And, we finally get to the Black Lodge. Don't worry if you miss all of the various clues in this dream, because Cooper recaps it for Sheriff at the beginning of the episode: his favorite gum is going to come back in style, somebody's cousin is going to look exactly like Laura, sometimes her arms bend back, and then The Man From Another Place does a dance, and what might be an owl flies in shadow across the backdrop.
The Black Lodge is a mythical space in the woods that's the source of all the evil in the area. It's the flip side of the White Lodge, the source of all goodness. In later episodes, the White Lodge and the Black Lodge are only separated by your heart and soul. If you are a strong and true person, you'll enter the White Lodge. But, any amount of fear or darkness makes you vulnerable to the worst of humanity and you're doomed to the Black Lodge forever.
But, the Black Lodge is Lynchian hyperstylized weapons-grade surreal weirdness. First, Cooper has been aged 25 years into the future. The bold zig-zag pattern of the floor connects with the extreme verticality of the lamps and the curtains to create a visual illusion of a theatrical set decorator gone insane.  The curtains extend to nowhere, with no discernible wall or ceiling to suggest that this room is actually a room. And the floor is a visual illusion that compresses and expands the size of the room depending on where you're focusing. Sheryl Lee is in a long sleek black dress, extending her height, contrasting with the short red Man From Another Place. This is all set off by the status of a naked woman trying to hide her sexuality. She is attempting and failing to hide her nudity from the prying eyes of whoever may be looking at her. Her arms protect her breasts and vagina as a hint of a woman embarrassed by her nudity, or shamed for her sexuality. She's hiding something dirty. And this is all set off by the scene being filmed backwards and played forward. Laura and The Man From Another Place give their clues in an otherworldly manner, which further emphasizes the dream qualities of this weirdness. When The Man From Another Planet does his dance, he does it in front of a strobe, closing out the episode.
---
Stray Notes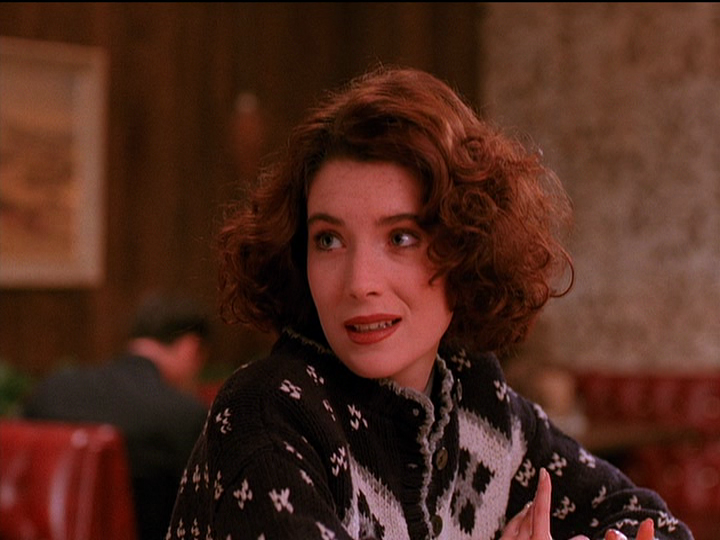 In the post-Trump era, one might be tempted to recognize Ben and Jerry as a pair of globalist businessmen who set out to destroy the town's way of life so they can create a resort hamlet for the rich and famous. Along with Josie Packard, they're the only ones who get out of town once in a while, and they use their worldly "liberal" immorality to destroy the "conservative" way of life. I'm certainly not going to stop you from making parallels.
Also in the post-Trump era, Albert is almost the embodiment of the big city liberal elitist who thinks they're better than everybody else. Their way is the right way, and they know everything better the Twin Peaks "yokels," but lack the social niceties to be inclusive with the townspeople.
Leo's reason for wanting Bobby's payment for the cocaine: "Leo needs a New Pair of Shoes!" New Shoes! *spit* This isn't important, but any new watchers will thank me for this later.
There are three dancers in this episode: The Man From Another Place, Leland Palmer, and Audrey Horne in the diner. "God I love this music. Isn't it too dreamy?" The Haywards are really baffled by her dancing fit in the diner.
The diner scene really sets up The Hornes as elitists. Audrey stopping by the Double R for a cup of coffee is shocking, and almost offensive, to the down home Haywards. The Hornes rarely stoop to eating and drinking with the normal folks. They usually have their dinners served to them at their immense dining room table where nobody sees them not talking to each other.
I've been waiting for this episode to pimp out Lost in the Movies, which has been doing a complete recap of all of Twin Peaks' characters. And, I mean ALL of them. The series begins with the "Hidden" and "Very Minor" characters, all of which are even more inconsequential than Julie the Concierge from the pilot. It's deep and thorough.