A Look Back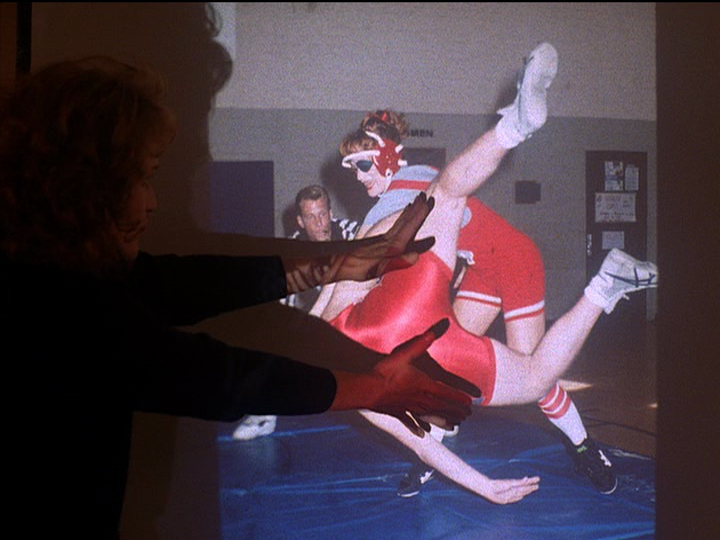 ABC was really screwing over Twin Peaks because of its low ratings. Even as the last four episodes steadily improved in quality, the ratings declined sharply. Last week's sojurn into Windom Earle's madness was the lowest rated episode of the series, faring even worse than the episode following Diane Keaton's unfairly maligned episode. That episode aired on April 18, and then the show went into hiatus for nearly two months. The final two episodes were aired back to back on June 10, providing one final night of full tilt Lynchian weirdness. Actually, these two episodes had the highest ratings since Denise rolled into town back in December.
Even though the original run of Twin Peaks is a month in the life of a small town in northwest Washington, audiences followed Twin Peaks for over a year. The pilot premiered on April 8, 1990, and the finale aired on Jun 10, 1991. The protracted span of time when watching Twin Peaks sometimes forced the writers to use whole scenes to retread points again and again, and sometimes allowed them to move the story forward in ways that now seem unrealistic. In a way, I think watching Twin Peaks in an "episode a day" format, rather than binging the series in two days or watching it over 14 months, allows us to experience the span of time in which these characters actually existed.
A lot of things changed for these characters in the course of a month. In discussing this week's climactic beauty pageant, Norma says that they need a solid representative for Miss Twin Peaks, especially after this year. Shelly nods knowingly, "You mean Laura Palmer?" No response is necessary. Yet, Laura seems so far away, even 2 weeks later. She's been dead a month, and the only people still feeling the repercussions from her death are her mother (who has been absent from the show since the post-funeral reception), Ronette (who has been absent even longer), James (who, thankfully, is on his way to Mexico), and Donna (who has been unsettled and generally absent ever since James left). Laura Palmer is so far away and the rest of the town is trying to move on, even if they're all haunted by their own mistakes.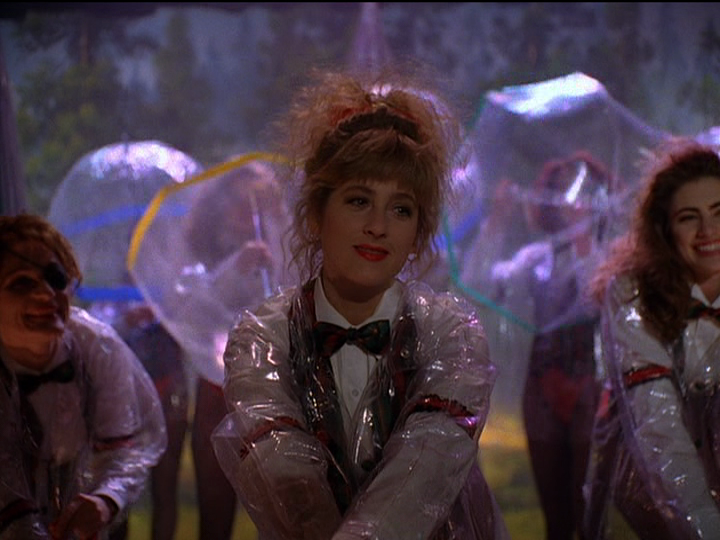 Ever since Leland died, the show has had three separate main storylines: Jean Renault's vengeful blackmailing, The Ballad of Josie Packard, and The Mad Genius of Windom Earle. None of them had the impact of Laura Palmer because their impact was limited or hidden. Even though she effected the whole town by burning down the mill, Josie Packard's drama was generally confined to Josie, Catherine, Pete, Harry, and Ben. Jean Renault was confined to Cooper. Windom Earle, try as he might with the Miss Twin Peaks contest and the poem split into threes, still only utilizes Cooper, Annie, Leo, and Major Briggs in any meaningful capacity.
It's a different show than when it started. Even though David Lynch eventually made Fire Walk With Me – a movie that eliminated all of the meandering 1950s-esque surface bullshit of small town Americana to focus a laser on a tale of a traumatized girl – he initially believed that Twin Peaks was the tale of the townspeople interacting after their world has been turned inside out by a catalyzing event. Laura was, originally, little more than a MacGuffin in absentia. The mystery of Laura's killer overtook the show, and was solved midway through. Then it became about trying to keep the townspeople going after they discovered all of this madness was their neighbors.
There is one aspect that separates the new A-stories from the original intention: all three are about foreign invaders. Josie Packard and Thomas Eckhardt came from Hong Kong to wreak havoc for money. Jean Renault came from Canada to get revenge on Cooper. Cooper is from Philadephia and he brought the madness of Windom Earle with him into the town. As Harry said in his alcoholic post-Josie funk, "The world is finally catching up to us."
---
Them Vs Us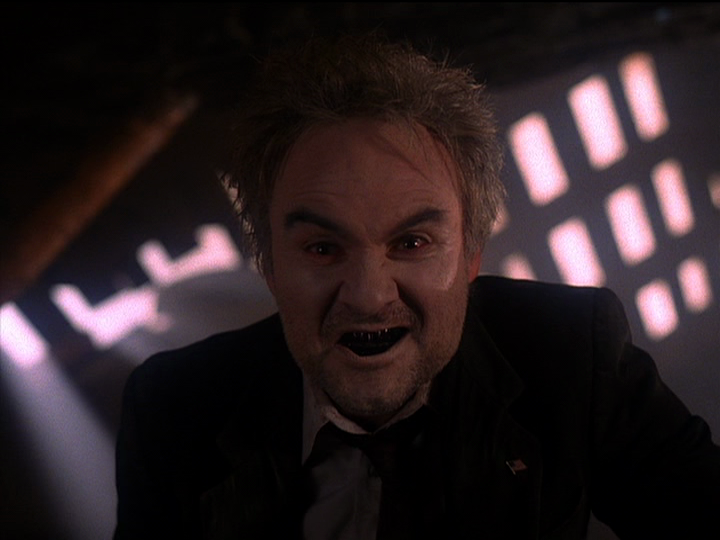 It's fitting then that this two part finale begins with a local freeing another local to save another local from the dirty hands of a foreigner. Leo and Major Briggs are tied up in Windom Earle's shack. Leo is able to get a key from the desk, but the key only works on Major Briggs' leg irons. Even though Leo isn't able to free himself, he sends the Major off to save Shelly from the machinations of Windom Earle. In the first part of the show, Leo probably wouldn't have given Major Briggs the time of day, but when there's a foreign danger, a local denizen is your only hope. In return, Earle sets a stress trap for Leo, hanging a spider cage over Leo, and making him hold it aloft with only his mouth.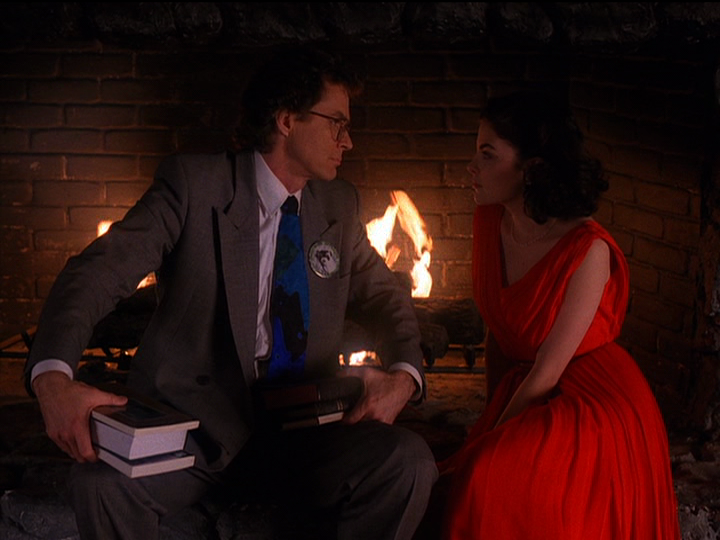 The murder of a foreigner, a man in Brazil, has taken John "Jack" Justice Wheeler from Audrey. Her thwarted blossoming romance hurts her about as much as the murder of Laura Palmer. In fact, the murder of Laura Palmer was, ultimately, good for her relationship with her father. Ben Horne was once in love with Laura, replacing Audrey with a surrogate daughter in his emotional heart. Since Laura's absence, Audrey is taking over her father's role and even seeking out his advice on a broken heart.
Lana Budding is a force of nature from Georgia. She married and killed one old cornerstone of the city: Dougie Milford. She is busy seducing Dougie's brother, Dwayne (mayor of Twin Peaks). To win Miss Twin Peaks, she's going to disrupt the relationship between Dick and Lucy by seducing him in the storage room while she's on break from Miss Twin Peaks dance routine. Everything she does is for her own benefit, much like Ben, Josie and Jean Renault. She's just a further extension of the world that has invaded the sleep town of retro Americana.
---
Us vs Us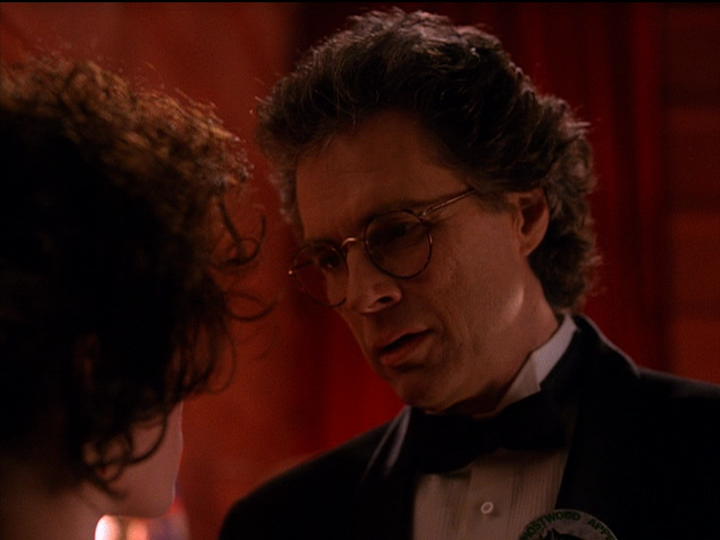 That's not to say that all threats to Twin Peaks come from the outside world. Despite Jerry's constant traveling (Jerry hasn't been around since the civil war) and Ben's owning of One Eyed Jacks, Ben and Jerry have lived here all of their adult lives. They were just kids when their parents cut the ribbon on The Great Northern, and they've grown up wealthy, greedy, and entitled. Back in the era of key parties and the sexual revolution, Ben cuckolded good old Doc Hayward by having an ongoing affair with Mrs. Hayward while Ben was also seeing (if not married to) Sylvia. Donna and Audrey, who may be half-sisters, were born close enough to be in the same grade together. Things went sour somewhere along the line, and neither Ben nor Doc were listed on Donna's birth certificate. After the children were born, Ben and Sylvia let their affair go, probably for the health of both families.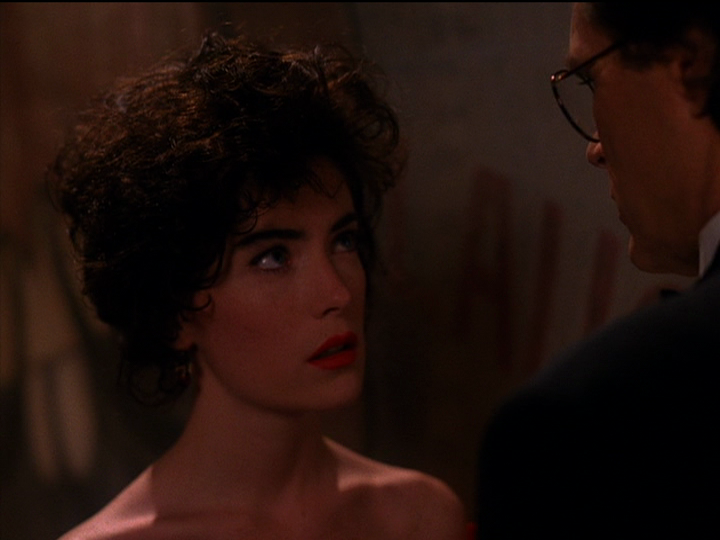 Ben, in all his truth-seeking goodness has stirred the pot up again. Donna noticed all the tell-tale signs of a previous affair – she found the birth certificate, she found the old photos, she overheard Ben and Sylvia talk about the love letters, and she received a pile of unaddressed roses for her mother – but neither Doc nor Sylvia are admitting to their past. Tonight, to the chagrin of her family, Donna is determined to get to the bottom of the affair and get answers from Ben. Dressed in a black dress with a red ribbon across it, Donna is going to get the info she needs. Backstage at the Miss Twin Peaks contest, she confronts Ben who hints at the truth, "Donna, your mother and I…" Donna runs away from that horror.
There's a mirror of the Haywards/Hornes happening with Lucy Moran, who said she is going to decide who the father of her unborn baby was, regardless of who the actual father is. She is choosing Andy for…well…for almost every reason. Andy's lovable, loyal, honest, good, and would make a great father. Dick, well, isn't any of those things. Sure, he can be adventurous, but his dealings with Little Nicky were not exactly father material. Besides, Dick is overjoyed that he isn't going to be responsible for Lucy's baby, even if he sired the child. He has money to make, girls to woo, and rich people to schmooze.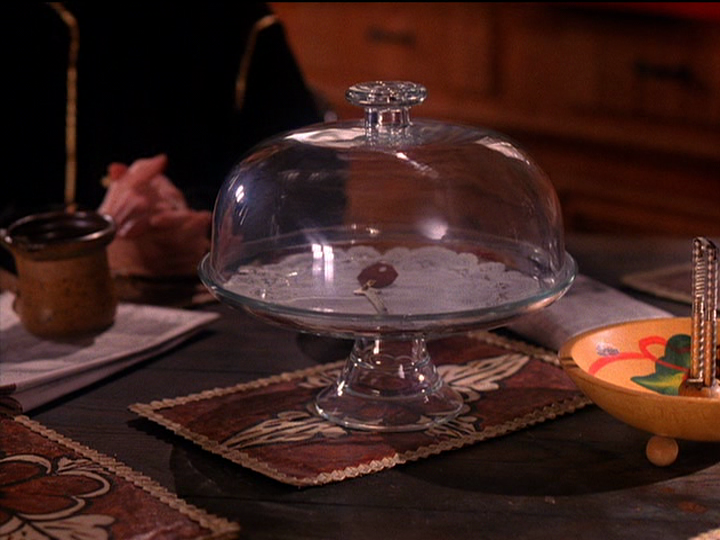 Catherine and Andrew Packard have also been in Twin Peaks their whole lives. The Packards were one of the two companies on which Twin Peaks was founded. Yet, Catherine was all set to destroy the mill for her own greed, and Andrew was ready to join her when they were both thwarted by Ben Horne and Josie Packard. Their new threat is, perhaps, the most metaphoric of the whole Twin Peaks show. An outside force (Thomas Eckhardt) introduced a new mysterious element (the nesting puzzle boxes) that have threatened to drive the locals (Catherine, Andrew, and Pete) insane with greed, curiosity and frustration.
Their latest box, a stainless steel block, is seemingly indestructible. They've dropped it, smashed it, and tried crushing it in a vice. The curious threat from the outside world cannot be neutralized except by killing it. Andrew, frustrated at the box's refusal to give up its secrets, finally shoots the blasted thing and winds up with a key. But, the family that preys together preys on each other. Neither Catherine nor Andrew nor Pete trust each other with the key. The key will be kept in plain sight, under the glass dome of the cake saver, ready to destroy the family with their trust issues.
---
Miss Twin Peaks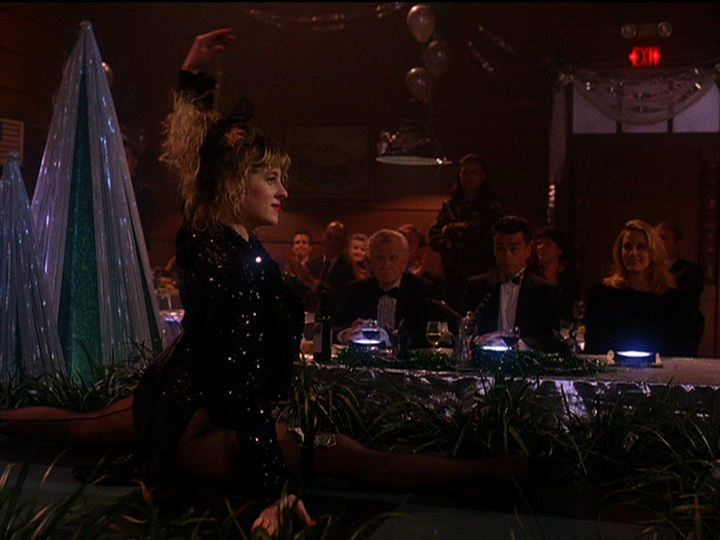 Just as high school movies climax at the prom and then let their characters spin out from that flash point, Twin Peaks climaxes at the Miss Twin Peaks beauty pageant and will let its characters spin out from this flash point. Most of the lead women in Twin Peaks are involved in Miss Twin Peaks in some fashion: Donna, Audrey, Shelly, Annie, Lucy, Nadine, and even Lana are all competing in the show. Norma is judging the show. Even The Log Lady is in the audience, where she's getting hit on by Mr. Pinkle, the town taxidermist, animal expert, choreographer, and pervert.
Each of the contestants have to participate in the talent portions. Lucy and Lana each have sexy dances; Lucy's  is more gymnast-based complete with a death drop while Lana's "contortionistic jazz exotica" is merely tame belly dancing with veils and belly buttons. Annie and Audrey both give speeches based on this year's Save the Forest theme, but Annie's speech is more about the historicity and true human nature within the forest. Annie's speech takes First Nation beliefs and works them into a moving metaphor that is the summary of the whole show. We need to stop and take a look at what we've made, what we've become, and respect that which is around us. Not that we need to stop progressing, but that we should progress with caution. It's a Pacific Northwest speech about moving forward responsibly, and she wins the contest with it.
That's when all hell breaks loose.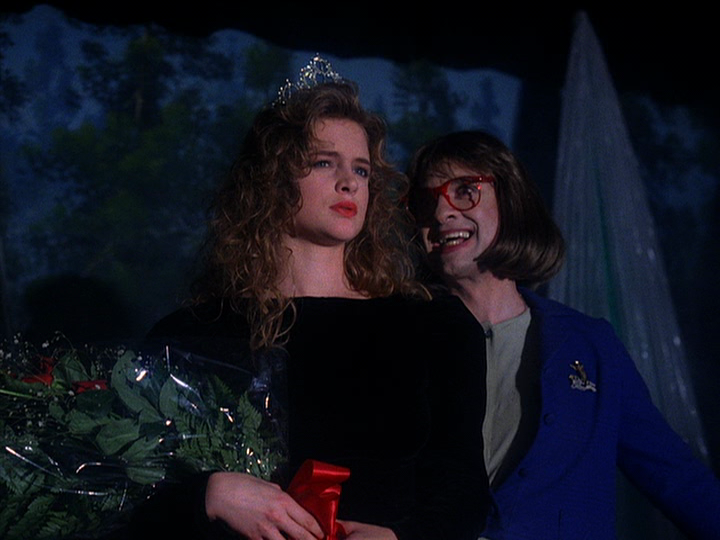 Once Annie is crowned Miss Twin Peaks ("She's been living in this town about 15 minutes!!"), Windom Earle (who has taken taken his costumed to new levels by dressing as The Log Lady) finally makes his move. The power goes out. Strobe lights flash everywhere. Smoke bombs go off. A giant weight drops on Super Nadine. Windom Earle has remote control fire pots. People panic, run around and scream. Amidst the panic, Earle kidnaps Annie and takes her out of the Roadhouse. At the end of all this, Andy reveals that he figured out the cave drawings:
"It's not a puzzle at all; it's a map!"
---
Stray notes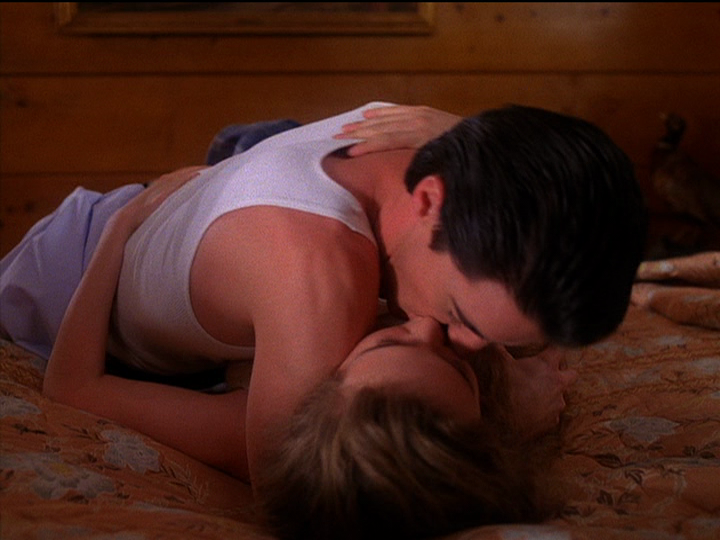 Nadine's wrestling slideshow is awesome. "Quads like bridge supports. I pinned him in a minute five." *slide clicks* "This is all the stuff I won."
80s hair is hypnotic. There is so much teasing and hair spray.
"I just have to do the best for Little What's-His-Name."
The wipe from Lucy selecting the father to the crowning of Miss Twin Peaks is everything.