As you have probably seen, dear reader, this week I have been looking at landmarks in British queer cinema. While I could not cover all of the classics (partially because their availability can err a bit on the expensive side; looking at you, A Taste of Honey and Nighthawks!), Victim and Sunday Bloody Sunday are two of the best known, most readily available examples. If Victim was British queer cinema's bold coming out, then Sunday Bloody Sunday was its thoughtful musing on what happens next. What does it mean to form connections, how can relationships be maintained, and is anything truly better than nothing? The film had no answers, and invited the audiences to see its characters, leading and supporting, in all of their perfectly imperfect glory. The film was a critical success, earning four Oscar nominations, five BAFTA wins, and cementing the reputations of director John Schlesinger, along with actors Peter Finch and Glenda Jackson.
The decades which followed Sunday Bloody Sunday are curious ones for the British queer cinema. In 1976, Derek Jarman's Sebastiane was a homoerotic retelling of Saint Sebastiane's exile and martyrdom, with wall-to-wall male nudity. Nighthawks, a 1978 film was, according to BFI, the first queer British film to have a queer male as the central protagonist. Films like My Beautiful Launderette (1985) and Young Soul Rebels (1991) explored queer sexuality in interracial relationships. Beautiful Thing (1996) was a sleeper hit; a look of innocent 'young love' between two male teens on a London council estate (specifically, Thamesmead, also a location for A Clockwork Orange). However, at the risk of gross generalization, British queer cinema quieted down quite a bit through the rest of the 90s and into the new millennium. British television, particularly Channel 4, became the go-to location for queer representation, with popular, provocative series like Queer as Folk, Sugar Rush, Shameless, Skins, Tales of the City, Torchwood (BBC), Tipping the Velvet (BBC), among others. In 2011, British queer cinema would be put back on the global map via one international sleeper hit: Weekend.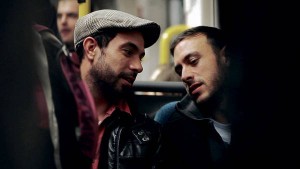 Weekend, more than Victim or Sunday Bloody Sunday, is a deeply personal film for me. Ask any person who is part of a minority, be it ethnicity, gender, sexual orientation, and you'll find that representations of people like them are so few and far between, one learns to live 'on bread crumbs.' Growing up, for the longest time, I dismissed a lot of queer cinema because all the examples I could find were hackneyed, deadly dull representations of a bunch of shrill, unlikable stereotypes, and those sad examples must represent an entire genre (ah, the sweet, thick-headedness of youth!). When I was 15, I first saw Mulholland Drive, my all-time favorite film, and I was blown away by how it presented characters as queer, but never felt the need to highlight their queerness. A couple years later, I saw Chasing Amy, which delighted me in its depiction of how, 'the people who make us happy are never the people we expect.' But, both films had queer female characters; still fantastic and enjoyable, but not quite the same as seeing two men presented in such a nonchalant manner.
I saw Weekend when I was a freshman in college. It felt like… well, to use a soppy, dusty cliché, it felt like I was seeing a bit of myself on the screen. For the first time in my film-going life, I saw characters, queer male characters, presented as complex, multifaceted people. They were archetypes, sure: one is a more closeted reserved man, the other is a more flamboyant artist type. But, writer-director Andrew Haigh took these archetypes, and made them real. The film, one of the finest character studies I've seen, showed these two men and laid bare all of their hopes, dreams, and fears. It was one of the very few films that made me cry in cinemas.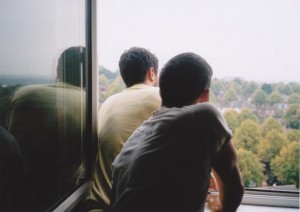 The film follows Russell (Tom Cullen), a quiet, reserved lifeguard living in Nottingham, England, and his passionate, albeit brief, relationship with Glen (Chris New), a flamboyant artist who is set to depart for an art program in Portland, Oregon. That's the bare bones plot, one that sounds like some gay clone of Before Sunrise. To be honest, the comparison between Weekend and that film are not entirely unfair. Both concern romantic pairings over a short period of time. Both films are heavy on dialogue, and illustrate the volumes that can be spoken through a few chosen words, or no words at all. However, Weekend takes it further: it speaks about the queer community as seen through these two men, but it has no 'point' to make. All of their musings are just that: musings. Haigh isn't concerned with having his film make a statement, and in doing so, offers an unsentimental, but fair portrait of life as a queer man in 21st century Britain. However, there are two things of particular note in the film: the drug abuse and the sex.
Now, it's no surprise drug use is fairly common in the UK (if it is, watch an episode of Shameless). Similarly, drug abuse is found in large swathes of the queer community, regardless of nationality. There are number sociological explanations as to why this is, but this is neither the time nor the place to get into that kind of social theory. However, watching the film again, it was interesting to see, as it progressed, the drugs became harder as Russell and Glen began to become more intimate with one another. In the beginning of the film, we see Russell smoking pot. Near the end of the film, he and Glen are snorting coke and MDMA. They start to spill out more and more of their frustrations; at one point, after Russell fears he has been too combative, Glen tells him, 'Do what I do, and blame it on the drugs.' The film attracted minor controversy from certain queer audiences, saying it glamorized drug use and associated queer men with being partakers in such activity. I would argue the film illustrates that drug abuse is a way to for the characters to open up more, without the fear of being labelled an over-sharer if they were sober. Similarly, the drugs can be viewed as a means for the characters to extend their feelings of joy. Russell and Glen are not the happiest of individuals, so a form of release, be it drugs, sex, or emotional honesty that comes as a big product. Which leads me to my next point…
Weekend is easily one of the most sexually explicit films I've seen. It never goes into hardcore (you want that, watch Stranger by the Lake), but little is left to the imagination. Nevertheless, besides the graphic nature of those scenes, and Cullen and New's fearless commitment to them, they follow an interesting pattern. The first time Russell and Glenn have sex, it is off screen. All the details come from Russell's recollection of the evening, as he speaks into a tape-recorder for one of Glen's art projects. As the film progresses, the sex becomes more and more detailed. Coincidentally, the film delves deeper and deeper into the personalities of Glen and Russell; Haigh links sex to the growing familiarity between the two. In doing so, the sex never feels pornish or needlessly salacious. Sex between men is still largely seen as taboo, so to have a film link it to intimacy, was deeply moving to this queer viewer.
****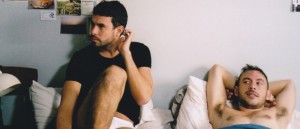 Haigh's masterful direction and beautiful script could have all gone to waste and devolved into earnest nonsense had it not been supportive with equally fantastic performances. Cullen and New, two British stage actors, give searing performances. Weekend is ostensibly Russell's film. He is its central character, and the viewer sees the world through his eyes. However, Glen is more than a Manic Pixie Dream Guy or a sounding board for Russell; Haigh's screenplay ensures he is his own character, with hopes and dreams.
Cullen is fantastic as a semi-closeted man, trying to conceal years of disappointment and sadness by being quiet and hiding in the shadows. As the film progresses, to see Russell come more out of his sell, to see his anger and as well as his optimism, is a powerful experience. He gives one of the best performances I've seen in a very long time. In comparison, New shows Glen's flamboyance and jaded nature as more of a superficial act that has become intertwined with his own true self. Throughout the film, Glen slowly, bit by bit, drops his defensives and opens up to Russell. New may not have as much screen time as Cullen, but he gives an equally excellent performance.
****
Normally, indie mumble-core films about Feelings™ are not my cup of tea. Same goes for gay-themed tragedies (those like Sunday Bloody Sunday, thoughtful, nuanced, and not attributing the misery to queerness, are a rare beast). I mean, I had already had to sit through Brokeback Mountain, the world's longest laundry detergent ad! Weekend was different; like Mulholland Drive, it was one of the few queer films where the tears were earned. The quiet sadness stemmed from the universal feeling of forming connections and knowing those connections come with a short shelf-life. Much like Sunday Bloody Sunday before, Weekend is more curious in how these relationships form and what they say about the parties involved. It's a deeply humanistic film, one that would have made John Schlesinger proud.
More than anything else, I thank Weekend. I love it for all the usual artistic reasons, but I thank it for making me feel more comfortable about loving men, and I thank it for opening up my eyes to queer cinema, especially British queer cinema. Without, I wouldn't have discovered Victim and Sunday Bloody Sunday, along with countless other films I have yet to watch.
And that, like they say, is truly the gift that keeps on giving.