Ours is essentially a tragic age, so we refuse to take it tragically.
-D.H. Lawrence, Lady Chatterley's Lover
It will probably come as a surprise to very few, but character studies are one of my favorite types of film. A strong compelling narrative is always nice, but even the best of stories can be undone by completely unremarkable characters. The films, along with the TV programs and books, that allow the audience into delve into the psyches of its characters, to see them in all of their perfectly imperfect glory, are a rare treat. Sunday Bloody Sunday is a haunting, heartbreaking, yet deeply humanistic and compassionate classic; it's one of the finest character studies I've seen. It's a tragedy, but never a tearjerker; instead of manufacturing misery through hackneyed plot devices, the film invites the audience to look at three individuals trapped in a love triangle. There is a gay Jewish doctor in his 40s, a divorced straight woman in her 30s, and a young bisexual artist in his 20s. The very description makes the film sound like a soap opera, but director John Schlesinger and screenwriter Penelope Gilliatt, along with actors Peter Finch, Glenda Jackson, and Murray Head, give the material a beautiful, timeless air of sadness and vulnerability. In a decade best know for cinematic darkness and cynicism, Sunday Bloody Sunday offers a strong yet tender portrait of three people struggling to find love and happiness.
The film occupies a fascinating place in both British and queer cinema. Following the taboo-shattering debut of Victim, more films began to show queer characters in a sympathetic, or at the very least, multifaceted, light. Films like A Taste of Honey, The Leather Boys, and Darling soon followed, and after homosexuality was decriminalized in England and Wales in 1967, the controversial lesbian-centric The Killing of Sister George debuted in 1968. While all of those films are important benchmarks in British queer cinema, Sunday Bloody Sunday is unique in that it earned almost universal global acclaim and award attention. It earned Oscar nominations for Best Director (Schlesinger), Actor (Finch), Actress (Jackson) and Original Screenplay, along with BAFTA wins for Best Film, Director, Actor, Actress, and Film Editing.  The film, directed by Schlesinger, he of Darling (best remembered for Julie Christie's fantastic, Oscar-winning performance) and Midnight Cowboy (best remembered as the only X-rated film to win the Academy Award for Best Picture) fame, is a masterpiece. It certainly was his most explicit film at the time, particularly given the sex scene between Finch and Head (it's incredibly chaste by today's standards; thanks Weekend!), but it never feels provocative for the sake of being provocative. If anything, the film is most provocative in how nonchalantly it presents queer sexuality.
While Sunday Bloody Sunday is undoubtedly a landmark in British queer cinema, it almost feels needlessly reductive and myopic to assign it such a label. Yes, two of the leads are not straight, and yes, they are in a relationship. The film argues: so what? Alex (Jackson) and her relationship with Bob (Head) is treated with the same gravity and introspection as Bob's relationship with Daniel (Finch). The characters are more than their sexual interests; Gilliatt's screenplay never explicitly labels Bob or Daniel as queer. It's simply one facet of their personalities. She and Schlesinger are far more concerned with the intricacies of the characters' relationships, and how it reflects upon their own fears, insecurities, and doubts about love and attachment. It's not a just queer film; it's a profoundly human drama first and foremost. In this sense, Sunday Bloody Sunday presents an idyllic, almost fantastic portrait of human sexuality. Open bigotry and prejudice are not found in the film, people mind their own business, and the characters can love as easily as they please with one another.
If the film's compassionate, nonchalant depiction of openness and sexuality borders on idealized, Schlesinger and Gilliatt wisely juxtapose it with the gloom of early 70s London. The swinging 60s have long since ended, and London is depicted not as a vibrant, youthful go-go paradise, but a grey, depressed city. The trio go about their business, work and pleasure, with a quiet sadness. Daniel and Alex are wistful and resigned to the quiet melancholy of middle age; Bob is excited for the opportunity to leave the quiet despair of the UK to do art work in New York. His impending departure casts a further saturnine atmosphere on Alex and Daniel's lives. In addition to its extraordinarily compassionate look at sexuality and relationships, Sunday Bloody Sunday similarly excels at its humanistic portrait of middle age. While there are three characters in the film, it is ostensibly the story of Daniel and Alex. The two are not presented as frumpy, bitter crones; they are sad, sure, but acknowledge Bob is not the centerpiece of their lives, even though he is a buoyant presence. They accept that the other is having an affair with Bob, and there lies the obvious question: why don't they ask for more? Why don't they find people who genuinely care about them, instead of dividing the affections of one man? Schlesinger and Gilliatt suggest there is no one answer, and after years of disappointment, Alex and Daniel would rather have some love than none at all.
As a character study, Sunday Bloody Sunday is fearless in revealing the complexities and contradictions of its characters. In that sense, it is only fair to step back and analyze each character individually. So, with out further ado…
****
A Character Triptych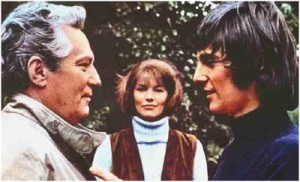 Alex
Alex, a divorcee in her thirties, is the film's yearning heart. Glenda Jackson, in a poetic, incandescent performance reveals all of Alex's vulnerability, her fearfulness, and her own stubborn desire to pursue a relationship with Bob despite her better knowledge that it's limited and soon to end. Her frustration with her life, her job leaves her unfilled, her apartment is a mess, and her strained relationship with her parents, leave her with intertwined disappointment and rage boiling beneath the surface. Her polite demeanor just barely masks her unhappiness, and yet, she never allows herself to lose too much control. She wants a happy life, but is too afraid to once again expose herself and become completely open and vulnerable.
By remaining more austere, Jackson gives a raw, beautiful performance. In one scene with Bob, she tearfully remarks, 'I've had this business: "Anything is better than nothing." There are times when nothing has to be better than anything.' In an earlier part of the film, her mother (Peggy Ashcroft) gives her the unsentimental truth: 'You keep throwing in your hand because you haven't got the whole thing. There is no whole thing, my poppet. You have to make it work.'
Daniel
If Alex is the heart of the film, then Daniel is its soul. A quiet, polite doctor in his forties, Daniel appears to resigned to a life of curbed romantic attachment. He is an accomplished doctor, is pleased, if wistful, with his relationship with Bob, and is outwardly content to trundle through life. In contrast to Alex, Daniel understands his time with Bob is limited and wants to simply make the best of it.
One of the most interesting facets of his personality is how he is open with friends and acquaintances about his sexuality, but closeted to his extended family. That, in and of itself, isn't terribly surprising, given that Daniel's family is large and religious. However, Schlesinger and Gilliatt give an ambiguity to Daniel's decision to remain closeted with his family: is he worried about their prejudice, or does he feel it is simply none of their business? The film never gives a definite answer, and it, along with Finch's performance, is all the better because of it. Schlesinger has a great knack for making his characters feel like real, tangible individuals, and understands a queer person may have several different reasons for remaining in the closet, not just one clear-cut answer. To be succinct, he is not a queer character; it's just one part of his personality. Finch, the actor best known for his fiery tirades in Network, gives some of his best, most subtle work here. Of the three characters, he is the most observant and most reserved; he would rather have a bit anything instead of nothing, even if he knows that anything comes with an expiration date.
Bob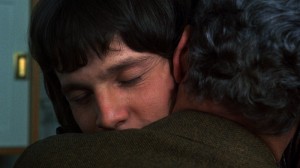 In comparison to Daniel and Alex, Bob is the most enigmatic. A bisexual artist, at the beginning of the film, he is preparing for a potential long-term trip to New York, where he hopes to break into the art scene. Art is his first true love, and while he cares about Alex and Daniel, neither one is enough to have him remain in London. He is happy to carry on with the pair of them as long as he can. His bisexuality is never discussed by any of the characters; he loves who he loves and has no desire to keep it secret.
Head's performance is a curiosity, because unlike Finch and Jackson, Bob must be more transparent, and it is a wonder that Head, Schlesinger, and Gilliatt, make him feel like a real person and not some colorless symbol or a sounding board for Daniel and Alex. If those two characters represent the calcifying past, then Bob is the ebullient, sexually-liberated free spirit of the 70s. The horrors of the AIDS epidemic are still roughly a decade off, and the film positions Bob as a person who on the cusp of fully seizing life and exploring the world.
***
Sunday Bloody Sunday, in many ways, reminds me of a great novel. The richness of Gilliatt's screenplay (she was a novelist and a critic), Schlesinger's compassionate direction, and the sensitivity of the actors' performances, give the film a depth I often associate with great prose fiction. Watching the film again, I was reminded of that opening line from Lady Chatterley's Lover. Sunday Bloody Sunday understands its tragic age (the 70s in the UK was not the happiest of decades), and insists on taking tragically. However, the tragedy is not relentlessly dour; it's sadness comes from three people who want to form deeply intimate relationships, but their own flaws and anxieties prevent them from fully opening up to one another. The tagline for the film was, 'It's about three decent people. They will break your heart.'
These timeless words of E.M. Forester, another great English writer, would have also sufficed:
Only connect…