Since Cinemascore began operation in 1979 only 19 films have received the lowest score. In this series I'll be reviewing those 19 films. This week, Uwe Boll makes his long awaited debut in the annals of The Solute.
So What is it?
You know, we throw around the phrase "wall of text" a lot these days. Sure there are movies that open with paragraphs of text, or even pages of text, but Alone In The Dark opens with a wall of text. If I describe it accurately, you'll think I'm joking. If I joke, you'll think I lost my mind. This is a wall of text the way the Vietnam Memorial is a wall of text, endless and incomprehensible. An ocean of text, all narrated to us by some poor confused actor who seems to be reading this for the very first time.
The DVD throws you right into the middle of this dissertation without any trailers, or menus, or even production logos to warm you up to the idea that you're watching a movie. This whole DVD is wild. It's loaded with special features, interactive animated menus, behind the scenes featurettes, cast interviews, director's commentary. There's even a trivia track that will pop up periodically to give you interesting tidbits. Trivia about the making of Alone In The Dark? No. Just, general trivia. Did you know H. P. Lovecraft was born in Rhode Island? Oh, you did.  The whole thing feels like one of those super deluxe collector's editions that are trying to trick people into buying a fourth copy of Avatar, not what you would expect from an admitted tax dodge that barely cracked $10 million in worldwide gross.
But we're here to discuss the film, not it's packaging. Eventually our narrator, breathless and hoarse, reaches the end of the table setting and we open on small orphanage and a title card that tells us it's "22 Years Earlier." A man who looks exactly like Peter Boyle but has a British accent speaks to a nun. The scene has that soap opera style staging where instead of looking at each other, both characters are facing the audience, one behind the other.  Those who have been paying attention know from Article IV, Section B, Subsection 2.a. of the opening scrawl, that an evil scientist (played by almost-Boyle) is kidnapping orphans and merging them with monsters in order to make monster-zombie-people. These experiments all happen offscreen, and here the mad doctor is consoling the slightly more remorseful nun and rehearsing what has to be history's laziest cover story. The plan is for the nun to call the police and report that all twenty orphans that were in her care have simply disappeared.
"Yes, Officer? This is Sister Clara over at Our Lady Of Reckless Abandonment, and well, this is so embarrassing, but I have to report a bit of, well a bit of a whoopsie. You know how sometimes you have your remote in your hand and then a minute later it's just disappeared, can't find it anywhere? Well, I've got a list of names here and I'm going to need you to move their files from 'in the care of the state' to 'whatchayagonnado'. On the bright side we're looking at a pretty substantial budget surplus for this quarter.  Yes, yes, God does work in mysterious ways."
Anyway, as it turns out only nineteen orphans have been successfully kidnapped and we see a young boy escaped from his captors and hiding behind some electrical equipment. We fade from the child's face to modern day Christian Slater, canonically 32 in this movie and presumably having been trapped for some decades in a mystical village outside of time or having lost a battle with some sort of youth devouring mummy in a previous adventure. Slater is sleeping on a plane and, taking some fashion tips from Rutger Hauer, wears jeans, a black tank top with an unsettling plunging neckline, and a heavy leather duster that was clearly purchased for a much taller actor. Harrison Ford has often complained about the decision to make Indiana Jones wear a leather jacket across every desert or tropical climate imaginable, but it doesn't register as bizarre until you see a sweat-drenched man dressed like he's ready to invade Stalingrad walking around a bunch of people in shorts and t-shirts.
Slater wakes up suddenly, and the young boy next to him asks, "Did you have a nightmare? My mommy says there's nothing to be afraid of in the dark." This is an odd thing to say since the scene could not be more brightly lit if it were taking place inside a fluorescent light bulb. We cut back to Slater and see that he is already reading a newspaper.  The continuity errors in this movie are so egregious they start to resemble Looney Tunes gags. Slater takes a long pause, looks the boy up and down, looks around him, and in a conspiratorial tone says, "Your mother's wrong kid. Being afraid of the dark is what keeps most of us alive" before we cut back to the shocked and traumatized child. Our hero ladies and gentlemen!
Slater deplanes and hops into a big, blocky taxicab that has apparently been sitting outside of this airport since 1982, as another cab, decades newer despite belonging to the same company, suspiciously pulls out after him. Whether this variety in vehicles is a clever way to add clarity to the upcoming chase, or these were simply the two cheapest cars at the junkyard is a mystery that'll I'll leave for the reader, but soon Slater and the mysterious goon are involved in a car chase that morphs into a foot chase filled with much needless jumping through windows, an extended bit of kung-fu where Slater is mostly trying not to be completely tangled up in his own oversized leather trench coat, and a gun fight with some of the least impressive but most proudly presented bullet time you're ever likely to see.  Despite the goon showing some slight supernatural ability, Slater is able to kill him and protect the artifact that he was after, a small Styrofoam egg that somebody started to carve into an animal skull before almost immediately giving up.
Meanwhile, Professor Boyle is on the high seas with Pirate Captain Mark Acheson. Acheson is wonderful here. Just look at this beautiful face.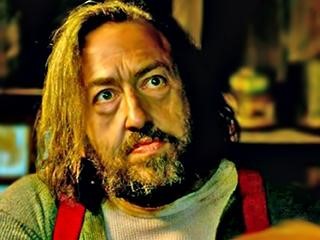 He's the only actor that seems to fully grasp what movie he's in. He plays his part big and broad and is almost cartoonishly expressive. He's a lot of fun and the movie makes a big mistake letting him exit as soon as he does.
Our villains here are retrieving an ancient sunken treasure, a solid gold box about the size of a coffin. Acheson quickly betrays the Professor and, despite the old man's protests, opens the box, reasoning that "If the container is made of solid gold, whatever's inside must be worth a fortune!" Not the most intuitive jump, but that's pirate logic for you. As it turns out Acheson is about half right, as the box is full of monsters. When the box is opened several people around the world suddenly drop what they're doing and wander off zombielike, Christian Slater passes out, and in a secret government base that looks like it previously belonged to Dr Claw, all the electrominators are going off the charts. Special Agent Stephen Dorff, apparently still stranded in Luxembourg, looks very concerned.
Back in the unspecified city Slater returns to his apartment. That is, a large warehouse decorated with tapestries and large clay pots with a bed that looks like it belongs in a low-budget remake of The King And I sitting dead center in the room. Slater does a bit of research, examining a golden doohickey that was hidden inside the Styrofoam ball he recovered from the previous adventure, and then gets a call from a concerned friend and rushes off to investigate, giving some voiceover along the way to try and clarify what's happened in the movie so far.
Slater visits the old orphanage, still run by the same nun and full of children despite that time when they just up and lost all the kids they were supposed to be watching. Slater checks the files on the 19 previously missing kids, and finds that they are all once again missing. He then calls in a favor with an old spy and we find out that he used to be an agent for "713" – the Men in Black-esq secret agency that Stephen Dorff is essentially running. Then it's off to visit his ex-girlfriend Tara Reid who is working, and apparently living, at a local museum.
One of the odd things about this movie is how often the visual style changes. Some of the movie looks like murky pixley straight-to-VOD trash, though the flashbacks look a bit more like straight-to-VHS trash. Other times it has that bright but flat and washed out digital look of advertising, or the even flatter and more washed out look of local advertising. Occasionally it looks fairly decent. The scene on the ocean looks like a real movie, and the extended action sequence was shot at James Cameron's TV studio and has the look of a fairly slick TV production. Here in the museum everything is shot, staged, and lit like a public access show, as though Tara Reid where about to introduce us to the wonderful world of magnets. Many movies look cheap, but it is rare to find one that is able to look cheap in such a wide variety of ways.
Reid is angry with Slater because he disappeared to the Amazon without giving her any indication he was still alive or ever planning on returning, but she gets over this quickly. The museum is attacked by some monsters that are essentially xenomorphs rendered with the absolute best CGI 1997 had to offer on a TV budget. Slater and Reid escape, and then Dorff arrives with a SWAT team and machine-guns all the exhibits for reasons not disclosed in the film. There's bad blood between Slater and Dorff and they get into a bit of a slap fight. Slater uses the opportunity to snatch Dorff's ID card.
Slater then sneaks into 713 and talks to his contact, who is busy doing an autopsy on the goon from earlier in the movie. Turns out there's a big alien centipede that looks exactly like the monsters from The Tingler fused to the man's spine. The doctor removes the creature, but his Tingler scanner starts beeping and he realizes there's also one attached to Slater's spine, though luckily this one is dead.
Back at the museum Tara Reid, Earth's most dedicated assistant museum curator, has gone back to work despite the fact that a monster has personally attacked her, eaten one of her friends, and is still loose in the museum and being hunted by some trigger-happy government spooks. These artifacts aren't going to catalog themselves! Professor Boyle, who runs both the orphanage and the museum, has returned, and also has decided to go about his work despite the ongoing monster hunt.
Eventually Reid leaves work and shows up at Slater's apartment where they have awkward and gratuitous sex. Reid does not remove her bra, and Slater does not remove his jeans. As soon as they're finished, Reid is back at work cataloging the artifacts Slater has stashed at his place. Whatever this museum is paying her it isn't nearly enough. Unfortunately once again her work is interrupted by a monster attack. Slater and Reid easily dispatch the first wave, a handful of zombie-people accompanied by a single legally-distinctomorph. But no sooner have they been killed than another group of monsters show up, pursued by Dorff and his team.
There's a gunfight that is just an extended music video.  Everything is all black and illuminated only by the strobe effect of the gunfire, and the geography is so confused that it constantly seems like the SWAT team is shooting at their own members. This scene goes on for a while. After all the epileptics in the audience have been done away with, we get another confrontation between Dorff and Slater before Slater saves his ex-friend from a zombie. A call comes in on the radio that everybody needs to hurry up and get to the abandoned gold mine for the climax and Dorff, happy to be alive and now convinced that Slater is on the side of the good guys, decides to bring him and Tara Reid – assistant curator of the anthropology wing of the local museum – along with him on this hell raid.
This raid goes poorly. Our heroes are quickly trapped in the mine as all the other members of 713 are eaten by a swarm of monsters commanded by Professor Boyle. Our protagonists descend deeper into the mine and discover an abandoned lab. In it there is a heavy steel door, and behind that door is an ancient stone door that can only be opened with one of the film's many ill-defined MacGuffins. They discuss whether or not they should open this door before deciding no, of course not. But suddenly the mad doctor appears, and with everyone held back at gunpoint opens the door himself before Dorff kills him with a throwing knife. Beyond the gate is an endless cavern filled with seemingly infinite swarms of monsters. The ancient seal can't be reclosed, so they decide to blow-up the small tunnel and close the steel door behind it. Unfortunately once they've left the mine they discover that the detonator signal won't travel through a mountain, so Dorff goes back for a heroic, if entirely unnecessary, sacrifice as Slater and Reid escape.
Unfortunately this escape is somewhat bittersweet, as it turns out that while our heroes were dicking around in the secret lab, the monsters have eaten everybody on earth.  Slater and Reid wander around the deserted city before the camera rapidly zooms into them, implying they're also getting devoured.
So Why the F?
I've got to level with you guys, this one has me stumped.
So Were they right?
To quote the director's commentary, "It's far away from than that trash what the people wrote on the internet, and the movie is way better than House Of The Dead in everything. And the story makes sense!"
Boll's commentary is surprisingly endearing. When discussing his "influences" it's a long list of low-brow trash action. He heaps praise on his cast, particularly Slater who he claims has "never looked better" and is a "far better actor than Keanu Reeves," although he observes, rightfully, that Tara Reid was miscast and is more suited to comedy than action. While discussing his own filmography he causally states that one of his films, Heart of America, is actually a good movie. He gleefully points out all the product placement and openly admits the production is a tax scam with a straightforwardness that makes you question if "scam" is even the right word. If the Germans are giving out free money to whoever wants to make a movie, why shouldn't he take it? There's a bit of a Robin Hood quality to him, taking money from people who have too much of it, and instead of delivering some artsy snob piece or financially viable four quadrant film, he produces absolute trash for the lowest and the drunkest audiences around. He's neither pretentious nor ashamed of his work, and it's clear that however awkwardly executed these films are, they are an honest reflection of his personality and his vision.
As for the movie itself, it's one of the most entertaining mockables I've ever seen. Filled with baffling choices in everything from the acting to the plotting to the production design. Every frame is filled with odd little details and hilariously half-assed shortcuts. The acting is both engaging and properly humiliating, the plot is needlessly convoluted, and the film is very proud of itself at all the silliest moments. Fully recommend. A+. Instant classic.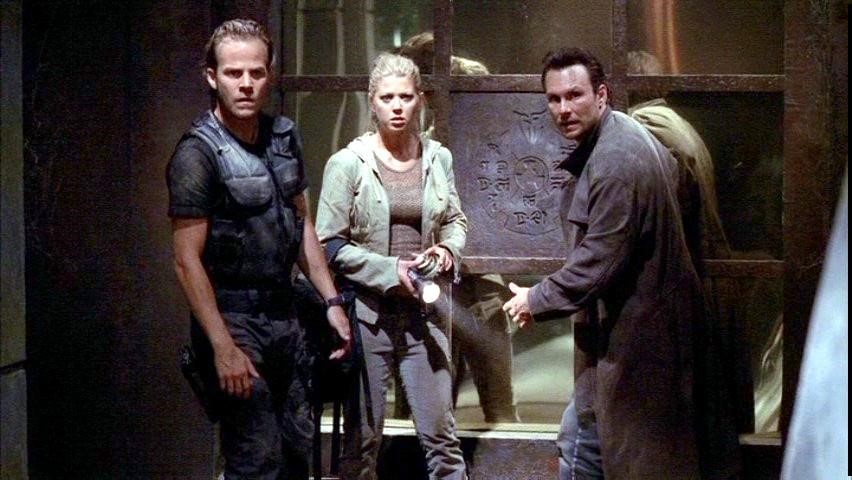 Next Time:  AhhH Ooooo!  America's about to catch werewolf fever!