Let me tell you a story about this movie called Strange Bedfellows. It's a depressing yarn from end to end. Strange Bedfellows is a comedy about a pair of straight blokes that pretend to be gay, so as to avail themselves of all the tax benefits that come with homosexuality. You know, those social privileges that definitely exist. The key joke of the movie is, let's team up Paul Hogan and Michael Caton, these aged figures of Aussie hetero masculinity, and make a bunch of gay jokes.
These things happen. The movie's not good. There's some decent landscape photography, but the direction is functional at best and the script is tired. Michael Caton acquits himself well enough and affords his character some measure of natural dignity, the kind that comes from a seasoned character actor with decades of TV experience. Paul Hogan mugs his way through the movie with this smirk that says, "Can you believe it? Ho ho ho. As if anybody would think that I, Paul Hogan, could ever be a poof." There are at least some concessions made by the end of the movie, in a very conservative way, toward accepting diversity.
 It was the top Australian film of 2004, taking in more than 40% of the box office for Australian film that year, but that says more about the dire performance of Australian films in general. At under $5 million in sales it only ranked #60 on the overall national box office — just behind the Kate Hudson vehicle Raising Helen. In a bad year for the industry, Strange Bedfellows was merely the most profitable. It's a forgettable movie best left forgotten.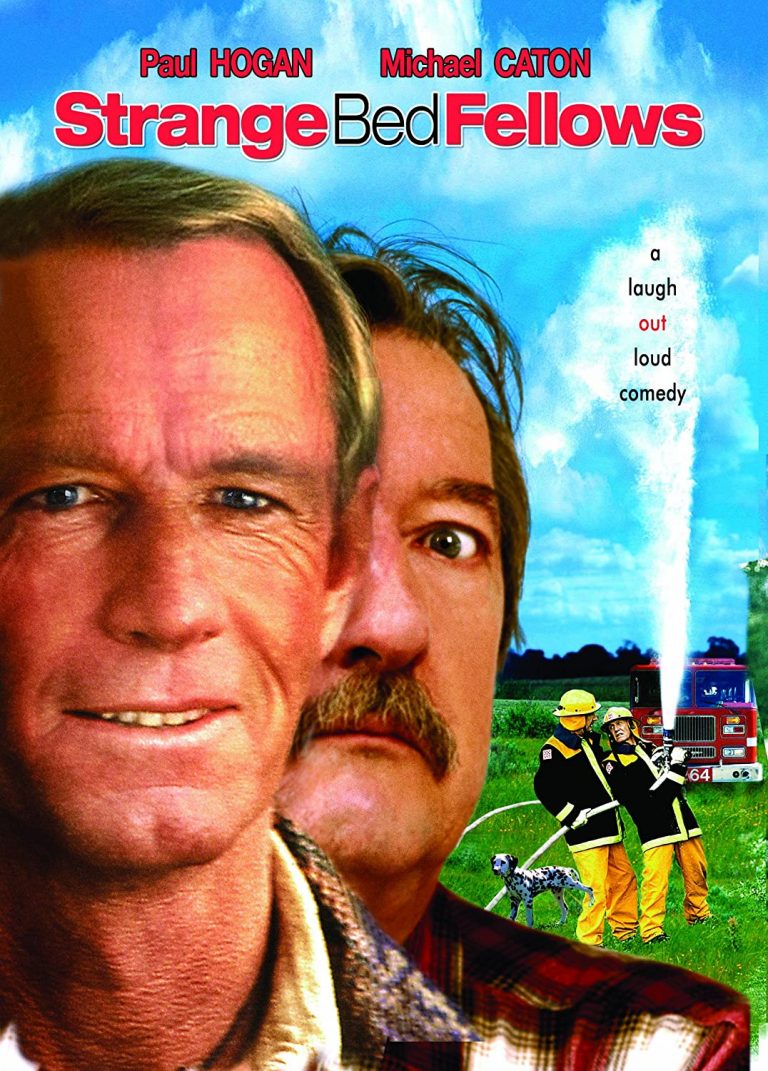 But then Rob Schneider had to get involved.
You see, Michael Caton had worked with him on the Happy Madison production The Animal, and he apparently passed a copy of Strange Bedfellows along to his friend Rob. Not too much later, in 2007, along came the new and extremely popular Happy Madison production, I Now Pronounce You Chuck and Larry.
I don't know if you've seen I Now Pronounce You… but I truly hope you've been spared the experience. It's a nasty affair full of poopoo, weewee humor, and ugly stereotypes (In fact, Schneider's role as a Japanese Rabbi got him ranked at #5 on Asian Week's "25 Most Infamous Yellow Face Film Performances"). All that aside, though, it's relevant to this story for being basically the exact same movie as Strange Bedfellows. 
In one movie, a pair of blokey best friends come up with a plan to pretend to be gay and take advantage of all those finance laws that privilege gays. The obstacle is that there's an inspector coming to confirm their story! They bicker for a while about which one is "the woman" before venturing off to the dreaded gay bar where they see some weirdness but learn the blokey value of toleration. Then some shenanigans ensue back home as they try to convince the inspector that their marriage is real. Ultimately, one of them will learn to accept his gay kid and they'll realise that their friendship is as strong as any marriage, but totally not gay.
In the other movie, all of that.
There's a big difference, though: in I Now Pronounce You… the best friends are firefighters. In Strange Bedfellows, they are only part-time firefighters.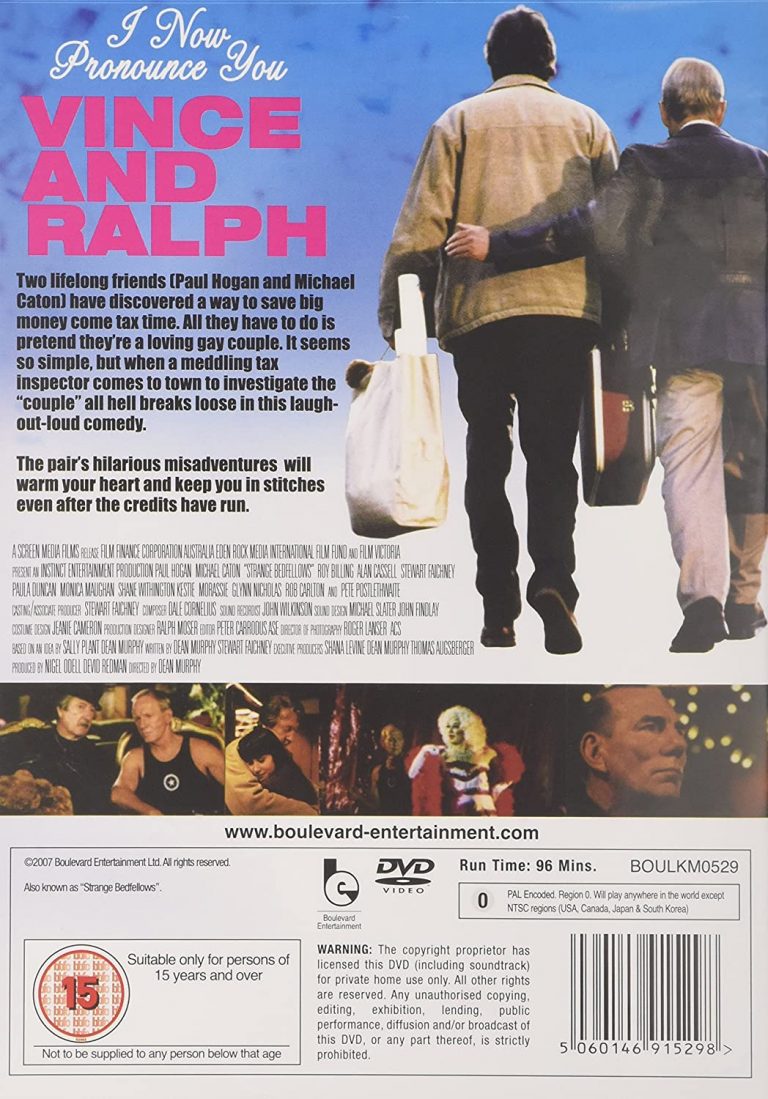 Michael Caton didn't miss the obvious rip-off, saying of I Now Pronounce You… "I'm going to have to get onto Rob Schneider and say, 'You owe me one, pal'…or Adam Sandler owes me one…They're really good mates and it's obvious [Schneider]'s said,Hey, have a look at this.'" From his tone, you can tell that Caton didn't actually care all that much, but Schneider was not to be maligned with such slanderous lies. And so he made his objections known by way of a paid "Open Letter" in the Sydney Morning Herald: 
"It is true you gave me a DVD copy of Strange Bedfellows, but I must confess I've never watched it, as it is not on the same format as I have, and it makes quite a nice drink coaster…I know that you recently made an early (and deserved) exit on Dancing with the Stars, still in my wildest imagination I never could see you as one who would ever become 'bitter.' Unfortunately, that is the conclusion that you have forced me to come to. Now Paul Hogan I can understand!'
Schneider's contempt for both his The Animal co-star and grammar is palpable. But despite his strong "I never even watched it and also you can't dance" defence, a couple of months later, the producers of Strange Bedfellows filed a writ against Universal Pictures (the distributors of I Now Pronounce You…) for copyright infringement based on a script analysis that determined more than 100 substantial similarities between the films. And off to court they went. Ultimately Universal provided a draft script for I Now Pronounce You… that pre-dated the script for Strange Bedfellows and the producers of the original film were forced to withdraw their claim. They were also forced to publicly chalk the whole thing up to a "fluke."
 Look, far be it from me to argue against the rulings of the court but this is some sheer bullshit. Anybody who has had the experience of watching both films (there are dozens of us! Dozens!) would recognize the similarities. I'm not saying the content farm that is Happy Madison Productions couldn't come upwith the concept "what if Adam Sandler pretended he's gay" on their own. That's a no-brainer, but it doesn't account for the cloned plot structure. I like to imagine that the "pre-dating script" for I Now Pronounce You… is a hotel napkin where Kevin James has drawn a stick figure of Adam Sandler with a speech bubble reading "U R GAY!"
So that's that, but what can we learn from such a story? That it's fruitless for a smaller production to take on Hollywood lawyers? That Adam Sandler's artistic integrity is not to be denied? That the satire of gay men and their privileged social power is an important story that must be told again and again? Or just that one should never give a gift to Rob Schneider in good faith? Yeah, that's probably it.