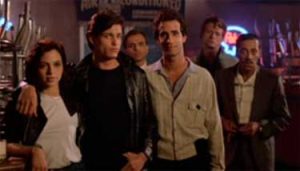 "There were so many things I wanted to say to him, so many questions I wanted to ask. But Eddie and I, we had a deal, we never talked about the future. We thought the present was so fine, why ruin it by planning ahead? But as Eddie drove off, I knew, I knew it then, it wasn't gonna be any future. In the morning, they told me that Eddie was gone, and they hadn't found his body."
Based on a novel by P. F. Kluge, Martin Davidson's Eddie and the Cruisers tells the story of the fictional rock band in the title; a New Jersey rock outfit whose debut album, "Tender Years" was enough of a success that it opened up the opportunity for them to record a follow-up. While the record company wants a retread of their earlier work, lead singer Eddie (Michael Paré, who is probably best-known now for appearing in many Uwe Boll films, but whom I've always thought could've ruled the world if only the 1980s had never ended), dreams of greatness. Influenced by Arthur Rimbaud's A Season in Hell, the album, also called "A Season in Hell" is ultimately, and predictably, rejected by the record company because it is "dark and strange."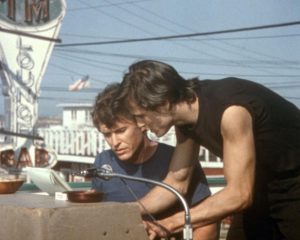 Shortly thereafter, Eddie's car crashes through the railing and over the Stainton Memorial Causeway in New Jersey. Nobody knows if it was an accident or suicide, but his body wasn't recovered. After Eddie's disappearance, and the drug overdose of saxophone player Wendell Newton (real life sax player Michael "Tunes" Antunes), whose death hit the band, particularly Eddie, hard, Eddie and the Cruisers broke up and were largely forgotten.
20 years after its initial release, bass player Sal Amato (Matthew Laurance) fronts an embarrassing Cruisers tribute band, backup singer Joann (Helen Schneider) is a choreographer, drummer Kenny works in a casino, band manger Doc (Joe Pantoliano) is a local DJ, and lyricist and keyboard player, Frank aka. Wordman (Tom Berenger), may have the worst fate of all: he teaches high school English.
"Tender Years" is remastered and re-released and is more successful the second time around, renewing interest in the band. This, of course, makes the record company eager to cash in on anything Cruisers-related. They make plans for a TV documentary on the band and to release "A Season in Hell" only to find that the masters have mysterious disappeared, and the search for them fuels much of the film's final act. So does the mystery of what happened to Eddie, who's rumored to have survived the car crash and faked his death.
This story undoubtedly sound familiar if you're a classic rock fan: The Rimbaud obsessed weirdo with pretentious of artiness and legend that he possibly faked his death recalls Jim Morrison, the difficult unreleased album by a strange genius brings to mind Brian Wilson, and the front man of a working class New Jersey band sounds like Bruce Springsteen. The music, by John Cafferty & the Beaver Brown Band, sounds similar to Springsteen as well.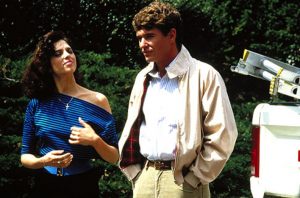 One of my favorite things about this movie is that instead of being a saint, Eddie is a bit of a dick. Pretty much every Cruiser has a flashback of him doing something cruel and petty to them. The most notable of these is when they're booked to play at the fancy liberal arts school in Vermont that Frank attended, that appears to be based on Bennington College, and Eddie becomes so insecure that refuses to let Frank change into his normal stage clothes.
I also like how the central "mysteries" don't overwhelm the film. If Eddie is alive or dead, and what happened to the "A Season in Hell" masters isn't as important as the story of the band.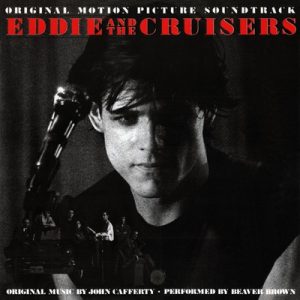 The film was intended for a summer release to market to teenagers who were then out-of-school, but thanks to a scheduling mistake Eddie and the Cruisers premiered in September. It opened to middling reviews and tepid box office receipts, and seemed destined to disappear from history. Then, something remarkable happened; in the summer 1984, nearly a year after the film bombed in theaters, HBO began playing it regularly. These airings propelled the soundtrack to the soundtrack to the top of the charts. It would eventually go quadruple platinum, and spawn two hit songs, "On the Dark Side" and "Tender Years." You still here "On the Dark Side" on classic rock radio today.
Like the fictional band that shares its name, Eddie and the Cruises found success in a roundabout way later on.The film was re-released in September 1984, and failed again, perhaps because, again, it wasn't a good move to release in the fall. As Davidson is quote in the book The Rock and Roll Film Encyclopedia, "that picture should have been a theatrical success. There was an audience for it. People still watch it and still tell me about." Still it's strange cult success seems a fitting tribute to the film.
Miscellaneous Stuff:
Six years later, the film was followed by a sequel, Eddie and the Cruisers II: Eddie Lives, whose title is quite the spoiler for those who haven't seen the first film.  Paré and Laurence are the only actors from the first move to reprise their roles. It did even worse at the box office than the first film and was pulled from theaters after just one week.
During the college scenes, Eddie also introduces Frank as "Toby Tyler." This is a reference to Toby Tyler; or, Ten Weeks with the Circus, an 1880s children's book that was adapted into a live-action Disney film in 1960. The book and film both follow a boy who runs away and joins the circus. In the book, Tyler runs away from a foster home where he's unloved and not missed. In the film, he runs away from the home of his kind relatives because he doesn't want to do his chores. Eddie is clearly referencing the latter.
Eddie says that the band once played at "Fairleigh Ridiculous up in Madison." This was a reference to Fairleigh Dickinson University in Madison, New Jersey, which is nicknamed "Fairleigh Ridiculous."