1996 was a good year for Gwenyth Paltrow. She won critical acclaim for her lead role in Emma, and even starred in a small indie film called Hard Eight that went nowhere but whose director was a then-unknown Paul Thomas Anderson. To say that Gwenyth had a knack for choosing the right projects with the right directors is an understatement.
If 1996 was good, 1998 was even better for Gwenyth. She starred in five movies, two of which were critically acclaimed (Sliding Doors and Shakespeare in Love) and a third by then-up-and-coming director Alfonso Cuaron (Great Expectations). She won a Best Actress Oscar for Shakespeare in Love, and her two bombs (Hush and A Perfect Murder) were overlooked as failed experiments. (Fun Fact: A Perfect Murder was the first movie I ever saw where the film strip melted)
The following year, Gwenyth took a break and only starred in one movie. The Talented Mr. Ripley is a critically acclaimed thriller of perverse sexuality and delicious malicious survival. Gwenyth's choices of projects continued to be daring and interesting, pushing her star ever higher.
But, lady luck would not be on Gwenyth's side when the calendar turned over and 2000 rolled around. It's almost not her fault. One project was a small-scale project by a then-renowned queer indie director, and the other project was obviously a favor. Both were sheer disasters.
Duets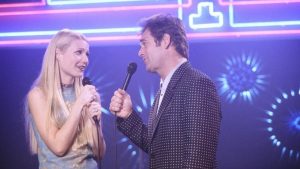 The first of these failures was a hell of a doozy, and it was one where Gwenyth seemed to be doing it out of loyalty and as a favor. After all, the producer and director was her father.
Bruce Paltrow was a big TV producer in the 70s and 80s. He first made his name producing The White Shadow, a long-running drama about a white NBA coach who has falled to coaching an inner-city high school basketball team. Paltrow cemented his name with the long-running St. Elsewhere, a prime-time hospital soap opera on NBC. Despite his success as a producer, he wasn't exactly known as a director. He had tried his hand at a handful of episodes and TV movies but never made it his full time gig. He also wasn't supposed to direct Duets.
Duets was originally supposed to be directed by Bruce's friend John Byrum, who had also written the screenplay. Byrum had been in the business for decades, and was known for passing up the chance to write Jaws so he could work on the screenplay for the Diana Ross vehicle Mahogany. Byrum had wanted to work on Mahogany so he could work with Academy Award-winning director Tony Richardson before Richardson dropped out due to Richardson's clashes with Mahogany's producer Barry Gordy.
After Mahogany, Byrum struck out on his own and directed Richard Dreyfuss' X-rated Inserts, Bill Murray's The Razor's Edge and the absolute flop The Whoopee Boys with a VHS box you have to see to believe. After a handful of tv shows, John Byrum somehow finagled his friend Bruce to produce Byrum's screenplay Duets which he was also supposed to direct. Except, Byrum had to drop out to deal with a formerly-undiagnosed case of Lyme Disease, leaving Paltrow to fill in as director.
That is to say that Duets wasn't even a vanity or a passion project. It was a favor project. I get the feeling that the behind-the-scenes of Duets feels something like Betty's audition in 2001's Mulholland Drive where she gives a fantastic audition for Wally's film and is immediately swept up by Linney James, the casting director, who was only casting Wally's film as a favor for her ex-husband producer and thinks he'll never get it off the ground. The ragtag cast of Duets is mostly made up of then-has-beens, up-and-coming actors, and stunt casting. The one exception to this is Gwenyth Paltrow as the random Academy Award-winning actress still in her prime.
Duets is three disparate road movies tied together by the sport of competitive karaoke. The movies aren't even competing with each other; they're all just kind of happening at the same time. Because of its structure, Duets is a movie designed to highlight good actors if they can make their section sing while being splintered to the point where you can't blame any single actor for its inevitable failure. And, what a failure it is.
In the world of Duets, karaoke is an underground sport with the same importance as arm wrestling in Sylvester Stallone's Over the Top. There is a teeming underground sport in karaoke with high-low stakes gambling, national competitions where the prize is $5,000, and a touring cadre of hustlers and professionals. The film opens with Huey Lewis as a karaoke hustler pulling the same ridiculous hustle that Bill Murray and Woody Harrelson played in Kingpin not 5 years earlier: Lewis walks into a bar and feigns to not know anything about karaoke by claiming he doesn't sing much. He cozies up to some young hot shot who doesn't know he's being hustled, and bets hundreds of dollars that he can sing better than his mark. By the end of the opening credits sequence, Huey Lewis has dominated the bar by covering Joe Cocker, won the bet, and gets laid by some floozy half his age who rides him cowgirl style while singing the same Joe Cocker song. Yes, folks, if you're good enough at karaoke, you can win hundreds of dollars and a pretty woman every night of the week.
As previously mentioned, there are three stories in Duets each just sort of happening in the same time period. In one story, Scott Speedman is a down-on-his-luck cab driver who randomly hooks up with a transient karaoke singer who uses sexual favors to get everything for free. They begin their journey traveling to California, but wind up heading to Nashville for the national karaoke competition.
In another story, Paul Giamatti is a sad sap traveling salesman with a rude and avoidant family that takes him for granted. After 18 months on the road, Giamatti has a midlife crisis and turns to karaoke and petty crime to get him the attention he craves. He gets an ear piercing, holds up hotels that do not honor his frequent flyer program, and picks up an ex-con hitchhiker (Andre Braugher) who feels the need to take care of him as they head to the same competition.
If these aren't wacky enough, then there's Huey Lewis and Gwenyth Paltrow. I already mentioned that Huey Lewis is a karaoke hustler who loves women after winning contests. Well, one of his past conquests in Las Vegas resulted in a daughter, played by Gwenyth Paltrow. When Huey receives the notices that her mother died (while he's having sex with the opening credits bar floozy), he travels to Vegas for the funeral where Gwenyth's grandma talks him into taking Gwenyth with him on his karaoke adventures.
Let me stop for a minute. This story would almost make sense for a 12 year old who just lost her mother and is in need of fatherly love. However, at the time of this movie's release, Gwenyth was 29 years old. To make things even more confusing, her father has her decked out like she's 12; in her opening scene, Gwenyth has butterfly clips in her hair, defers to Huey Lewis and even bows her head when she offers him tea like she's some Japanese geisha. Of course, their story is that they find each other and its about the human connection they make along the way (note that all three of these stories is about some dude lead character connecting with a stranger, which is almost an apt metaphor for karaoke). 
The problem is that none of these movies are good, and that the dialogue is frequently borderline ludicrous without being intentional about it. Gwenyth has to deliver lines like "My mother didn't believe in mayonnaise. She didn't believe in food that requires electricity." If that isn't Showgirls esque, I don't know what is. That said, everybody in here is acting their heart out to make their career…except for Gwenyth who has an impossible role and is already over this movie and knows she's doing it as a favor for her father who is doing it as a favor for his friend. 
Bruce Paltrow would die in 2002, and Duets was the only project he made with his daughter.
Bounce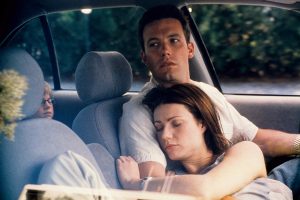 And then came Bounce. In 1997, writer-director Don Roos had an interesting but mixed bag of credits as the screenwriter for Single White Female and Boys on the Side as well as the remake of Diabolique. Then, in 1998, Roos found critical acclaim in The Opposite of Sex, the first of Christina Ricci's critically acclaimed Year of Growing Up (which also included Buffalo '66, Pecker and Desert Blue). Roos' The Opposite of Sex had Ricci turning in a stellar performance as the brash selfish emotional tornado Dede Truitt, a teen delinquent who gets pregnant, fucks her gay older half-brother's boyfriend, and manipulates a whole cast of characters. So, of course everybody wanted to be in Roos' second feature.
Bounce is not a good film. Just the premise is disturbing and awful. Buddy Amaral is an alcoholic sex-mongering ad executive who, during a blizzard, gifts his plane ticket to a guy he just met so the guy can go home to his family and Buddy can bang some girl he meets in the bar. The plane crashes and the guy dies. Buddy, who had been working on the airline's ad campaign, feels incredible guilt over killing somebody and death stalks him through elaborate Rube Goldberg devices. 
No, wait, that's a more fun movie.
Buddy feels guilt over the man's death and stalks the dead man's wife, Abby, who is now making a living as a very bad real estate agent. Buddy creates and helps her land an important real estate deal allowing her career to take off, but he doesn't tell her that he exchanged his ticket. Over the course of time, Buddy and Abby fall in love as this is actually a heterosexual rom-com. Bet that you didn't see that coming. 
The premise is the missing 5th act of 2018's Life Itself, where a guy and girl meet cute at the intersection where he distracted the bus driver as a child, and the bus ran over her mother. How do you have a romantic relationship when you inadvertently killed somebody very important and dear to your romantic partner? Life Itself completely ignores this question, jumping from the meet cute to their offspring reading a book about their lives in the distant future. To Bounce's credit, it eventually recognizes that this is a creepy concept even if, like a stalker obsessed with winning over a woman, the plot has to drive ahead to its inevitable rom-com conclusion. 
What makes it worse is Buddy being played by Ben Affleck who begins the movie in prime post-Armageddon egomania. In 1997, Ben and Gwenyth had started dating after meeting at a Miramax function (yes, that Miramax), but had broken up in 1999. They got back together romantically after she asked him to star as the ad executive to her mourning wife. Given the on-again, off-again nature of their relationship, these two have about as much on-screen chemistry as Sean Penn and Madonna in Shanghai Surprise. Ben and Gwenyth broke up in October 2000, shortly before Bounce's release. 
Much like Duets, to a mildly lesser degree, Gwenyth is hamstrung with terrible dialogue to make her character look flighty-charming. From "Bouncing…it's like crashing, only you get to do it over and over again" to "You know how guys do that half-rise thing when you come to the table? Well, he does that. I love that!", Gwenyth has to deliver the worst kind of pandering dialogue that is 2/3 exposition and 1/3 stage play. She is hamstrung by a then-completely-awful Ben Affleck (within a year, he would star in Pearl Harbor), bad dialogue and a director who was probably too nice to say boo to either of his A-list leads. 
Aftermath
Following 2000, her career became spotty with highs including 2001's The Royal Tenenbaums and The Anniversary Party and lows including 2001's Shallow Hal, the virtually unwatchable View From the Top (Gwenyth would later call it "the worst movie ever"), and 2015's Mortdecai. Additionally, she would star as Pepper Potts in the MCU and form her own delightfully insane and clueless brand Goop which sells a bunch of hippy shit at ludicrous prices to semi-new-age women with too much money.