Japan, 1630. A lone samurai appears at the gates of the Ii clan, in Edo. He's a rōnin, he says, a former retainer of a clan which, in its better days, numbered up to 12,000 men like him. But it has been peace in the country for years, and the samurai have lost their use; those without a master, like him, are now left to wander, trying to eke out an existence by whatever means available. Cast aside and left alone, he says he has had enough of this desperate, half-starved life, and the last thing he wants is to end it honorably, asking permission to use the forecourt of the clan's estate to commit seppuku.
Kageyu Saitō, the senior counselor of the House of Ii, is displeased with this. This isn't the first time a rōnin has turned up at an estate with such a request; in fact, it has become a common practice around Edo, for the samurai don't intend to die at all, but count on the embarrassed clans to offer them work or at least give them money before sending them away. Some time earlier, Saitō tells our man, one such samurai, by the name of Motome Chijiwa, arrived at the Ii estate claiming the same suicidal intentions; however, the senior members of the clan, fed up with the "extortionists", called his bluff and forced him to actually disembowel himself in front of them – what's more, using what they discovered was his bamboo sword, for he had already sold his actual blades. After this, does the man still want to follow through on his request? Not to worry, he says: he genuinely wants the clan to aid him in ending his life.
But before he does so, he'd like to tell them a story of his own.
What he says is best left unspoiled. But it might be said that Harakiri is distinguished by the fact that almost everything done by its protagonist over the course of its runtime constitutes a single prolonged act of ownage, and because said ownage is in turn delivered largely through an act of storytelling, it is also dealt by the film as a whole. The target, as ever, is the System, and though the events take place hundreds of years ago, there's nothing dated about this depiction of a perverse power structure that abuses and destroys individuals, then hides its hypocrisy and ugliness using appropriated rituals. Director Masaki Kobayashi, a pacifist who made Harakiri as a follow-up to a 10-hour World War II epic The Human Condition, opens with a shot of an antique, wool-filled suit of armor that serves as a symbol of Ii's valor and glory; placed in the center of an empty room and surrounded by smoke, it makes for a deeply unnerving image, one that anticipates the mood of Kobayashi's next film, Kwaidan. There's horror in the power that this suit represents. But it is also, as the camera's steely gaze reminds us, just an empty suit. It is important to remember that, to be able to see through it.

Like its protagonist (the great Tatsuya Nakadai, who would star in High and Low the year after), the film comes prepared. Accompanied by the chilly urgency of Toru Takemitsu's score, it first surveys the different parts of the house it's going to take place in, the environment where it's going to attack. As if in response to the clan's use of rules and conventions, it uses its own rigorously defined cinematic language: unflinchingly held compositions, quick tracking shots and zooms that react to in-frame visual and aural disruptions (a suddenly opened door, or a newly divulged piece of information), Nakadai's purposefully, creepily affectless delivery. In 2011, Takashi Miike remade Harakiri in 3D, and the idea itself was redundant, since Kobayashi already demonstrated his mastery of the format without ever needing to actually use it: time and time again, the film arranges still figures in geometrically deep spaces to superbly dynamic effect, peering in a way that reinforces the impression of seeing through surfaces and barriers. And in the scene of Motome performing seppuku with a wooden sword, Kobayashi creates a moment so viscerally, insanely horrific that it would be pointless to try and update it in any way. Here, he is already being as necessarily cruel as can be, using the film's previously subdued style against the audience. Just when you think it can't get any worse, it does.
The physical pain of that scene is matched by the emotional pain of what follows; the story told by Nakadai's hero is one that brings profound sorrow and outrage. But the thing about outrage is that it's not that hard. The greatness of Harakiri lies in how it deepens it by turning away from it: "The world does not bend to sentimental tales," coldly notes Saitō when he thinks that the tale is over, and indeed it doesn't. So another crucial, thrilling revelation follows, and violence erupts, while the film only becomes more exacting and relentless; Kobayashi's control is magisterial, exposing and eviscerating simply by not turning away, not until after the moment when the system has done the last thing it needed to do to preserve itself. Few films – few works of art, period – could ever express themselves with such a deep, impeccable balance between fiery conviction and cool intelligence, and end up so awesome in the classical sense of the word.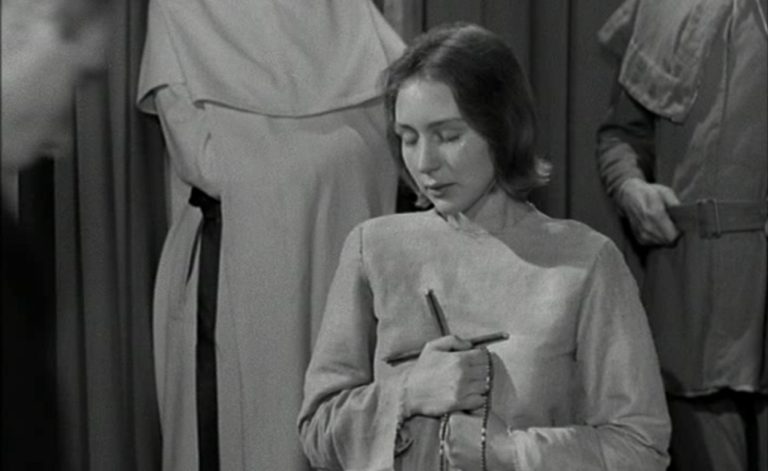 1962 saw the premiere of another stark black-and-white historical drama that centered on an individual in the face of power and understood the value of discipline. Robert Bresson's The Trial of Joan of Arc arrived almost exactly at the midpoint of his career, buried in a now-celebrated run of consensus masterpieces – Diary of a Country Priest (1951), A Man Escaped (1956), Pickpocket (1959), Au Hasard Balthazar (1966) – over the course of which the filmmaker's style grew more and more stripped-down.
I have a difficult relationship with Bresson, and by extension with his renown; having at this moment seen all but two of his thirteen features, I firmly believe that his minimalism, and specifically the flat, emotionless line delivery he demanded from his often non-professional actors (or "models," as he preferred to call them) in otherwise natural situations, undermines to some degree even his best work, and that his is a case of an artist stubbornly bending reality to his vision rather than allowing his vision to accommodate the complexity of reality. (Put it another way: people nearly always speaking in zombie-like monotone is neither realistic nor counterintuitively suggestive of personality.) But The Trial of Joan of Arc is, to my skeptical eyes, one of his more successful films, in part because it might just be his most minimalist: it consists of virtually nothing except the titular event, is all of 61 minutes long, takes place in a single setting with few speaking parts and as little extraneous detail as possible. Jeanne (Florence Delay, in her first film role) spends much of it either being interrogated or lying, tired, in her cell.
In a cinematic environment as restricted as this, the small and the pointedly absent can gain meaning – and does. Prison, the ready physical equivalent of the limitations Bresson imposed on his films and actors, was also the setting of A Man Escaped, arguably his best and by leaps and bounds his most conventionally pleasing and exciting film, and if there the filmmaker directed his focus towards the process of escape, Trial is all about what gets asked by those in power and said in response by the young woman struggling to at least preserve some personal power in her self-possession. Talk of angels and visions, journeys and kings becomes all the more poignant for how far removed the film's present moment feels from anything of the sort; sharp cutting of shot-reverse shot conversations establishes a ruthless rhythm, while looks and gestures form their own narrative, and disembodied hands performing actions – a favorite recurring motif of the director – start looking in this context like the hands of history itself.
The worst actors in Bresson's films tend to come across like disinterested schoolchildren blankly reading words they are being shown from just out of frame, and there are such cases here (one of them in an English-speaking part), but they're more than offset by the lead performance. Delay is no mere model, fashioning an actual character out of long and short pauses, exhausted postures in between interrogations, the way she alternates between staring straight ahead and at her feet when answering questions; unlike most other non-professional leads Bresson used, she isn't flat but expressively terse, and her understated presence is as essential here as Renee Falconetti's larger-than-life one is to The Passion of Joan of Arc. That film's expressionistic fervor is more or less the opposite of what Bresson stood for – and he in fact disliked it – which is not to say that he himself wasn't one for uniquely striking images; Trial is bookended by two – its first shot is of the ends of black robes gliding over white floor, while its closer shows an empty charred stake with no trace of the person who was just on it, an ending that, fittingly, echoes Harakiri.