Over an assured 81 minutes, Larisa Shepitko's Wings builds a deft, lyrical, immensely empathetic character study of a woman in crisis. Its heroine is Nadezhda Petrukhina (Maya Bulgakova), a decorated WWII fighter pilot in her youth, now a 40-something school principal whose wartime past, the choices and sacrifices she's made in her adult life since, and her disconnect from the '60s Soviet youth all increasingly bear down on her. 
The film itself initially switches between alienating viewpoints. Its opening scene finds Nadezhda getting measured for a suit, her face barely seen, and the dispassionately rattled-off numbers are the first thing we see or hear that defines anything about her for us — followed by the suit itself, which she proceeds to wear for most of the movie and which inevitably comes to symbolize repression. In her second appearance, she is briefly seen on a TV screen, delivering a speech and applauding, with the sound cut off. "What's she saying?" asks a male voice offscreen; "Is it that hard to guess?" dismissively replies another. Indeed, from the moment we do hear her, she frequently resorts to canned bureaucratic speak and well-comrades enthusiasm that are as insincere as they are reflexive. 
It is this insincerity that, in the closest thing the film has to a plotline, draws the resentment of Bystryakov (Sergei Nikonenko), a student in Nadezhda's school whom she expels after a fight and who subsequently runs away for several days, before reappearing and giving her a transparently phony apology; she accepts, then begins scolding him anyway, bringing up what she's since learned is his severely troubled family. It is here that he can no longer pretend. "I loathe you," he says quietly, his voice brimming with pain, and finally she too has nothing to say, her accepting silence its own sincere response and thus a step forward.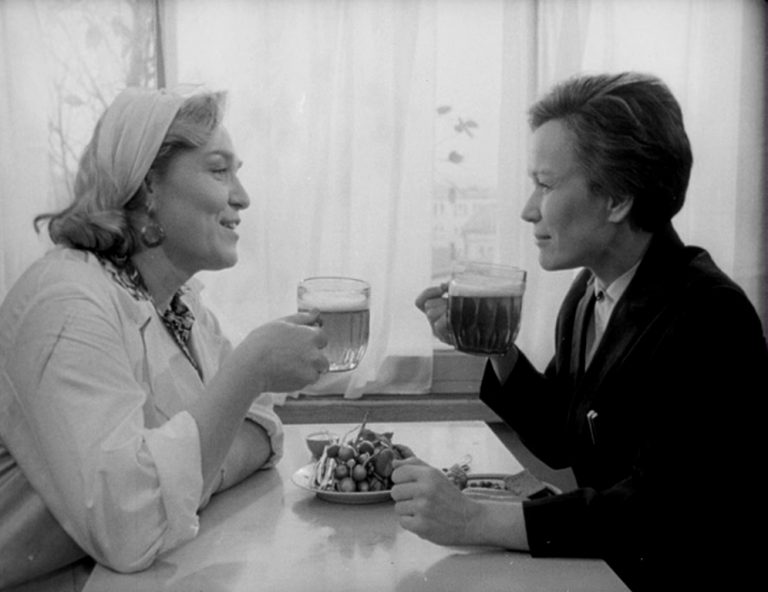 It would have been easy for Shepitko herself — who was, remarkably, still in her twenties when she co-wrote and directed the film — to treat Nadezhda as a relic in need of learning valuable life lessons. Instead, she and Bulgakova craft a much more complex and probing portrayal of a woman who struggles — with being seen and heard but not understood, with the effects of time and ideology and playing a certain rigidly defined role, with her good intentions backfiring or going unappreciated. (As feminism in Soviet cinema goes, Wings is a fairly indispensable document.) Nadezhda is willful and vulnerable, hard and welcoming, put-upon and committed, neither judged nor excused by the film — which is all the more appropriate since she would never make excuses for herself.
Her most complicated relationship is with her adult daughter, Tanya (Zhanna Bolotova), who has never been informed that she's adopted; their loaded dynamic, turning from affection to tension on a dime, leads to the film's most remarkable scene, in which Nadezhda comes to see Tanya one last time before the latter leaves with her considerably older husband, whom she's recently married without consulting her mother (who, for her part, even had to invite herself to the engagement party). A moment of mother-daughter bonding, in which the two women laugh over Nadezhda being overworked and not getting anywhere in her own personal life, leads to Tanya prompting her mother to start her life anew and "let others" do her drab, thankless work. That phrase strikes a nerve, and the mood quickly changes. "I have never known those words," observes Nadezhda with a sort of of intense resignation. "All my life I have worked for myself and others both. And I don't regret any of it." Taken aback, yet correctly sensing the pain behind the conviction, Tanya offers to stay in town after all, which is, of course, a mistake; our heroine instantly recognizes that she's being pitied, and firmly rejects it.
Occurring right past the movie's halfway point, this scene makes it clear that Nadezhda's strength and integrity are not in doubt — yet it's likewise obvious that some form of reckoning and liberation is required. Where can it come from? Perhaps the slyest, most compelling result of Wings' dominant mode of tender, disarming behavioral observation is the way it becomes clear that this story, which of course takes place in a communist society (opening shot: street crowds silently swarming in both directions, seen from inside a department store) and is filled with reminders of collaboration and duty and self-sacrifice, is nevertheless permeated with a yearning for simple human connection. Growing increasingly intense on Nadezhda's part, it culminates with the film's most striking moment, in which, after drinking and reminiscing, she and her waitress friend Shura (Rimma Markova), spontaneously waltz for a few seconds through the diner where the latter works, before realizing they're being stared at by men outside.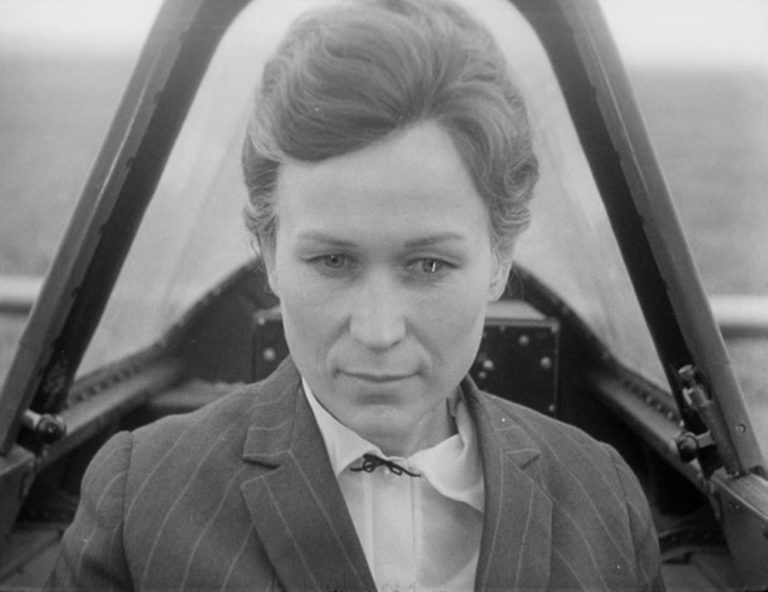 Then there are the skies, holding their own promise. In a device that never ceases to be effective, Nadezhda's everyday activities are regularly interrupted by daydreams/memories of flying, the camera assuming the first-person view of an aircraft pilot up in the sky, where the land and the clouds look equally abstract and infinite. Initially serving as moments of reverie, these turn out to hide a memory of happiness and tragedy that the film elegantly reveals as it heads into its home stretch. There, Nadezhda finds herself in the cockpit of the single-seat aircraft again, first getting pushed through the airfield by a crowd, then actually lifting off, with the seeming heavy-handedness of the moment morphing into ambiguity — a fitting final gesture for a film whose warmth and humanism do not involve any pat solutions.