Michael Powell and Emeric Pressburger, together known as the Archers, are probably one of the best-known and regarded writing and directing teams outside of the Coen Brothers and Merchant-Ivory-Jhabvala.  Films like The Life and Death of Colonel Blimp and Canterbury Tales are regarded as classics, but for my money their absolute top is Black Narcissus.
Set in the British Raj, when Britain occupied India, the plot centers around a local prince who has invited a group of Anglican nuns to establish a school and a medical clinic at the old palace high in the foothills of the Himalayas.  Deborah Kerr stars as Sister Clodagh, head of the 5 nuns sent there. Naturally, things start going sideways as the nuns, pretty well unprepared for their mission, start to crack under the pressure of their isolation and how the locals quite rightly don't particularly trust them (especially the prince's British agent, Mr. Dean, played by David Farrar and who rightly predicts they won't last until the next monsoon).
In particular, Kathleen Byron is brilliant as Sister Ruth; Byron had a long and successful career (I was delighted to find that she, of course, has a Midsomer Murders credit, and she was Mrs. Ryan in Saving Private Ryan) but this was definitely the highlight.  Ruth is obviously slightly unstable from the beginning, but as the cracks start to show in the order, she sets her sights on Mr. Dean, making small advances and finally ordering a modern dress and lipstick.  (The moment she comes out of a shadow in the dress and lipstick to frighten Clodagh is simply amazing.)
The movie is worth watching for those visuals alone; its two Academy Award nominations were for Color Cinematography and Color Art Direction, both of which it won.  It probably should have been nominated for Visual Effects for the matte paintings by W. Percy Day; the movie was filmed almost entirely at Pinewood and his landscape paintings are brilliant at suggesting scale and height; see in particular this shot.  The left side has Deborah Kerr ringing a bell on a set; that whole dropoff from the cliff on the right is a matte painting.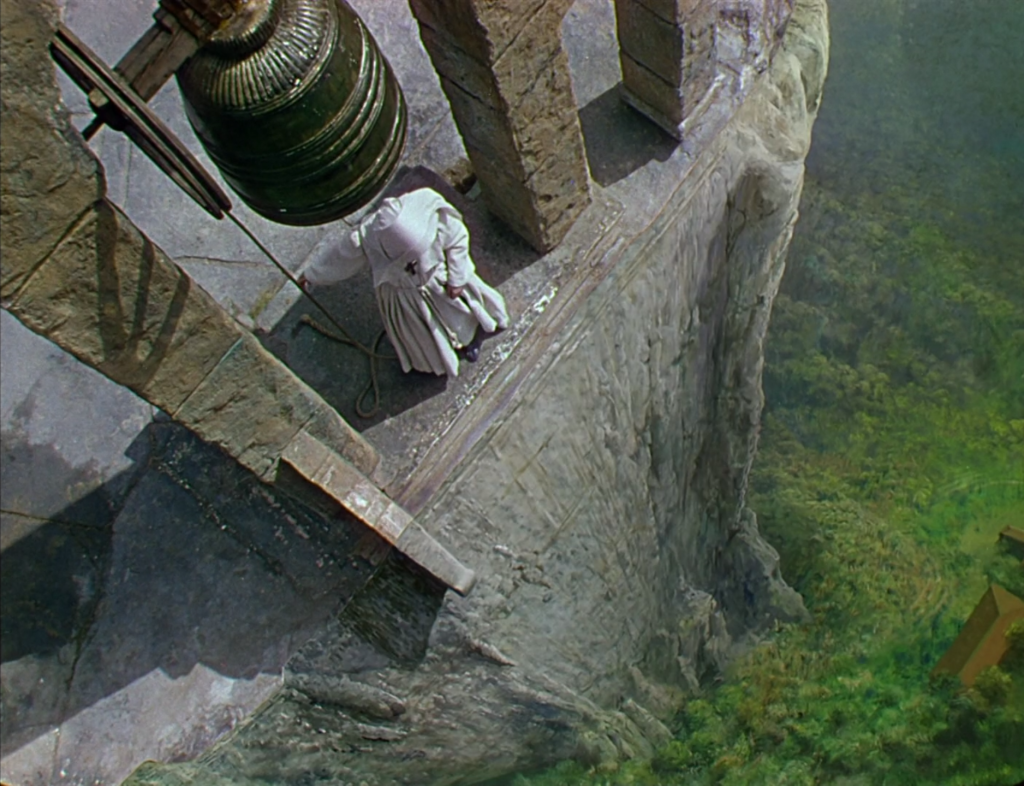 Unfortunately, the one visual effect that just was bad then and is worse now is that the only Indian actor in the movie is Sabu, playing the Raj.  Everyone else is Brits in brownface, particularly Jean Simmons as Kanchi, a local girl whom the sisters take in.  It's really caked on, too; one downside of the blu-ray is that the makeup of the time stands out a little more.  And, of course, everyone speaks in what they think Indians would sound like and…yeah.  You sometimes have to put up with stuff like this in older movies and grapple with it, not just hand wave it away.  Compare it to Jean Renoir's The River, made four years later and fully filmed in India and using local talent to great effect.
But overall, it's a lovely and gripping movie that has a climax on a clifftop that's still thrilling 76 years later.  Kerr is her usual great self, slowly breaking down under the pressures of leadership, and Byron is the real star of the movie as she steadily cracks.  As of this writing, it's streaming on both HBO Max and the Criterion Channel and also, oddly enough, Shout TV.