I, a self-proclaimed cinephile, had never seen a Charlie Chaplin film. While I had enjoyed silent movies like The General (what a fantastic action movie!) and Metropolis (what a fun sci-fi blockbuster!), I still did not feel compelled to explore the world of silent films when there were so many non-silent films I was more interested in. Reader, I was a fool — Modern Times is a wonderful, delightful film I should not have been afraid of, especially because it's not even a true silent film! It has sound effects and some dialogue and even some singing. But it holds up for so many more reasons.
Over eighty years later, the anti-capitalist sentiment has only become more relevant, and I love the numerous ways Chaplin finds to make political statements without being explicit and didactic. The feeding machine designed so that workers can eat lunch more efficiently and spend more time working seems like unrealistic satire, but…isn't that literally the point of Soylent? Notably, that machine makes noise; in fact, only the machines make noise in this movie, which otherwise upholds the rules of a traditional silent film. The only human being we see speak is the big boss, the man in charge of all those machines, and we hear him through a video screen. Human voices are later heard coming out of a record player and a radio, more machines. Chaplin gives the power of sound — a new technology he was finally embracing — to the symbols of the increasing mechanization of the workforce. The lowly workers, meanwhile, speak only in title cards. The Little Tramp's "We'll get a home, even if I have to work for it" is a sad joke because of course the only way to get a home is to work for it. Following his travails illuminates how capitalism forces people to work to get money to survive. It ties your ability to live to a job, and that's ridiculous, right? It's so ridiculous that you can participate in this system simply by singing gibberish lyrics. As Chaplin presents it here, the whole system is absurd.
Chaplin captures his anti-capitalist message most potently in the iconic sequence where he is swallowed by the machinery. How the hell did they do that?? I want to imagine they actually built giant gears for Chaplin to slide between, but the mind boggles, even now. Much of the movie takes place outside the factory, however, and Chaplin still managed to make me ask how they did that in scenes like the one where he roller skates blindfolded backwards on a balcony without falling off the edge. Excuse me? What? Huh? How? What? I fully believed this was real when I watched the movie and was impressed that Charlie Chaplin did not fall to his death, but it turns out that he was never in any danger!
Even though a matte painting special effect gave the illusion that Chaplin could potentially die, I was still impressed because he was actually roller skating blindfolded backwards right up to that edge with such precision that the mind boggles anyway. There's something truly exciting about watching pre-CGI films because you know that either what you're seeing is really happening (hello, Buster Keaton), or the filmmakers are being creative in ways we don't do anymore.
Anti-capitalism and 1930s special effects are appealing, but you know what's more appealing? Paulette Goddard.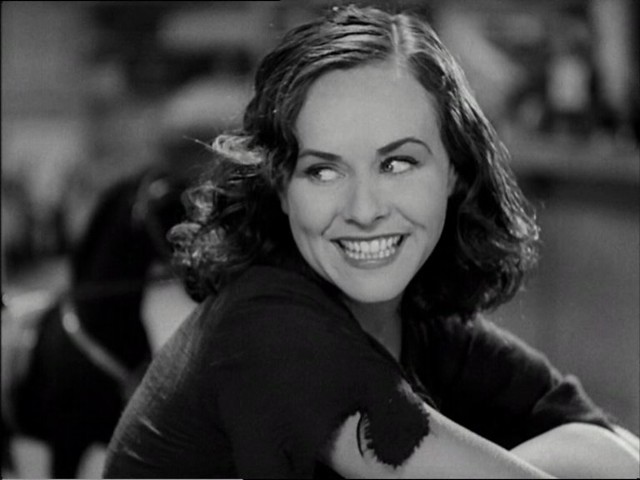 Look me in the eyes and tell me you wouldn't go to jail for this woman. I dare you. Goddard is so utterly charming in her role as the Gamin, yet she maintains enough of a sense of agency to avoid being simply the Love Interest. The romance at the center of the story gives the movie heart when it could have become something much more cynical.
Of course, Chaplin also avoids cynicism with plenty of silly comedy. One of my favorite random gags is a guy opening a bottle of champagne by shooting off the top. It's efficient and quick, to be sure, but it creates a mess of broken glass and it's dangerous to boot. It made me laugh out loud, though, and that's the important part. And who could forget the time the Little Tramp accidentally ingested cocaine? This was in post-Code 1936, folks! You weren't actually allowed to do this in film anymore! Charlie Chaplin was hardcore.
Modern Times, despite being far from our actual modern times, remains an enduring classic, and anyone who gives it a mere 87 minutes of their time can easily see why. Comedy, romance, social commentary, special effects, bananas — it's everything you want in a movie!