Author's note: A version of this essay originally appeared as part of Lovefest 2016, a community celebration of underappreciated movies at The Dissolve (RIP). In the spirit of Margaret, which underwent much revision and came out several years after its intended completion date, this piece has been re-edited from its incarnation in the comments of that website all those years ago for its release today.
The Margaret we have is not a mess.
Written in the wake of 9/11 and originally set to debut in 2006, Margaret was famously delayed for years during a behind-the-scenes bruhaha involving a three-hour cut and a protracted battle in the editing room between an intractable director and a meddling financier eventually mediated by none other than Martin Scorsese and Thelma Schoonmaker. Despite a marquee-friendly cast headed by an Anna Paquin, who had become a Home Box Office hit during the fiasco, the film was released to only fourteen theaters in 2011then scuttled to home video.
Like a wordy college essayist pushing back the margins and sanding down the font size, writer/director/alleged perfectionist Kenneth Lonergan squeezed the theatrical cut of Margaret into a precise and contract-fulfilling 150 minutes (149 min 53 sec, according to the Blu-Ray counter). An extended cut restoring an additional 28 minutes was finally released, at first only as a DVD companion in the Blu-Ray case or in standard definition option on some streaming services. The sound mix for this extended edition sounded unfinished in places and the transfer never upgraded. The extended cut was released as an option on HBO Max in 2021 but has now vanished. It's listed as available for purchase in HD on Vudu, but I have not verified that the expense has been spared to complete the cut. Not so much because of the $9.99 price tag, but because I believe Lonergan delivers without compromise, even having to stick to the contractually obligated 150 minutes.
Intelligent, self-absorbed teenager Lisa Cohen carelessly distracts a bus driver as he runs a red light, killing a middle-aged pedestrian (Allison Janney, making the most of her five minutes of screentime). Lisa initially blames the accident on the dead woman in the police report and covers for the bus driver (Mark Ruffalo, making the most of his ten minutes of screentime). But Lisa can't put the truth out of her mind and later attempts to backtrack and hold the driver accountable, eventually teaming up with the victim's caustic friend Emily (a fantastic Jeannie Berlin) in an effort to force the bus company to fire the driver. Lisa's own blame in the incident haunts her as she lashes out at her weary and often absent mother Joan (J. Smith-Cameron), the NYPD investigators, and her classmates during scorching debates about early 2000s United States foreign policy. Lisa is searching for the keys to the adult kingdom, and the high drama of the bus accident becomes a new cushion to look under.
The obvious graces of Margaret need little defense. It's a common entry on critics' best-of-the-decade polls that benefit from hindsight. But if some of the world loves Margaret, almost none of it loves it enough. Many positive reviews contain some form or synonym of the word "mess" and allude to being forced to watch an abbreviated version. The general consensus is that the performances are strong but the film simply couldn't find itself. Whether you were a champion or detractor of the film came down to how well you tolerated unorthodox moments that viewers assumed to be scars from the slicing and dicing that took 3-hours down to 2-and-a-half. Sudden scene changes and a plethora of subplots involving A-list actors fueled incorrect perceptions that the film was trying and failing to juggle more elements than it could pay off in a shortened run time.

Margaret builds Lisa's world out of daily moments and Lonergan refuses to dismiss any of them for being ostensibly irrelevant. Instead he lets that editing that took so many years indicate their importance to Lisa, giving a surprising amount of time to some and pointedly juxtaposition contradictions and counterpoints in adjacent scenes. There's an early emphasis on a scene with Lisa's math teacher Mr. Aaron (Matt Damon). She has a crush on Mr. Aaron, an attentive adult residing in the rational world Lisa yearns to join. But while her dialog scenes with Mr. Aaron are full story beats, other scenes featuring interactions with classmates and longtime friends flit by, barely registering before they're gone (including truncated interactions with what appears to be a longtime friend played by Sarah Steele, making the most of her two minutes of screentime). In the opening ten minutes, a fellow classmate is given a lengthy, precious scene where he attempts to ask Lisa out. Later, he appears only sporadically and by the mid point of the film he is offscreen and out of mind entirely, as Lisa sheds her high school concerns in favor of hardcore bus litigation.
The strategy of keeping everything and sorting it onscreen rather than jumping between plot-relevant scenes creates some unconventional digressions, such as Joan's budding romance with an earnest Columbian (Jean Reno) and – most notoriously – a sudden revelation for Damon's character in the final minutes. Moments like these set off alarms for viewers already inclined to believe they're watching a mess. But Lonergan never loses sight of Lisa's real objective – to be seen as a real, live adult in a sensible world of mature conversations and dramas.

The intense bus accident scene casts a shadow over the rest of the film. We're confused when the movie seems to ignore it for a time. But Lisa is willfully avoiding the topic and the movie dances around the subject of victims and responsibility for a good third of its runtime. Lisa experiments with drugs. She loses her virginity (to Kieran Culkin, making the most of his one minute of screen coitus). She has a lengthy quarrel with her mother in one of the film's most electric and perceptive dialog exchanges. The bus accident is mentioned but the subject is quickly buried. The film pushes forward, fully aware of its gruesome inciting incident but unable to look it in the eye.
Compare two scenes around dinner tables, separated by a single scene in the theatrical cut.  The first shows Lisa eating with her family in the immediate aftermath of the bus accident. It lasts less than ten seconds, and ends abruptly as Lisa snaps at a macabre question by her brother. In the second scene, Lisa gleefully enjoys a seat at the grownup table, sipping wine with her mother's friends as they joke with uncensored crudity. This scene is allowed well over a minute of valuable screentime, even though nothing in the scene relates to the bus accident earlier that day. Lisa wants lose herself in a grownup world where everybody drinks a little too much as they laugh a little too hard. The bus accident plot only becomes central to the film again when Lisa at last puts herself in the center of the proceedings, now chasing the mature thrills it can offer.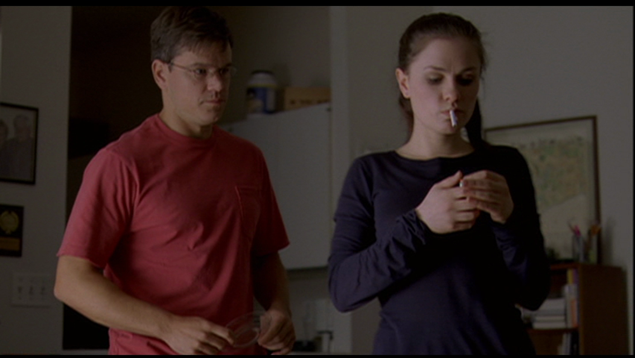 Subplots involving two of Lisa's teachers are central to the illusion that Margaret has lost track of itself. Matthew Broderick's English teacher is an adult foil bested by his own students. He's a crack in the façade of the grownup world and his scenes fit perfectly with Lisa's growing excitement at the prospect of challenging the adult status quo. The character itself stands out as "abandoned" because of Broderick's star status. A duo of long-suffering teachers in a civics class played by Kevin Carroll and Jerry Matz share a similar role, ceding their classrooms and their scenes to raucous student debates.
The second teacher, Matt Damon's Mr. Aaron, has the more visible "lost" plot. Lisa seduces Mr. Aaron in his home then later approaches him publically and claims to have had an abortion. The scene sends out a shockwave because A) we have no evidence this is true and B) it comes immediately after a scene where the bus company settles. In the settlement scene, Lisa screams a half-confession, half-apology for her role in the tragedy in a scene that looks, sounds, and feels like the film's climax. But it's the climax to the bus story, not the film. Lisa's made her confession/apology for the accident at least twice before this point. And the bus lawsuit isn't the film's primary concern, it's just Lisa's latest and largest obsession in the adult world. And when the suit doesn't pan out like she expected – the company will have to pay a settlement but the driver retains his job – she retreats to the schoolyard to ply her new understanding of how to deal with adults. Namely, if you've been wronged, shake your adversary down for money (in a single phrase she announces the abortion and its $400 price tag). After two failures to be inducted into maturity in as many scenes, Lisa attends the opera with her mother and in an uncharacteristically silent fit of emotion, is finally allowed the smallest of steps forward as we close in on minute 149.
Margaret already contains a boggling amount of intense dramatic performances and scenes. The extended edition isn't intended to make a smoother ride. It doesn't change many of the jarring cuts. It also doesn't add additional endings to subplots. The details it provides – whether Lisa really had an abortion, whether Lisa will go out with her young suitor, etc – make slight recalibrations, not wholesale revisions to the text. The smash cuts between scenes and reemerging subplots all remain intact because they're functioning as intended already.
Unnecessary isn't the same as dead weight in this case. If I added back anything from the extended edition, it would be a scene where Lisa and her classmates make emotional apologies to each other during an afterschool play rehearsal. The scene is another dead-on depiction of drama-minded teens, and it grants Lisa juvenile courage and catharsis that leads to her re-enter the bus story. (There's only one short scene that doesn't work in either version. Lisa's brief dream of her mother in funeral black is startling in all the right ways, but the second dream of blood running in the bathroom sink offers nothing we haven't seen in a dozen terrible horror films, including a figure in the medicine cabinet mirror.)
There are no restored scenes that create a fuller picture and when they were imagined before the availability of the extended cut it distracted from the accomplishments of the theatrical cut. It's telling that the theatrical version chooses to include extended slo-mo shots of Lisa on the streets of New York in blocks of time that could have been given to extra exposition. The movie was always going to prize pace and tone over narrative. Six years in the editing room proved enough time to hone Margaret into a masterpiece, now it's the preconceptions that need to be revised.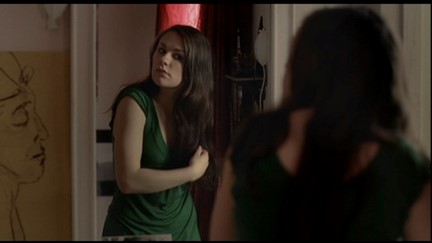 —
Stray observations:
– Jim Emerson has some great entries on his scanners blog about Margaret which is how I learned about the movie in the first place. The link includes a breakdown of scenes missing from the original script that he presumes at the time are in the extended cut (mostly no, it turns out). At one point off-handedly expresses a desire to write a book on the beleaguered production. Would that he had!
– There are obviously a lot of post-9/11 themes in the film. I think finding a straightforward allegory would prove frustrating, but anybody who wants to try should start with Mark Ruffalo's distracted bus driver in a cowboy hat driving unwittingly into tragedy and disaster.