A man said to the universe:
"Sir, I exist!"
"However," replied the universe,
"The fact has not created in me
A sense of obligation."
-Stephen Crane
Ingmar Bergman's The Seventh Seal is practically synonymous with world cinema, and it continues to be one of the most revered films we have. It won a Jury Prize at Cannes when it debuted, Roger Ebert included it in his "Great Movies" series, and sources as diverse as the Vatican and Entertainment Weekly have ranked it among the greatest films ever made. It's Film Studies 101. It's even the first foreign film I saw, thanks to a cool English teacher.
The premise is simple enough: it's the Middle Ages. War and plague ravage Europe. A knight, Antonius Block (played by the legendary Max von Sydow), returns home from the Crusades, despairing that none of the killing has resolved anything. He and his squire are greeted by a black-cloaked figure. It is, of course, Death. The knight challenges Death to chess to delay his own death as long as the game is played in order to perform one final good deed. Death agrees.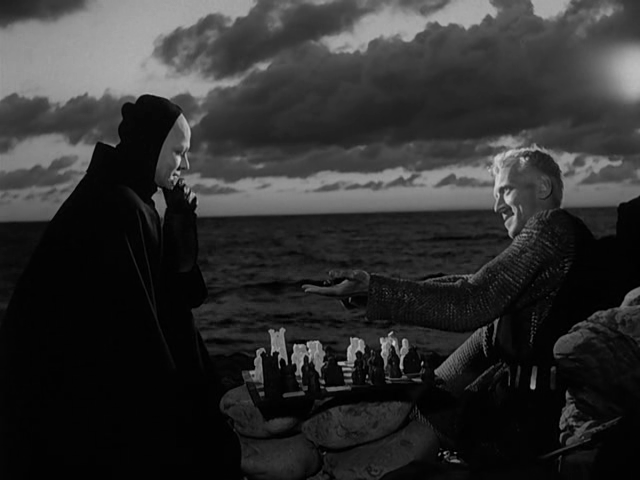 So it's a heavy, weighty film. Director Ingmar Bergman has a lot on his mind here, and the characters are given to monologues, often speaking the subtext aloud. But Bergman isn't a naturalist. The movie is a morality play, practically a fable, and the Medieval setting is perfect for that (if you've ever read "Everyman" in a British literature class, you know the genre). The Seventh Seal provides fewer answers than the old morality plays, however.
The film's title refers to Revelation 8:1: "When he opened the seventh seal, there was silence in heaven for about half an hour." That apocalyptic feeling pervaded both the Middle Ages and the 1950s. The Black Death killed an estimated 30-50% of Europe, and the End Times were not far from the Church's mind. Bergman and the rest of his world were recovering from World War II. Over 60 million died, at least six million of them in the Holocaust, and now the winners were engaged in a nuclear standoff. And in the midst of the extermination of the Jewish people and the threat of global annihilation, God responded with…silence. It's in this space of silence that the movie takes place.
Antonius and his squire become traveling companions with a family of actors. One of them, Jof, claims he has visions (including Mary and Jesus). He sees Death and Antonius play chess, and flees with his family, inspiring Antonius to knock the pieces off the board. While Death replaces the pieces, the family escapes unnoticed. Antonius is checkmated, but he's accepted his fate, having saved the family – his one good deed.
Presumably, the film ends on an upbeat note. The family survives! Antonius finds peace! But it's a short-lived victory. The family has avoided Death – for now. It isn't salvation, merely a reprieve. Our knight has delayed the inevitable for only one family. Death will still come for them.
Note that Death here isn't evil. He has a mordant sense of humor (he kills one man by chopping down the tree he's hiding in) and has a sense of "Just doing my job." He is a force, a natural law, something implacable. Death is a fact of life, and Antonious knows this. He doesn't believe he can win their chess game – he knows he's just buying time.
There's also no certainty of an afterlife, despite the Christian overtones. Jof claims to have seen Mary, and we do have a glimpse of her walking a baby Jesus. But Mary and Jesus are might not really be there. He could be hallucinating (later Bergman films, such as Through a Glass Darkly and Cries and Whispers, would continue the theme of unreliable visions). Even if Mary and Jesus really are there, that apparition is hardly an answer to Antonius's questions.
While Antonius searches for validation, his squire, Jons, takes a completely opposite approach. He doubles down into the meaninglessness, treating life as a dark joke. Upon meeting a skeleton they mistook for a living man, he tells Antonius, "He was most eloquent. But very gloomy." He argues with an icon painter that the fear of death is just a way to give the priests more power, saying, "Our crusade was so stupid that only an idealist could have thought it up." And even at the end, when Death finally comes for them all, Jons criticizes Antonius's prayers: "There is none to listen to your lament." He's a different path Antonius could've taken, one that abandoned any sense of decency.
So for all its Christian themes, The Seventh Seal is really an existentialist film. Antonius is thrown into this world but comes to find its values empty. He's grown cynical about both worldly and religious leaders, and the innocent die and suffer everywhere. He's left with either surrendering to the absurdity or creating his own meaning, and he chooses to find an authentic act of goodness for himself.
Antonius reflects Bergman's own anguish at the silence of God. He took religion with the utmost seriousness, but could never find comfort in it. When the knight finds a church, he enters the confessional and tells the priest, in the central exchange of the film, "Why must He hide in a midst of vague promises and invisible miracles?…What will become of us who want to believe but cannot?…I want to tear Him out of my heart, but He remains a mocking reality which I cannot get rid of… I want God to put out His hand, show His face, speak to me." The confessor reveals himself to be Death, having cheated the knight out of his chess strategy. There is no one else to hear his prayers.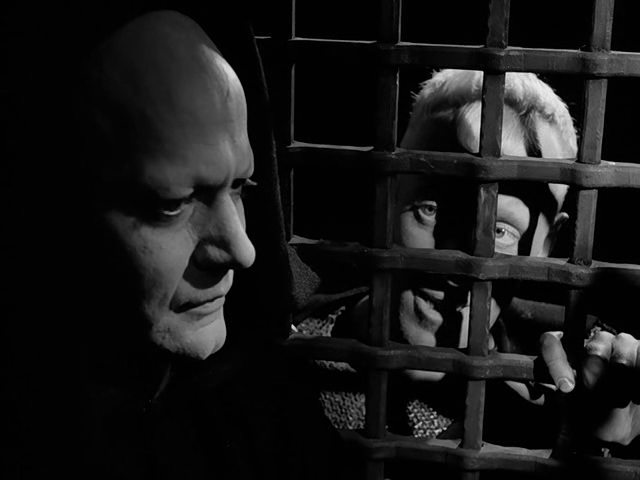 This sense of betrayal by our idols also mirrors an oft-overlooked part of Bergman's own life: he was a Nazi sympathizer. It wasn't until revelations of the death camps that Bergman retreated from his fascist beliefs, later admitting, "When the truth came out it was a hideous shock for me. In a brutal and violent way I was suddenly ripped of my innocence." Like so many in World War II, Antonius and his squire were both convinced to join the war by leaders and theologians demanding loyalty against an enemy who practiced the wrong religion, only to find the war was useless. Bergman uses his disillusioned knight to work through his own guilt.
But for all this gloom and doom, parts are light and funny and sweet. Antonius enjoys a picnic with the family of actors, saying, "It will be enough for me." There's bawdy humor about a lecherous troupe manager. And Death has the funniest moment in the movie. But these instances of pathos or laughter aren't out of place amidst the grimness because that's what life is like, and that's what interested Bergman.
It's worth noting that those who survive are actors. They are creators, artists, and their performance will stay with the audience after the play is over, and that's its own legacy. It's what Bergman himself did. He died in 2007, but his movies still attract viewers because he created something that resonates. They're his good deeds for us.
Two other films play with these same ideas: It's a Wonderful Life (1946) and Ikiru (1952), and they provide a useful contrast to The Seventh Seal. They both feature protagonists who feel that they've wasted their lives at menial desk jobs without having any sort of impact. Being faced with death gives them both a clarity of vision and purpose – George Bailey realizes his importance to his community, and Kenji Watanabe builds a park for his town's children. Both of them have greater victories and legacies than Antonius, but they have more modest goals. . Antonius is literally fighting Death, a battle everyone loses. Back-to-back, these movies would make a heady triple feature.
While Medieval crusaders are more alien to us than small-town bureaucrats like Bailey and Watanabe, they can demonstrate the same struggles for purpose and fears about death (Antonius' worries are more modern than ones a real Medieval knight would have, but Bergman is working in a fable here). The only solution they find is to have something to hand down through the years. They can't live forever, but they find comfort in providing and caring for people other than themselves. Bergman's knight has the most limited success, but he still finds the same message as the others – you want something good to happen in the world? Find a way to do it yourself. Even the smallest victory is better than none.