I have a weakness for VHS tapes. They're how I started collecting movies, and a strain of '80s and '90s film just feels right on their crummier picture quality. And they also have previews! Trailers that theoretically condense their movies into their most compelling bits. This condensing is based on trends and styles of the era, so the trailers become even more potent time capsules than the movies themselves and don't require watching what may be a crappy movie. 
My VHS of Leprechaun 4: In Space opens with 13 minutes of trailers for entertainment from Trimark/Vidmark, which distributed films on home video but also produced low-budget DTV movies like L4:IS. It has all the home video entertainment a consumer could want — sports, drama, action, and family entertainment — and pretty much all of it (with one major exception) immediately fell through the cracks. But as a whole, it provides a pretty solid portrait of what 1996 had to offer. Here's the tale of the tape.
The Trailer: Here's that big exception — an ad for merch from the Ultimate Fighting Championship. Videos of matches, apparel, towels, and, of course, a catalogue detailing every item available for purchase, all at the other end of an 800 number. This does not look like something that will be a billion-dollar industry in 20 years — what's striking is how the match footage, while showing plenty of enthusiastic fans, is still shot more like the wrestling of the time rather than the professional setup of today.
Quote: "Do you feel your blood get hotter when you see your favorite fighters in the ring?"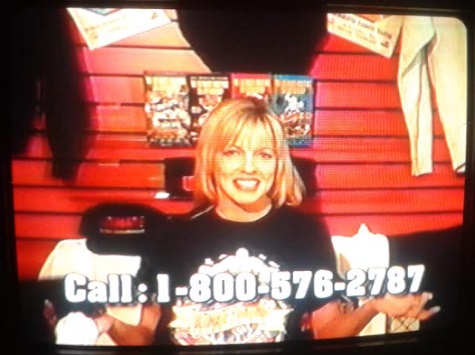 The Trailer: The Warrior of Waverly Street, a movie about a dorky-looking kid who acquires a magic alien space suit that looks like the Guyver and uses it for superheroics. The kind of light family fare the Ploughman is making meals of, the trailer shows the mild peril and gee-whiz acting that defined '90s kids until Haley Joel Osment came along.
Pitch from the trailer announcer: "It has unimaginable powers — and you don't even need a license to drive it!"
Quote from the trailer: "I could get used to this!"
The Trailer: Unfortunately, the trailer for Nothing Personal I found online is not the same as the one on the tape, where people groove to Mungo Jerry's "In The Summertime" before the pub they're in explodes. We're in Ireland during the Troubles, you see, and violence and confrontation and family anguish are the way of the world. I feel like there were a billion movies about the IRA in the '90s, but this one is an actual Irish production, and one actor was awarded at the Venice Film Festival, the trailer tells us, so maybe this has more to offer.
Pitch from the trailer announcer: Too serious for an announcer, so we get on-screen text: "In one night…lives can change forever."
Quote from the trailer: "I'm just lookin' for me Da."
The Trailer: So, you know how Reservoir Dogs had that cool three-way Mexican standoff? Well, Underworld has four people pointing guns at each other! Denis Leary and Joe Mantegna drive around talking about the distinction between psychopaths and sociopaths, Annabella Sciorria is a sexy shrink, characters are introduced by name via onscreen text in pure '90s "cool" font and lots of shit gets shot. We are firmly in Tarantino knockoff hell, but hey, Traci Lords is here! 
Pitch from the trailer announcer: No announcer, he couldn't get a word in edgewise around these faux-loquacious idiots, but we do get the on-screen text, "To get to the truth…you need a little help from your friends."
Quote from the trailer: "Sounds damn dandy, Dan."
The Trailer: You didn't think we'd have a bunch of DTV trailers without Rutger Hauer, did you? He and Josh Charles are fighting extradimensional bad guys hunting a magic scepter in Crossworlds, which seems to be ripping off Stargate and Sliders with the effects of the latter. It looks extremely cheesy but also extremely watchable with a couple of beers.
Pitch from the trailer announcer: "From beyond the boundaries of our dimension…they have come to reclaim an object…that has unimaginable powers!"
Quote from the trailer: "Let's watch the world go to hell together, one soul at a time."
The Trailer: Tom Berenger is in An Occasional Hell, where he is a detective dealing with sexy ladies, and dead bodies, and possible mental illness, and an elderly farmer in overalls who he wrestles in bed before sticking a pistol in his mouth. This looks trashy as all hell and it's brutally cut together, leading to suspicions that all the best parts have been shown already, but on the other hand, something this sleazy has to have nudity. Would watch.
Pitch from the trailer announcer: "A sexy mistress … a jealous wife … a brutal murder!"
Quote from the trailer: "You're a man of simple pleasures, aren't you?" (cut to orgasmic moaning)