Is there any kind of movie more inherently dull than the biopic? Every genre has its tropes: they are partly how a genre is defined and abused. But the biopic not only falls back on its storytelling clichés, it fetishizes adherence to reality even as it diverges from the truth, usually in order to fit its narrative into those clichés. So it emphasizes superficial elements to overcompensate for those deviations, most often through performances that are praised for mimicry – in appearance, in affectation – of an existing person instead of defining a character. Too often, a biopic is a movie that aspires to be a diorama.

In his YOTM piece BurgundySuit noted that 2007 saw some much-needed pushback against lazy musical movies. As Blazing Saddles stampeded over Western cliché and Airplane! deconstructed the disaster flick, Walk Hard: The Dewey Cox Story took on the pop biopic by playing its clichés to hilarious extremes with a straight face. Blazing Saddles and Airplane! were critical and financial smashes and while the styles they were parodying were on their way out anyway, their rebukes became part of those genres. Over the past decade Walk Hard has grown into a cult movie with strong critical acclaim, but it was a box-office disappointment, and more importantly has not, despite the fervent hopes of some, led to the widespread disdain of the genre it mocks. If anything, a movie like Bohemian Rhapsody further inflates the tropes Walk Hard tried to puncture. Walk Hard's problem is that it is too good – by focusing on a fake person, it winds up creating a great biopic.
A musician's biopic will often focus on the incredible art created by a fascinating personality. Director/writer Jake Kasdan and co-writer Judd Apatow write a lot of great gags, but like the makers of Josie & The Pussycats (another biopic of fake musicians) they rely on a bunch of ringers to create the music that allegedly captivated America for several decades. Dan Bern and Mike Viola handle many of the movie's songs, with Marshall Crenshaw (on the Johnny Cash-aping title track) and Van Dyke Parks (on a Beach Beach boys riff referencing Parks' own collaboration with the band) pitching in as well. The songs are written as pastiches of classic styles, like down-home country duets and rockabilly, and occasionally artist-specific parodies – "There's A Change A Happenin'" actually earns the appellation Dylanesque. They're familiar-sounding and easy on the ears, but also just good songs. Charlie Wadham's "Let's Duet" is a particular highlight: its PG lewdness is clever and catchy.
And John C. Reilly performs these songs and the role of Dewey Cox with enough personality for several biopics. Reilly is a talented enough singer to manage multiple styles convincingly, but it's his brilliance as a comic actor that makes it plausible that all of these songs are coming from one man (or one 15-year-old with a wife and a baby). Reilly contains multitudes – the guilt of a child who accidentally cut his brother in half, the credulousness of a naïf who needs the awesome effects of every illicit drug explained to him, the arrogance of an artist who demands 50,000 didgeridoos, the panic of a drug addict who needs both more and fewer blankets – and they all combine into a heightened but believable whole. If he has a predecessor it's another charismatic rock singer, Val Kilmer's remarkable Nick Rivers in Top Secret!, but Kilmer is riffing mostly on Elvis and is tied to a Cold War plot of intrigue and escape. The biopic format requires Dewey's life to provide the plot, but luckily his life has a lot going on.
As Dewey bounces through the '50s and '60s and '70s, hopping from genre to genre and terrible decision to terrible decision, Kasdan and Apatow are able to attack biopic clichés. Dewey's aforementioned drug addiction and detox is overwrought mania, the inspirations for his music literal and simplistic. The movie is most ridiculous and cutting when it goes after the singularly tedious trope of the hero's interactions with Other Famous People. The high point comes when Dewey meets the Beatles, who are played by actors whose physical and vocal resemblances to their characters range from adequate to unrecognizable, and who are sure to refer to each other by first and last name throughout their conversation. It's a hilarious attack on convention that produces, without shame, things like "I'm Quincy Jones" in Ray.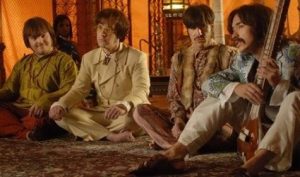 The real crime of biopics is not that they simplify a subject's life – as a wise man once said, the map is not the territory – but that they do so with such banality. Comfortable, clichéd conflicts are emphasized while uglier ones are papered over or ignored. The false starts and weird side projects are smoothed away. Greatest hits albums are often derided for similar reasons – even though, as a wise woman once said, they're the greatest – but they're clearly compilations of a body of work. The biopic cherry-picks what is convenient to make a whole, and a whole made in that way can only be fake.
But while Walk Hard is a compendium of a fake man's clichés, it's a true life. Because what's on the screen is all there is. (Well, aside from the extended cut and dong-heavy bonus features.) Nothing has been left out because of interfering relatives holding the rights, or lazy writers falling back on stale conceits – here those conceits are owned instead of sloughed into. Exaggeration is not the same as untruth ripping 20 sinks out of a wall during a "dark fucking period" is over the top in our world but not in Dewey's rock and roll fantasy. Once again, Reilly is crucial to this. When Dewey hits a low point hosting a variety show in the '70s, Reilly shows his self-hatred and despair under the mask of coked-out geniality – it's funny and dark at the same time; it has the discomfort of glimpsing a tormented soul instead of the appreciation of recreated agitation. 
Dewey is make-believe but his journey is real, which is why the final song "Beautiful Ride" is genuinely moving. "Dewey Cox has gotta think about his entire life before he plays," the movie begins, but "Ride" actually is a casually profound look back at an entire life, one that would make John Prine proud. Dewey Cox dies as the credits roll, and in truth he never really existed, but his music and his movie will live on because they tap into real feeling instead of trying to recreate it in tired tropes. That's a story biopics could learn from.